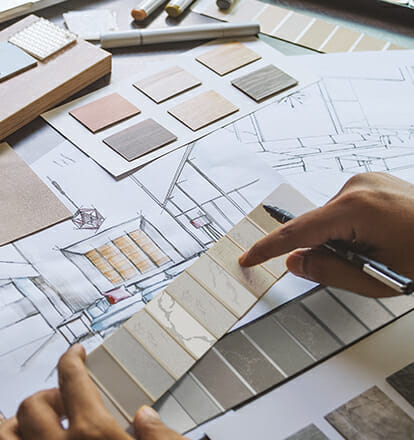 Your creative journey,
our guidance
Let's map out the journey that brings your dream to life. While the process isn't always linear and some steps overlap, we're here to guide you along. Click on any stage to get guidance and tips.
Get Project Checklist
Define Your Dream
Start planning your dream space by listing everything, from functionality to colors. Go ahead and create a rough draft that captures the essence of what you're looking for.
Things to Consider
Determine project scope (partial/full remodeling? building new?)
Define timeline and schedule
Plan high-level budget
Pinpoint your personal design style
Estimate space measurements
Draft out a preliminary floorplan
Define special considerations (accessibility, windows, etc.)
Consider if you'll want to hire an expert (architect, designer, contractor, etc.) or decide on a DIY project.
Tools
Discover more about the design style you like best
Find instant inspiration and creative ideas
See your selection of surfaces set in 3D space