Renovating a kitchen can sometimes feel like a daunting task. There are countless factors homeowners need to consider before making a final decision. Some of these decisions include picking the right style and color for their kitchen cabinets.
There are several cabinet colors that homeowners can choose from, which can make finding the perfect combination somewhat of a challenge. Homeowners on the fence between various home design trends may want to opt for a classic, timeless color like gray.
Read on to learn more on how to make a splash with grey kitchen cabinet designs.
Modern gray kitchen cabinet ideas for residential spaces
Here are some tried-and-true gray kitchen cabinet ideas that homeowners should consider while looking to renovate their kitchens:
Wall color ideas for gray kitchen cabinets
Homeowners should look for a wall color that pairs well with their gray kitchen countertops and cabinetry. Picking the right color of paint can make a kitchen look and feel like it was designed by a professional. Plus, using the right color of paint will complement other aspects of the space as well.
Dark gray cabinets look striking when paired with lighter shades of gray in the kitchen. The lighter shades of gray amplify the boldness of the cabinetry, making them a focal point of the space.
On the other hand, homeowners who prefer light gray cabinets can get the best results by working with shades of white, cream and ecru. Doing so will accentuate the soft colors found in the cabinetry and help bring the room together.
Gray kitchen cabinet ideas with high-quality quartz countertops
Countertops are an essential part of any residential kitchen. High-quality countertops provide homeowners with a space to eat, cook, socialize, work, and much more. Although there are a variety of available materials that homeowners can make use of for their countertops, modern gray cabinets kitchen ideas often feature quartz.
Quartz is among the best materials for countertops for several reasons: it's striking, durable, and can last for many years to come. Investing in premium quartz countertops can transform a run-of-the-mill kitchen into a space worth showing off to others.
Quartz manufacturers, like Caesarstone, offer quartz products in a variety of vibrant colors and shades, including:
Beige
Brown
Gray
Black
White
Light-colored quartz products, like Caesarstone's 1001 Riverlet or 6141 Ocean Foam, pair nicely with the tones found in dark gray cabinets. The off-white, nature-inspired hues create a subtle, refined contrast in comparison to the boldness of the dark gray cabinets.
Alternatively, homeowners looking to add light gray cabinets into their kitchen spaces can opt for veined quartz products, like Caesarstone's 5161 Icellion or 5114 Calacatta Maximus. Veined quartz countertops can add personality and character into practically any space, especially kitchens. Paired with light grey cabinets, these countertops are sure to pop.
To get a closer look at Caesarstone's wide range of premium quartz countertops, homeowners should visit a nearby retailer or showroom. Alternatively, homeowners can use Caesarstone's 3D Interactive Visualizer tool to get a better idea of how a particular color, finish or style of quartz will look in their spaces.
Please be aware that Caesarstone does not install and/or repair quartz countertops in residential or commercial spaces. Homeowners need to contact a professional service if they need help installing or repairing a quartz product.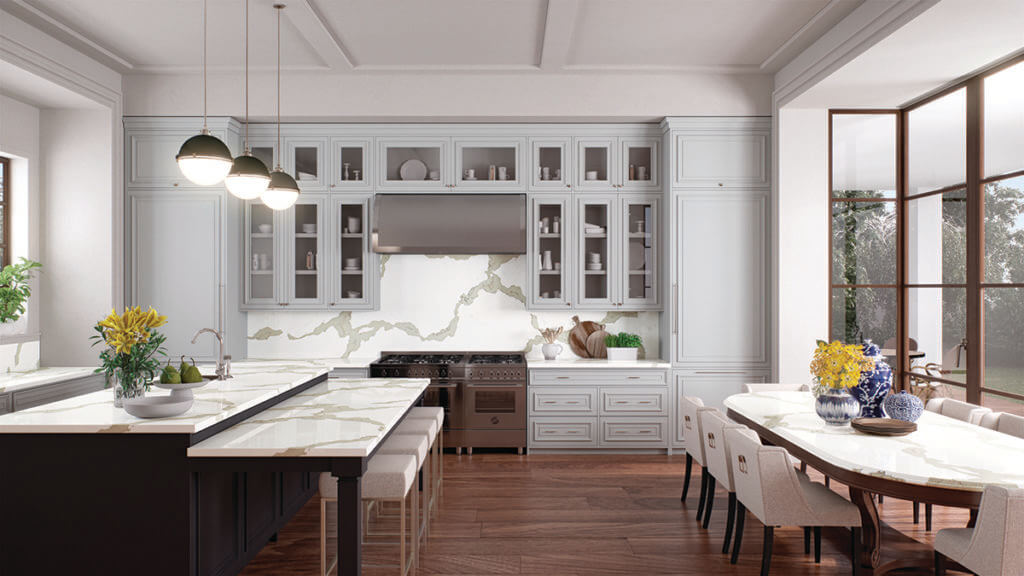 Gray kitchen cabinets backsplash ideas for residential spaces
Many homeowners find that installing a backsplash in a residential kitchen can work wonders on the overall look of a space. The right backsplash adds style, character and flair to a residential area, especially kitchens.
Although most homeowners tend to opt for tile backsplashes, why not consider going with a stainless steel backsplash? Stainless steel is an excellent choice for kitchen backsplashes, given that it is hygienic, easy-to-clean and low maintenance. This feature also pairs well with other stainless steel appliances in the kitchen, which works to create a cohesive look.
Lastly, stainless steel pairs well with a variety of colors, including gray. Pairing grey cabinets with a stainless steel backsplash is a great way to create a sleek and modern kitchen space. This versatility, along with the characteristics mentioned above, make stainless steel backsplashes a perfect addition to any kitchen with gray cabinets.
For the best results, homeowners can install lights and shelving near the backsplash. Doing so will further add to the functionality and eye-catching appeal of the kitchen design.
Kitchen ideas with gray cabinets and hardwood flooring
Hardwood flooring is a go-to choice in a wide variety of spaces, including residential kitchens. This classic, tried-and-true option not only adds to the value of a home, but complements gray cabinets as well.
High-quality hardwood flooring also looks fantastic when paired with quartz countertops, especially Caesarstone's 6600 Nougat. The coarse-grained, almost sand-like tones found in 6600 Nougat pair well with wood floors and gray cabinets, creating a fresh, nature-inspired kitchen design. To complete the look, add gold-colored accent pieces for some intrigue.
Designing a kitchen with gray cabinets is easier than most homeowners think
Although it may feel like a never-ending task, designing a kitchen with gray cabinets is not as complicated as it appears. Homeowners simply need to do some research, work with reputable manufacturers like Caesarstone, and reference the design tips mentioned above.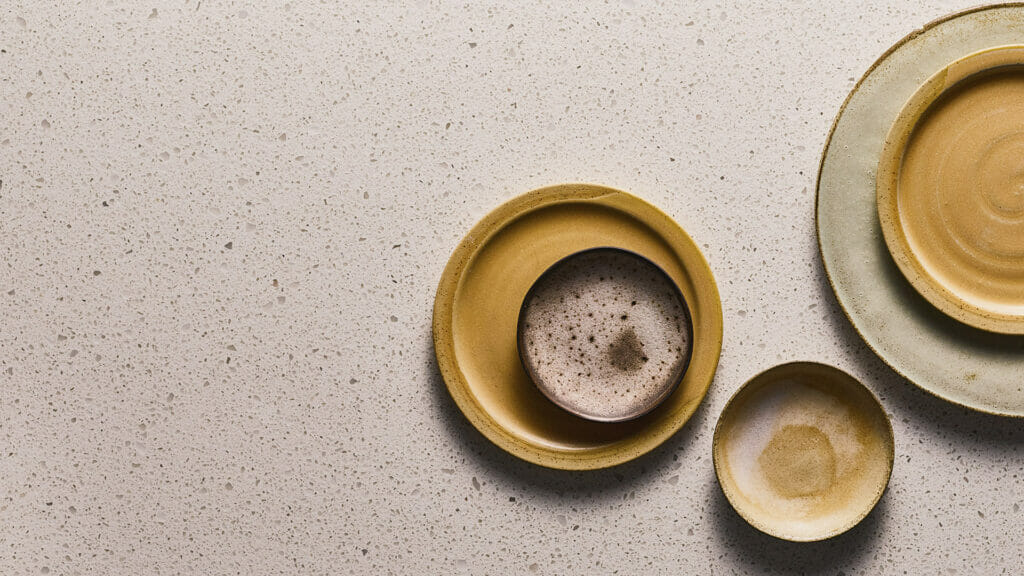 FAQ about quartz countertops
Here are some frequently asked questions about quartz countertops:
How long do quartz countertops last?
Well-maintained quartz countertops can last for several decades, especially when they're crafted by a reputable manufacturer like Caesarstone.
What are the beneficial properties of quartz countertops?
Quartz countertops offer several beneficial properties, some of which include:
Durable
Non-porous
Stain, scratch, and heat-resistance
Easy to install in residential and commercial spaces
Environmentally friendly
Hygienic
What sets Caesarstone products apart from the competition?
Caesarstone is known for its innovative, cutting-edge engineering process that allows us to craft high-quality products made with up to 90% pure quartz minerals. This gives our products an unmatched strength, eye-catching appeal and non-porous, easy-to-clean nature.
Are quartz countertops just used in kitchens?
No! Quartz is an ideal option for countertops in the following types of residential and commercial spaces:
Bathrooms
Bars, cafes and restaurants
Outdoor living spaces
Powder rooms
Lounges