Homeowners must get creative and work hard if they want their homes, particularly their kitchens, to stand out from the crowd. Although there are several modifications that homeowners can make to their kitchens, not all of them have an equal impact.
One of the tried-and-true techniques that homeowners can use to add character and personality to their cooking space is installing a high-quality countertop that doubles as a kitchen island dining table.
A kitchen island dining table adds the perfect amount of function and fashion to cooking spaces. Homeowners who are considering installing a kitchen island can learn more in the article below.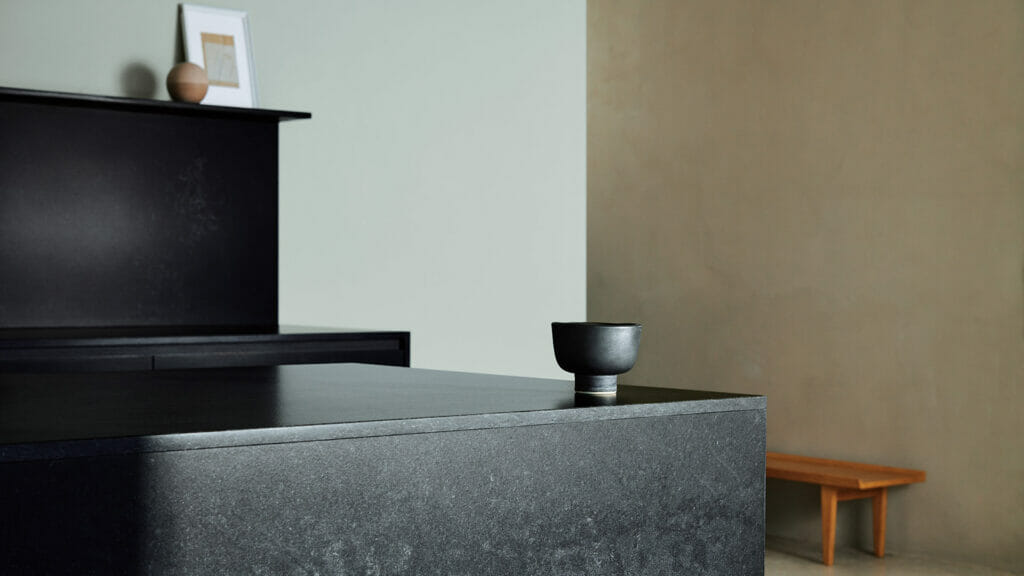 Can you use a kitchen island as a dining table?
Of course!
Kitchen islands are a great substitute for dining tables. In fact, most kitchen islands offer even more space than the average dining table, which makes them a sensible, convenient and practical option for homeowners.
What material should homeowners use for their kitchen island dining table?
There are several available countertop materials that homeowners can choose from for their kitchen island dining table, including engineered quartz.
Engineered quartz is one of the strongest countertop materials available on the market, making it a great choice for activities like eating, cooking and working. Not to mention, engineered quartz is extremely eye-catching and is sure to be a popular conversation starter during get-togethers.
Quartz countertop manufacturers, like Caesarstone, offer products in a wide variety of colors, styles, and patterns (veins, speckles, etc.). Some common colors used for quartz countertops include:
Black
White
Beige
Gray
Brown
Who should install a kitchen island as a dining table in their home?
Almost anyone can benefit from installing a quartz kitchen island. That being said, kitchen island dining tables work best in small areas.
Small kitchens have less room for other furnishings, like traditional dining tables. As such, homeowners are able to save a good chunk of floor space when they substitute their dining table for a kitchen island.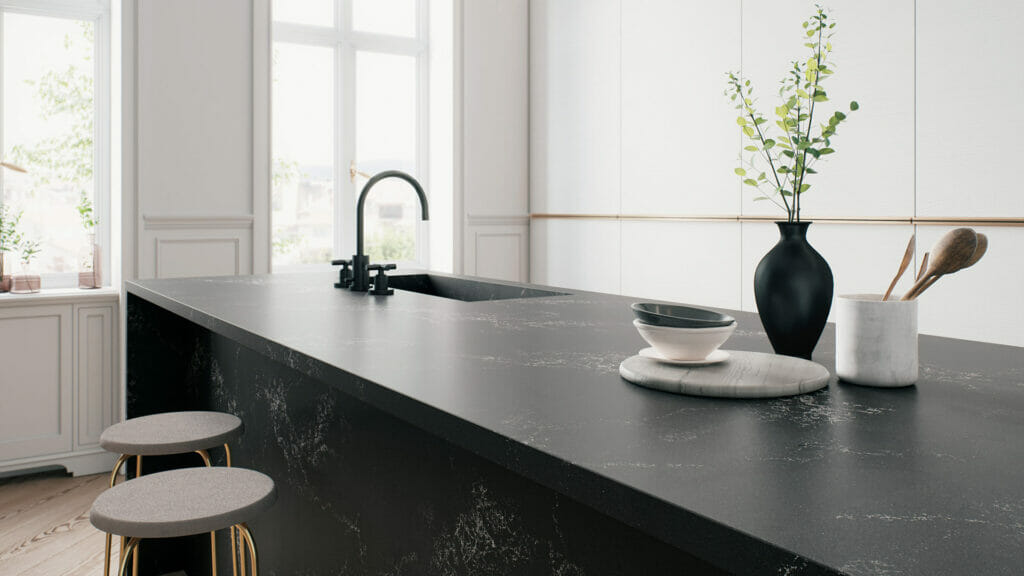 Kitchen island dining table design tips
Homeowners can look to the following design tips as inspiration if they are planning on installing a kitchen island dining table in their home:
Design tip #1 — Use contrasting colors to make the kitchen island stand out
Homeowners who want their kitchen island to make a splash should install a quartz countertop with a contrasting color (to the rest of their kitchen decor). Doing so will draw guests' eyes to the kitchen island and amplify the luxurious nature and eye-catching appeal of the countertop itself.
For instance, homeowners with white kitchen decor can make their kitchen island stand out by incorporating black quartz, like Caesarstone's 5810 Black Tempal or 4735 Oxidian. The deep, potent colors found in these counter slabs will create a striking contrast to the rest of the kitchen decor.
To amplify this contrast, homeowners can install veined quartz. Veined quartz like Caesarstone's 5100 Vanilla Noir or 5101 Empira Black would pair nicely with white kitchen decor, and make the kitchen island the focal point in the room.
Design tip #2 — Purchase an adjustable table attachment
An adjustable table attachment adds even more functionality to a kitchen island. For example, during a social gathering, a homeowner can use their adjustable table attachment to hold a wide range of snacks, cocktails and hors d'oeuvres for their guests to enjoy.
An adjustable table attachment can also add to the kitchen island's overall design. If quartz is what a homeowner is looking for, they should opt for an adjustable table attachment to match. Picking a color that works nicely with the kitchen island countertops will produce a uniform and cohesive feel.
Design tip #3 — Seating is a crucial factor
Homeowners also need to invest some time and energy into the seating for their kitchen islands. There are several options that homeowners can choose from, including bar stools, traditional chairs, and even moveable benches. The possibilities are practically endless!
Before making a final decision, homeowners should consider a handful of factors. Firstly, the level of usage — how often will these seats be used? If the seats are used on a daily basis, homeowners may want to work with a sturdier material, like wood. On the other hand, if the seating is for show, homeowners can opt for a more luxurious material, like leather.
Additionally, homeowners should look for seating that meshes well with their kitchen island. For the best results, homeowners should pick a material, style and color that complements their countertops.
For example, homeowners that would like to go with a dark brown quartz, like Caesarstone's 1006 Agger Grey, can achieve the ideal look by opting for an off-white, cream, ecru or light brown material for their seating. Doing so will create a lively contrast, and ensure that the kitchen island dining table is the focal point of the space.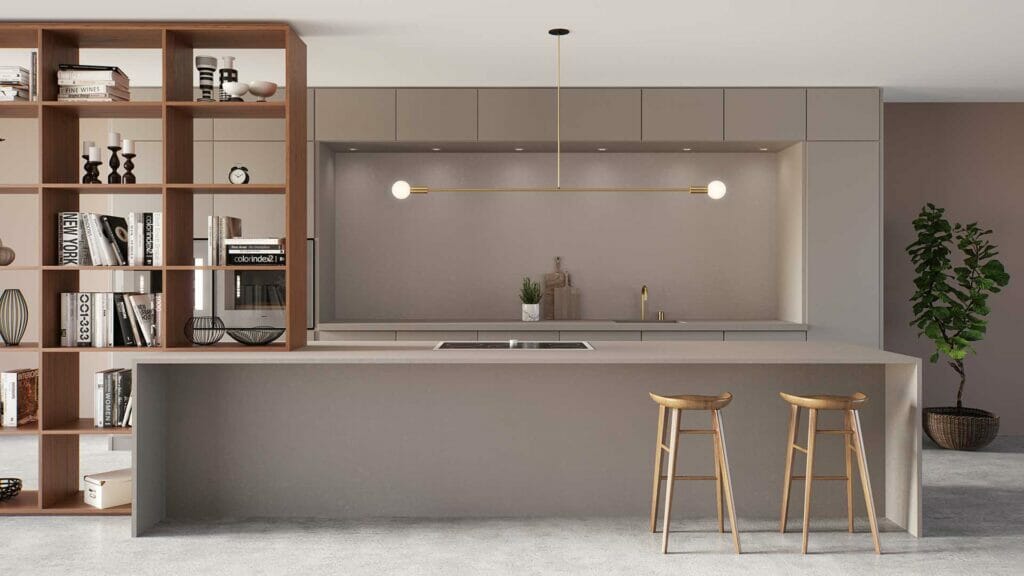 Why should homeowners purchase quartz countertops from a reputable manufacturer?
Whether it's for a bar top, kitchen island or bathroom vanity, homeowners should always work with a reputable quartz countertop manufacturer. A home is a major investment, so compromising on the quality of an integral part of the kitchen, like countertops, isn't worth the risk to its overall value.
That's why homeowners should always go for a quartz countertop manufacturer with a proven track record of producing high-quality products, like Caesarstone. Caesarstone has been leading the quartz countertop industry since 1987, and we don't plan on slowing down anytime soon. Homeowners and business owners alike rely on Caesarstone to produce luxury-level quartz products that they can count on and enjoy for years to come.
What separates Caesarstone's products from the rest? Firstly, Caesarstone employs a state-of-the-art engineering process to craft some of the highest-quality quartz products on the market. Our products are made with up to 90% pure quartz minerals, giving them their durable nature and eye-catching appeal.
Homeowners wanting to learn more about Caesarstone's wide range of quartz products can visit a nearby retailer or showroom or check out our Written in Stone Blog. This blog is also a great resource for interior design trends, home decor styles and tips and tricks on how to care for and maintain premium quartz countertops.
Please note that Caesarstone does not repair or install quartz countertops or related quartz products in residential or commercial spaces. Those that need help installing or repairing their quartz countertops or kitchen islands should contact a trained professional.