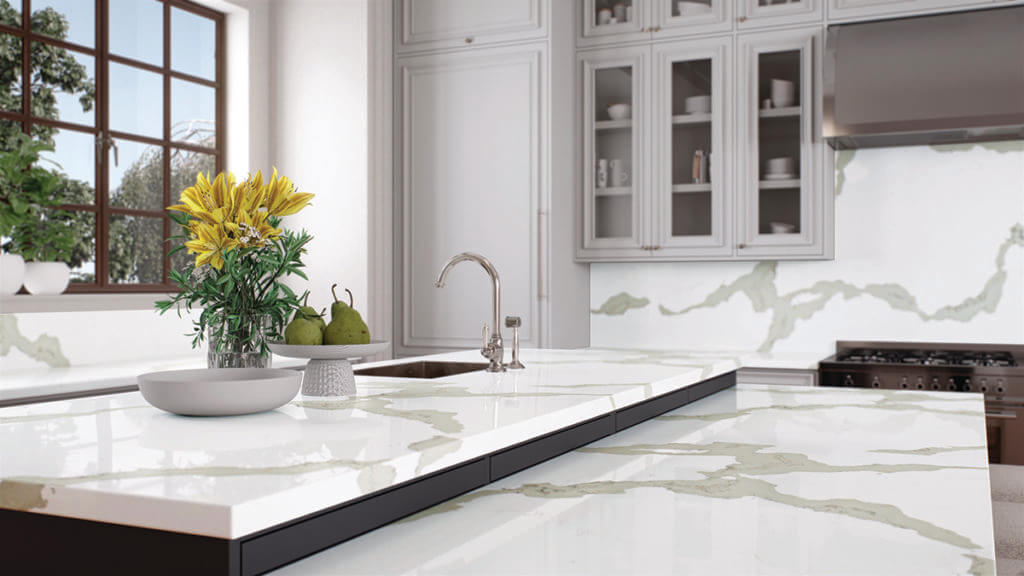 Renovating a kitchen can be a time-consuming and stressful process. But once finished, another dilemma presents itself; how to decorate the kitchen island. Depending on the desired ambiance of the kitchen, there are different elements that can be incorporated to complement the new renovation. It can be impossible to know where to start but this article will cover some general tips and explain how to decorate your kitchen island using specific fixtures and elements.
When it comes to a kitchen island, there are two things to remember. First, this space is where meal preparations and quality time with family takes place. This means careful consideration must be made on placement of all the appliances and their place in the decor. Second, the countertop will be the center point of the kitchen and is usually the first thing guests notice. As the focal point, it influences the tone of the entire room, which is why choosing a premium quality countertop material like Caesarstone quartz, is sure to be a showstopper. Whether you prefer a bold style like 5114 Calacatta Maximus, a sleek style like 1141 Pure White, or a traditional style like 6270 Atlantic Salt, Caesarstone has dozens of options to suite a variety of aesthetics.
When it comes to kitchen island decor, if on a budget, each of the ideas presented below are affordable and considerate of cost. Every decor element on this list does not need to be included but may serve as inspiration to help achieve the desired style.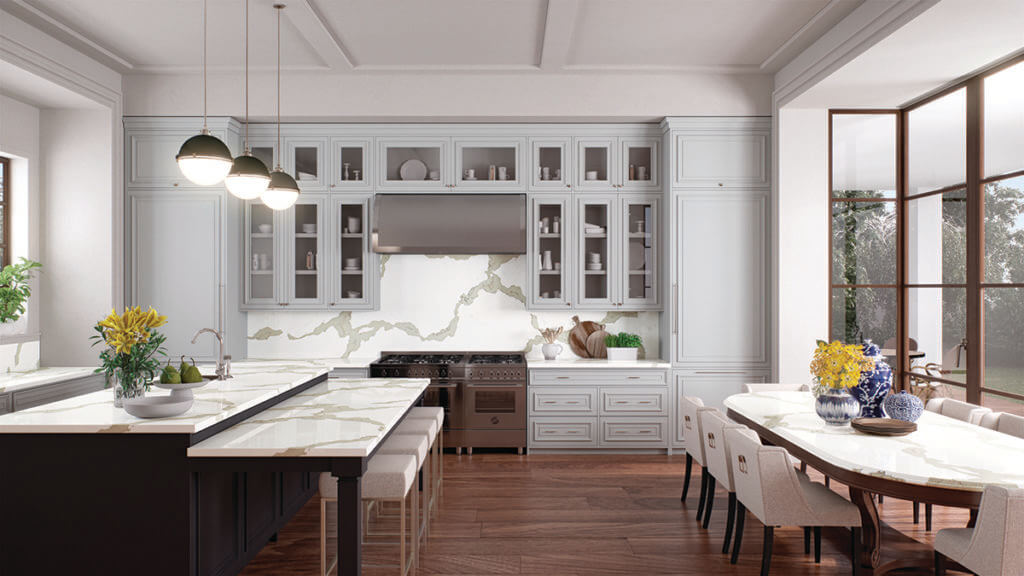 How to decorate a kitchen island
When determining how to decorate a large kitchen island, the first step is covering the basics. The kitchen island decor elements listed here are vital for an appealing aesthetic. This list is loosely ordered in terms of importance, so consider the first half to be the most essential, while the later elements are optional to add an extra touch of elegance.
When decorating a kitchen island, everything should not only be beautiful but functional. Decorative trays can provide both a visual and a functional purpose on the island. For example, through efficient use of arranged trays on a small countertop, the combined decor elements can help create a unique design while keeping everything organized. Available in different colours, textures, styles, and a variety of sizes and shapes, there are trays right for every kitchen island.
Vases are a great way to decorate a kitchen island on a budget. There are several types of flower vases, with a variety of unique tones, textures, and silhouettes to choose from. Before purchasing a flower vase, there are a few things to consider. Does the island have low hanging light fixtures above it? If this is the case, shorter flower vases may be best. Also consider if the flowers featured will be fresh or artificial, as different vases suit either type.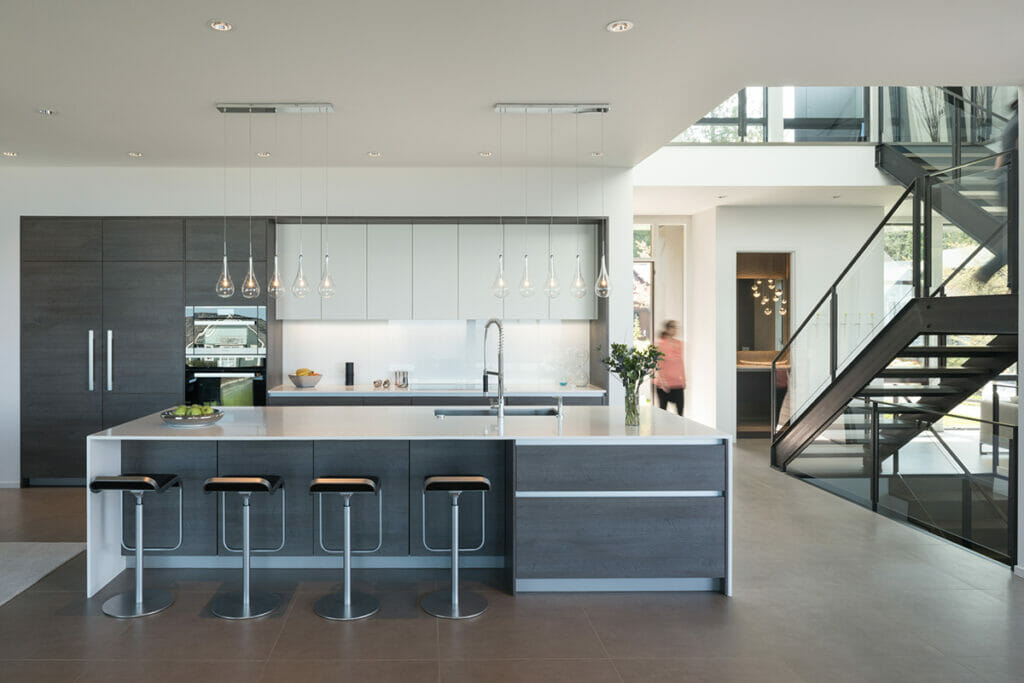 Another consideration when giving thought to how to decorate a large kitchen island, large bowls and dishes can be useful. Bowls are not only a decor element; they also offer functionality in the kitchen. They can be used to hold fruits, vegetables, and even sweets while offering vibrant color and natural decor. This is also a good opportunity to create some contrast. For instance, if the countertop of the kitchen island is Caesarstone's 5171 Arabetto, contrast it with some wooden textures, such as a wood bowl.
Having the proper illumination for a kitchen island is vital for any design style. When going for a vintage style, consider getting long brass fixtures. If considering self-installation, note that it can be quite labor-intensive as they can be very heavy. However, if going for a minimalistic style, some modern light bulbs could be a better fit. There are even smart virtual assistant tools, such as Alexa, which can control all the lights in the home remotely and from a single access point.
Decorating your kitchen island means giving proper consideration to the ambiance. One of the most budget-friendly elements to achieve this is candles. More than just home decor, they also help add a pleasant scent to kitchen and living spaces. Remember to never leave candles lit when you're not in the room and be careful to choose scents that aren't overpowering. A fresh lemon or basil scent can be a lovely fragrance for the kitchen.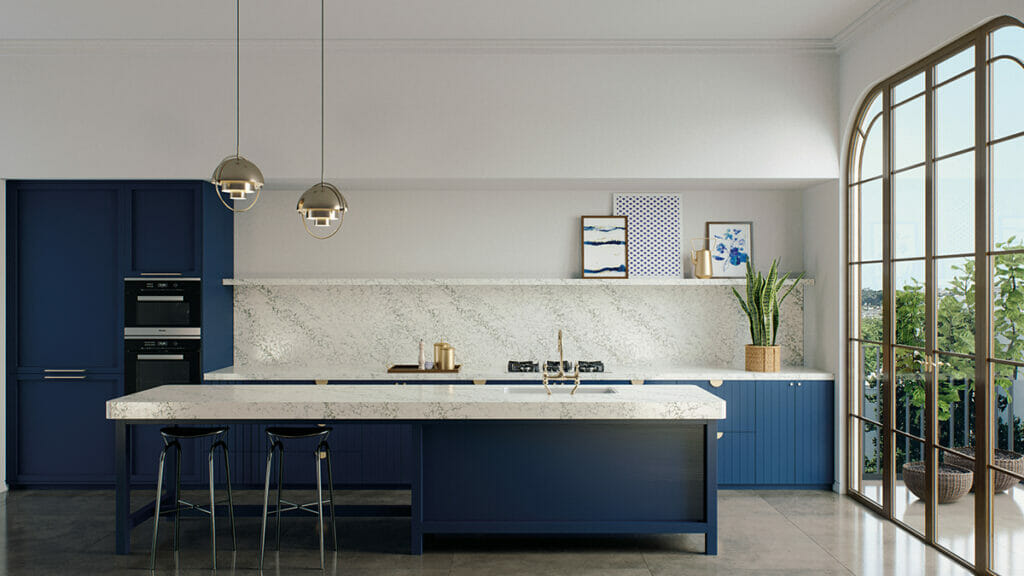 If someone in the household likes to bake pies and pastries, having a cake stand in the kitchen is a must. Having a stand on which to present and offer fresh baked goods is a beautiful way to serve guests and household members while also enhancing the decor. To pick the right one, think about the elements already present in the kitchen and how to match that aesthetic. A safe bet would be a glass cake stand as this material will match almost any island's decor and add a delicate decorative touch to the space.
Plants are a natural way to add color to the decor, and some will even purify the air in your home. That's why we'd recommend learning how to decorate your kitchen island sustainably and within budget. Start with something a little less complicated, and look up information on low maintenance plants before making a purchase. Note that it may also be essential to use plants that can survive with a minor source of natural lighting depending on your kitchen layout.
Sometimes essential elements can also turn into decor elements if used correctly. For example, Avid chefs and food aficionados usually have many recipe books lying around the house. Instead of keeping them on a shelf, they can be gathered and arranged on the kitchen island to create an interesting and balanced ambiance. This also allows the kitchen user to keep reading materials and recipes close on hand while cooking.
With all of this in mind, get started on creating the unique design that suits your kitchen island and one that fits within your budget.