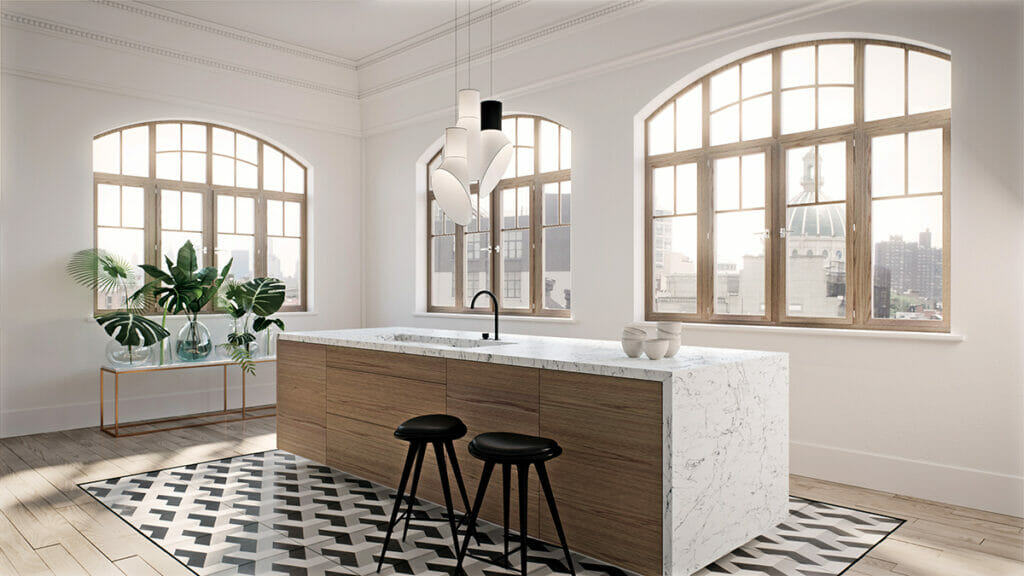 Maple is a simply beautiful wood that features warm hues, ranging from brown to light red, and is often paired with vividly-colored backsplashes to magnify its beauty. When remodeling a kitchen, one of the critical pieces is choosing the right color countertop to compliment the cabinets. This can be a difficult task, especially with maple, because of its various mixed tones and colors that can give the kitchen an entirely different look.
To discover what color countertops go with maple cabinets, read on. Some of the most common countertop color choices to pair with maple cabinets are:
Aqua
White/cream
Black
Tan/brown
Slate gray
Medium gray
Green
Other bold color options
Aqua
This is a dusty soft blue with green undertones and is a nice contrast to the golden hues of the maple cabinets. Additionally, this color will pair quite well with either a cool gray backsplash or with copper and/or bronze accents to brighten things up even more.
White/Cream
Homeowners with smaller kitchens often opt for a more neutral countertop color, such as white or cream. This is also a nice contrast with the warm tones of the maple cabinets. Light colors are known to reflect light and make the small space feel larger.
If you do opt for a neutral-colored countertop, consider choosing a veined option to tone down the starkness of an all-white surface. Sometimes, in a kitchen that is too dim or small, the pure white can be harsh or overpowering. A delicately veined surface can help soften that harshness. Try Caesarstone's 5143 White Attica quartz countertop for a neutral white surface with more visual interest.
Black
If the maple cabinets are on the lighter end of the spectrum, black countertops may be a good choice. Black is a great choice for those in search of a more modern look in their kitchen. Additionally, black pairs well with stainless steel appliances, as it softens the harshness of the black. Keep in mind, if the kitchen is smaller, black may make the room feel that much darker and smaller.
On the other hand, some people might feel that black countertops are a bit too much of a contrast to their light-colored maple cabinets. If a homeowner feels this way, they might want to consider black quartz with charcoal veining to help soften the appearance.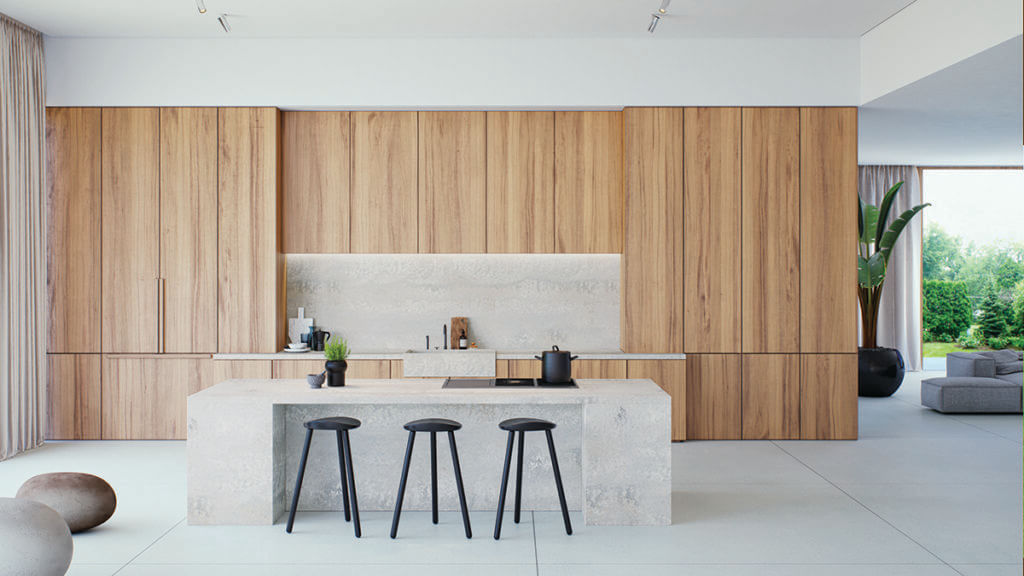 Tan/Brown
Another viable option for countertops paired with light-colored maple cabinets is tan or brown. While veined quartz is common for white or black countertops, brown or tan are more often an abstract or speckled surface.
The stone finish a homeowner chooses can affect the overall look of the kitchen. To avoid clashing, try to choose colors that lean more toward the lighter side of the neutral spectrum, such as a muted beige.
Slate Gray
Slate gray is a great alternative to brown or black. It pairs wonderfully with light maple cabinets. The dark tone brings an enchanting contrast to the lightness of the maple and it pairs quite nicely with stainless steel appliances, giving the kitchen a modern, clean appearance.
Again, slate gray is a darker color and may not be the best option for a smaller kitchen that doesn't have much natural light, as it can cause it to feel much smaller and darker.
Medium Gray
This is a slightly darker version of slate gray and will complement both contemporary and rustic kitchen styles. Though dark, it's much less stark than black. It's won't make the kitchen feel darker and it will work well with most appliance colors. Typically, medium gray works best with lighter shades of maple.
Green
Nature-inspired colors, such as green, can be refreshing — especially in a more traditional kitchen. Green comes in a variety of shades and tones, and as a result, it will work well with a variety of shades of maple. It is definitely a crowd-pleaser.
Homeowners who choose green countertops may try adding potted plants in a variety of bold colors to complement the green theme. The bold colors will add a bright, cheery tone to the kitchen. Combining dark green quartz with light maple cabinets will create a stark contrast.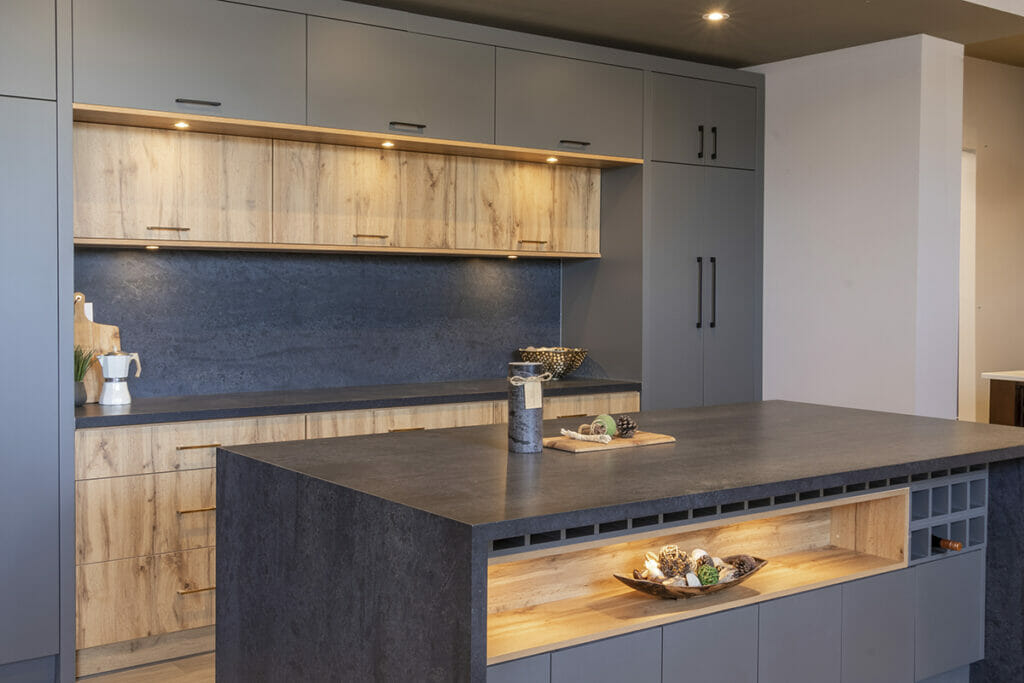 Other Bold Color Options
There are a few other color options that pair well with maple cabinets that we have not talked about yet. These are purple, orange, or yellow. These all pair well with both light and dark maple. Of course, this color palette is typically used in more modern kitchens because of the rich jewel tones. The combination of these colors with maple cabinets will bring a bold and elegant look to a contemporary kitchen.
Bottom Line
If it's time to remodel the kitchen and you've been wondering what color countertops complement maple cabinets, there are several options to choose from. Decide your kitchen design style, give some thought to appliances, and determine which countertop color will bring your design to life. Check out Caesarstone's 3D visualizer to explore options.