A kitchen island with a Caesarstone quartz top can bring any kitchen remodel to life. The center of most daily activities, a kitchen island provides more space for storage and meal preparation. Read on as we discuss several kitchen island ideas involving Caesarstone quartz countertops.
Caesarstone quartz is engineered stone. A Caesarstone quartz countertop is made through a manufacturing process in which roughly 93 percent of natural quartz is combined with pigments and resins. Though this material is not entirely natural stone, it is built for life and has endless benefits. A kitchen island Caesarstone quartz top is aesthetically pleasing, resists damage from heat and sharp objects, and can last decades. 
One of the great advantages of choosing Caesarstone quartz for a kitchen island is that it comes in a variety of textures and colors. Plus, it's easy to maintain. Before taking a look at the latest kitchen island trends, let's go over how to clean them.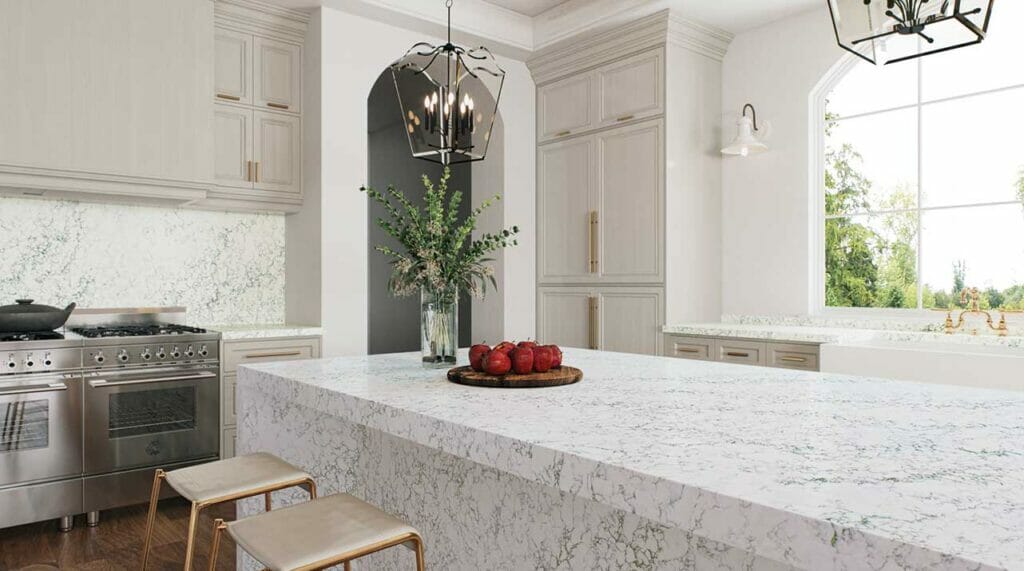 Cleaning Routine for Kitchen Caesarstone Quartz Countertops
Even though a kitchen island Caesarstone quartz top is extremely resistant to damage, maintenance is important. Consider the following tips.
Wipe the island
Caesarstone quartz countertops need to be wiped down daily (and immediately after any spills). Only mild soap, warm water, and a sponge are required for regular cleaning.
Clean food spills immediately
It's normal for food to get stuck on countertops during meal preparation. This can typically be cleaned up with mild soap and warm water. If the food has left a slight stain, use soft scrub with bleach. It's important to do this as quickly as possible after the spill has occurred.
Use the right cleaning products
Soft Scrub Liquid Gem with Bleach is great for cleaning Caesarstone quartz countertops. Harsh cleaning products or degreasers may discolor or otherwise damage the surface.
Looking for an environmentally friendly cleaning option? Use a 50/50 mixture of vinegar and water, then rinse your countertop off after cleaning.
Protecting the counter
Apart from cleaning the counter using the steps mentioned above, it's also important to protect it. Avoid chopping food directly on the surface and use a trivet under hot pans.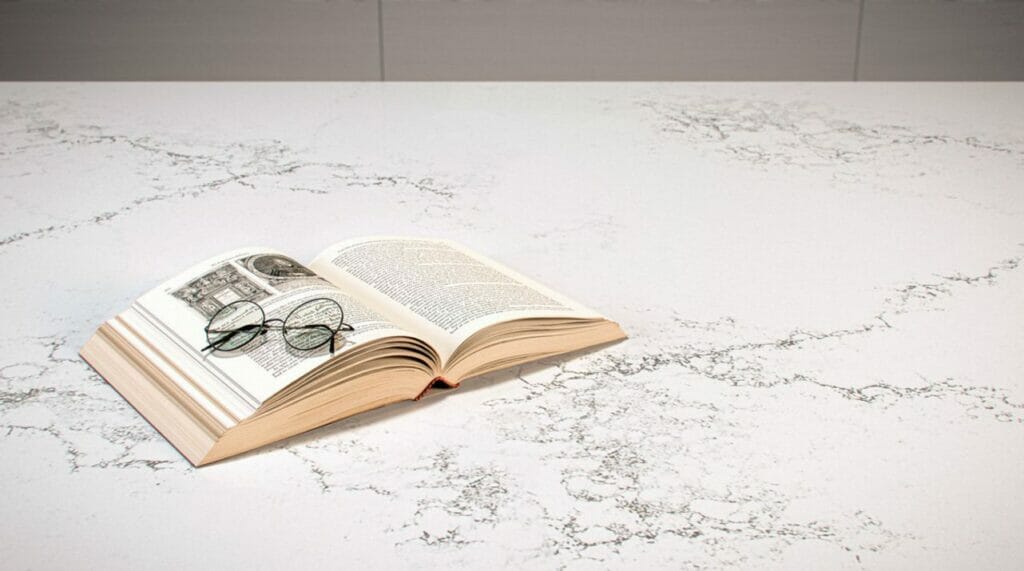 10 Caesarstone Quartz Countertop Ideas for New Homeowners
Here are some trending ideas for Caesarstone quartz top kitchen islands.
Classically Designed
Many homeowners want to achieve a timeless style in their kitchen design. For this look, we recommend a solid white Caesarstone quartz island. Combine this light tone with neutral and rich accessories and colors. For instance, consider navy blue cabinetry with gold knobs or pulls.
Create a waterfall
This is one of the latest and most popular trends when it comes to kitchen design. For both traditional and modern styles, a waterfall for the island can be a striking visual element. A waterfall edge continues the countertop all the way down to the floor, creating an L shape. This design can also be paired with stools that tuck neatly under the waterfall.
Bring the drama
A kitchen is a perfect place to express one's personal style and make a dramatic statement with a dark-toned kitchen. Start by choosing a blue or brown color for the cabinetry. Then for the kitchen island Caesarstone quartz top, select a black surface with some white veining. To maintain this luxurious look, don't forget to follow the maintenance steps above.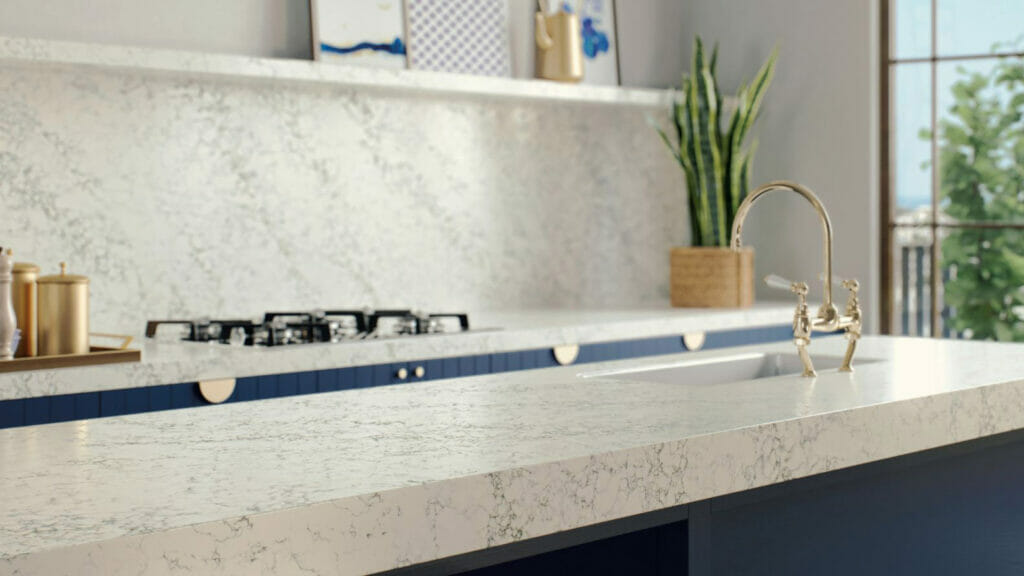 Try neutrals
When in doubt, choose neutral tones for cabinetry and accessories. These will pair well with any color scheme and ensure the kitchen looks great for years to come.
Keep it simple
Many homeowners have to make the most of small spaces. That doesn't always mean eliminating the kitchen island altogether though. Instead, look for a unique way to incorporate it. A kitchen island with a simple bullnose edge can make all the difference. With a rounded edge, there's more space to maneuver throughout the space.
Unique designs
The beauty of Caesarstone quartz is that it works with both traditional and non-traditional designs. The waterfall style is particularly popular among those seeking non-traditional designs.
Retro vibes
While some homeowners like to keep it classic and elegant when choosing a design for their island, others want to color. Getting a bold tone for the kitchen island is risky if it's not properly balanced out by other elements. Purchase a white countertop with texture and veining to add visual interest while staying within a palette neutral enough to match any decor style.
Black and white
There is nothing more classic than a black and white design for a kitchen island. In this regard, there are two possibilities depending on the desired look. Go for a luxurious ambiance with 3100 Jet Black and white cabinetry. For something traditional with a twist, reverse the combination. 5112 Aterra Blanca on the surface and bold black cabinetry below.
Incorporate some country charm
When it comes to kitchen design, keep in mind the surroundings and ambiance. At home, one might want something contemporary, while in a summer cottage, you may inject some rustic country charm. With wooden cabinetry, a farmhouse style sink, and a white Caesarstone quartz kitchen island surface with veining, this style is simple to achieve.
Combine the dining table and countertop
Rather than spending lots of money on a dining table, consider making the kitchen island multi-purpose. Create a sitting area at the end of the island and eat the meals in the same place they're prepared. To do this, it is better to have a wide kitchen with enough room for guests to sit comfortably. To differentiate the island from the dining table, there should be cabinetry underneath the island and open space under the table.