Portland is known for being a modern design haven that shapes the way style is incorporated in homes and businesses today.
Homeowners can take comfort in the fact that Portland quartz countertops can fit with any style while maintaining their classic, timeless appeal. Since quartz is compatible with different aesthetics, it is easy to change the style down the road, too. Plus, they are very durable and low maintenance.

Continue reading to learn more about why quartz countertops are the optimal design choice for any home or business renovation.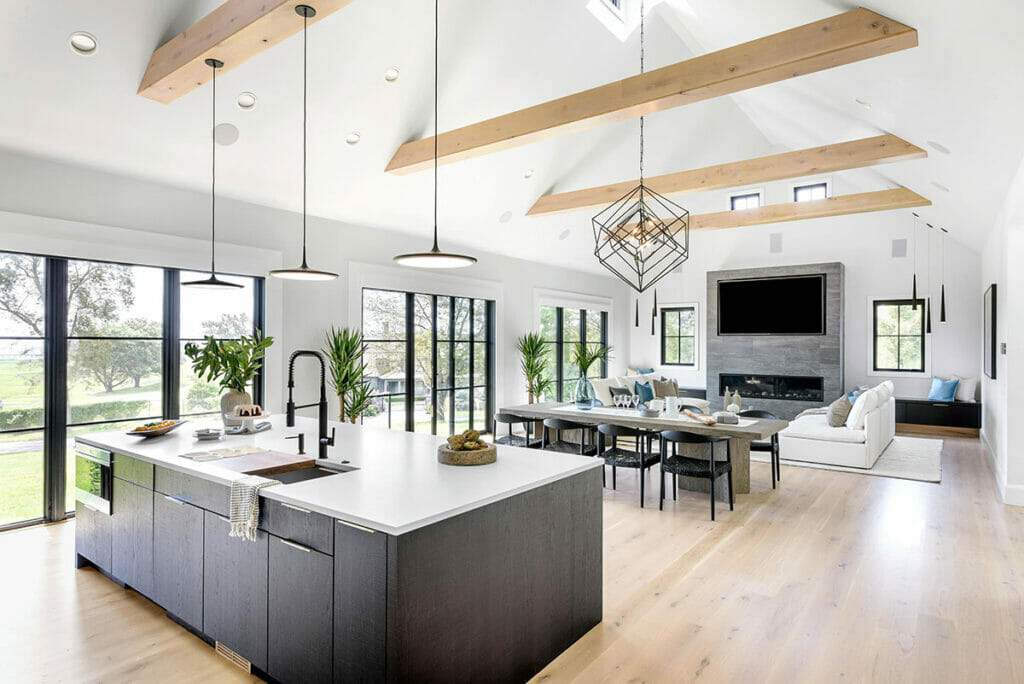 Why should homeowners choose quartz countertops in Portland?
Quartz is an excellent choice for many reasons, particularly its durability—quartz is tougher than steel and almost indestructible. In fact, Caesarstone pioneered quartz countertops to include over 90% raw quartz minerals found in nature and transformed them into one of the highest-quality surfaces available.
Let's discuss some of the reasons why Portland quartz countertops should be the number one option for homeowners and business owners:
High-quality
Caesarstone's quartz countertops are made from the highest-quality quartz-blends and have a guaranteed lifetime warranty.
Easy care and maintenance
Simply grab a soft cloth and non-abrasive cleaner or soap. The surface doesn't require sealing, making maintenance that much easier.
Durability
Durability is the feature that makes Portland quartz countertops the best material for homeowners and business owners. It is nearly indestructible, ranking 7 out of 10 on the Mohs Hardness Scale, which gives it the ability to withstand chips, dents, scratches, and other kinds of damage that may occur.
Nonporous
Since quartz is a nonporous material, it is extremely resilient to wear and tear, ensuring a long-lasting product.
Hygienic
Bacteria, mold, mildew, or other germs shouldn't be a concern with quartz. Due to the fact that quartz is nonporous by nature, it doesn't harbor harmful germs or bacteria. For this reason, it is a great option for kitchens and bathrooms.
Stain-free
Breathe a sigh of relief knowing that a spill won't ruin a Caesarstone quartz countertop. This surface is nonporous and nonabsorbent, which means that there's one less thing to add to the weekly cleaning list.
Heat-resistant
Quartz countertops are heat- and scratch-resistant. However, for an extra level of care, use a trivet for high temperatures or a cutting board for chopping.
Natural and classic
From luxurious, to bold, to modern; there are stylish offerings for all design choices and aesthetics.
Sustainable
Quartz is an environmentally sustainable choice for its durability and low maintenance, making this surface one that supports better use of resources.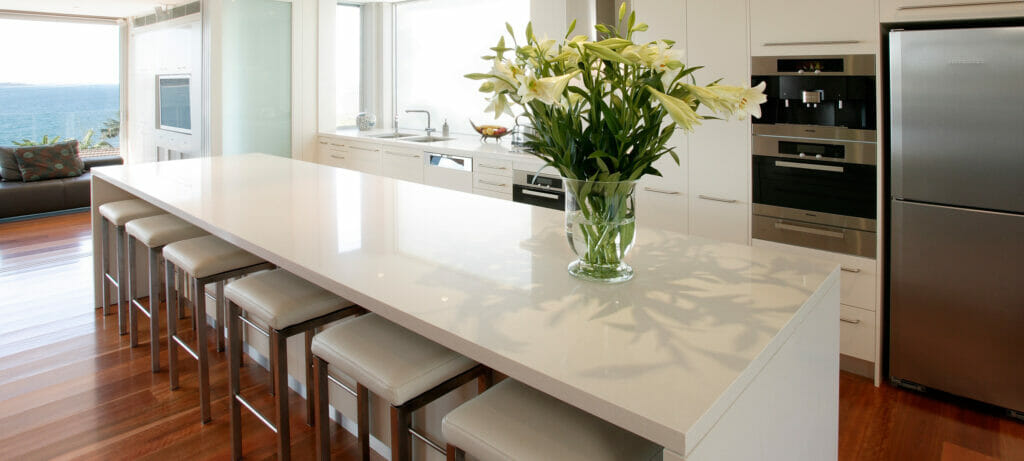 Inspired countertop styles in Portland
Homeowners can get inspired by these trendy and timeless designs:
Modern
Modern is the perfect design choice. Pair neutral furniture, shapes, and colors, with 4001 Fresh Concrete, a crisp white with delicate gray infusions.
Traditional
Caesarstone's 3141 Eggshell is a part of the Classico Collection and has a polished finish. It breathes an organic, natural, and calming appearance into a traditional space.
Transitional
The synergy of classic and modern; celebrating the best of both styles. Consider 5143 White Attica, a part of the Supernatural Collection, for a flawless white base, balanced with black and gray veins.
Farmhouse
Farmhouse prioritizes comfort, simplicity, and classic elegance. It is the balance between the new and the rustic past, pairing elegantly with 6131 Bianco Drift, a white glassy canvas with enticing light brown spirals and misty grays.
Quartz countertops in Portland, Oregon: Where can homeowners and business owners find them?
Find a perfect surface at the 28 convenient locations in Portland. Don't forget to order a sample to ensure that the countertop fits the space perfectly.
Quartz countertops in Portland, OR: Locations
Surface at 106 SE 11th Ave, Portland, OR 97214
Pratt & Larson Tile and Stone at 1201 SE 3rd Ave, Portland, OR 97214
Contract Furnishings Mark at 915 SE Sandy Boulevard, Portland, OR 97214
Interior Logic Group at 7515 Northeast Ambassador Place, Portland, OR 97220
Floor Factors at 1320 NW 17th Ave, Portland, OR 97209
Eastbank Interiors at 1001 SE Water Ave, Suite 110, Portland, OR 97214
Floors 55 – The Design Center at 55 SE Main St., Portland, OR 97214
Paulson's Floor Coverings at 1136 SE Grand Ave, Portland, OR 97214
Maughan Design, Inc. at 1910 NW Lovejoy St., Portland, OR 97209
Interstate Flooring Company at 4075 N. Interstate Ave, Portland, OR 97227
Square Deal Remodeling Co at 8603 SE Stark St, Portland, OR 97216
City Home Improvement at 8811 NE Sandy Blvd, Portland, OR 97220
Paulson's Floor Coverings at 13545 SW Science Park Dr, Portland, OR 97229
Flooring Depot Surfaces at 5600 NE 122nd Ave, Portland, OR 97230
Classique Floors at 14127 SE Stark, Portland, OR 97233
Kitchen Concepts NW, Llc at 12518 NE Airport Way, Portland, OR 97230
Eagle Designs and Woodworking Inc. at 13311 NE Whitaker Way, Portland, OR 97230
Green Depot at 819 SE Taylor St, Portland, OR 97214
Metro Floors Design Center at 12849 Airport Way, Portland, OR 97230
Conrad Stonecutter at 1807 SE 7th Ave, Portland, OR 97214
Stone Center at 1504 SW Woodward St, Portland, OR 97202
Portland Marble Works at 4507 SE Milwaukie Ave, Portland, OR 97202
Milan Stoneworks at 5026 SE 26th Ave, Portland, OR 97202
Touchstone Granite & Marble at 3610 NE Columbia Blvd, Portland, OR 97211
Home Depot #4013 E Portland Mall at 10120 SE Washington ST, Portland, OR 97216
Home Depot #4007 at 1728 N Tomahawk Island DR, Portland, OR 97217
Home Depot #4001 at 13700 NW Science PK DR, Portland, OR 97229
Home Depot #4004 at 11633 NE Glen Widing DR, Portland, OR 97220
These are the top locations for quartz countertops in Portland. Homeowners and business owners can find other fabricator and retail locations by visiting the Where to Buy page.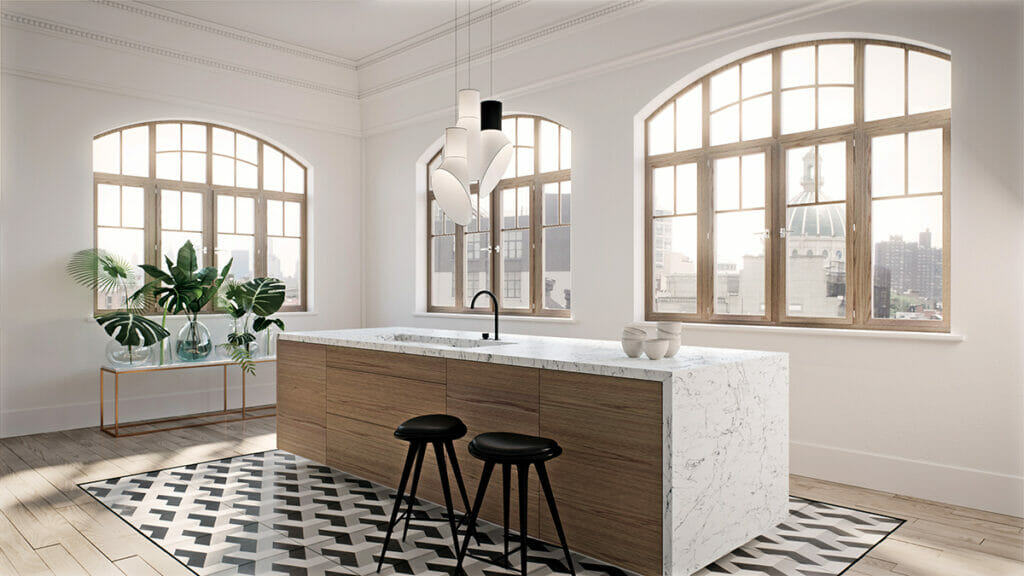 Quartz countertops in Portland ー Conclusion
Quartz countertops from Caesarstone create a timeless look in Portland homes and businesses.
Quartz offers durability, antibacterial properties, environmental friendliness, ease of maintenance, and elegance. With all of this in mind, it's clear why so many homeowners and business owners are opting for high-quality quartz counters in Portland.