Islands are a popular choice for homeowners who want to add style and functionality to their kitchens.
In this article, we will discuss ten creative ideas for quartz countertop island surfaces that can be easily incorporated in any home.
Continue reading to get started.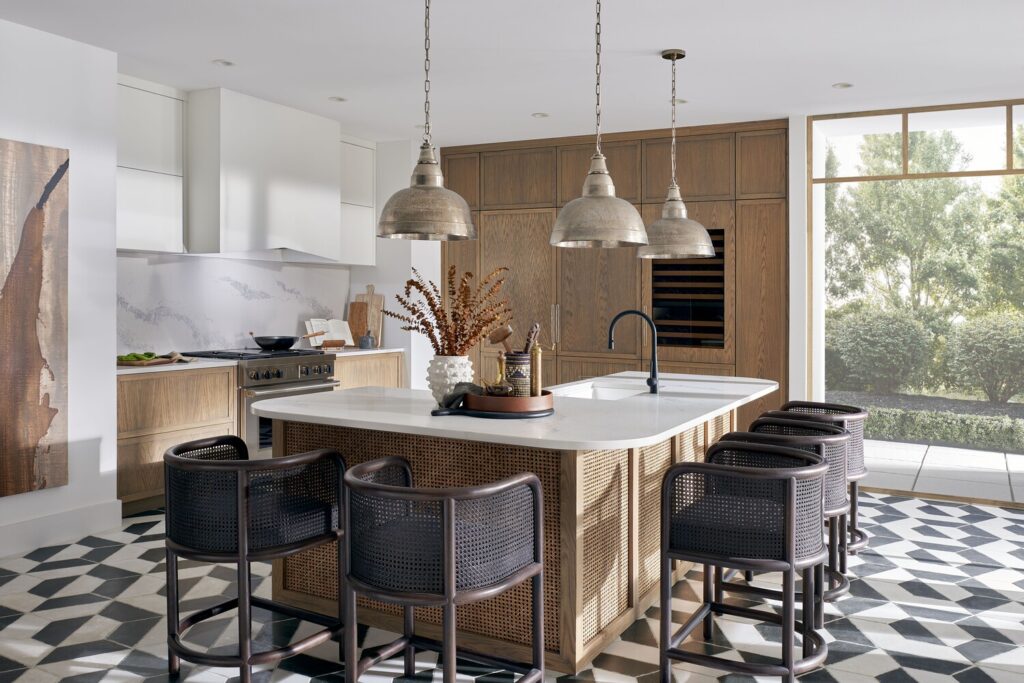 Quartz countertop island designs homeowners will love
Upgrading or renovating the kitchen? Consider these chic updates:
Bold color accents
One way to add some personality to any kitchen is by incorporating bold colors or accents. For instance, pair 1141 Pure White with bold red, blue, or green colored decor to make a kitchen island pop.
This is an excellent option for those who want to create a statement piece in their kitchen and make it the center of attention.
Pair with more neutral furnishings to make a kitchen island stand out further.
Two-toned
Opt for a two-toned quartz countertop island for bold simplicity. For contrast, consider installing 5820 Darcrest alongside white or light-colored furnishing, cabinets, walls, and paneling.
This look exudes intrigue and confidence, sure to impress guests whenever they step into the kitchen.
All about edges
Beauty and sophistication can be found in the finer details. Create a bold and modern look with 5151 Empira White. Take it one step further by selecting a different type of edge profile, which may include:
Double bevel
Bevel
Full bullnose
Double bullnose
Triple laminated bullnose
Ogee
Miter
Double radius
Pencil
Eased
Wooden base
For a more traditional look, consider using a quartz countertop with a wooden base to create a warm and inviting feeling in the kitchen. 
A softer white with subtly blended undertones, like Caesarstone's 4600 Organic White makes for a beautiful white quartz kitchen island.
Create a rustic aesthetic by pairing this countertop with a variety of woods like cherry, oak, or maple.
Built-in sink
For those looking to maximize their kitchen space, consider incorporating a quartz countertop with a built-in sink. This will save valuable counter space and make it easier to clean up after cooking.

Selecting a darker-colored quartz like the 6611 Himalayan Moon will pair nicely with this design choice, as it is unique but dark enough to hide any spills from using the kitchen sink.
Built-in stove
Another way to make the most of the kitchen island is by incorporating a built-in stovetop. For seamless integration, match the countertop to the stove top.

For example, 3100 Jet Black is the best pairing for a black glass stove. Its dark surface is sleek and contemporary, but also pairs fairly nicely with the stove top in the most functional way.
Seating
Let's face it, the new kitchen island is where everyone is going to want to spend their time. From cooking and working, to hosting and partying, the kitchen island tends to be the center of attention by offering both functionality and elegance.
However, don't forget its perfect pairing: stylish seating. When entertaining or just relaxing, comfortable chairs are a must. The best part? Caesarstone's versatile quartz collection offers many different countertop colors, so homeowners are bound to find seating that will compliment their purchase.

Choosing 6313 Turbine Grey is a great option because it will match well with gray, black, or white chairs. Fancy a pop of color? This countertop can tie practically any space together.
Hidden storage
No matter the size of the house, storage always seems to be high in demand and low in availability. Those looking for a way to maximize their kitchen storage should consider incorporating hidden storage into quartz islands. Some examples of hidden storage features include drawers, cabinets, or even built-in wine racks.

Not only can the kitchen look stylish with 6003 Coastal Grey, but the extra storage will keep the kitchen organized and clutter-free.
Open shelving
Imagine this: open beige shelving paired with a gorgeous 1111 Vivid White, creating an airy and free-flowing kitchen.
Open kitchen shelving is also great for showcasing chic kitchen items, while simultaneously creating a warm and welcoming environment.
LED Lighting
Create a jazzy feel in a kitchen by incorporating LED lighting above or below the quartz island countertops.
When pursuing this style, it is best to choose a bright white like 2141 Blizzard. This will also allow the lights to reflect off of the countertops, not only providing style, but making it much easier to work and cook.
For a toned-down look, consider low-lights to brighten the kitchen, while maintaining more of a minimal style.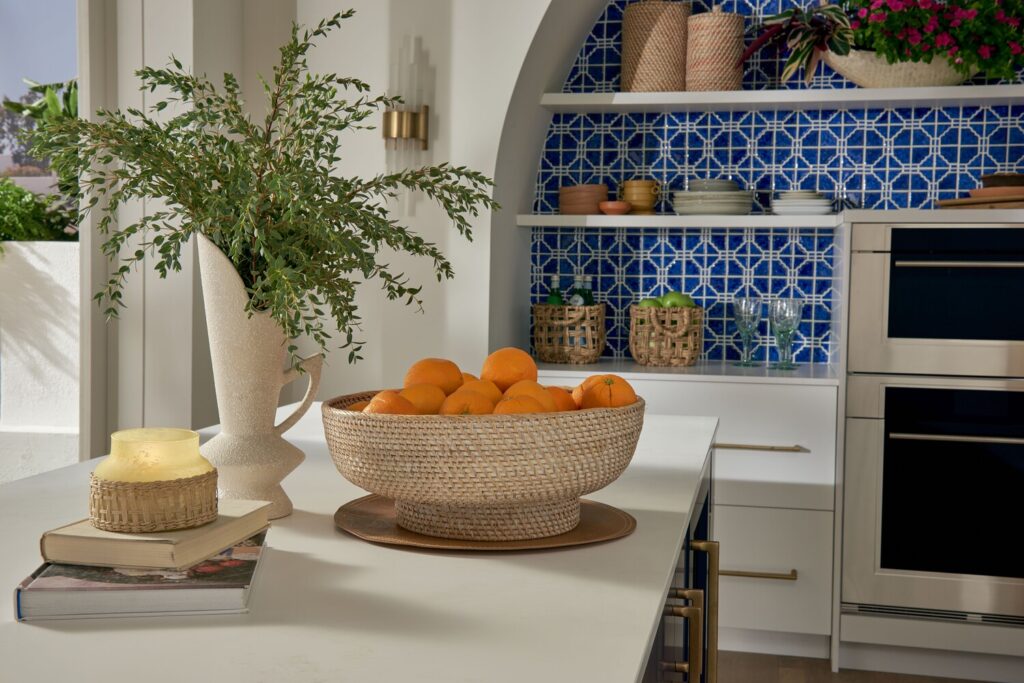 Everything to know about quartz
Quartz is a premier material for countertops due to the fact that it offers numerous benefits. Its remarkable strength and durability make it a top-performing surface.
There are numerous reasons this material is ideal for a quartz kitchen island.
Exceptional quality
Since quartz is made up of 90% raw materials, its durable characteristics make it virtually indestructible.
Easy maintenance
Quartz countertops are simple to clean and maintain with just a soft cloth, warm water, and non-abrasive and non-acidic soaps.
Non-porous
Quartz countertops are non-porous, which makes them hygienic and resistant to bacteria and other harmful substances.
Stain resistant
Quartz countertops are stain resistant, which makes them a go-to choice for high-use areas such as kitchens.
Just remember that it is always best to wipe up spills as soon as they occur. This minimizes the risk of stains and ensures that the counters retain their beautiful appearance.
Heat and scratch resistant
Quartz countertops are also resistant to heat-related damage and scratches. However, homeowners should consider using a cutting board (while cutting) or trivet (while handling hot items) to avoid any possible damage.
Natural and timeless
Quartz countertops offer a natural and timeless appearance that complements a variety of interior styles.
Sustainable
Quartz countertops are a sustainable choice, made from a mixture of natural and engineered materials that have a low environmental impact.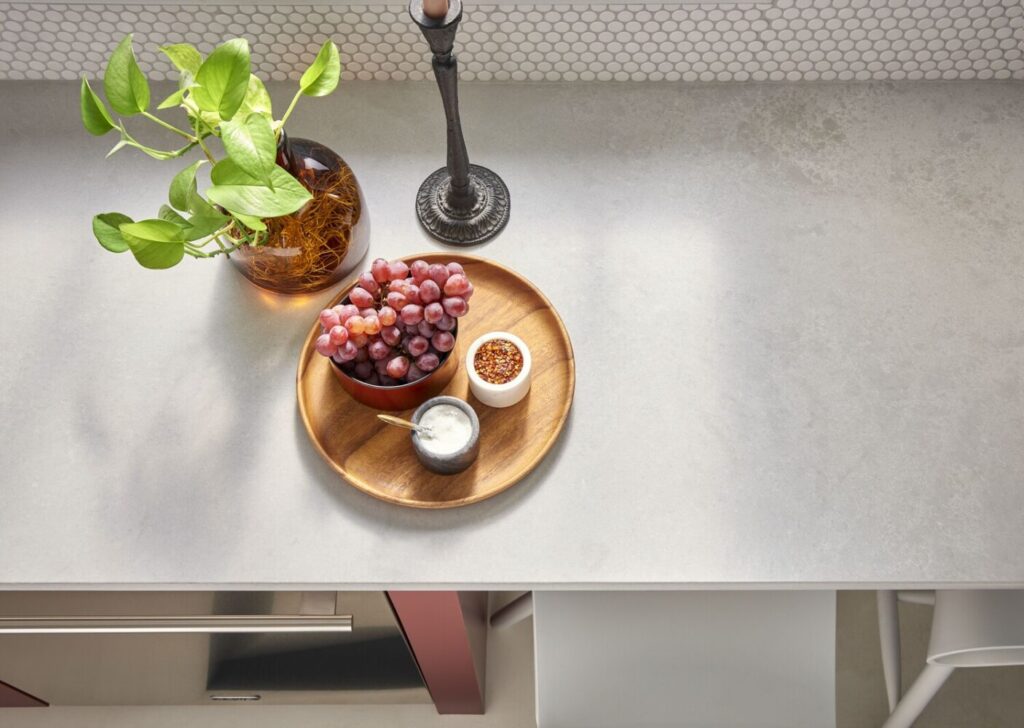 10 quartz kitchen island ideas 一 Conclusion
Yes, there are a lot of quartz island kitchen designs to choose from. With so many beautiful countertops available, it can be difficult to pick out the right one. To make the decision making process easier and less time-consuming, be sure to order a sample.
Homeowners can also use the Caesarstone visualizer tool to get a better idea of how certain countertops influence a kitchen.
Homeowners can take comfort in their choice of Caesarstone's countertops because they come with a lifetime warranty. For more information on warranty conditions, check out the Warranty Registration page.

Caesarstone has a new collection—The Pebbles Collection—a great option for those looking for a natural and organic feel. The Pebbles Collection also offers eight new sustainable surfaces that exude comfort and serenity.