Caesarstone was pleased to present our multi-material collection with you this year at KBIS. The launch of Caesarstone's Multi-Material portfolio marks a leap forward in the possibilities of design. The expansion of our portfolio provides you with the innovative trend-forward designs and material durability you need, all in one place with the quality you can trust from Caesarstone. Our booth Juxtaposed offered a new point-of-view on our countertop surfaces, brought to life by the creative mind of interior designer Brian Brown.
NEW! Porcelain & Natural Stone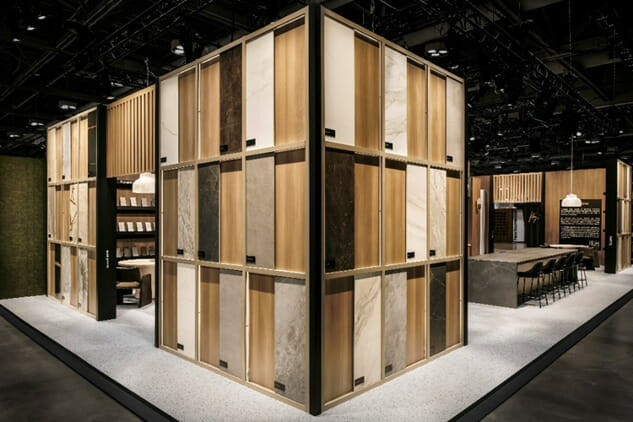 Caesarstone makes it easier than ever to design your dream space, with our expansive collection now including Porcelain and Natural Stone found all in one place. The Porcelain Collection includes 22 colors and comes with two finishes, honed and ultra-rough. Our Natural Stone Collection is hand-picked from across the world to provide you with the most beautiful and high-quality stone. Our countertops provide reliable performance and durability you can trust from Caesarstone.
In-Booth Events
Last week, we curated unique interactive experiences to give you a new point of view on our material offerings. At Caesarstone, we are inspired by our commitment to sustainability, dedication to innovation, and passion for design excellence which we brought to life in our booth.
Wellness Hour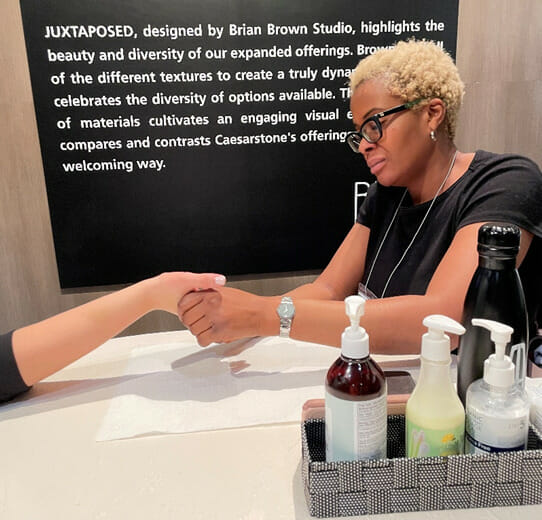 Caesarstone's commitment to sustainability and passion for bringing nature into the heart of the home inspired our Wellness hour which gave guests a moment to relax and recenter themselves during the busy show. Our guests created their own aromatherapy essential oil blends, enjoyed hand massages and a cup of warm tea from our tea bar.
LIVE Cooking Demonstrations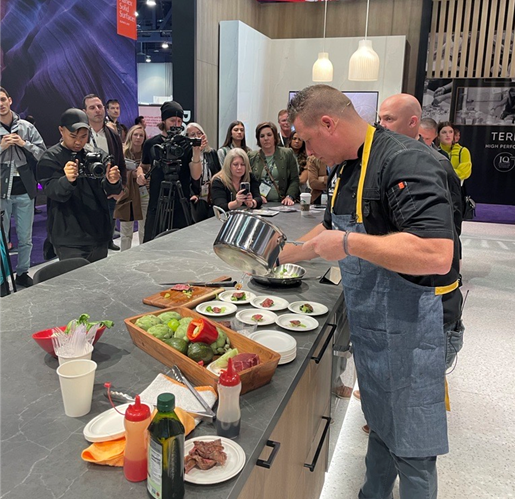 Chef Kevin Des Chenes demonstrated the durability of our new Porcelain collection by chopping vegetables directly on scratch-resistant porcelain and by using Invisacook, an induction cooking system to cook directly on the extreme heat-tolerant porcelain countertop. Cook directly on the counter for a seamless minimalist countertop space! Chef Kevin demonstrated how easy porcelain is to clean and maintain, Caesarstone is built to last and will be durable for your day-to-day life.
Outdoor Oasis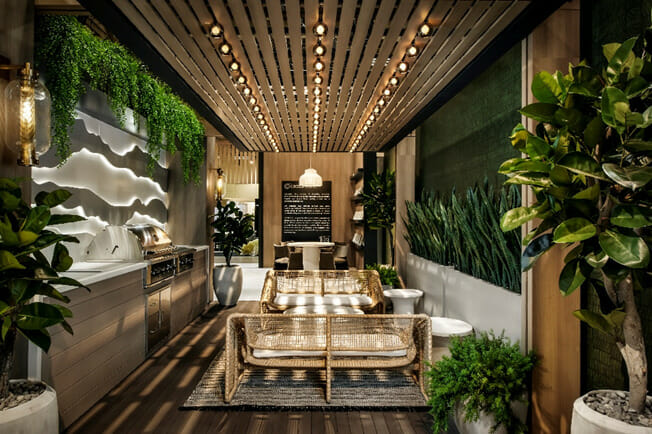 In our cozy outdoor booth space, Pro-Fit Living introduced an innovative self-intuitive design platform for designers to create a custom outdoor kitchen exclusively carrying Caesarstone products. Now with Caesarstone's expanded outdoor offerings, you have the full Caesarstone portfolio of Porcelain and Outdoor Quartz at your fingertips to create your dream space.
Champagne Toast with Brian Brown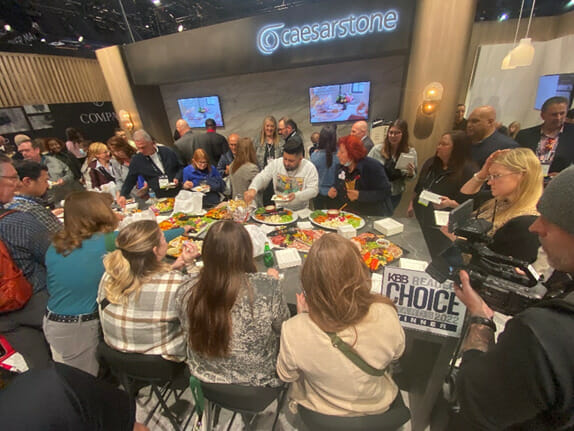 Thank you for joining us to celebrate KBIS! What a moment to remember full connection and discovery. Our champagne toast with Design Brian Brown and the Caesarstone Team brought everyone together to celebrate our multi-material launch and all the new design possibilities available with this new chapter of Caesarstone.
Caesarstone Connect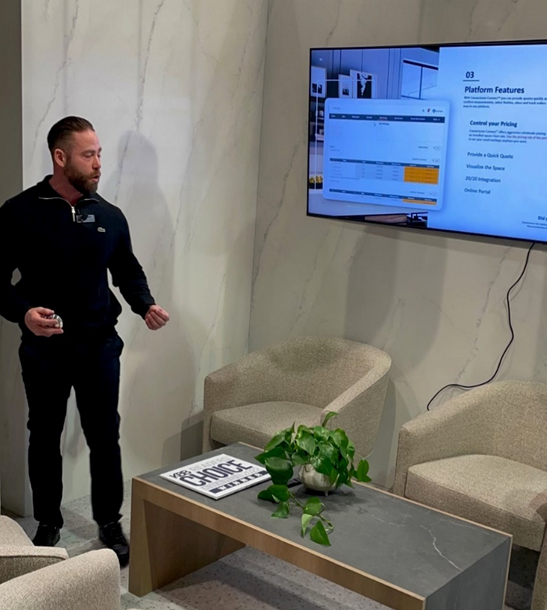 Our Caesarstone Connect experts demonstrated how this revolutionary program is a true point of differentiation for your business that will drive sales, and conversion rates and improve customer satisfaction. Using this one-stop-shop program decreases turn-around time on jobs, allows you greater transparency with your clients, and provides around-the-clock support from the Caesarstone Connect Support Team.
From Sketch to Reality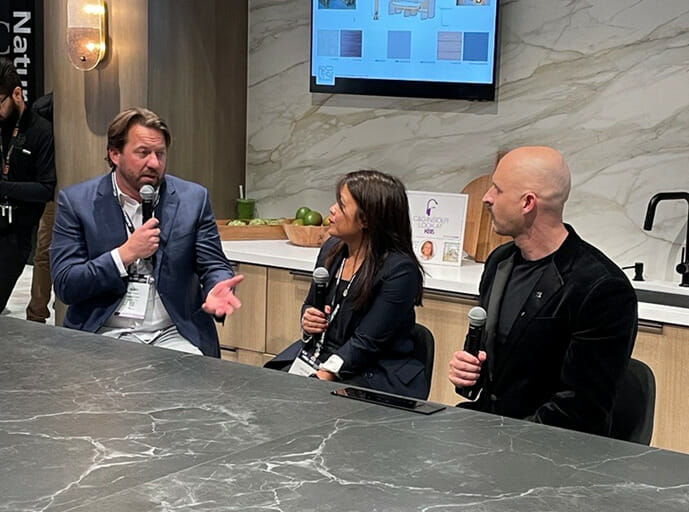 Award winning booth designer Brian Brown joined Sean Matthews and Veverly Lascona in a Q&A session to discuss their design and fabrication processes. This in-depth seminar broke down how experts use the new Porcelain and Natural Stone Collections.
We want to offer a special thank you to anyone who stopped by our booth to witness this monumental launch for Caesarstone. We look forward to seeing how you bring your visions to life through our innovative designs, durability, and quality you can trust with Caesarstone!