Many homeowners like to draw inspiration from nature when renovating their homes. Nature is chock-full of beautiful colors, patterns, and textures, many of which work wonderfully in a variety of residential spaces, like kitchens. While drawing inspiration from nature, it's best for homeowners to pick a specific theme.
Homeowners that love the beach, or water in general, are likely tempted to incorporate some popular coastal kitchen design trends into their renovation plans. Doing so makes them feel like they are by the water, even when they're stuck at home.
Looking to achieve a stylish coastal kitchen? Read on to learn more about the latest coastal kitchen design and renovation trends of the year.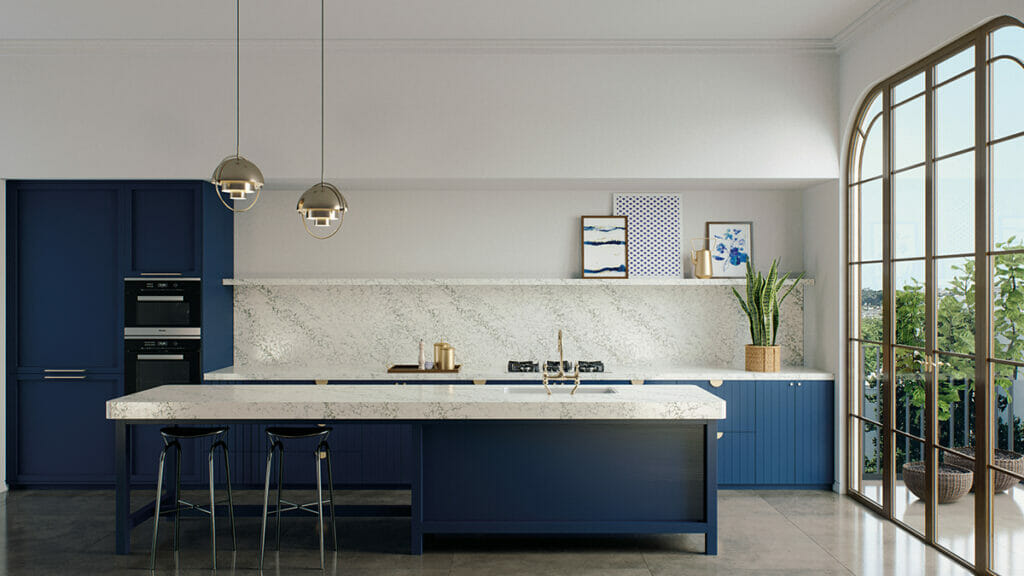 Coastal kitchen design ideas homeowners should consider
Here are some trendy coastal kitchen designs that are sure to impress:
Coastal design trend #1 — Classic coastal color combinations
When a person hears the words "coastal colors", the first colors that come to mind are likely blue, white, and brown. These classic colors work wonders in coastal-inspired spaces for several reasons.
For starters, these colors complement each other and add a calm, serene balance to a space. When combined, they work to create an authentic presence in any coastal kitchen design.
Additionally, these colors work on a thematic level — the color blue represents swirling clouds, ocean spray and open skies, the color white represents soft, sand-swept beaches, and the color brown represents driftwood.
Homeowners who are looking to achieve this classic coastal color combination can consider installing blue cabinets, dark brown wooden floors, and white quartz countertops, like Caesarstone's 5171 Arabetto, 5161 Icellion or 5031 Statuario Maximus.
On the other hand, homeowners can also pair brown quartz countertops, like Caesarstone's 6228 Woodlands, with white tile floors and blue coastal-themed decor. These examples are just the tip of the iceberg; the possibilities are endless!
Coastal design trend #2 — Beautiful beige tones with dark brown kitchen decor
Beige is a neutral color that works well with a variety of spaces, like coastal kitchens. Although beige isn't a true coastal color, it pairs naturally with several authentic coastal colors, like dark brown.
One of the easiest ways to incorporate this neutral color into a coastal kitchen design is with beige wall paint; however, this isn't the most subtle approach. Homeowners looking for a stylish way to incorporate beige into their coastal kitchen design should consider installing beige quartz countertops made with a product like Caesarstone's 5220 Dreamy Marfil or 5212 Taj Royale. Products like 5220 Dreamy Marfil and 5212 Taj Royale are ideal for coastal kitchens, thanks to their sand-like appearance.
For the best results, homeowners can pair their beige quartz countertops with dark brown decor like:
Cabinetry
Chairs, stools and couches
Tables (cocktail, vanity, accent, coffee, etc.)
Cooking utensils (cutting boards, knife blocks, etc.)
Baseboards
Curtains
Doing so will add a sense of warmth to any coastal-themed kitchen.
Coastal design trend #3 — White kitchen countertops with vibrant vintage decor
Not all coastal kitchen designs are based on present-day trends; some homeowners want their kitchens to reflect the vibrance of the 60s, 70s, or 80s.
Homeowners who want a vintage coastal kitchen should consider going with a classic surf theme. This is an ideal design idea for homeowners that enjoy spending time at the beach, surfing, or simply appreciate spaces with bright colors!
For a truly classic look, homeowners can pair stark white quartz countertops, like Caesarstone's 1141 Pure White or 9141 Ice Snow, with vibrant pinks, teals, and yellows. This unique color combination makes any kitchen feel like a blast from the past, in the best way possible.
Homeowners can look for the following items in bright colorways:
Crockery
House plants
Lighting (chandeliers, lamps, etc.)
Dish cloths, tea towels, cooking aprons
Artwork (paintings, sculptures, etc.)
Rugs, curtains, placemats
Appliances
Although it may take some time to find the perfect pieces, it's certainly worth the wait! Finding vibrantly colored decor is an absolute must for any homeowner who wants a vintage surf-inspired coastal kitchen.
Where can homeowners find high-quality quartz countertops for their coastal kitchens?
When it comes to coastal design, kitchen countertop quality should never be sacrificed. Homeowners who plan on installing quartz countertops in their home should work with reputable companies, like Caesarstone, if they want to ensure that they're purchasing a high-quality product.
Since 1987, Caesarstone has been a leader in the quartz countertop industry, which gives us over 30 years of hands-on experience. We employ a cutting-edge engineering process to craft luxurious products made with up to 90% quartz minerals. Our process guarantees that Caesarstone's products are strong, beautiful and made to last for many years to come.
Homeowners that want to get an in-person look at Caesarstone's wide range of products can do so by visiting a nearby retailer or showroom. Going to a retailer or showroom also gives homeowners the chance to work with experienced design experts who can help them throughout the renovation and installation process.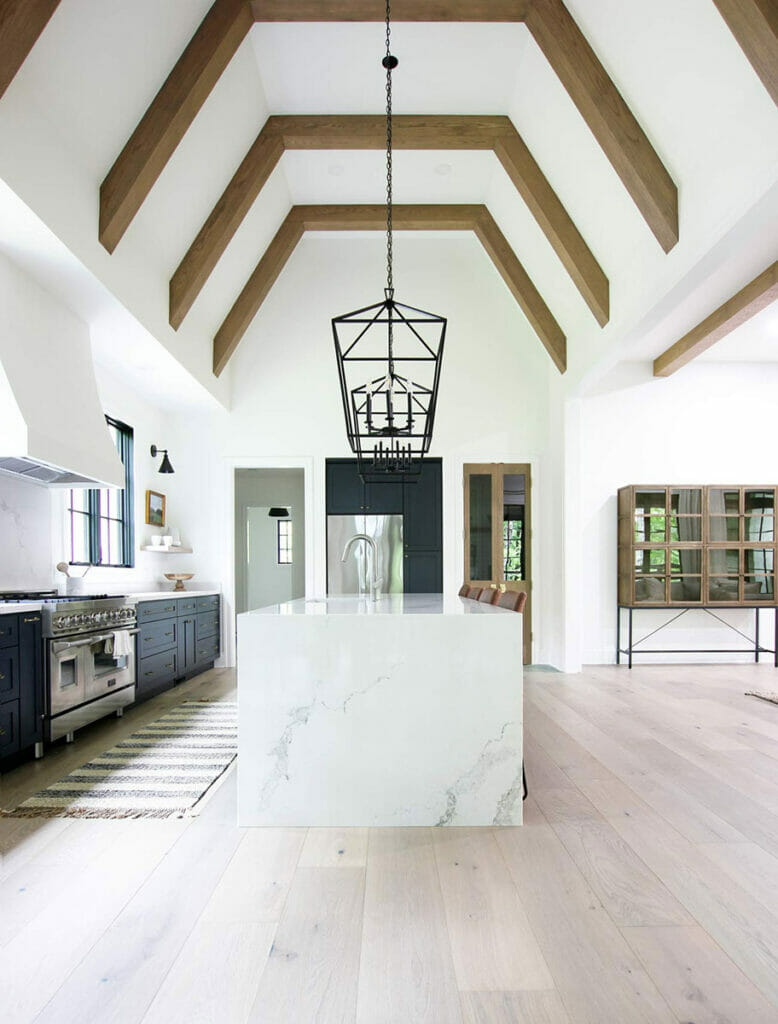 Those who are unable to visit a retailer or showroom can compare various Caesarstone products using our 3D Interactive Visualizer tool. This fantastic tool makes it easy for homeowners to compare multiple products from their computers or smartphones.
As a reminder, Caesarstone does not install or repair quartz countertops (or other quartz products) in residential or commercial settings. Homeowners and business owners must contact a professional if they require help with the installation or repair process.
FAQ about quartz countertops in residential spaces
Here are some FAQs Caesarstone has received about quartz countertops:
What makes quartz a practical choice for kitchen countertops?
Quartz is among the best materials for countertops in residential and commercial spaces for the following reasons:
Immense durability and strength
Crafted with an innovative engineering process
Can pair well with various types of styles and designs
Provides homeowners with peace of mind
How long do quartz kitchen countertops last?
Quartz kitchen countertops can last for several decades (with proper care and maintenance).
Is quartz scratch-resistant?
Yes! Quartz is very scratch resistant, making this countertop material an ideal option for homeowners with high-traffic kitchen spaces.