During the spring, summer, and autumn months, few things are more satisfying than enjoying a home-cooked meal in the great outdoors, especially with friends and family. This is one of the reasons why countless homeowners are investing in outdoor kitchens for their backyards.
Outdoor kitchens are perfect for cooking large meals, entertaining guests, or simply soaking up some sunshine on warm days. However, many homeowners are under the impression that they need to have a large backyard in order to have a striking outdoor kitchen. Thankfully, this couldn't be further from the truth!
Homeowners with smaller properties can also join in on the fun by taking inspiration from the following small outdoor kitchen ideas and design tips.
What are the types of small outdoor kitchen spaces?
There are several types of outdoor kitchens. Homeowners can opt for a classic grill paired with high-end quartz countertops or go the extra mile by installing a cocktail bar, lounge area, or even a pizza oven.
The possibilities are endless when it comes to building outdoor kitchens, regardless of how big or small the space may be.
Modern outdoor kitchen ideas for small backyards
Here are some top-notch small outdoor kitchen design tips that can help any homeowner turn their run-of-the-mill backyard into a striking modern alfresco space:
Tip #1 — Use outdoor quartz for countertops, bars, etc.
One of the first things that a homeowner needs to do during the outdoor kitchen design process is picking out a material for their countertops, bar tops, lounge area, etc. There are several high-quality materials that homeowners can choose from for their outdoor kitchen countertops, including engineered quartz.
Engineered quartz is one of the strongest materials on the face of the planet, ranking a seven (out of ten) on the Mohs Hardness scale. The undeniable strength, elegance, and beauty of engineered quartz make it one of the best materials for any kitchen, even if it's outdoors!
That being said, it is recommend that homeowners opt for a specific type of quartz for their alfresco spaces — outdoor quartz. Unlike other quartz products, outdoor quartz is designed for exterior use. Outdoor quartz is built to withstand anything Mother Nature can throw at it, including harsh weather conditions, UV rays, wear-and-tear, and much more.
While picking a variety of outdoor quartz, homeowners should go for a product that pairs well with the rest of the cooking space. As a rule of thumb, light-colored quartz products, like Caesarstone's 515 Palm Shade and 405 Midday, look fantastic when paired with dark-colored exterior decor.
To complete the look, homeowners should consider adding the following items (in dark colorways) to their outdoor kitchen design plan:
Table
Seating
Barbeque
Canopies
On the other hand, homeowners that prefer dark-colored quartz products, like Caesarstone's 406 Clearskies, can achieve the best results by opting for light-colored decor.
Quartz countertops are non-porous, which makes them highly resistant to water, stains and spills. That being said, homeowners should consider keeping them under some form of cover, in order to safeguard their investment.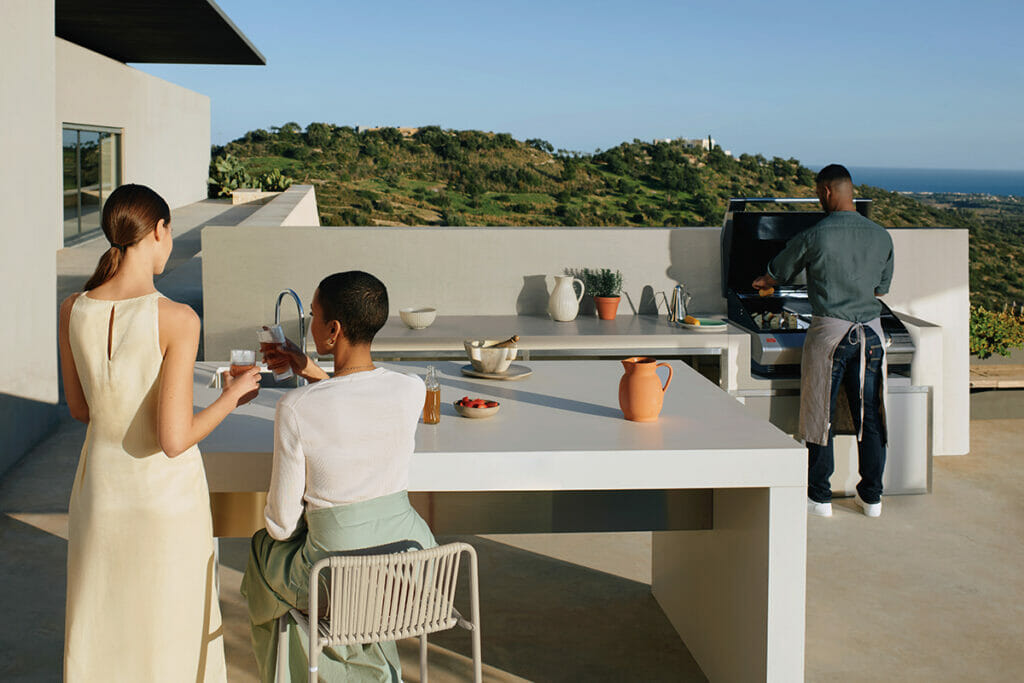 Tip #2 — Add a cover to small outdoor kitchens
As mentioned above, it's wise for homeowners to use some form of cover to protect their outdoor dining space. Protecting an outdoor dining space with a cover helps homeowners retain their kitchen's visual appeal and monetary value.
Finding the right type of cover for a large outdoor kitchen can be tricky; thankfully, it's easier for homeowners with smaller culinary spaces.
Homeowners that have a small, mobile outdoor kitchen can use a simple canopy to protect their alfresco design. A canopy can also cover immobile spaces; however, homeowners may want to consider building a permanent structure to safeguard their outdoor kitchens, like a gazebo.
Taking the time to protect an outdoor kitchen ensures that it remains in good condition and looks great during get-togethers and social events.
Tip #3 — Learn to adapt to nature
Nature is perfectly imperfect; there are no straight lines, 90-degree angles, or sophisticated designs. Furthermore, nature is constantly evolving, changing and adapting. Homeowners should keep these things in mind during the outdoor kitchen design process. If a particular aspect of a design isn't coming together, homeowners can use nature to their advantage.
Is there too much natural light in the space? Plant some trees or a living privacy screen!
Are there too many bugs swarming the dining space? Strategically plant native flora in a nearby garden to deter bugs and other small creatures from the cooking area!
There is a solution to every problem, and if a homeowner plays their cards right, they can even enhance the overall look of their culinary space.
Where can homeowners get high-quality quartz products for their outdoor kitchen spaces?
Homeowners that are thinking about adding an outdoor kitchen to their backyard should always work with a reputable quartz countertop manufacturer, like our team at Caesarstone.
Caesarstone has been setting trends in the quartz countertop industry since 1987. Since then, we've made it clear that we produce some of the most luxurious quartz products on the market.
Caesarstone employs a specialized engineering process that allows us to craft countertops with up to 90% pure quartz minerals. This gives our products a sleek appearance and unmatchable strength.
Homeowners who want to get a better look at their favorite Caesarstone products can visit a nearby showroom or retailer. Going to a showroom or retailer gives homeowners the opportunity to work with design experts that can help them make the right choice for their kitchen spaces.
However, homeowners that don't have the ability to visit a retailer or showroom can compare Caesarstone products by using our innovative 3D Interactive Visualizer.
Please be aware that Caesarstone does not install or repair quartz countertops (or related products) in residential or commercial settings. Speak with a trained professional for further assistance.
Design the perfect small outdoor kitchen
Designing an outdoor dining space isn't as difficult as it might sound; homeowners simply need to pick a style, work with high-quality products (like engineered quartz), invest in a cover, and be prepared to adapt.
After taking these steps, practically anyone can transform their plain backyard into a stylish culinary space that is worth showing off to the whole neighborhood.