From fixing a meal to entertaining guests, kitchens are renowned for bringing families and friends together. For homeowners who enjoy their time in the kitchen, a change of scenery is a necessary luxury. An outdoor kitchen provides a creative and relaxing space with a different ambience.
With an outdoor kitchen, homeowners get to enjoy the fresh air and the beauty of the outdoors as they cook and entertain their guests. However, one of the major considerations when designing an outdoor kitchen is the countertop material. Selecting the wrong outdoor kitchen countertops can prevent homeowners from enjoying the entire outdoor kitchen experience.
So, what is the best countertop for an outdoor kitchen?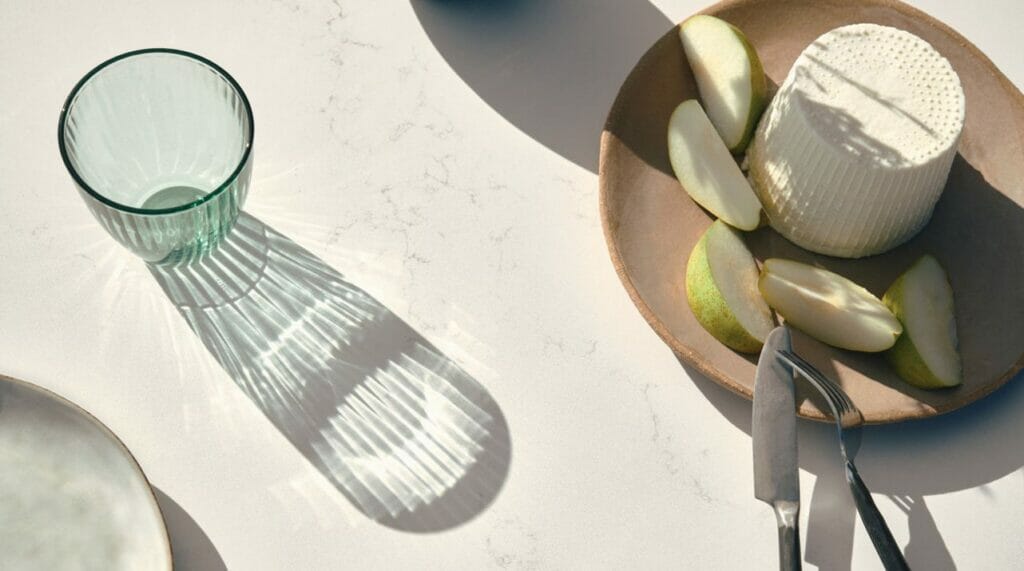 What factors should homeowners consider when selecting outdoor kitchen countertops?
Durability
The best outdoor kitchen countertop materials are not cheap. This means that every homeowner should opt for durable countertop materials as opposed to trying to save money by purchasing a countertop that is not good quality.
Quartz, being one of the hardest countertop materials, comes highly recommended. On the Mohs hardness scale, quartz has a rating of 7. And with the added resins and polymers, the material is extremely durable, making it the best option for outdoor kitchen countertops.
However, this does not mean that quartz is indestructible. While it is resistant to scratches and chips, the chances of such damages are minimal if it is well maintained. Homeowners who want to get the best out of their outdoor kitchen countertops can purchase their quartz materials from reputable brands such as Caesarstone.
Ease of cleaning
Outdoor spaces are beautiful. However, they are more prone to dirt, debris, and dust. Materials that are difficult to clean can make the outdoor kitchen experience unbearable. However, with easy-to-clean outdoor kitchen spaces, homeowners can clean and tidy up the area in a matter of seconds before guests arrive. Quartz, being a non-porous countertop, means that the cleaning process is seamless. All that is needed is warm water and mild soap to clean up the dirt.
Non-porous nature
No matter how much care is taken, kitchen spaces are prone to food, wine, coffee, juice and other stains. Choosing a non-porous outdoor kitchen countertop, such as quartz, ensures durability and ease of cleaning.
The non-porous nature of quartz countertops makes the kitchen area more hygienic since the material does not harbour viruses or bacteria. This is also the perfect choice for homeowners who have young children.
Have you checked the cost of regularly sealing countertop materials? This can be an expensive and time-consuming process. Installing quartz eliminates this problem since it does not require any sealing.
Color and pattern options
While functionality is a major consideration when selecting the perfect countertop, beauty should not be ignored. A beautiful outdoor kitchen space is a great way to complete the look and feel of a home. As such, the best outdoor countertops should match the practical needs and aesthetic preferences of the homeowner.
Caesarstone offers a stunning Outdoor Collection to make any homeowner's outdoor kitchen dreams come to life. With colors such as 515 Palm Shade, 406 Clearskies, and 405 Midday, who couldn't picture themselves enjoying the perfect outdoor cooking experience?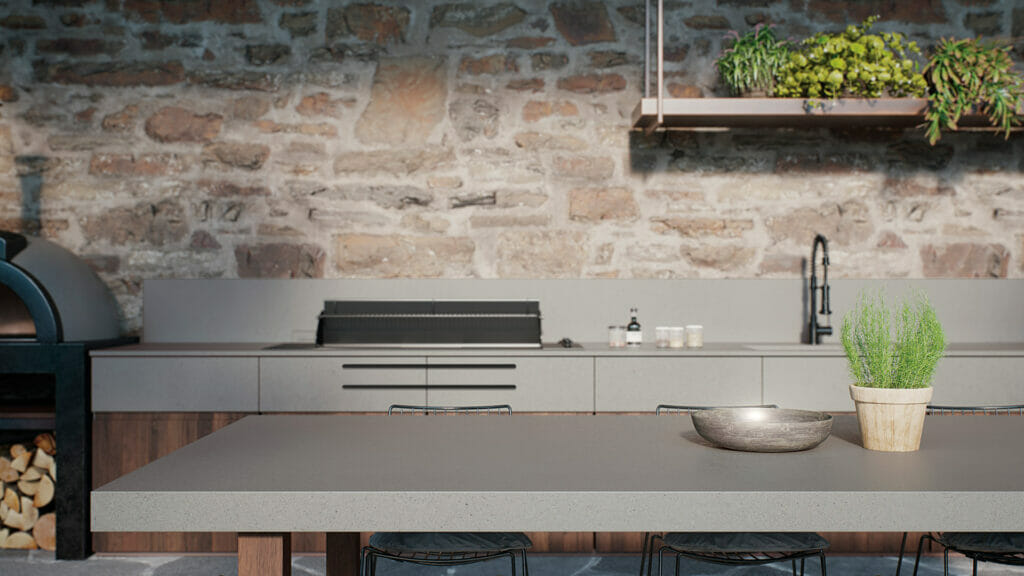 Choose a desirable countertop edge
While outdoor countertop edges may seem like an unimportant detail, they can change the look of the entire kitchen space.
For a homeowner who is looking for outdoor kitchen countertop ideas, quartz has a variety of countertop edges, including standard and premium edges. While premium edges cost more than standard edges, they can transform the space entirely.
Whether you want an Eased, Full Bevel, Half Bevel, Half Bullnose, Full Bullnose, Mitered, Ogee, Pencil, Double Radius, or Triple Laminated Bullnose edge, working with a reputable fabricator will achieve the exact edge profile that you wish for.
How should homeowners care for their outdoor quartz kitchen countertops?
Cleaning – Quartz countertops are easy to clean. However, using the wrong cleaning detergents or techniques can easily destroy the beauty of your outdoor kitchen countertops. Caesarstone recommends using mild soap and water when cleaning mundane spills.
Luckily, the cleaning process is seamless, given the non-porous nature of quartz countertops. If dealing with stubborn stains, use an approved cleaner and clean the affected area in a circular motion. However stubborn the stains might be, avoid exposing the countertop to cleaning chemicals.
Use hot pads and trivets to place hot cookware – Quartz is heat resistant. But it is not immune to heat damage. For longevity, do not place hot substances on the countertop material. This is the easiest way to get irreparable burn marks on the countertop.
Do not expose the countertop to unapproved chemicals – If working with chemicals around the outdoor kitchen countertop area, take caution as not to spill the chemical on the countertop. And if it spills on the countertop, ensure to clean the spills immediately with an approved cleaner. For a list of what products to avoid, visit this page.
Avoid using sharp objects on the outdoor kitchen countertops – Quartz is one of the hardest countertop materials, but, as we mentioned, it is not indestructible. It may be tempting to use the countertop as a cutting board for easy meal preparation. However, quartz countertops can scratch or chip. Always use a cutting board and avoid using sharp objects on the countertop.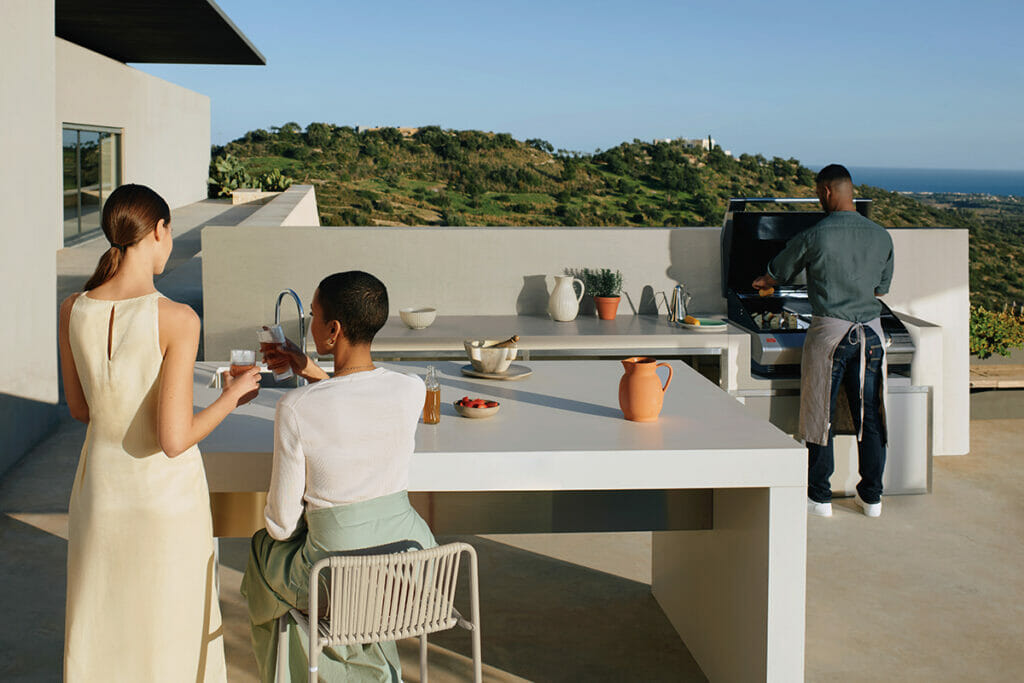 For more information on the variety of outdoor kitchen countertop options, check out the full Caesarstone Outdoor Collection online!