Quartz is one of the best materials that any homeowner can use for their countertop projects. Whether upgrading a kitchen, bathroom, closet or any other room in need of a new countertop surface, quartz comes highly recommended.
Being the best alternative to natural stone countertop materials, quartz is a long-lasting product. It is also available in a variety of colors, patterns, and styles that can pair with any home's aesthetics. Orlando homeowners should keep in mind that purchasing a quartz countertop from a reputable manufacturer like Caesarstone is the best way to go to ensure the utmost beauty and quality for many years to come.
Keep reading to learn more about quartz countertops in Orlando.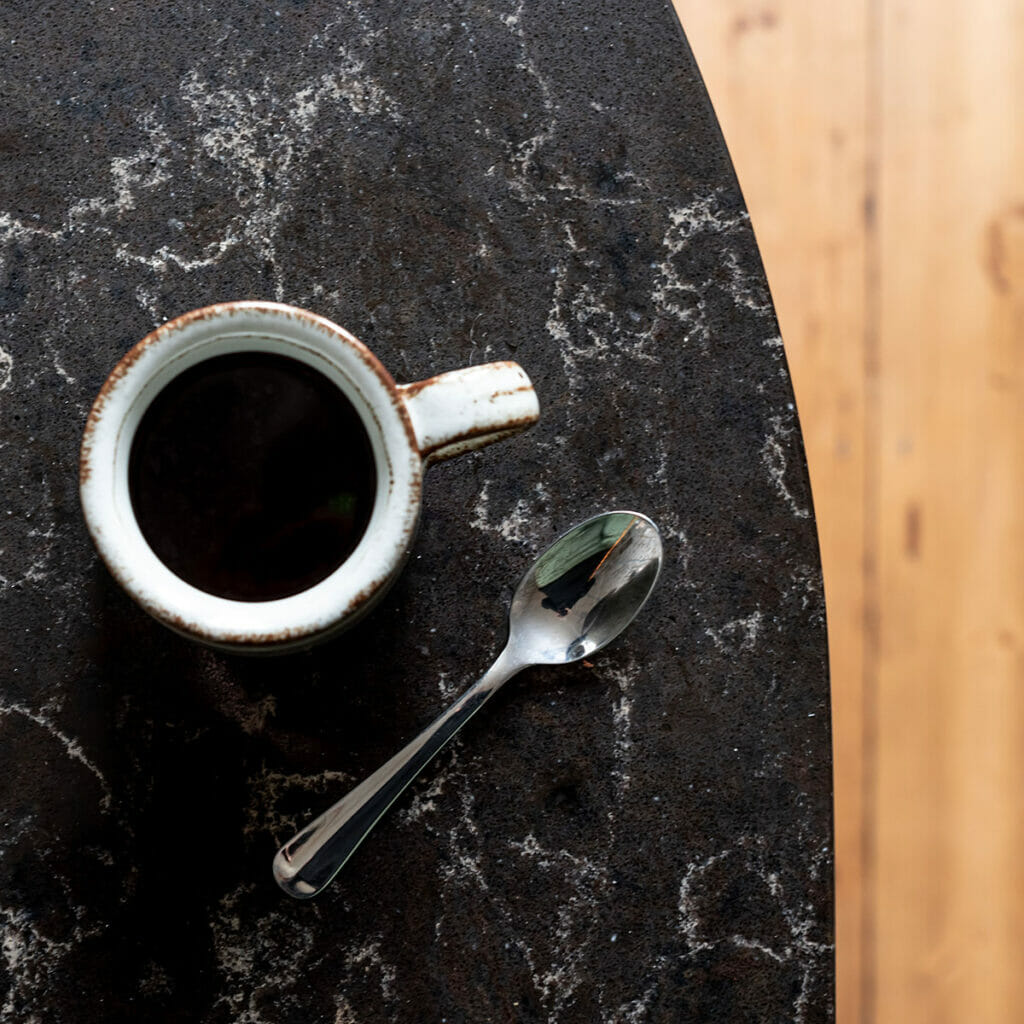 What makes quartz the best countertop material?
Durability
This is one of the primary selling points for anyone looking for quartz countertops in Orlando, Fl. Made with 90% quartz and 10% resins and pigments, the result is an extremely solid and durable countertop material. This is an excellent consideration for busy spaces, as your countertops will be less likely to chip or crack with daily use.
Ease of maintenance
Quartz derives its ease of maintenance from its unique manufacturing process. Being a man-made product, the engineering process produces a countertop material that is hard and non-porous, making quartz's cleaning and maintenance needs very simple. Since quartz is a non-porous material, it does not absorb liquids. It is also antibacterial and does not require any sealing, which can be a time-consuming and expensive process.
Availability of color choices
There is a wide spectrum of colors that Orlando homeowners can pick to suit their home. In fact, choosing quartz colors in Orlando is a seamless process. This is especially the case if a homeowner purchases the countertops from a reputable quartz manufacturer.
For instance, Caesarstone offers a wide variety of countertop colors, patterns, and finishes. For a homeowner looking for hues of browns, 6338 Woodlands is an excellent choice. And for whites, 405 Midday, 6131 Bianco Drift or 1141 Pure White are great options.
Depending on the preferred aesthetic, homeowners can either select a concrete, natural, rough, honed or polished finish. Caesarstone also offers quartz countertops that are ideal for indoor and outdoor spaces, easing the process of choosing the best countertop material for your Orlando home.
Ability to customize
For homeowners looking for quartz in Orlando, Fl, this material is an excellent choice for odd-shaped or curved countertop spaces. Because the material is formed with polymers and resins, slabs can be crafted in a number of unique shapes and sizes specific to your unique home needs.
Eco-friendliness
Quartz is well known for its durability. As such, the environmental impact of engineered quartz is low since it is long-lasting and will not need to be replaced as frequently as other countertop alternatives.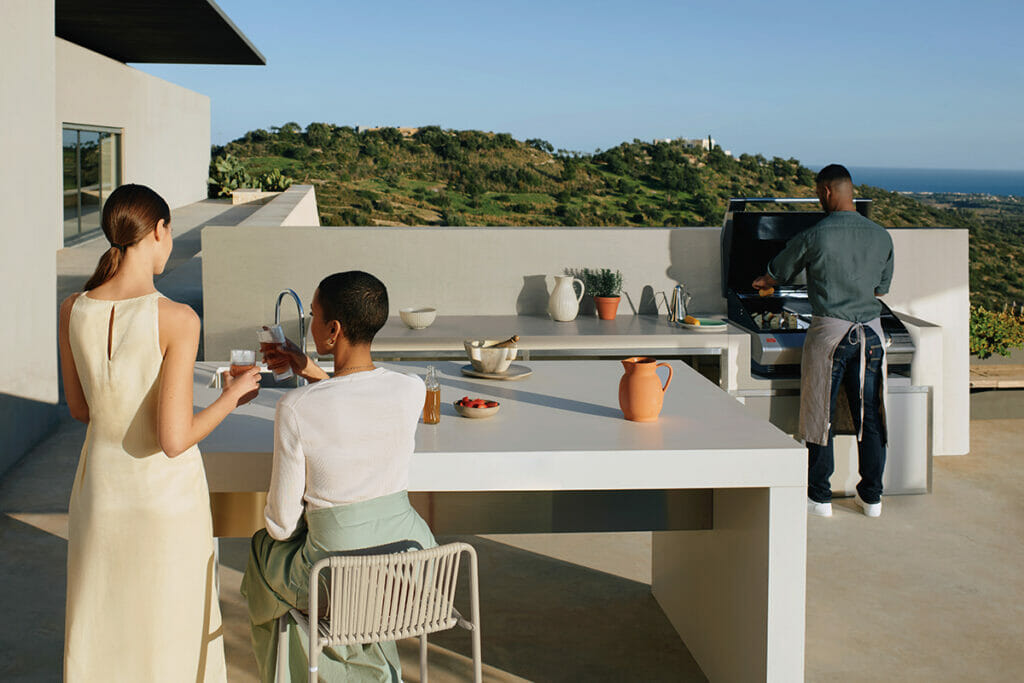 How can homeowners choose the best quartz countertops?
Here are some tips that homeowners can use to select the right quartz countertop.
Select the right color and pattern
It is vital to determine the color hues and patterns that go well with your home. If wrongly chosen, the entire project can be ruined, and replacing the countertop material is an added cost that we wouldn't want any homeowner to incur.
Choose the preferred edging
Countertop edging determines quite of bit of the countertop design and overall room style. With Caesarstone, homeowners can choose between simple edging options such as eased or full bullnose or can opt for more intricate options such as the bevel, double bevel, double bullnose, and more. Caesarstone certified fabricators are always ready to help buyers with all fabrication needs including choosing, planning and shaping the countertop.
What is the average cost for quartz countertops installed in Orlando, Florida?
While quartz is a more cost-effective alternative to other countertop materials, it is not cheap. The average cost for quartz countertops installed in Orlando, Florida, ranges between $50 to more than $100 per square foot. However, the overall cost also depends on the size, type, cut-outs, edges and other modifications you can select. Looking to buy quartz countertops in Orlando? Purchasing your countertops from a reputable manufacturer like Caesarstone is a great way to ensure you're receiving the best bang for your buck.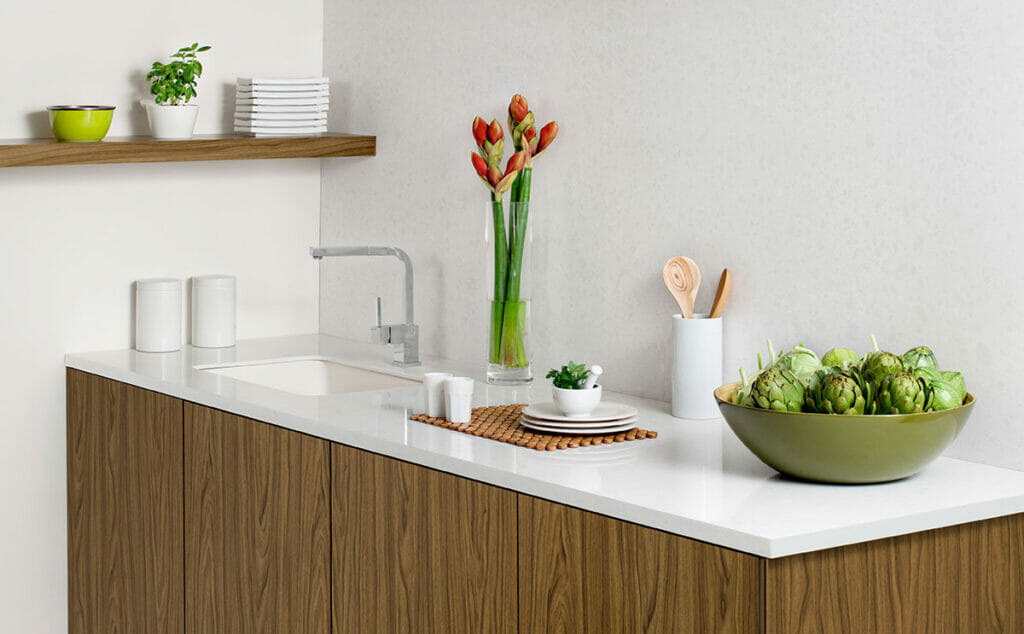 How can homeowners ensure the durability of their countertops?
As we mentioned, quartz countertops are renowned for their durability. However, they require some care and maintenance. For instance, while quartz countertops are one of the hardest countertop materials, they are not indestructible. As such, using the countertop material as a cutting board can crack or chip the counter.
Likewise, quartz is resistant to heat, but only to a certain extent. As such, it is important to use trivets when placing hot items on the countertops. Similarly, ensure that the countertop is cleaned only with recommended cleaners.
Where can homeowners get quartz countertops in Orlando?
Homeowners often wonder where to get all their Orlando quartz countertops. With Caesarstone's engineering, care, know-how and craftsmanship, you can be assured of quality countertops that will serve your kitchen or bathroom space for ages. The globally renowned brand leverages the outstanding qualities of the quartz material, making it the preferred choice for homeowners, designers and architects alike.
If you are in Orlando, you can shop Caesarstone countertops at an approved showroom, fabricator or retailer. To find a location nearest you, visit https://www.caesarstoneus.com/where-to-buy/.