Some homeowners like to base the interior design of their kitchens on specific aspects of nature, while others like to draw inspiration from foreign countries, such as Spain.
Spain is a beautiful country famous for its delicious cuisine, jaw-dropping landscapes, and of course, its interior design. Homeowners are drawn to Spanish-inspired interior designs for a variety of reasons, including their simplicity, grace, and warmth.
Homeowners looking to achieve Kitchen of the Year can start working towards their goal by drawing inspiration from the following modern Spanish kitchen design guide. Today's guide will focus on some of the essential aspects of designing a Spanish-inspired kitchen space.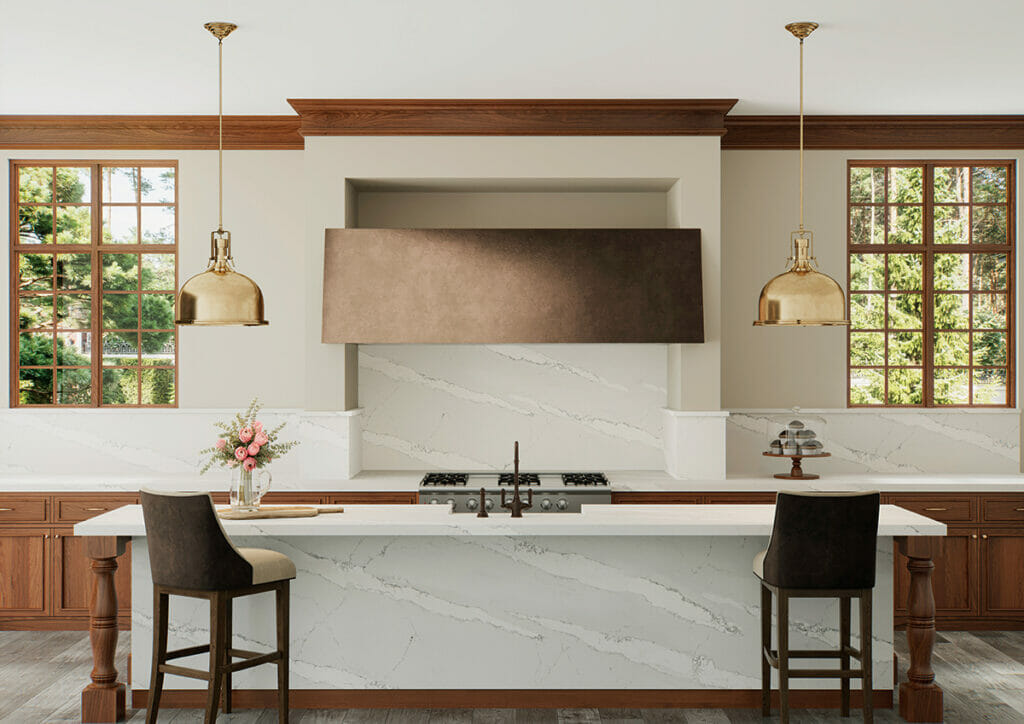 Design tip #1 — Dark brown cabinets are essential in Spanish-inspired kitchens
Many of today's modern Spanish kitchen design plans feature dark brown cabinetry, generally crafted out of walnut wood. Dark brown cabinetry provides kitchens with personality and can contribute to the luxurious sense of warmth found in Spanish-style kitchens.
For an authentic feel, homeowners can adorn their cabinetry with black iron handles, hinges, and accents. Doing so gives the cabinets a rustic, yet modern aesthetic that fits in with Spanish-inspired spaces.
Not to mention, dark brown cabinetry pairs well with white quartz countertops.
Design tip #2 — Bright white quartz countertops are a must-have for modern Spanish kitchen design ideas
Countertops are oftentimes the focal point in modern Spanish kitchen designs.
Homeowners can choose from a wide variety of materials for their kitchen countertops. That being said, many homeowners are drawn to the strength, beauty, and non-porous, easy-to-clean nature of engineered quartz.
Spanish colonial kitchen designs feature a handful of basic colors — dark brown, deep red, and bright white. High-quality white quartz countertops, like Caesarstone's 1001 Riverlet or 4600 Organic White, provide a vivid color contrast which complements the organic, earthy tones found in this type of kitchen.
For more personality, homeowners can opt for a veined counter surface, like Caesarstone's 5161 Icellion or 5171 Arabetto. Veined quartz countertops add a sense of energy and character that is hard to find elsewhere.
However, quartz isn't just easy on the eyes; it also offers a number of other beneficial characteristics, some of which include:
Durable
Environmentally friendly
Non-porous, easy to clean, hygienic
Stain, scratch, and heat-resistant
Easy to install
Design tip #3 — Choosing the right paint color for the walls
After picking out the ideal cabinetry and quartz countertop pairings, homeowners must determine what color they'd like to paint the walls. Choosing a paint color may seem like a simple task, but many homeowners quickly find out that it can be very overwhelming.
Paint manufacturers produce a wide spectrum of products in countless finishes and colors. Being able to choose from a variety of products does give homeowners some flexibility, but it also makes it more of a challenge to find the perfect color for their Spanish-inspired kitchen.
Homeowners who need some help picking a color can use the following suggestions as inspiration.
If a homeowner wants a Spanish colonial kitchen design, they can use a neutral color, like white, cream, ecru, ochre, sand or clay. These nature-inspired colors work well with a variety of other tones and shades, making them a practical choice for Spanish-style kitchens.
Homeowners looking to add some flair to their space can use a bolder color combination for a Spanish/Mexican style kitchen design. Some fantastic paint color options for Spanish/Mexican-inspired kitchens are dark orange and bright yellow. These colors, paired with a surface like Caesarstone's 4030 Oyster, will accentuate the traditional hues in the space.
Design tip #4 — Spanish-inspired decor ties the space together
Lastly, homeowners should take some time to find Spanish-inspired decor that completes the look of their kitchen designs.
Homeowners who want subtle pieces of decor can look for Spanish-inspired art, cookware, or other small accessories. Small pieces of decor add character to the space without making it feel too overcrowded.
That being said, homeowners can also take things a step further. Those who are looking to add extra Spanish-inspired flair to their kitchens can opt for the following items:
Adding the items listed above makes the space look and feel more personal. Guests will notice and admire this when they visit a Spanish-inspired kitchen, as these pieces add an authentic presence to the overall design.
For the best results, homeowners should display their unique finds on surfaces like Caesarstone's 5222 Adamina. This sand-inspired quartz acts as a warm backdrop for Spanish-inspired decor, making it easier for homeowners to showcase their sense of style.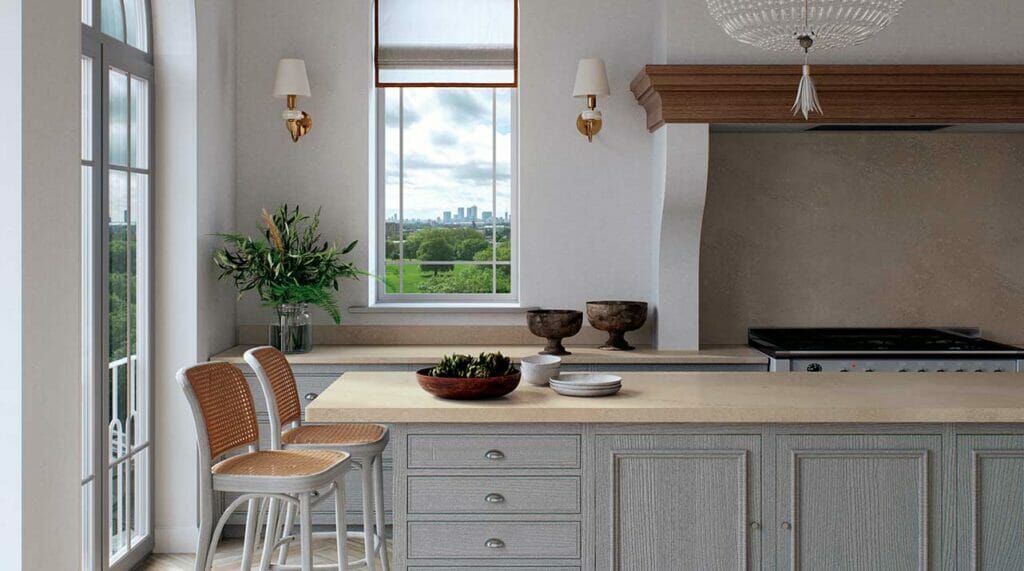 Who manufactures high-quality quartz countertops for Spanish-inspired kitchens?
Anyone who has shopped for quartz countertops knows that Caesarstone is one of the most reputable names in the industry. Caesarstone has been an industry leader in quartz for over 30 years. Since 1987, Caesarstone has possessed the skills, expertise, and know-how to craft some of the highest quality products on the market.
Homeowners who would like to get a better look at Caesarstone's products can visit a nearby retailer or showroom. There, our design experts can help homeowners compare various products and make professional recommendations along the way.
Homeowners who are unable to visit a showroom or retailer can compare Caesarstone's wide range of premium quartz products by using our state-of-the-art 3D Interactive Visualizer tool. This tool allows homeowners to look at various products in several spaces — all from the comfort of their own home!
Looking for more interior design inspiration?
Homeowners who are still on the fence about their kitchen design plans can visit our Written in Stone Blog. Caesarstone's Written in Stone Blog is jam-packed with useful articles focusing on various aspects of interior design. After going through some of our articles, almost any homeowner will feel like a design expert.