Starting a business is never easy, especially in the service industry. Business owners need to handle customers, manage employees and work countless hours in order to generate a profit. That being said, operating a restaurant can be extremely rewarding as a career.
However, before any reservations can be made or potential customers served, business owners must first plan out their commercial space. Although most business owners tend to focus their efforts on the front-of-house, it's essential to put an equal amount of time and energy into the kitchen.
Business owners looking to kickstart their culinary venture can start off on the right foot by reading up on all the latest chef's kitchen design tips.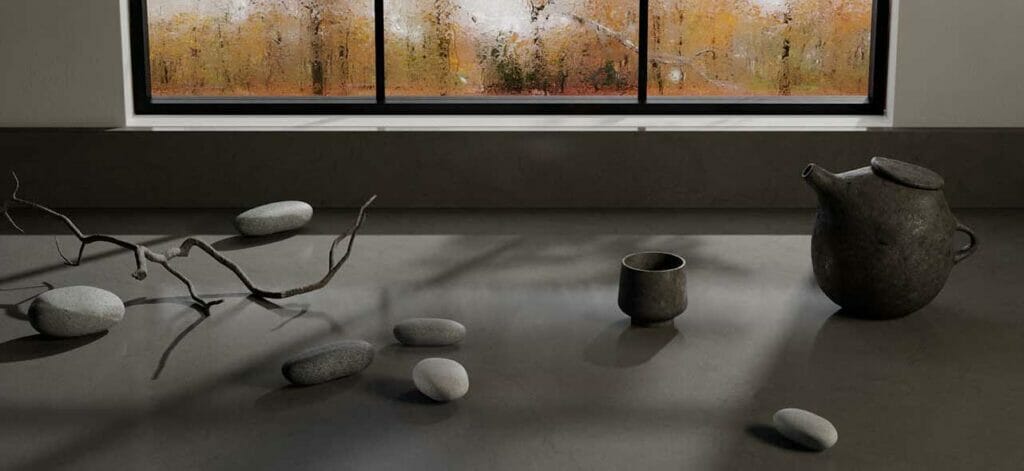 The best chef's kitchen design tips for restaurants
Business owners can draw inspiration from the following chef's kitchen design tips:
Tip #1 — Integrate high-quality quartz countertops into the commercial kitchen
Picking a material for commercial kitchen countertops can be quite a challenge, even for professional interior designers. Business owners need to choose a surface that works well with their decor and fits into their chef's kitchen design budget.
There are several reliable options for commercial kitchen countertops, including engineered quartz. Engineered quartz is one of the best materials for commercial kitchen countertops due to its eye-catching appeal, durable nature, and resistance to chips, stains and cracks.
Not to mention, engineered quartz countertops are non-porous. As such, engineered quartz countertops are an ideal choice for anyone who wants to keep their commercial kitchen as hygienic and clean as possible.
The ideal style and color of quartz will depend on other aspects of the commercial kitchen design. For instance, business owners who seek an all-white kitchen can add some stylish contrast with high-quality black quartz countertops made with a product like Caesarstone's 3100 Jet Black or 5820 Darcrest.
Business owners looking to give their commercial kitchen some additional flair may want to consider a product from Caesarstone's Pebbles Collection. The Pebbles Collection is a new range of sustainably crafted quartz products inspired by various aspects of nature, like water, wind, sunshine, and rain.
Some popular products from Caesarstone's Pebbles Collection include:
Products like these can add personality and character to a commercial kitchen, which is something that the back-of-house staff will appreciate. Additionally, working with flashier colors will help draw customers' eyes to the cooking space, which is a key aspect for restaurants with open-concept kitchen designs.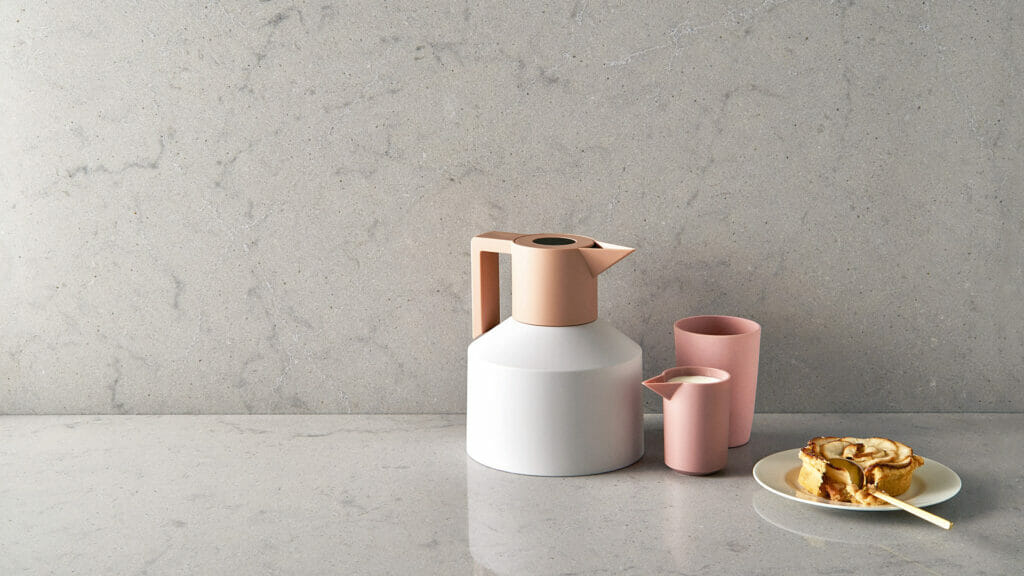 Tip #2 — Set up organized workstations for staff members
All commercial kitchens need to be organized, in order to prevent chaos. Failing to properly streamline a commercial kitchen can lead to a wide range of avoidable issues down the road, including spills, clutter and accidents like broken dishes.
This is why it's so crucial for business owners to put time and energy into organizing their commercial kitchen spaces. As a rule of thumb, commercial kitchens are broken down into separate workspaces. For instance, one portion of the room is solely used for meal preparation, while another section is used for cleaning dishes. Doing so prevents mix-ups and keeps things relatively chaos free.
Although this may sound like a simple tip, many business owners overlook the importance of laying out their kitchens in an orderly fashion.
Tip #3 — Invest in quality appliances for the commercial kitchen
High-quality kitchen appliances are a must-have for any restaurateur. Commercial kitchen appliances are made to withstand daily use, and can last for many years to come. These appliances can also work with larger volumes of ingredients so that restaurants can keep up with customer demand.
Some examples of essential commercial kitchen appliances include:
Grills
Ovens
Freezers
Processors
Mixers
Choosing not to invest in reliable kitchen appliances may save business owners a small amount of money to start with, but it can cost them in the long run. If an appliance constantly breaks down or is unable to function properly, a business owner will end up spending more time and money on repairs and maintenance than they would have if they invested in a high-quality product in the first place.
Business owners should also try to look for commercial kitchen appliances that mesh well with their design plans. For instance, business owners who have sleek gray quartz countertops made with a product like Caesarstone's 6134 Georgian Bluffs or 5211 Noble Grey can achieve a cohesive look by opting for stainless steel appliances.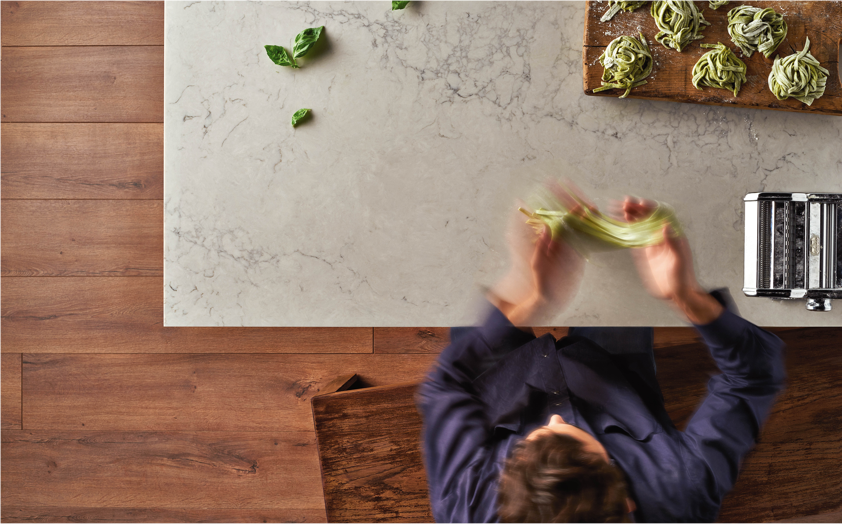 Where can business owners find high-quality quartz countertops for their commercial kitchens?
The simplest way for a business owner to find premium quartz countertops for their commercial kitchens is by visiting Caesarstone's website and scrolling through our "Color Catalog". Our Color Catalog is chock-full of well-made engineered quartz products from stylish collections, like the aforementioned Pebbles Collection.
After finding a color that they like, business owners can take advantage of Caesarstone's 3D Interactive Visualizer tool to compare various products in a digitally replicated space. Having the ability to compare Caesarstone's wide selection of engineered quartz surfaces from the click of a button makes the commercial kitchen design process more manageable and less time-consuming for business owners.
Alternatively, business owners can also visit a local retailer or showroom that carries Caesarstone's range of products. Going to a retailer or showroom gives business owners the chance to see their chosen quartz styles in action and brainstorm ideas with trained design professionals.
Furthermore, homeowners looking for a striking chef's kitchen can join in on the action! Caesarstone crafts quartz products for both commercial and residential spaces. So, if a business owner falls in love with the quartz countertops in their commercial kitchen, they have the option to add them into the comfort of their own home!
Want to learn more about designing a commercial kitchen?
Business owners can learn more about designing a commercial kitchen for a restaurant, cafe, bar, coffee shop and more by visiting Caesarstone's Written in Stone Blog. Our Written in Stone Blog has a variety of articles focusing on interior design tips, tricks, and trends for both residential and commercial spaces.