After several years of frequent usage, many homeowners like to spruce up their bathrooms to create a new, fresh look. Taking the time to renovate a space can drastically upgrade its appearance and potentially increase the value of the property itself.
Homeowners looking to renovate their bathrooms should use the highest quality materials that they can find, especially when it comes to their countertops. A great example of a quality countertop material is quartz.
Quartz countertops look fantastic in bathrooms of all colors, styles, and sizes; however, they are a particularly eye-catching option in white and gray washrooms. Continue reading to learn more about some of the trending gray and white bathroom ideas that feature quartz countertops.
Why should homeowners use quartz for their bathroom countertops?
There are a number of reasons why homeowners should consider adding quartz countertops made by a reputable manufacturer, like Caesarstone, into their gray and white bathroom design ideas.
Some of the beneficial characteristics of quartz countertops include:
Environmentally friendly
Easy to install (Caesarstone does not install or repair quartz countertops in residential or commercial spaces. Please speak with a professional service or retailer for assistance.)
Scratch, heat, and stain-resistant
Low maintenance
Easy to clean
Nonporous
Hygienic
Durable
Additionally, quartz countertops come in a variety of colors, styles and patterns, allowing homeowners to find a shade or tone that melds perfectly with their bathroom renovation plans.
Gray and white bathroom ideas with quartz countertops
Here are some stylish white and gray bathroom design ideas that feature quartz countertops from Caesarstone:
Design idea #1 — Stark white bathroom with gray quartz countertops
There's something undeniably calming and serene about white bathrooms paired with gray quartz countertops. White bathrooms can sometimes appear minimalistic, but with the right features, like gray quartz countertops, they can also have a lot of character and personality.
Homeowners looking to create a stark white bathroom should start with white paint, vanity cabinets and decor pieces such as accent rugs or abstract paintings. Next, homeowners can move on to picking out the right shade of gray for their bathroom countertops.
The ideal shade of gray will vary from homeowner to homeowner, as everyone has a unique sense of style. But, homeowners that want a bold shade of gray can start by looking at products like Caesarstone's 4044 Airy Concrete or 1006 Agger Gray. A bolder tone helps the countertops "pop" against a clean and fresh white background.
On the other hand, homeowners who prefer lighter shades of gray can opt for a product like Caesarstone's 4001 Fresh Concrete or 5000 London Gray. These lighter tones blend well with stark, crisp whites and offer a stylish bathroom appearance.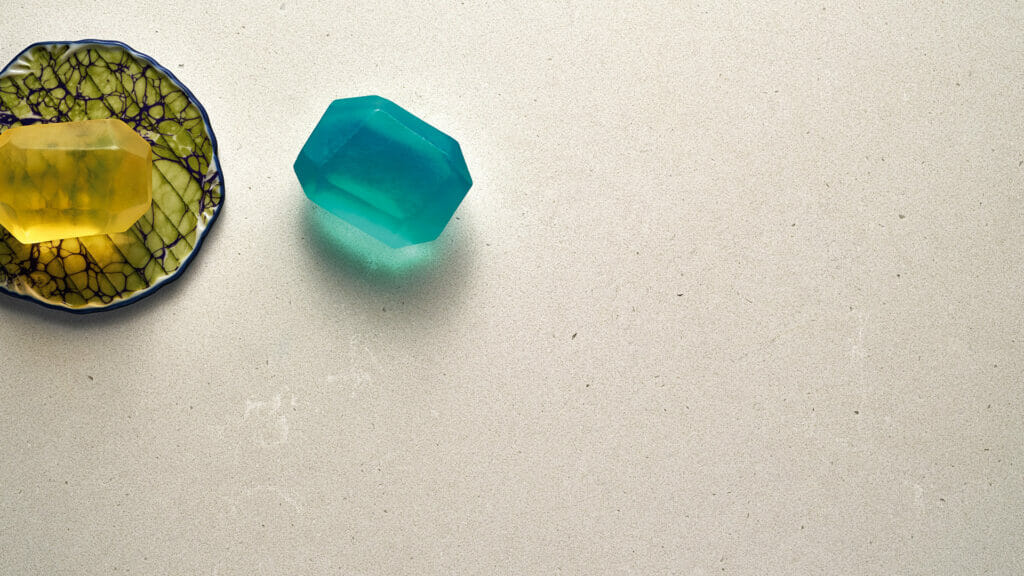 Design idea #2 — White and gray bathroom with dark brown quartz countertops
Homeowners looking for white and gray bathroom design ideas should opt for the beauty of brown quartz.
Darker variations of brown quartz, like Caesarstone's 6338 Woodlands, add a sense of warm energy and nature-inspired elegance to bathroom spaces. This sense of energy can be amplified by strategically adding warm lighting into the room.
White, gray, and brown together can turn a typical-looking bathroom into a stylish, modern space. Homeowners who want to make the most of their bathroom renovation should consider pairing their dark brown quartz countertops with a unique gray backsplash and freshly painted white walls. This striking combination provides bathrooms with a sense of movement and creates a refined, yet homey feel.
Design idea #3 — Gray white bathroom with black quartz countertops
There's no denying that black is a powerful color, especially when paired well with a contemporary bathroom design. Adding black quartz countertops to a white and gray bathroom provides vivid color contrast. The lighter tones of the whites and grays highlight the depth and character of the black quartz.
When visitors come into the bathroom, they will be instantly drawn to the countertops, making them the space's focal point. Homeowners can pair classic black quartz counter surfaces, like Caesarstone's 3100 Jet Black or 4120 Raven, with an array of gray and white bathroom decor pieces. Some examples of popular bathroom decor include:
Floor mats
Hand towels
Shower curtains
Toothbrush holders
Light pendants
Soap dishes
On the other hand, homeowners can also get a striking effect by using quartz that features unique veining, like 5100 Vanilla Noir. Veined quartz adds a sense of personality to a room, making it a must-have for homeowners that want their bathroom to look one-of-a-kind.
For added flair, homeowners can install a backsplash with complementary colors.
Why should homeowners choose Caesarstone quartz countertops for their homes?
Caesarstone is one of the most respected and well-known quartz countertop manufacturers in the United States. We have set the standard for luxury quartz countertops since 1987. Since then, we have crafted countless countertops for hardworking homeowners across the country.
What makes Caesarstone products so unique? It's all in the engineering process.
Caesarstone's innovative engineering process ensures that all products are made with up to 90% quartz minerals.
This process leaves homeowners with a durable, beautiful product that can last for many fruitful years to come.
FAQs about quartz countertops
Is quartz strong?
Quartz is extremely strong, making it a suitable surface material for residential countertops. For reference, quartz ranks 7 (out of 10) on the Mohs Scale of Hardness.
What colors does quartz come in?
Caesarstone manufactures quartz products in the following colors:
White
Black
Gray
Beige
Brown
Additionally, Caesarstone offers a variety of veined quartz products, which adds further variation to the countertops.
How can homeowners clean their quartz bathroom countertops?
Cleaning quartz bathroom countertops is a simple and relatively fast process. Generally, homeowners can clean the surface of their quartz countertops with water and soap (some issues may require a specialized quartz cleaner).
How are Caesarstone's products environmentally friendly?
There are several reasons why Caesarstone's products are considered to be environmentally friendly, some of which include:
Caesarstone's products meet the American Greenguard standards
Caesarstone's recycled surfaces contain up to 42% reclaimed quartz
Caesarstone regularly assesses the impact of its processes from an environmental standpoint