Quartz countertops have grown in popularity over the past couple of years. Homeowners are attracted to quartz countertops for a variety of reasons, ranging from their eye-catching style to their sheer strength and durable nature.
But, before making a big decision like this, homeowners should take a moment to consider all of their options, which includes the finish of their countertops. The finish affects the look and feel of the countertop surface. There are various finishes that homeowners can choose from, one of which is a matte quartz countertop.
Today's article will focus on the key characteristics of matte quartz countertops, some of the popular styles, and where homeowners can find high-quality products in this unique finish.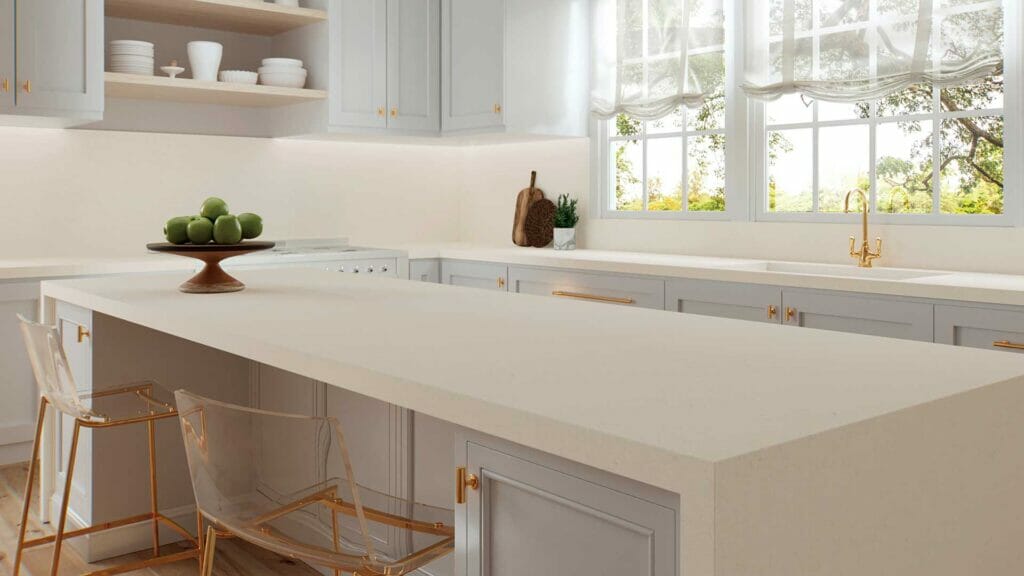 What are matte quartz countertops and why are they popular?
Matte (also commonly referred to as honed) quartz countertops are a finished surface for residential spaces, like kitchens, bathrooms, and in-home bars.
A matte finish gives a quartz countertop a deep, earthy appearance that feels very organic. In turn, most varieties of honed quartz look great in spaces that capitalize upon warm tones to create a nature-inspired design.
Countertops made with matte quartz have a slight texture. Many homeowners find this quality appealing, as it adds character and personality to the counter surface.
Additionally, honed quartz countertops do not reflect as much light as other types of finished quartz. Because of this, many homeowners like to add matte quartz countertops into spaces that feature an abundance of warm light (natural and artificial light work equally well).
What are the other types of finishes for quartz countertops?
As mentioned earlier, matte quartz countertops aren't the only option for homeowners; there are several other types of finishes that homeowners can choose from. Some of these options include:
Polished (also known as glossy)
Concrete
Natural
Rough
Today, many homeowners have strong opinions regarding the considerable debate around matte vs glossy quartz countertops — this is primarily due to the fact that both products have plenty to offer.
Wanting to learn more about matte vs glossy countertops? Click this link.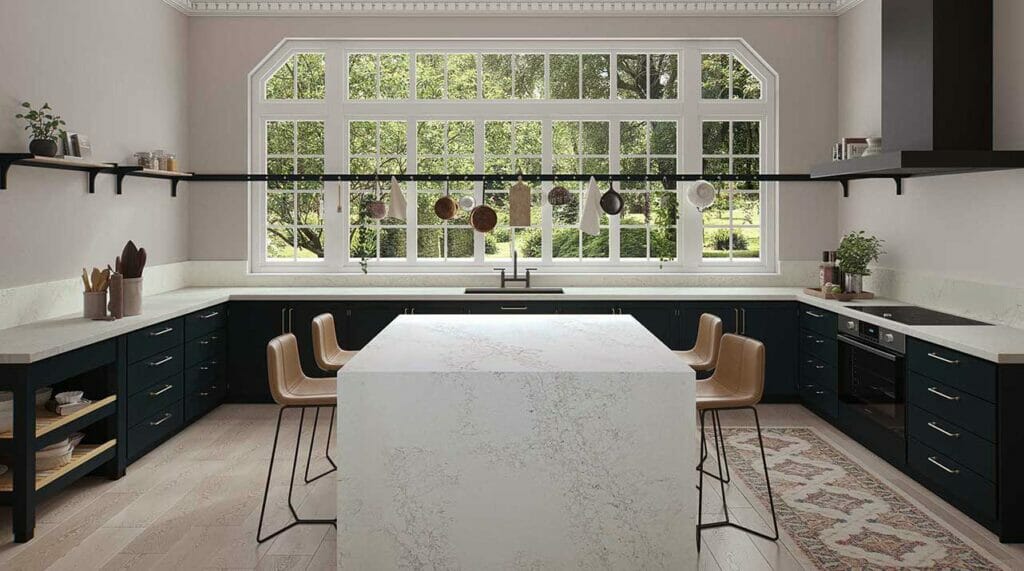 Popular matte quartz products for residential countertops
Many high-end quartz manufacturers, like Caesarstone, craft a wide variety of matte products. Homeowners can find a list of some of Caesarstone's most popular matte quartz products below:
1001 Riverlet
Homeowners who want a gentle, yet potent white quartz countertop look can go with a product like Caesarstone's 1001 Riverlet. 1001 Riverlet is a striking off-white quartz with a subtle matte finish.
This nature-inspired color features amber capillaries that flow softly across a balanced surface. These capillaries give 1001 Riverlet a tinge of freshness which complements well-lit spaces like kitchens and bathrooms.
Homeowners can add a jovial feel to any room with 1001 Riverlet. However, it's worth noting that this variety of matte quartz truly shines amongst white cabinetry with light brown decor. The white cabinetry highlights the off-white hues of the quartz, while the brown decor complements the amber undertones.
5121 Layalite
Anyone who wants to add a touch of elegance to a room should consider Caesarstone's 5121 Layalite for their countertops. 5121 Layalite is another shade of matte white quartz, but this product also features subtle veins in ochre, clay and sand.
The soft veins gives 5121 Layalite a warm and emotive look which works to perfectly capture the ever-changing nature of metamorphic rock. Because of this, 5121 Layalite is a go-to choice for homeowners looking to give their kitchen or bathroom a breath of fresh air.
For the best results, homeowners can pair 5121 Layalite with black (or other dark-colored) cabinetry with brass or gold accents. Homeowners can also take things a step further with dark-colored appliances like ovens, dishwashers, and refrigerators, to complement the countertops.
1002 Wyndigo
Gray matte quartz is an excellent choice for homeowners that want a neutral-colored kitchen or bathroom. The color gray goes well with a wide variety of other neutral shades, like white and beige. A great example of a stylish gray matte quartz is Caesarstone's 1002 Wyndigo.
1002 Wyndigo delicately captures a variety of subtle organic tones and lets them shine atop a calming gray canvas. Homeowners can make use of 1002 Wyndigo in many spaces, but it's worth noting that the color looks great when paired with an in-home bar. The serene shades of gray are warm, embracing and practically beckon visitors to pull up a chair.
To create a stylish and cohesive ambiance, homeowners can pair 1002 Wyndigo with neutrally colored decor and wooden flooring (or cabinetry).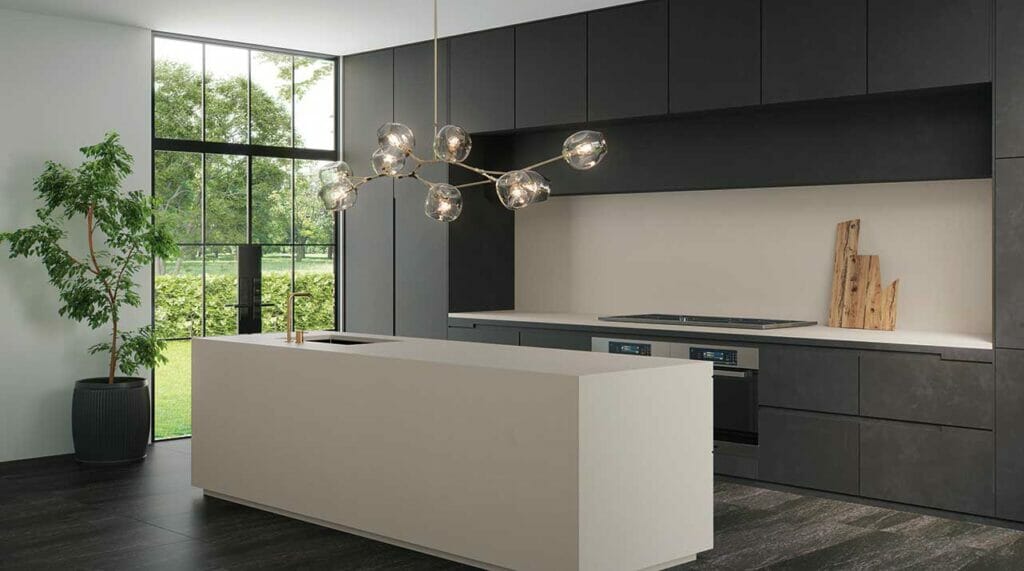 Why should homeowners work with a reputable quartz countertop manufacturer?
It is important for homeowners to find a reputable quartz countertop manufacturer, like Caesarstone. Coming up short in the search to find a reliable manufacturer can jeopardize the overall quality of the final product. After saving for months or years, this is the last thing most homeowners want to take a risk on.
Thankfully, homeowners can feel confident in their purchase and know that they will receive a top-of-the-line product when they buy Caesarstone quartz countertops. Caesarstone quartz countertops are crafted using an innovative engineering process, allowing us to create products made with up to 90% quartz minerals.
Caesarstone's quartz countertops aren't just built to last a lifetime; they're also undeniably eye-catching. As soon as visitors step into your kitchen, bathroom, or in-house bar, their eyes will be drawn straight to your quartz countertops.
Homeowners who want to get a better idea of how a particular our product looks in their home can use Caesarstone's interactive visualizer. This nifty tool helps homeowners compare various countertops quickly and with great ease.
Matte quartz countertops are a practical and stylish choice for homeowners
Picking the right type of material for residential countertops can feel like a challenge. But, after doing a bit of research, it's clear that matte quartz is among the best surface materials available on today's market.
Not only is matte quartz strong and beautiful, but this type of counter finish is also highly versatile, and can work in various areas of the home. The possibilities are endless when it comes to this remarkable product.