Being spoiled for choice is often a good thing, but this isn't always the case. Having too many options can sometimes lead to feeling overwhelmed, and can actually make the decision-making process a challenge. This can be said about practically any big purchase, including quartz countertops for residential kitchens.
There are a variety of colors that homeowners can choose for their quartz countertops, some of which include:
However, homeowners looking for something sleek, charismatic, and out-of-the-box should opt for black quartz countertops. Black quartz countertops meld perfectly with a wide variety of kitchen designs, ranging from rustic to contemporary looks.
Homeowners seeking a bold, captivating space can make use of these kitchen design ideas with black countertops as a source of inspiration during their own redecoration or renovation process.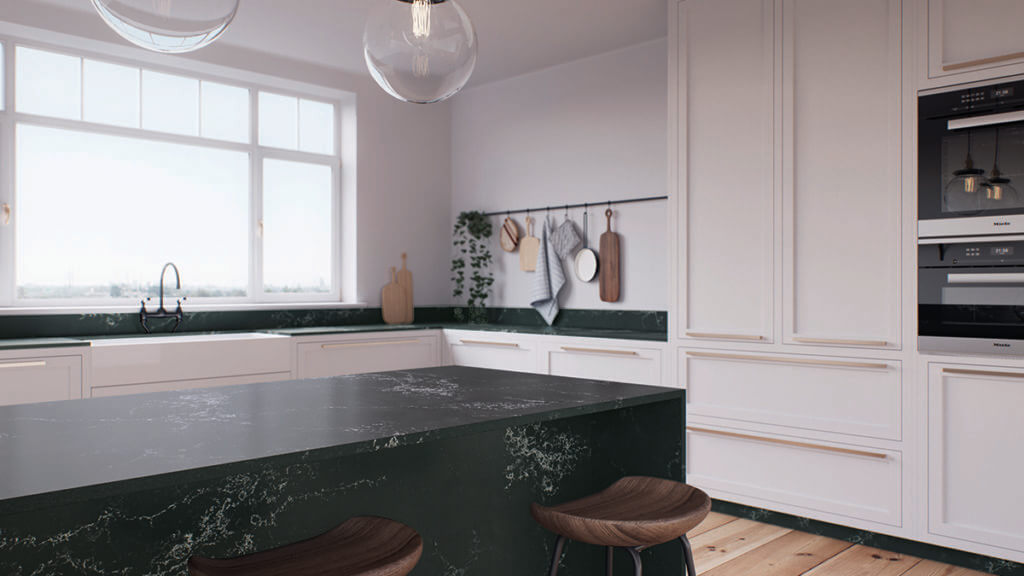 Design idea #1 — Black quartz countertops with white cabinetry. Create a classic aesthetic
White kitchens with black countertops have been growing in popularity over the past couple of years. This pairing creates a simple, yet timeless look in the kitchen, with a contrast that is sure to draw the eye.
For a classic, tried-and-true look, homeowners can opt for a traditional style of black quartz, like Caesarstone's 3100 Jet Black or 5101 Empira Black. These striking black quartz options offer a stark contrast to the brightness of crisp, white cabinetry and fresh, white walls.
However, homeowners shouldn't be afraid to add in a dash of color here and there; adding in nature-inspired decor can give a black and white kitchen a breath of fresh air. Some common examples include:
Tea towels
House plants
Woven placemats
Seat cushions
Design idea #2 — Try pairing black quartz countertops with metallic appliances and decorations
Today, homeowners who want to take a modern approach to their renovation may want to consider kitchen designs with black countertops and metallic decor. When it comes to kitchen design, black countertops and metallic decor may seem like an odd pairing. However, this couldn't be further from the truth.
Black quartz countertops pair beautifully with metallic appliances and decorations. The bright sheen of the metallic decor contrasts the richness of the black quartz countertops. This allows both the furnishings and the countertops to share the spotlight equally.
For the best results, homeowners can pair their metallic decor with patterned or veined black quartz, like Caesarstone's 5100 Vanilla Noir. 5100 Vanilla Noir offers a luxurious combination of deep blacks and vanilla white streaks, blending seamlessly with bright, metallic decorations.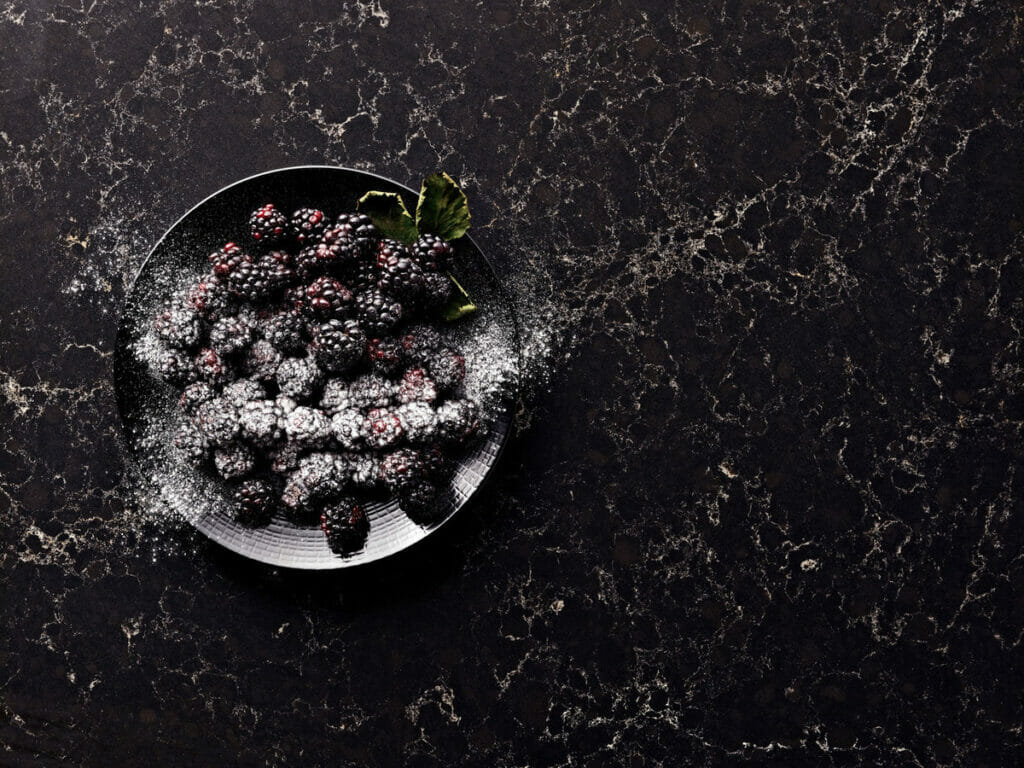 Design idea #3 — A navy blue kitchen design with black countertops – Add depth to a home
Homeowners that want their kitchens to truly stand out should look for ways to incorporate navy blue into their space. When paired with black countertops, navy blue decorations can provide a sense of mystery and a small pinch of attitude to a room.
Homeowners who are looking to add navy blue decorations into their kitchen should look for an equally deep, dark type of quartz, such as Caesarstone's 5820 Darcrest.
There are several types of navy blue decorations that homeowners can utilize, some of which include:
Candles
Paintings
Ornaments
Clocks
However, homeowners that want to achieve the best results should consider investing in navy blue cabinetry that works well with their black quartz countertops. Navy blue cabinetry may seem like a bold choice for a kitchen, and it is. But, many homeowners quickly find out that navy blue cabinetry adds a lot of style to residential cooking spaces.
Design idea #4 — Beige furnishings with black quartz countertops – A sleek and neutral aesthetic
Homeowners who prefer soft or neutral tones may want to go with beige decorations and black quartz countertops.
Beige is a neutral color and goes with practically anything, especially darker tones like black. When paired with beige decorations, black quartz countertops, like Caesarstone's 4735 Oxidian, look breathtakingly spectacular and eye-catching.
This color combination works well in all sorts of spaces, but it's commonly used to add warmth and coziness to small kitchens, like cottages, apartments, and condos. Adding a source of warm lighting can also make the space look welcoming, particularly during early mornings and late evenings.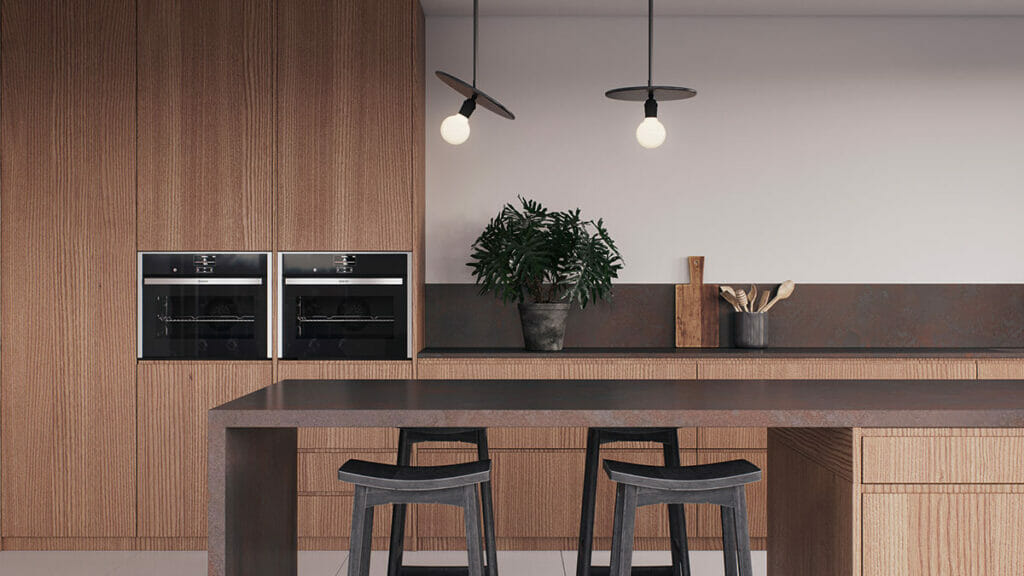 Where can homeowners find high-quality quartz countertops in the United States?
There are many quartz manufacturers that homeowners can choose from. However, anyone who is familiar with the countertop industry knows that Caesarstone is the number one choice for high-quality quartz products in the United States.
Caesarstone has been producing high-quality quartz countertops since 1987. Since then, we've built a name for ourselves as one of the most reputable luxury quartz countertop manufacturers in the United States.
What sets our products apart from the competition? For starters, Caesarstone uses an innovative engineering process to craft quartz countertops that are built to last a lifetime. We manufacture all of our products with up to 90% quartz minerals. Taking the time to complete this process ensures that our customers receive a stunning, high-quality product for their homes.
Caesarstone products aren't just easy on the eyes; our quartz countertops are also:
Hygienic
Nonporous
Easy to clean and maintain
Scratch, stain, and heat-resistant
Environmentally friendly
Please note that Caesarstone does not service residential homes or commercial businesses in either countertop instillation or repair. Anyone who needs help installing or repairing their quartz countertops is encouraged to contact a professional service at their earliest convenience.
Back to the basics with black quartz countertops
After doing some research, it's clear that black quartz countertops make a striking addition to various types of residential kitchen spaces. The kitchen design ideas listed above are meant to inspire and provide insight into how homeowners can decorate their kitchens.