Remodelling a kitchen or building it from scratch is a significant and stressful project that will likely take many weeks. But the process also has exciting parts, like choosing countertops. This element will be the centrepiece of the kitchen and the place where every family meal is prepared and shared. In this article, we will discuss the top countertop material, quartz.
In the past, homeowners would choose wood countertops for their kitchen since it was the most popular and most durable option. That changed when granite was suddenly the top pick due to its natural stone quality. Today, quartz is invading the market thanks to its composition and benefits. The first question many homeowners might have is, are quartz countertops durable? Before answering this question, we need to get to know the material.
Quartz is a mineral that is abundantly available all around the world. When manufacturing quartz countertops, the mineral is combined with polymer resins and coloring agents. The final quality product resembles the look of natural stone. Because this is an engineered stone, many people don't believe it is the best choice for their kitchen. Let's explore some pros and cons of the material.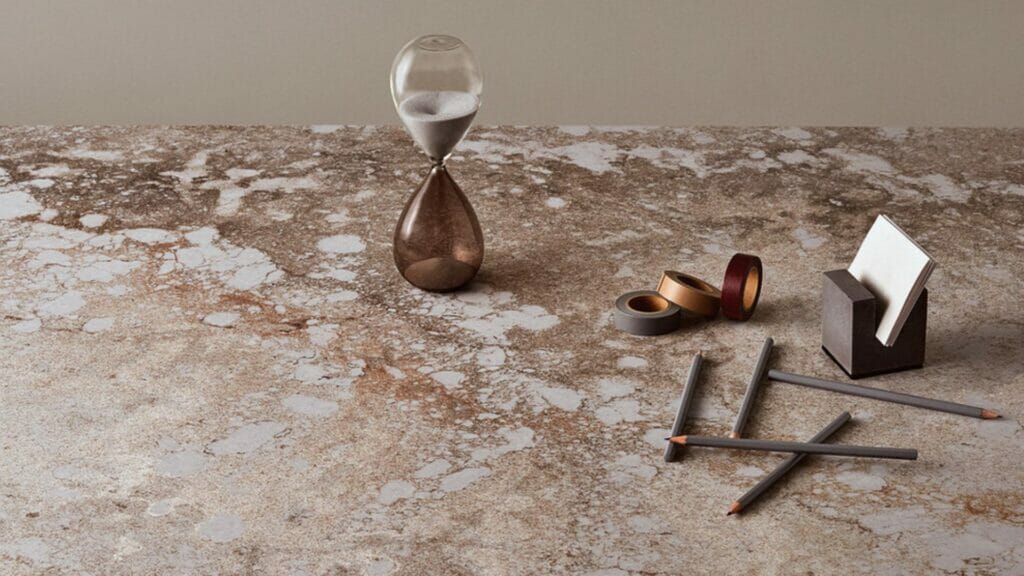 Quartz Countertops
One might be wondering why quartz countertops are trending at the moment if the material is not 100% natural. The short answer is that quartz has many benefits that homeowners ignore.
Pros
There are no imperfections.
As quartz is an engineered surface, it can be perfected. When purchasing a natural stone slab for the kitchen or bathroom, chances are high that there will be several flaws due to the extraction process. With quartz countertops, uniformity is ensured.
Non-porous surface
An often forgotten but important feature when selecting a countertop is whether or not the surface is non-porous. The importance of this characteristic is that a non-porous countertop will be resistant against any virus or bacteria. Plus, liquids won't be able to penetrate the material and damage its internal structure. Natural stones are porous and require sealing which adds to the cost of the countertop over the years.
No stains
When considering granite or marble, there is a big possibility that stains will start appearing on either of these countertop because spills will be able to infiltrate the surface. Quartz countertops are much more resistant since they are non-porous. This is a tremendous advantage because even if the counter doesn't get cleaned right away, it won't get damaged. The only important thing to keep in mind with quartz is purchasing cleaning products that do not contain bleach.
Great Adaptability
Though quartz is an excellent option as a kitchen countertop, this material can also work for the bathroom and fireplace.
Variety of options
One of our favorite characteristics regarding quartz is the variety of design styles it can fit into. Whether traditional, elegant, retro or country, quartz offers a variety of tonalities. Designs also range from solid colors to veining and light speckling.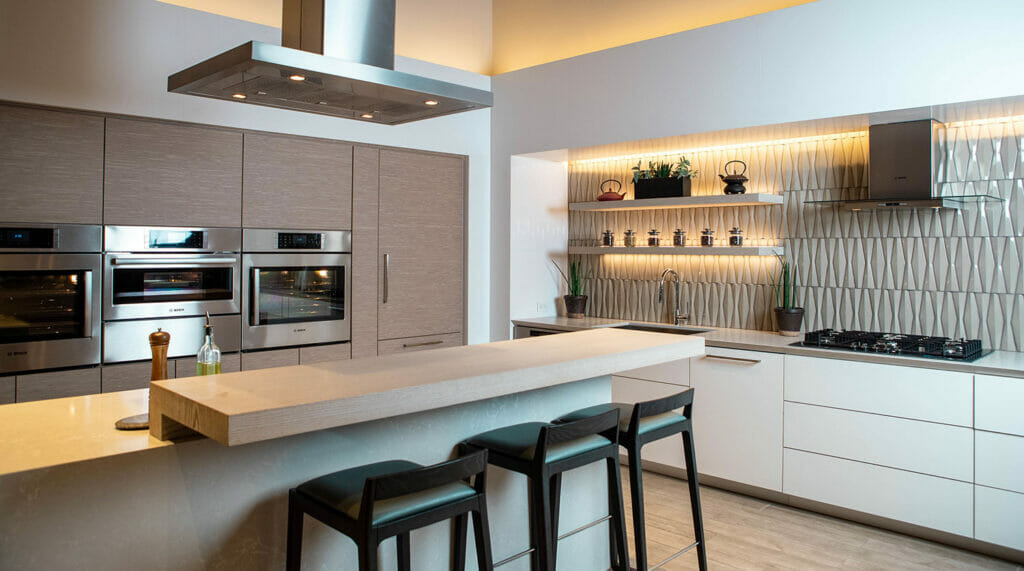 Cons
While quartz has many pros, there are also some disadvantages to keep in mind.
Price range
Since a quartz countertop offers many benefits other materials don't have, its price per square foot can be higher. Overall the average value of a quartz countertop per square foot is $75. It may not sound like a great option for those on a tight budget, but the affordability becomes more apparent in the long run. The cost also depends on how many slabs are needed, and the selected design and finishes.
Professional Installation
A quartz countertop is extremely heavy overall; it can weigh from 20 to 25 pounds per square foot. It will need to be transported in a truck and when it comes to the installation, it is not a one-person job. It's best to hire an experienced professional, which will be an extra cost added to the list.
Used to not have outdoor options
Quartz is an excellent material to use in many places around the house, except the yard. That was until Caesarstone's groundbreaking Outdoor Collection. While most quartz countertops will fade with regular exposure to sunlight, the Outdoor Collection has been tested to withstand all the elements. Use one of these incredibly durable surfaces around the pool or for an outdoor kitchen and dining area.
Having explored the pros and cons of quartz countertops, it is time to answer this article's central question: are quartz countertops durable?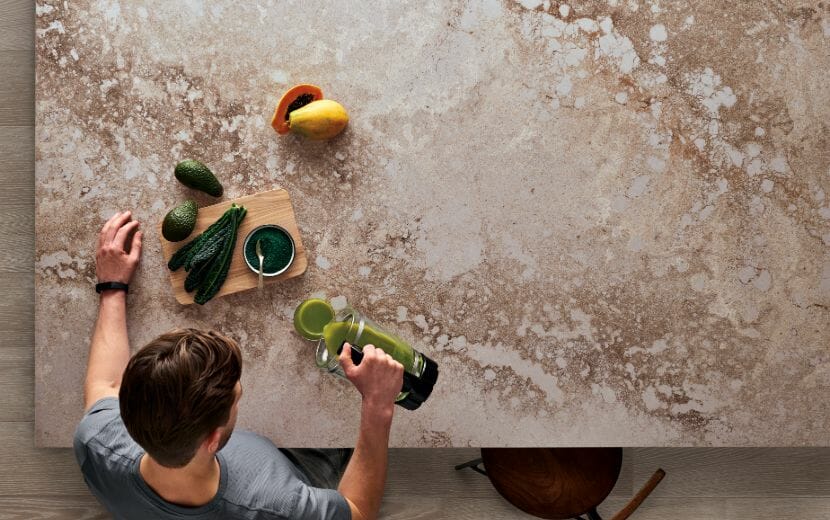 How durable are quartz countertops?
To discover how durable quartz countertops are, we need to go back to the year when the fabrication process of this mineral was created. In the 1960s, the Italian company Breton started focusing on manufacturing a product with incredible strength. Through much testing, they achieved their goal. Today the production process remains the same, and quartz is one of the most durable materials for countertops. One strong enough to last a lifetime.
The durability of a quartz countertop is not solely dependent on its fabrication process. The installation, maintenance and cleaning also plays a role. It is crucial to know how to adequately clean the countertop without damaging it.
Quartz Countertops FAQs
Are quartz countertops more durable than granite?
As we learned above, a quartz countertop is made from a combination of natural minerals, polymer resins, and recycled glass in some cases. Because of the way it is fabricated, quartz won't need a protective coat every year.
When quartz first appeared on the market, the number one issue was that it lacked colorful designs and textures. In comparison, granite offered a variety of options for every homeowner. Since then everything has changed and quartz comes in various tones and textures that can adapt to anyone's style.
On the Mohs hardness scale, granite's score is six while quartz is seven, meaning that quartz countertops are harder and more durable compared to granite.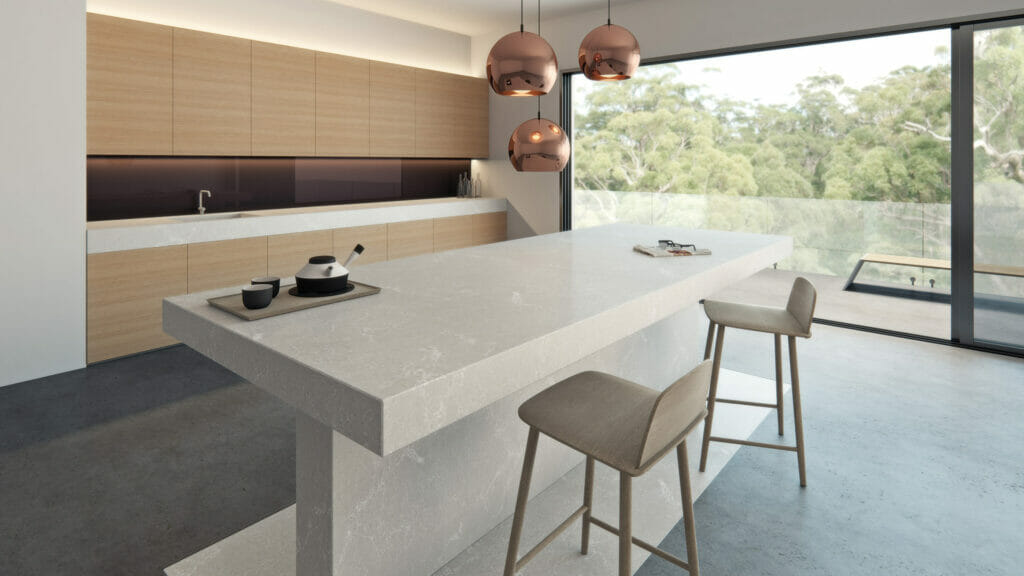 Which precautions do I need to take when cooking?
An essential part of keeping the quartz countertops as good as new is taking the necessary precautions when cooking. To protect the kitchen surface, it is important to use cutting boards and trivets. Also, try to clean up spills instead of allowing them to dry.
What happens if my quartz countertop gets damaged?
Even the most durable countertop can be damaged. Fortunately, this can be easily fixed by contacting the original provider or fabricator. To save money, it is best to take the necessary maintenance steps to maintain the quality of the material.
Will this increase the value of my property?
If remodelling the house to sell at a higher price point, a quartz countertop can be a great choice. Upgrading the bathroom and kitchen countertops with quartz can be a major selling point and will likely increase the value of the home.
Final Thoughts
Even when a quartz countertop is more expensive than other materials, it also adds the most value and benefit to the home. While a budget-friendly option can be tempting, investing in quality materials from the beginning will be more affordable in the long run.