An Expert's Review of the Most Popular Kitchen Countertops in 2021
Kitchen countertops play a big part in kitchen décor. After all, kitchen countertops not only take up the most significant space in a kitchen but are also the proper foundation of any workable surface in a kitchen.
But gone are the days of uninspired cooking spaces. In modern times, homeowners have an endless variety in materials, styles, sizes, and finishes to complete their kitchen countertops. And the countless choices don't make it any easier when settling for a final touch that fits a homeowner's style.
This article offers an expert's view of the hottest upcoming kitchen countertops for 2021 and beyond. By exploring these latest trends, you'll be in a more informed place to choose kitchen countertops that not only fit the vibe but are also functional and of desired quality.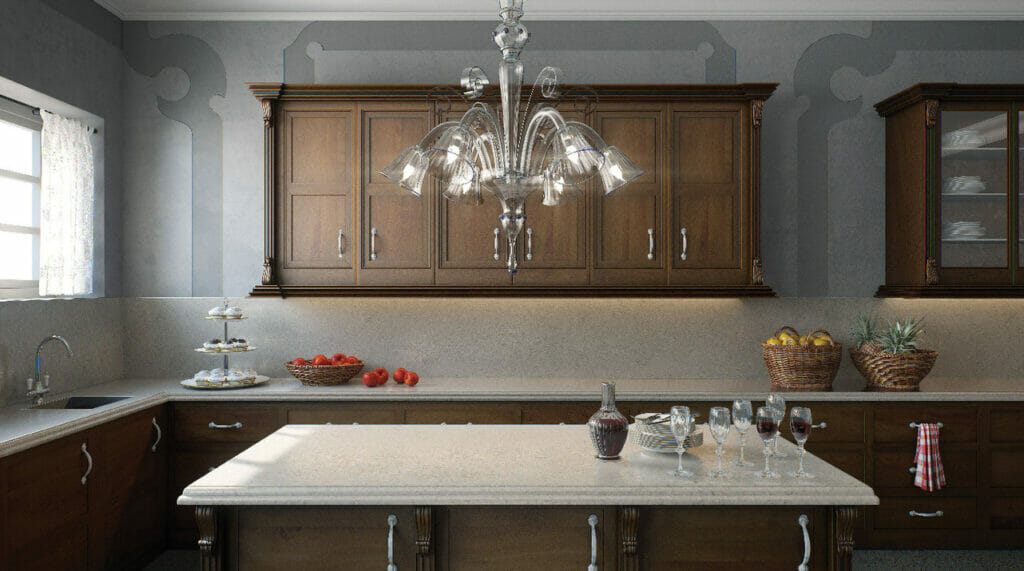 The Most Popular Kitchen Countertops in 2021
Caesarstone quartz Countertops
Ceasarstone quartz countertops are very popular for a variety of reasons. They are, by far, among the most durable and longest lasting countertop materials, making them a top choice for any kitchen environment.
Often considered an alternative to granite, quartz is one of the most complex materials on the earth. This feature alone makes quartz countertops highly heat-resistant, but perhaps the key feature that makes them desirable for kitchens is the non-porous surface. Thus, quartz countertops resist stains and harbor no harmful bacteria. They are resistant to dents, scratches, everyday wear and tear from kitchen appliances, and can withstand cuts.
Quartz surfaces are undoubtedly a standout amongst kitchen countertops due to their versatility, and beautiful patterns, designs, and colors. Quartz countertops feature limitless possibilities for any homeowner looking for a high-end look in unique designs and color ranges. Unlike granite and marble that require regular sealing, quartz is low maintenance making it a cost-effective alternative.
Polished vs. Honed Granite
Granite countertops are still dominating kitchen countertops in 2021. Done with a modern twist, they can perfectly complete the style by bringing a bright, classy, and elevated look into the space. Polished and honed granite countertops are timeless, and very durable surfaces, which explains why they remain a top choice among homeowners. Granite surfaces offer a high-end look while remaining firm in their ability to resist scratches, cracks, and chips.
Granite is a natural element meaning that it requires more care than quartz. To keep the granite surface smooth, wipe all stains, including acids, alcohol, oils, and soda, immediately after a spill. Maintain a scheduled annual sealing routine to keep the surfaces in good shape.
Alternative to the polished granite, honed granite countertops have a soft, matte finish look with little to no shine. The low sheen and smooth surface make it easy to conceal scratches and flaws. Similar to polished granite, honed granite is resistant to chipping, scratching, and heat. However, like polished granite, it requires more care and a regular maintenance routine.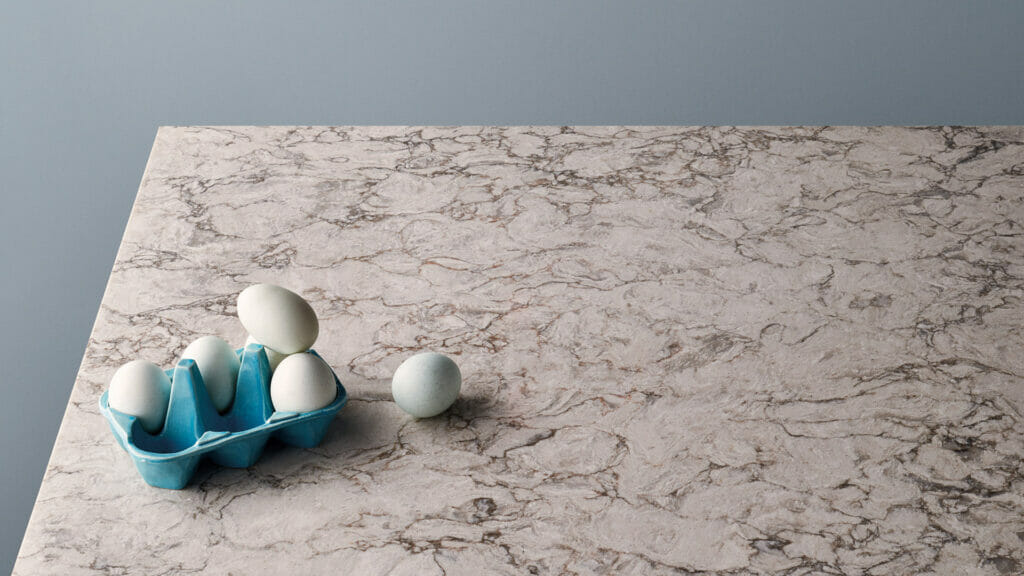 Solid Surface Countertops
Solid surface countertops are mineral dust (often marble) mixed with various pigments and plastic resins. Perhaps the most fascinating element is that smooth surfaces that are fabricated, leaving no visible seams. Solid surface countertops are preferred for their non-porous quality.
While these surfaces have extremely low porosity, which keeps bacteria off and promotes a more hygienic surface, they lack resistance to heat and scratches. Despite this, the solid surface has continued to trend as a perfect mid-range countertop. Homeowners looking for an affordable option but not interested in laminate often find themselves gravitating towards solid surfaces.
Laminate Countertops
Thanks to the new patterns that closely resemble quartz, wood, or stone, laminate countertops are resurfacing in popularity with homeowners. Laminate counters have been embraced for their cohesive look and low replacement cost, making them a preferred choice for the do-it-yourself community. Apart from that, laminate kitchen countertops offer an attractive option for homeowners looking for budget-friendly surfaces. The non-porous nature and ease of maintenance of laminate make it even more desirable.
Butcher-Block-Style Wood Countertops
Both functional and decorative, the wood surface is ideal for food preparation. The wood surface gives the kitchen a warm cottage look. Unlike most countertop materials, the wood surfaces are adequately sealed and sanitary for chopping vegetables and meat. While it can be used on its own, most homeowners opt to mix the butcher-block style with other surfaces. The wood is highly resistant to heat and can withstand pots being placed directly on the surface.
Wood surfaces come in a variety of oak, maple, walnut, cherry, and teak. Choose an unfinished wood countertop to complete a rustic kitchen and a beautifully finished wood counter to complement a classic kitchen design. Treating wood countertops monthly with mineral oil will protect the surface longer, while refinishing will prevent wear and tear over time.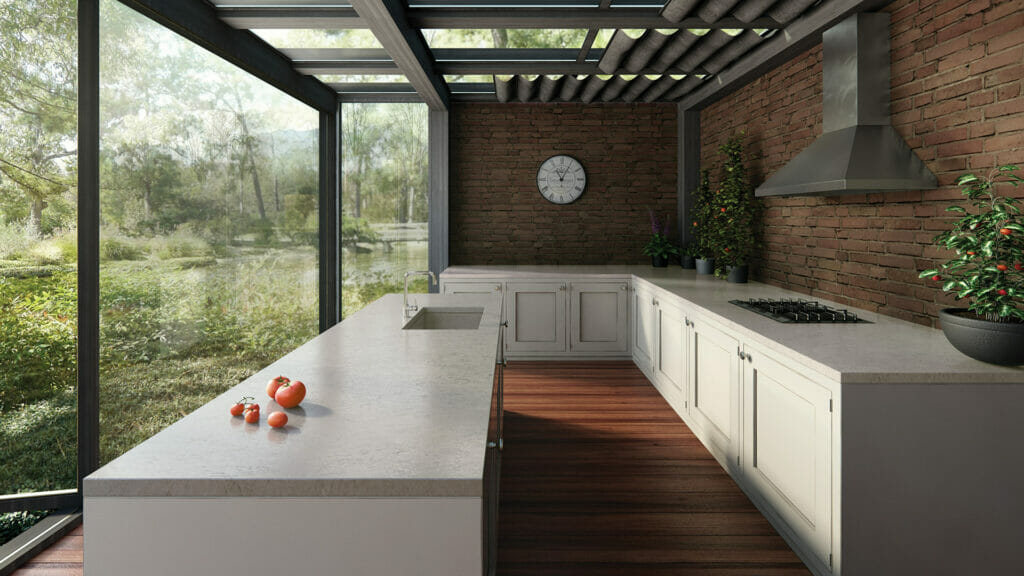 Marble Countertops
As a current favorite in the kitchen design, marble countertops aren't just aesthetically pleasing; they offer a timeless appeal and a high-end look. Marble countertops are made of smooth stone that hides light stains and disguises wear but is highly porous and susceptible to stain. Like granite, regular care is essential to maintain marble looking its best. The stone requires regular sealing and special care when dealing with acidic elements to prevent wear.
Glass Countertops
The colorful nature, lightness, and uniqueness of glass kitchen countertops make them one of the most popular trends for 2021. Glass countertops are a perfectly functional and affordable alternative to stone countertops. They inject the space with a dose of elegance and are equally durable and unbreakable, stain and scratch resistant. Tempered glass is an ideal material, offering stylish looks while remaining heat resistant.
Glass offers a diverse range of colors since glass can easily be infused with color treatment or be left translucent. They are a perfect choice for a bold statement. Glass infused with a bright color and lit from below stands out from the commonly used hard stone surfaces. Apart from that, it's an eco-friendly option that's easy to maintain. We're sure to see glass countertops continue to gain popularity over the years.
Recycled Countertops
Kitchen countertops made of recycled materials are gaining popularity fast. As more people move towards the environmentally conscience movement, recycled countertops will become more prominent. Despite the limited options in eco-friendly kitchen countertops, there will be various choices and designs available soon – especially made of wood and glass.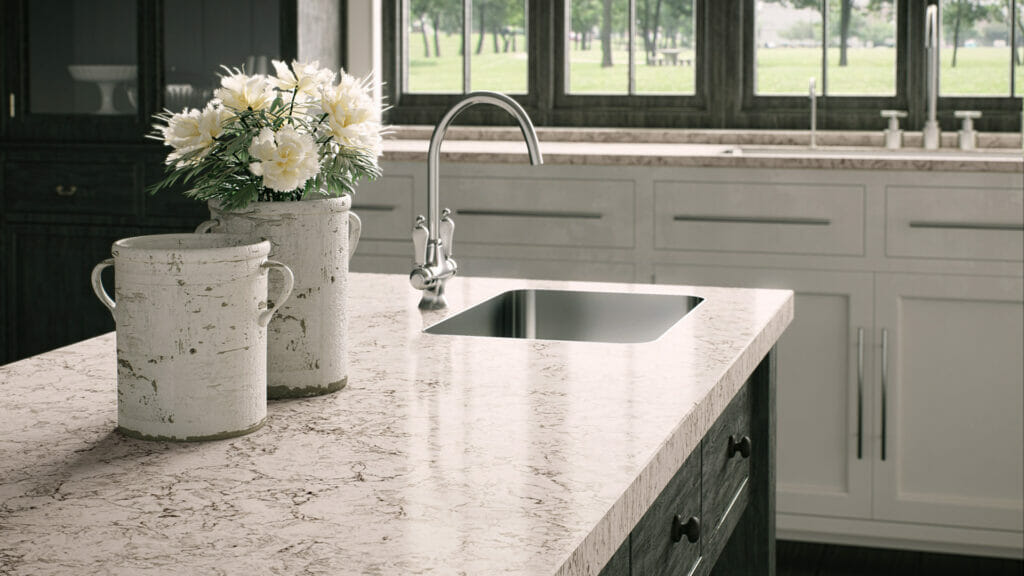 Concrete Countertops
Thick concrete countertops have been a top choice among homeowners in the recent past and the trend is not about to change. Concrete countertops are a great option to create a unique workspace. They can bring a chic ambiance to any home kitchen. The past concrete designs were heavily formulated in gray but recently, the countertop colors range from white to black.
Part of the rising popularity of concrete countertops is because they are highly customizable, which gives homeowners numerous options in terms of style, color, and texture. The material is highly versatile in installation as it can be easily made into any shape, texture, and even pattern. Additionally, concrete has been known for mixing well with different recycled materials such as tile, glass, wood chips, and marble to create a standout countertop design.
One may choose the surface for its eye-pleasing appearance and be happily surprised by its energy efficiency. Concrete captures heat when the temperature in the home rises and releases it when the temperature cools. The downside of this is that it's not suited for cold regions. The surfaces also require regular maintenance of annual sealing and bi-annual waxing. Concrete can also quickly stain from spills, so ensure to clean any spills immediately.
Soapstone Countertops
Soapstone countertops have been a recent favorite, especially among environmentally conscious homeowners. The natural quarried stone is preferred for its non-porous nature, which makes it highly stain and bacterial-resistant. Soapstone material comes in a range of light to dark grey tones, all of which have subtle veining.
It differs from other natural stones in that it doesn't require annual sealing; however, regular maintenance with mineral oil is essential to hide any scratches and deepen the color tone. With its soft surface, one should avoid cutting directly on the countertop or dropping heavy objects on it. However, it can be easily sanded to repair the scratches and slight damage.
Kitchen countertops determine the kitchen's overall look. When designing or redesigning kitchen countertops, the material, pattern, and finish selected are extremely important. Use these trends as a guide while revitalizing your kitchen. Choose one of the most popular materials to bring together a finished look and make the kitchen countertops stand out.