Everyone has a favorite spot in their home to relax as they sip their favorite drink and even catch up with friends and family. For many, that spot is the home bar. A stylish home bar, one that rivals even the most excellent clubs, is just a dream for many. However, the idea is not far-fetched. By incorporating a few bar countertop ideas, one can turn the home bar into an elegant and welcoming spot. One where everyone wants to sit, sip their drinks and catch up. Before we dive into home bar countertop ideas, let's look at factors that one should consider before purchasing and installing a new bar countertop.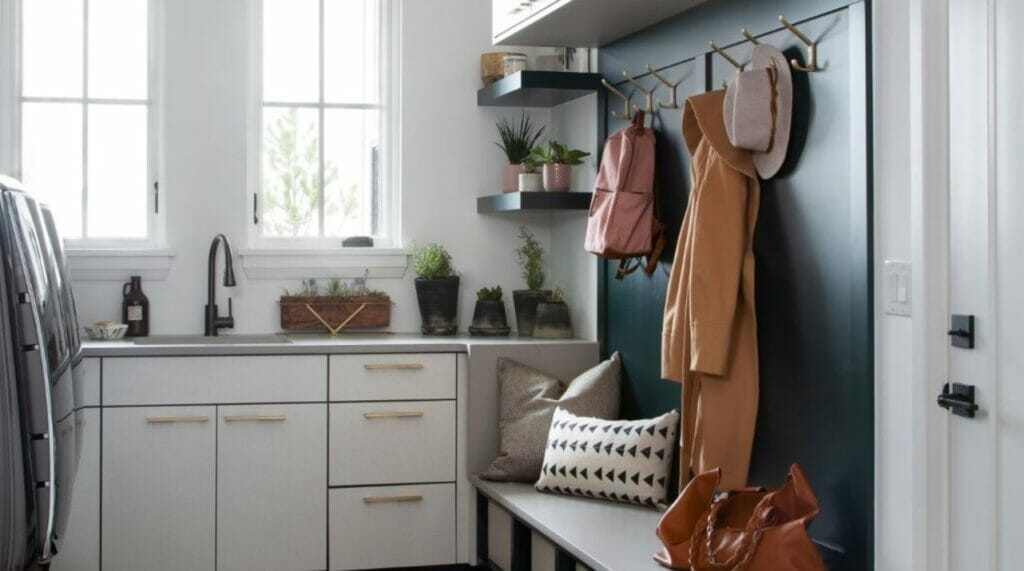 Budget– The prices of bar countertop materials vary. Regardless of the budget, it is always wise to go for durable yet affordable surfaces. Purchasing cheap and non-durable bar countertop materials will only end up being more expensive in the long run. When working with a tight budget, quartz is a great option. Not only is it affordable but also durable. And since it is an engineered stone, it can mimic the appearance of other countertop materials.

Usage– How do you plan to use the home bar countertop? If the countertop will be used for other purposes such as placing heavy items (which we don't recommend), consider purchasing a solid and sturdy countertop.

Durability– This is an essential factor when choosing the home bar countertop. Always select materials that are resistant to stains, scratches, and wear and tear. Additionally, countertop materials that are easy to repair or replace when damaged will be a better option. However, durability depends on how the surface is used and the care and maintenance are taken.

Eco-friendliness– If looking to go green, one can start the journey with eco-friendly home bar countertop materials. Rather than opting for raw materials, countertops made with recycled materials are preferred.

Aesthetics– For a unique home bar, consider aesthetics and functionality. Select a countertop material that's available in a variety of colors and designs and one that blends with the aesthetics of the home. For a natural feel, materials such as wood and stone will suit the space better. If looking for a trendy and modern vibe, opt for countertop materials such as stainless steel, concrete, and laminate. Caesarstone quartz is a great pick for mimicking natural stone countertops on a budget.
Maintenance needs– Choosing home bar countertop materials that are easy to maintain is essential. If looking for a home bar countertop that is easy to maintain, quartz is an excellent option. Not only is it easy to clean but it is also non-porous, making it resistant to stains and bacteria.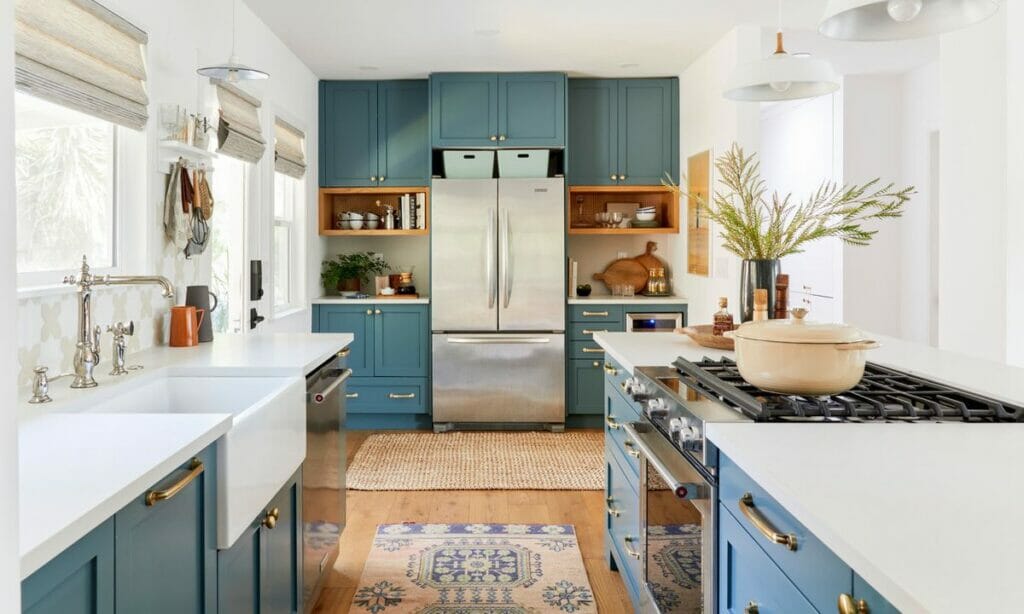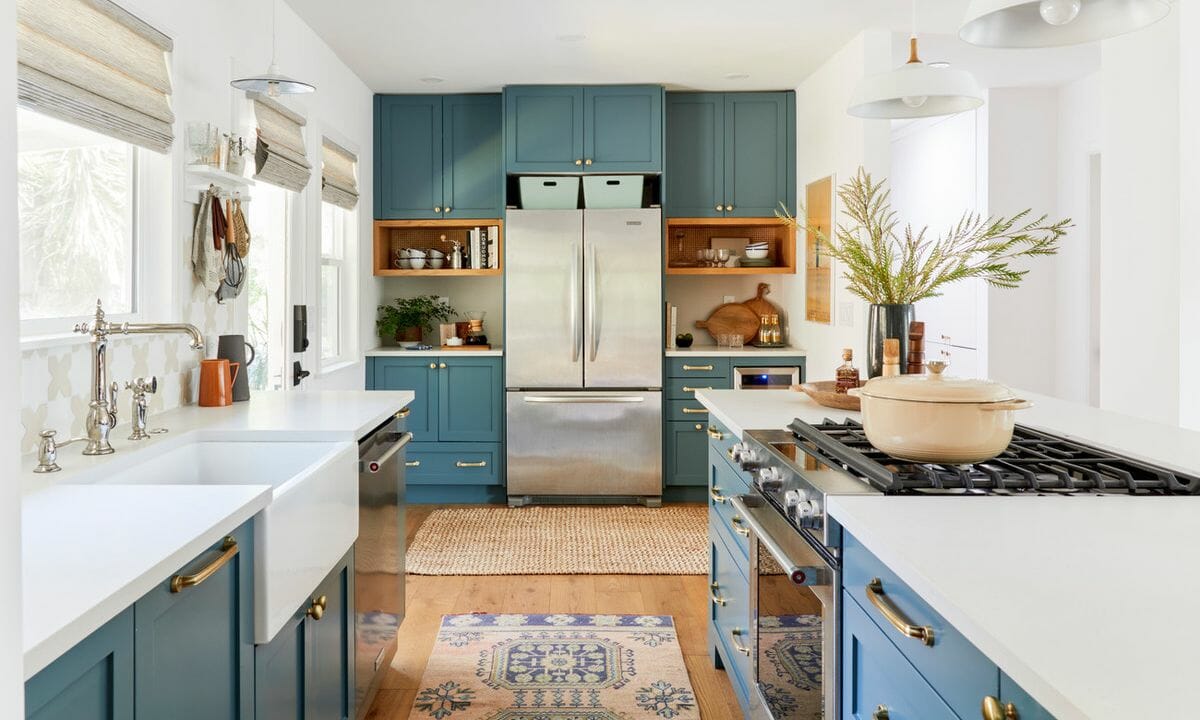 Here are some beautiful and unique home bar countertop ideas
Go strong with Caesarstone quartz
Caesarstone quartz is the optimal choice for the bar countertop. Not only is it incredibly durable, easy to maintain, but also stain and etch-resistant. Given that drinks are likely to spill on the countertop, stains or bacteria build up will not be a concern. However, ensuring that the countertop is kept clean and dry is still important.
There are a wide variety of options to choose from. As quartz replicates natural stone, it delivers a natural stone countertop aesthetic at a fraction of the cost. With the unlimited colors, designs, patterns, trends and finishes, the options are endless.
Use granite countertops
Granite is a favorite countertop material among designers, builders and even homeowners. Its strength, durability, beauty and reasonable pricing are just a few of the factors that make it among the most popular countertop materials. It is made of different materials such as silica, quartz, mica, and feldspar. The only downside when using granite countertops for the home bar is the lack of uniformity. Since granite is a natural stone, no two slabs are alike. This could pose a problem later on if it is necessary to replace a specific part of the home bar countertop. Also, it scratches and chips easily and is not heat resistant. As for aesthetics, it is easy to find a slab that will suit the home bar space, given the variations within the stone.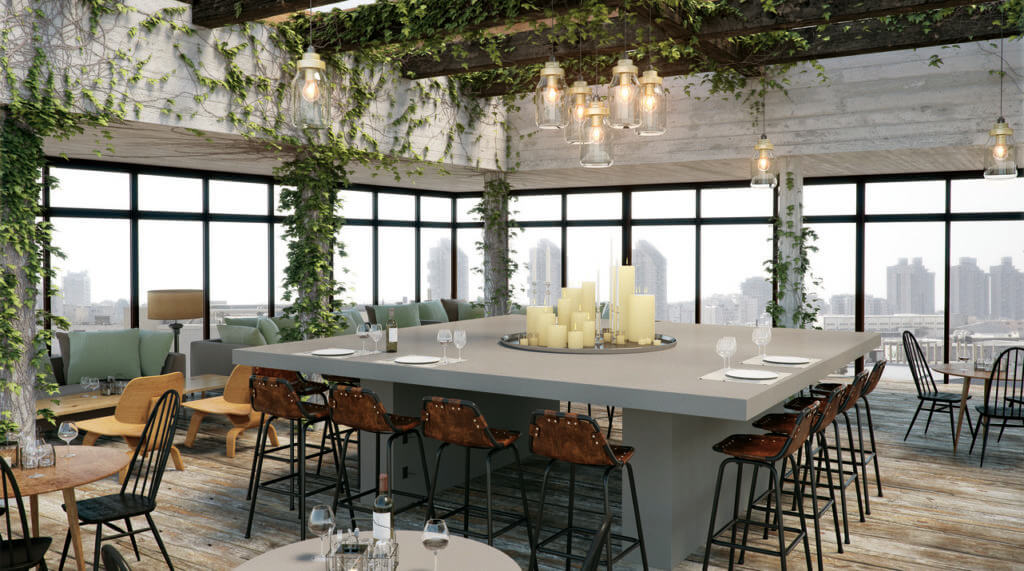 Add a luxurious feel with marble
Marble has stood the test of time. It's a style that won't be going anywhere anytime soon. The beauty, luxurious feel, affordability, ease of maintenance, and cleaning are just some of the features that make it so popular. However, a marble bar countertop requires sealing to avoid wine or food stains. Marble is available in a wide variety of colors, patterns and design choices but it's important to consider the durability. For something very durable, consider going for natural stone countertop materials or Caesarstone quartz.
Make a bold statement with concrete.
For a home bar that makes a bold statement, consider selecting concrete. It is a rare countertop material that will stand out from the rest. It is also DIY-friendly and a more affordable option compared to other countertop materials. While concrete countertops are durable, glass fibre reinforced concrete countertops are even more durable. Concrete is also very customizable and comes in a wide range of colors. While it's easy to maintain, concrete bar countertops must be resealed regularly for enhanced functionality and durability.
Go classic with wood.
Nothing makes for a more classic home bar countertop than wood. While it may demand more maintenance than other countertop materials, it creates a unique and affordable home bar countertop. Wood is susceptible to dents, scratches, and damage from liquids. As such, it must be sealed to enhance its durability.
With these simple bar countertop ideas, one can create a welcoming corner in their home for entertaining or a simple happy hour after work. To ensure this home bar stands the test of time, always select durable, affordable, and beautiful countertop materials that complement the design of the home.