When replacing countertops, many homeowners are drawn to granite given its decades-old reputation for quality. However, to find the right countertop for the right kitchen, every available material must be explored. Read on for the many granite alternatives for countertops.
Choosing a countertop for any kitchen remodel is one of the most important decisions of the project. In this regard, the first thing everyone considers is the price. While some homeowners have a budget they don't want to surpass, there are other factors to evaluate before considering the cost.
Each homeowner wants something different when it comes to their kitchen design. For instance, some want a luxurious ambiance while others want to create a space to spend time with their family. Depending on the goal, priorities may change. To ease this stressful process, here are some characteristics to look out for.

How to choose the best material for the countertop
The key to selecting the optimal material for a kitchen countertop is thinking about what is needed and wanted. Is a variety of tones and styles a priority? Or is it more important to purchase a surface that is durable even if it is a higher price point? With a clear list of what's most important, here are some things to consider.
The hardness of the material
Many homeowners are now looking for alternatives to granite countertops because there are materials that have a higher score on the Mohs scale. This scale classifies the durability of kitchen surfaces from one to ten, with ten being the hardest. Usually, a higher score, means a higher cost. Quartz is a 7 on the Mohs scale, according to the Mineralogical Society of America.
Counter porosity
The longest-lasting materials are non-porous. In general, all-natural stone countertops are quite porous. The problem with a porous surface is that it absorbs liquid, resulting in a visible stain. The most troubling aspect is that these pores are the perfect place for bacteria and viruses to grow.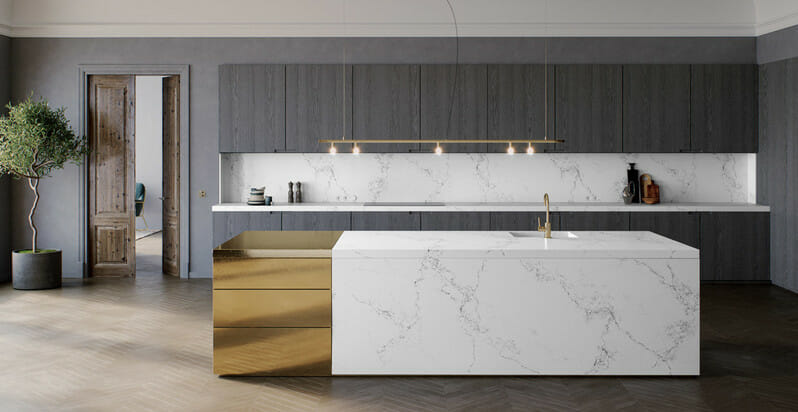 Sealing coat
For a high porosity surface, a sealing coat will be a necessary added cost. This process will help avoid all the problems of a porous countertop but it can be expensive depending on the finish selected. It is also something that will need to be done at least twice a year.
Heat Resistance
When preparing meals for family, there will often be hot pans everywhere. Working on a heat-resistant countertop can make cooking less stressful. There are very few surfaces that won't be damaged by contact with high temperatures. For this reason, we recommend always purchasing trivets and mats for placing hot pots and pans.
After exploring each of these elements, the price can be factored in. If granite is not the right choice for this remodel, here are some other quality countertop materials.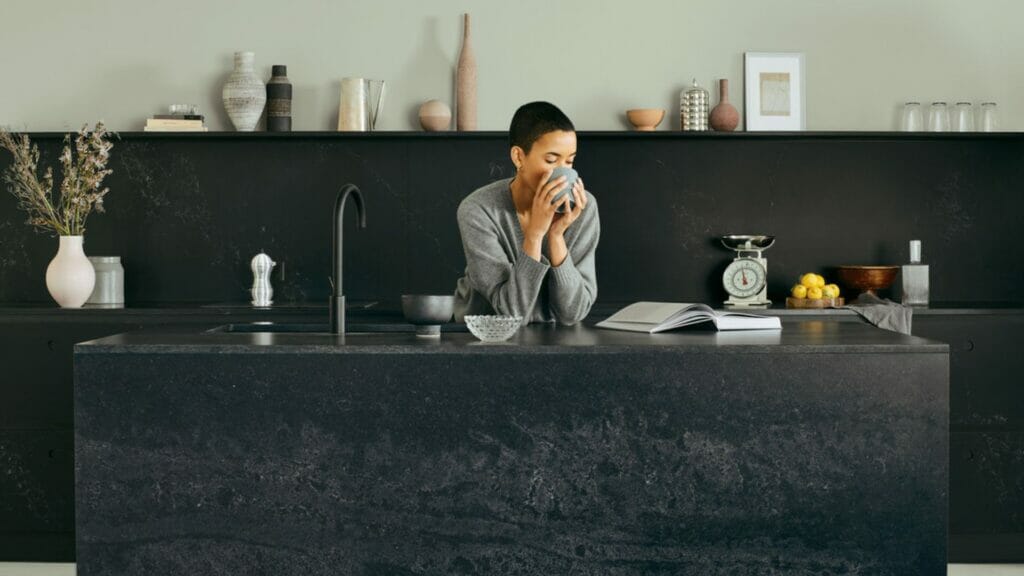 Kitchen countertops granite alternatives
The cost of granite countertop per square foot can be anywhere from $80 to $175. Granite can be expensive because it is considered one of the best materials in the industry. However, there are some granite countertops alternatives that are more affordable without compromising on quality.
Marble
One of the top alternatives to granite countertops is marble due to its timeless design and various patterns. The best part about marble is that it is more affordable than granite. The price of this material per square foot can be between $40 and $100. Though the ultimate value of the countertop will depend on the number of slabs needed and the style.
According to the Mohs scale, marble is a soft material with a score of three, and because it is a natural stone, it is very porous. Meaning that marble countertops can chip easily and become stained over time. To improve durability, a sealant that lasts from three to six months can be used.
Caesarstone Quartz
Caesarstone quartz is a material that has steadily gained popularity over the years. The main difference between marble and Caesarstone quartz is that this material is not 100% natural. Caesarstone quartz is an engineered stone made of quartz minerals combined with special resins. Since this is a manufactured material, it is highly customizable to a variety of tastes.
Caesarstone quartz also offers the added benefit of being easy to maintain. A Caesarstone quartz countertop is non-porous, preventing any viruses and bacteria from growing on the surface. It is also available in a wide range of tonalities and veining textures.
Quartzite
Many homeowners confuse quartz and quartzite due to their similar names but these materials are different. While quartz is an engineered stone, quartzite is a natural sandstone. This means quartzite requires sealing to keep its durability. Quartzite also has a remarkable resemblance to granite countertops.
The cost of quartzite per square foot can be anywhere between $60 and $120. The major disadvantage with quartzite is that it comes in a limited range of colors and needs to be resealed once or twice per year.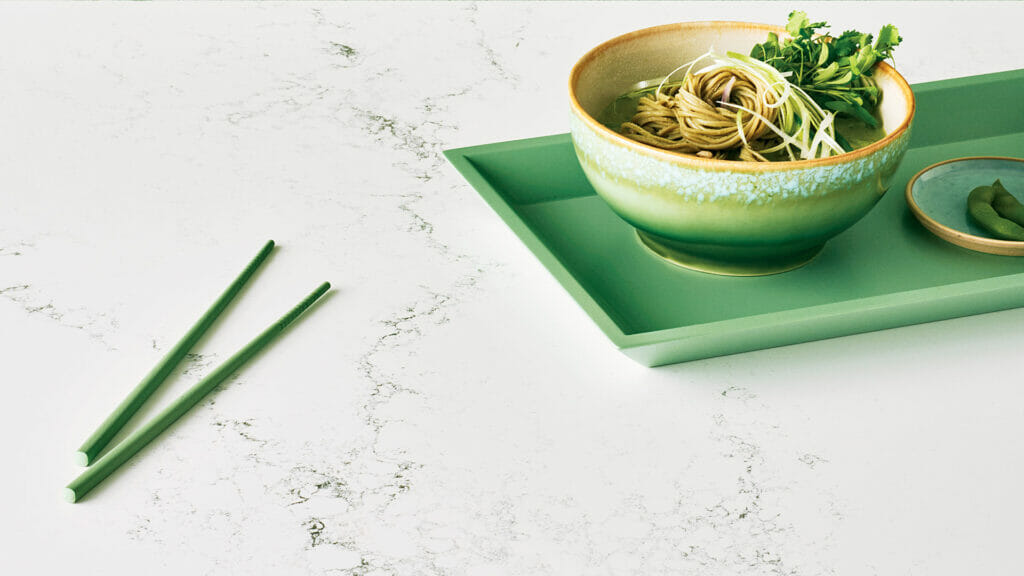 Slate
A striking granite countertop alternative is slate. This material is perfect for more luxurious kitchen designs. Slate comes in dark tones, such as black, browns, grays and blues. Though color selection is limited, slate is a beautiful option at a slightly higher price point of $50-$200 per square foot.
This is also a non-porous surface that won't develop stains over time. Another benefit of slate countertops is heat resistance, thought the use of trivets is still recommended. This material only has one disadvantage: sharp corners. For a family home, Caesarstone quartz is a better option.
Soapstone
The main concern for many parents is finding a safe surface for their kids without compromising on style. For this instance, there are a number of kitchen countertop granite alternatives. Soapstone comes only in dark tones, ideal for modern or contemporary kitchen designs. Further, since the material is dense, it prevents bacteria from growing on the surface.
Over time, soapstone will darken due to oxidation, but to keep it as good as new, the surface can be treated with oil twice a year. Because soapstone has a score of 3.5 on the Mohs scale, it is not recommended to use knives directly on the surface or drop heavy objects on it.
Limestone
The key to creating a timeless kitchen style is choosing a neutral colour palette. Limestone offers just that in shades of white, tan, beige and pink, among others. The best part about limestone countertops is their affordability. Limestone's price per square foot ranges from $15-$35.
One thing to keep in mind about this material is that it is made of calcium carbonate, which dissolves when exposed to acidic solutions. Leaving any liquid, especially something like vinegar, can cause damage to the internal structure of the countertop. To avoid this issue, only use cleaners with a neutral pH balance.
Travertine
Though travertine is a form of limestone, they are not the same thing. Travertine possesses very different characteristics.
Travertine is an excellent material to bring a lightness to the kitchen. The only downside of this material is that it can be costly, and it is porous and will need a sealing coat several times during the year.
Out of the many alternatives to granite countertops, there is a range of good options for each space. Keep in mind that the durability of a countertop also depends on the maintenance routine. It is important to ask the provider which cleaning products are safe to use and to keep up a regular cleaning schedule.