Choosing High-End Countertops for a Luxury Kitchen
Kitchen countertops are a vital feature of a high-end kitchen design. Apart from setting the tone for the rest of the space, they enhance the maximum value of a home. As such, careful selection of countertops both in material, style, and color is extremely essential.
While making the right choices for a luxury kitchen should be easy, the numerous factors to consider don't make it any easier. Here are some features to consider to achieve a high-end design for a luxury kitchen.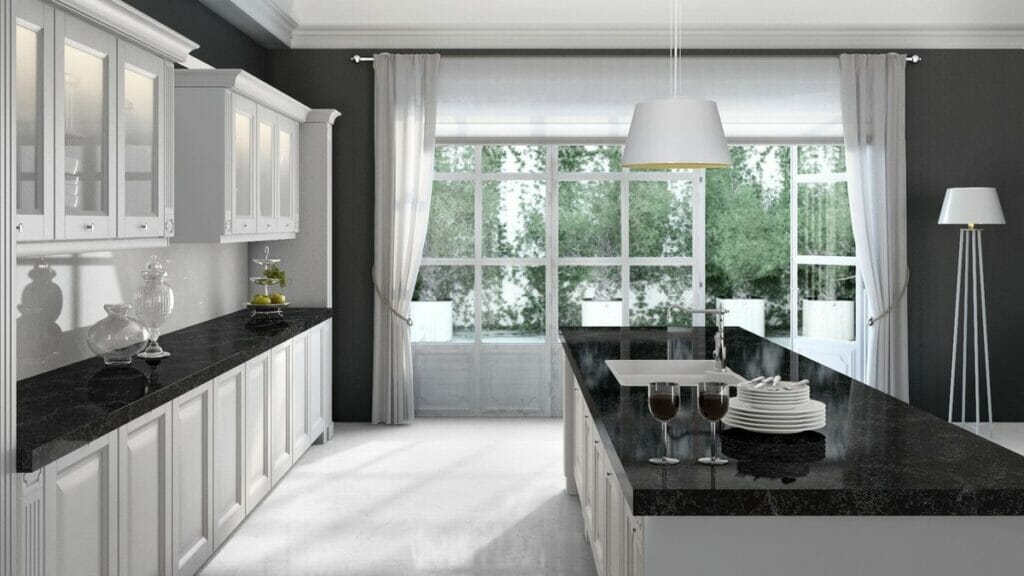 Prioritize Luxury Material
To achieve a luxury kitchen countertop, the quality of the material is certainly worth considering thoroughly. When it comes to designing a kitchen from scratch or renovating, choosing the best material is an essential decision. But a lot needs to be considered when selecting the material for luxury kitchen countertops. Part of the reason why it's difficult to settle on one material is because of the unlimited choices of luxury materials that exist.
Consider these factors;
Non-porous – Ensure the material of choice is non-absorbent. Absorbent materials will easily be damaged by acidic solutions and are more susceptible to hosting microbial elements.
Wear and tear – Resistant to scratches, dents, and other physical abrasions
Heat resistant – Look for a material that will not deform with exposure to hot pots and pans.
Maintenance required – Contrary to popular belief, luxury should not mean high maintenance. Some luxurious kitchen countertop materials are simple to maintain.
When selecting a countertop material, go for the material that possesses as many desired features as possible for a high-end kitchen.
Top Luxury Kitchen Countertops Materials
Quartz (Engineered Stone)
This high-end material is one of the top choices for a luxury kitchen countertop. Best known for its impressive strength and impact resistance, Caesarstone quartz ranks among the most durable materials for kitchen countertops. The material, made by mixing quartz minerals with polymer resin and pigments, makes for countertops elegant in both finishing and design. Apart from its exquisite appearance, quartz requires no sealing. Unlike granite and wood, quartz has an unmatched ability in that it is non-porous, which protects the material from permanent stain damage and water exposure.
Butcher Block
When it comes to timeless countertops, wood is a popular choice. Not only do wood countertops bring a touch of natural luxury to the space, they are also warm and excellent for meal preparation, and are easy to maintain if sourced from a good manufacturer. The high-quality surface can be sealed to increase durability but some wear over time is normal.
Wood countertops made from oak and maple are most common but cherry, teak, and walnut are also good options. The wide variety of wood quality makes it easier to achieve the desired look on an affordable budget. For a butcher block, there are three designs to choose from; edge grain, wide plank, and end grain. Edge-grain kitchen counters use long strips of wood, while end-grain counters use short, square-shaped pieces of wood and wide plank uses boards glued edge-to-edge. All three delivering impeccable style.
Granite
There's nothing more associated with a luxurious look than granite. For years, granite countertops have been a popular choice among homeowners looking for a high-end look. Granite undoubtedly adds to the maximum value of the home.
Part of the reason for their popularity is their durability, elegance, and versatility. Granite has a wide range of colors and designs to choose from and the material is highly resistant to heat and requires minimal maintenance. While these surfaces are durable, it's important to keep the surface free from all stains caused by acids, alcohol, oils, and soda to avoid tear and wear.
Solid Surfaces
Solid surface countertops offer a similar appeal to engineered stone. These countertops are a fantastic option when looking for a seamless countertop surface that's stylish and functional. The meticulously manufactured material is made of acrylic and a dense polyester, joined together to form smooth, inspired patterns.
Solid surface countertops are available in a range of designs, colors, and styles, some of which are inspired by stone. The waterproof non-porous material protects against bacteria and stain. However, these surfaces are not as resistant to scratches as an engineered stone and can easily be damaged by heat.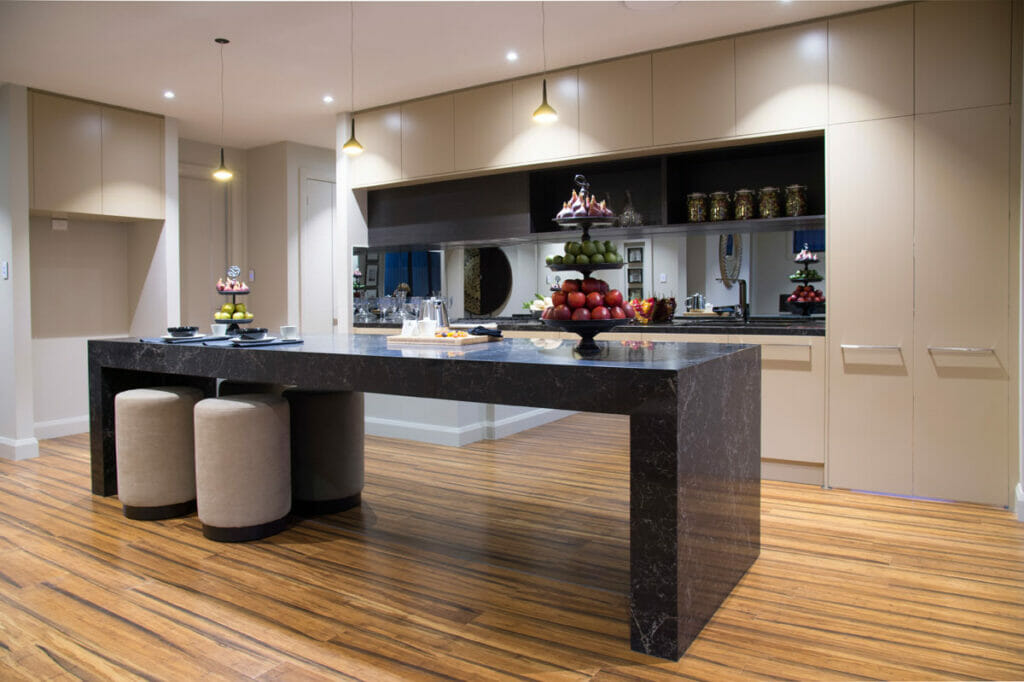 Concrete
Concrete countertops give a kitchen a sophisticated industrial look. They are a great choice for countertop designs in unusual shapes. While durable, it is much more susceptible to stain (if left without a regular sealant or additives) and has a high tendency to crack (new treatments can reduce this tendency).
Recycled Glass
The use of recycled glass material for kitchen countertops is a growing trend among customers exploring different high-end kitchen designs. This prominent trend is not going anywhere given its eco-friendly, minimalist, and hi-tech appeal. This material is a perfect way to add color to the countertops and inject a bit of character into the kitchen design. The glass (often mixed with cement) is incredibly durable and highly resistant to scratches and heat. Surfaces made of glass material are simple to clean and maintain, making them a perfect option for a busy kitchen.
Soapstone
Unlike most natural stones, soapstone is a non-porous stone available in a variety of colors from dark to light, with precise veining. The material carries a touch of class as it merges traditional charm with a modern feel. For centuries, the stone has been extensively used in the building industry for everything from sinks to fireplaces. Its exquisite looks grow over the years, with darker shades arising for a more dramatic effect.
The material is a popular luxury countertop choice, thanks to its high heat, stain, and bacterial resistance. Although yearly sealing isn't mandatory, regular application of mineral oil is essential to disguise surface scratches, deepen the stone color, and add sheen over time.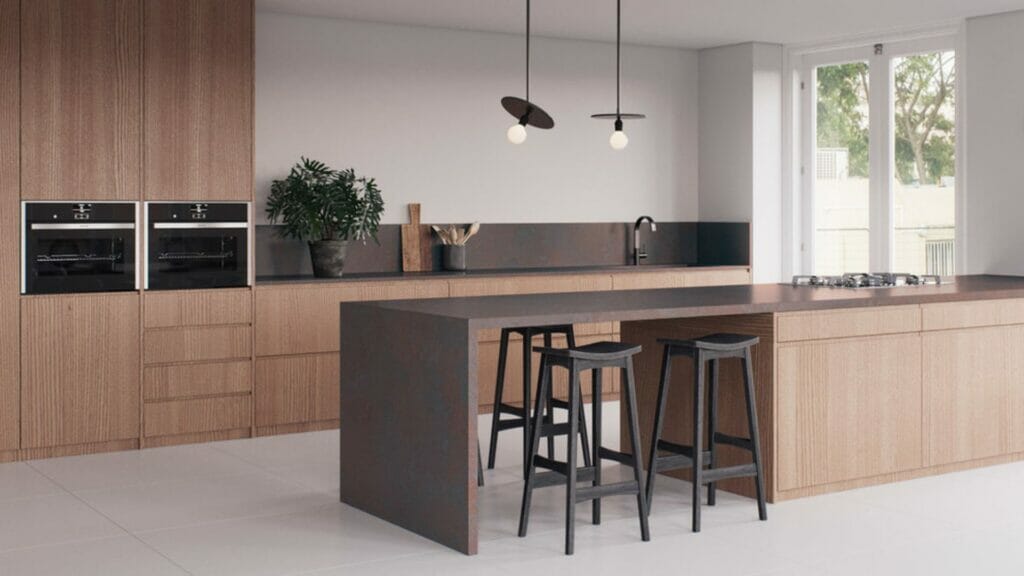 Impressive Design
Not only does a luxury kitchen countertop need to be functional but it should also look outstanding. If the design isn't great, it doesn't matter if the countertop materials are the most high-end. Design is the centerpiece of any modern countertop. While the phrase 'luxury countertop design' may bring to mind a specific look, in reality, the type of design varies greatly depending on preferences.
3. Countertops with Character
Veining and patterns give a modern kitchen character and style. The overall kitchen design style is communicated through the color, shape, and material of the countertops. Thankfully, technology has offered creative solutions for almost any luxury material. Though most countertops come in an array of patterns, customization can be achieved when a unique look is desired.
4. Natural Appeal
When it comes to kitchen countertops, the beauty of the earth always makes a statement. Natural materials such as quartz, wood, and granite bring versatility to modern luxury décor. These materials also add a distinctively earthy charm and style, thanks to their unique coloration and beautiful natural patterns.
5. The Slimmer, the Better
Slim countertops are topping the charts for luxury kitchen designs. If the choice of material is strong, the countertops do not have to be made of a thick slab. Materials such as quartz and granite can be exceptionally thin while still maintaining their durability.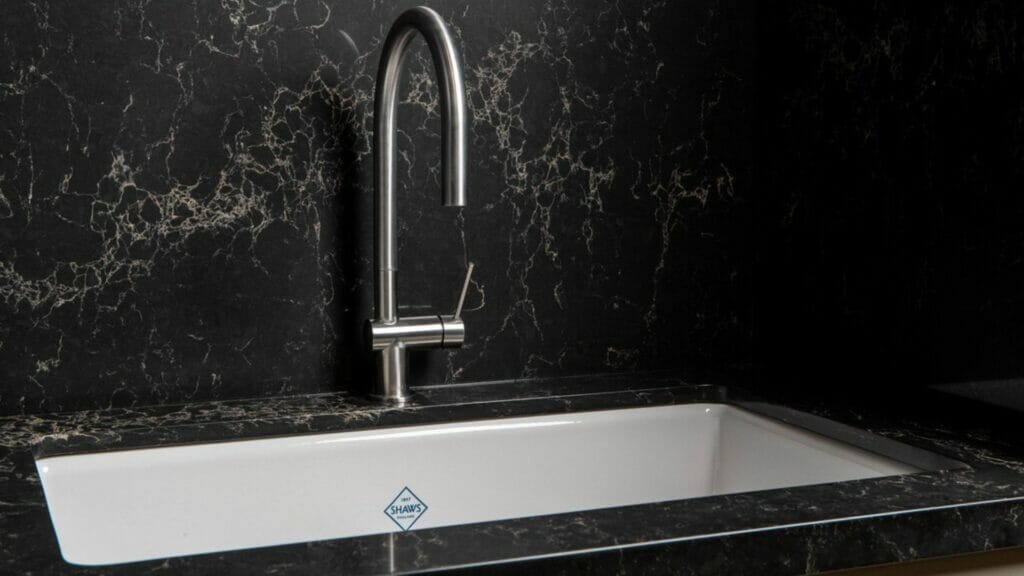 Color it
To achieve an aesthetically attractive kitchen countertop, one needs to be particularly meticulous about color selection. The color choice of a kitchen countertop needs to reflect the design style and complement the other elements of the space. The color choice must elevate the design through contrast.
7. Dark and Dramatic
A dark charcoal countertop, especially with white cabinets, adds a high-end feel to the design. Dramatic counters work harmoniously with most contemporary spaces. For anyone looking to make a statement, bold colors are the ideal choice. For sleek and sophisticated countertops, darker shades, whether glossy or matte, will make the flowers, dishes, and linens pop.
8. Patterned Colors
The color choices for luxurious kitchen countertops are endless. It just depends on the colors one chooses for their kitchen and their personal taste, of course. A pop of color on the counters will allow for more creativity with other elements of the design. To achieve a classic look, opt for natural and neutral patterns.
By paying close attention to the material, design, and colors of kitchen countertops, one can create a kitchen suited to a luxury lifestyle. Fortunately, there are numerous fantastic, durable, and high-performance luxury countertops.