Picking out brand-new quartz countertops for a home isn't an easy or simple task — homeowners have to compare various colors, styles, and patterns before making any decisions.
Once they've refined their search down to a handful of options, the homeowner is faced with a new task: finding a quartz product that works with their current (or future) design plans.
Homeowners who want something classic and stylish may want to consider checking out the below types of quartz with brown veining from Caesarstone.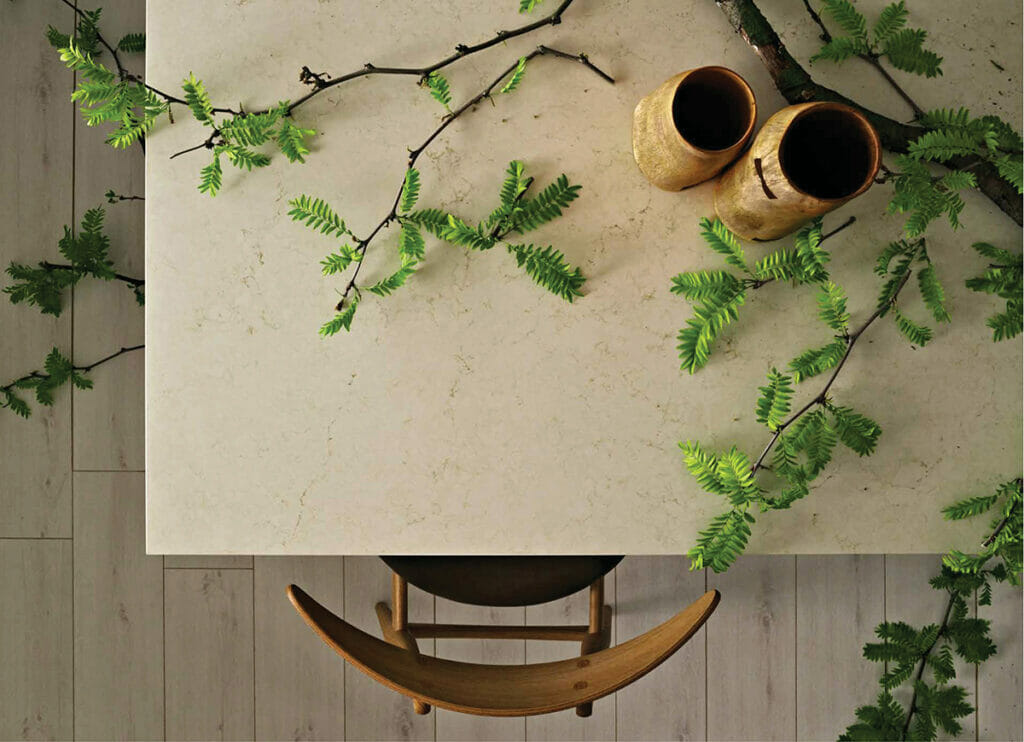 5220 Dreamy Marfil
5220 Dreamy Marfil is a popular type of beige quartz with brown veining from Caesarstone's Supernatural Collection. Thanks to its bold coloring, 5220 Dreamy Marfil is remarkably eye-catching, and makes an excellent choice for homeowners who want their countertops to stand out amongst the rest of their home decor.
This fantastic type of quartz adds warmth and rustic undertones to communal areas, like residential kitchens and lounge spaces. Because of this, 5220 Dreamy Marfil quartz countertops are a welcome addition to most farmhouses, cottages and rural style homes.
For best results, homeowners should seek to pair their 5220 Dreamy Marfil quartz countertops with exposed brick walls. Doing this will add more depth to a room without taking any attention away from the countertops themselves.
6046 Moorland Fog
Caesarstone's 6046 Moorland Fog is a type of white quartz with brown veining that's also from the Supernatural Collection. This densely rich, light-colored quartz is flushed with swirly veins of fogy browns and taupe greys, and can turn any average countertop into a work of art.
6046 Moorland Fog pairs well with white cabinetry in the kitchen. The creamy, dynamic color of this white quartz with brown veining adds to the cohesive nature of a white kitchen design without making the space look monotone.
Homeowners who want to take things a step further can achieve the best results by incorporating brown or dark-colored decor pieces into their spaces like woven rugs, modern artwork or wooden crockery. This will blend in nicely with the brown veining in the quartz, and offset the crisp white features in the kitchen to create a cohesive look.
6611 Himalayan Moon
6611 Himalayan Moon is a multi-colored quartz from Caesarstone's Classico Collection that's known for its dark, charismatic veins. Although 6611 Himalayan Moon is classified as a white quartz, it also features a spectrum of browns, grays, and blacks. This variety of colors makes each slab of 6611 Himalayan Moon feel like a one-of-a-kind piece of artwork.
Homeowners can make use of 6611 Himalayan Moon's beauty in a variety of spaces, including kitchens, bathrooms, and in-home bars. The unique veining of this countertop provides the optimal balance of color, style and contrast.
For extra flair, homeowners can pair 6611 Himalayan Moon with other decorative features in the space, such as stylish planters, colorful wallpaper or patterned floors. Doing this adds energy to a room and can help prevent a space from feeling dull.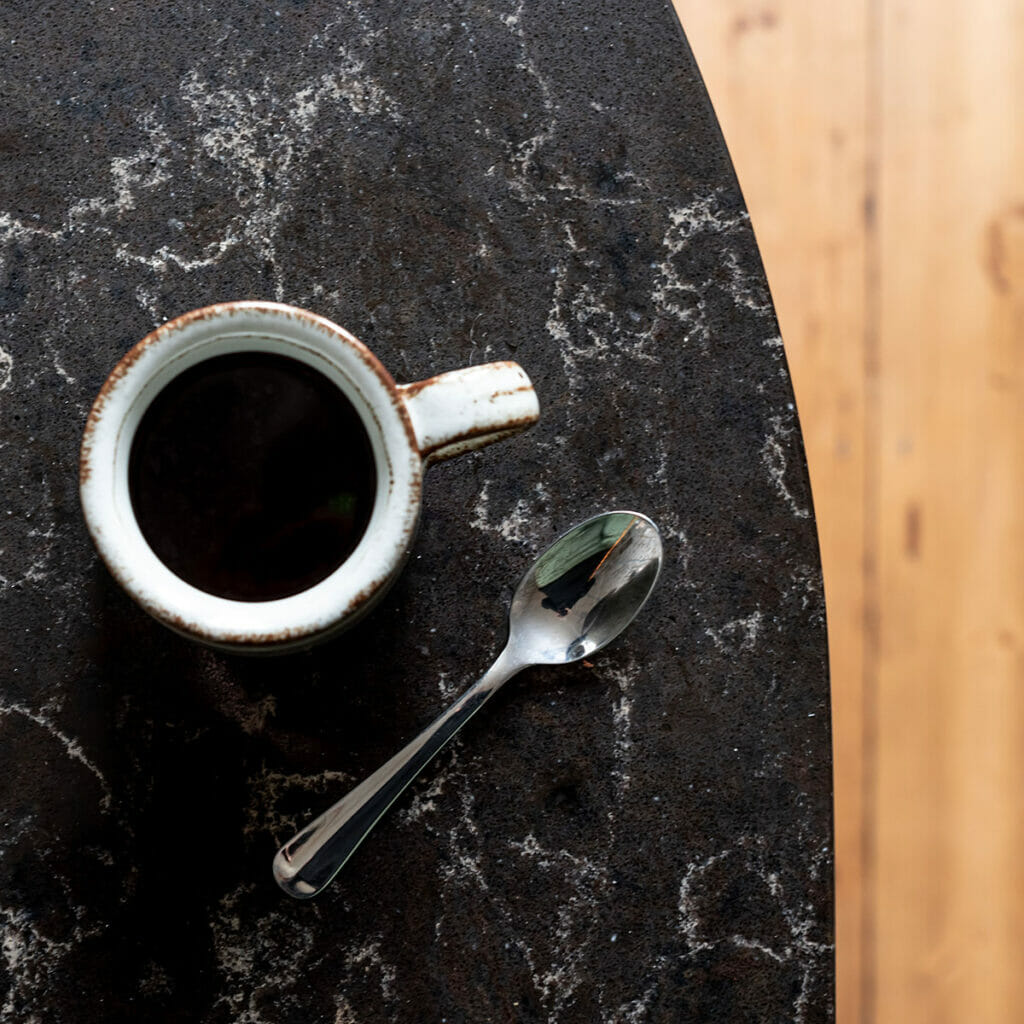 6338 Woodlands
6338 Woodlands is a dark brown quartz with brown veining featured in Caesarstone's Supernatural Collection. Homeowners that want to add a classic, timeless design to their space can do so by making use of this striking style of quartz.
Caesarstone's 6338 Woodlands adds earthy tones to a space, making this shade a great choice for homeowners with brown-colored decor. In fact, multiple shades of brown can add a sense of movement and give a room a unique flavor, so to speak.
Homeowners who plan on making use of 6338 Woodlands in their kitchens should pair them with stainless steel appliances. This combination will add a touch of contrast, which prevents the space from feeling too plain.
5111 Statuario Nuvo
Caesarstone's 5111 Statuario Nuvo is a go-to white quartz with brown veining. As a part of the Supernatural Collection, 5111 Statuario Nuvo adds a splash of elegance to any space but is particularly effective in bathrooms with light-colored decor. This is due to the fact that 5111 Statuario Nuvo works well with the various shades of white that are commonly found in bathrooms, such as ecru, cream and beige.
However, 5111 Statuario Nuvo isn't just for bathrooms; it's also a fantastic choice for kitchens. In order to make the most out of the countertop's creamy shades of white, homeowners should look for ways to add warm light into the space. Doing so will breathe life into the room, and create a calm, serene feel.
Get quartz with brown veins from a reputable manufacturer
Homeowners are advised not to purchase quartz counter surfaces or other quartz products from disreputable manufacturers. Doing so jeopardizes the quality of the surface material and the overall look of the space.
Thankfully, there are several trustworthy, experienced quartz manufacturers on the market, one of the most well-known being Caesarstone. Caesarstone has been pushing the boundaries of the quartz industry since 1987. Since Caesarstone has entered the industry, we've never looked back. We've worked incredibly hard to provide homeowners (and business owners) with high-quality quartz countertops that they can be proud of.
Additionally, Caesarstone uses a specialized engineering process to make quartz countertops. This engineering process allows Caesarstone to craft beautiful, durable countertops made with up to 90% quartz minerals.
Please note that Caesarstone doesn't install or repair quartz counter surfaces or similar quartz products. Homeowners will need to get in contact with a specialized professional to install or repair their quartz countertops.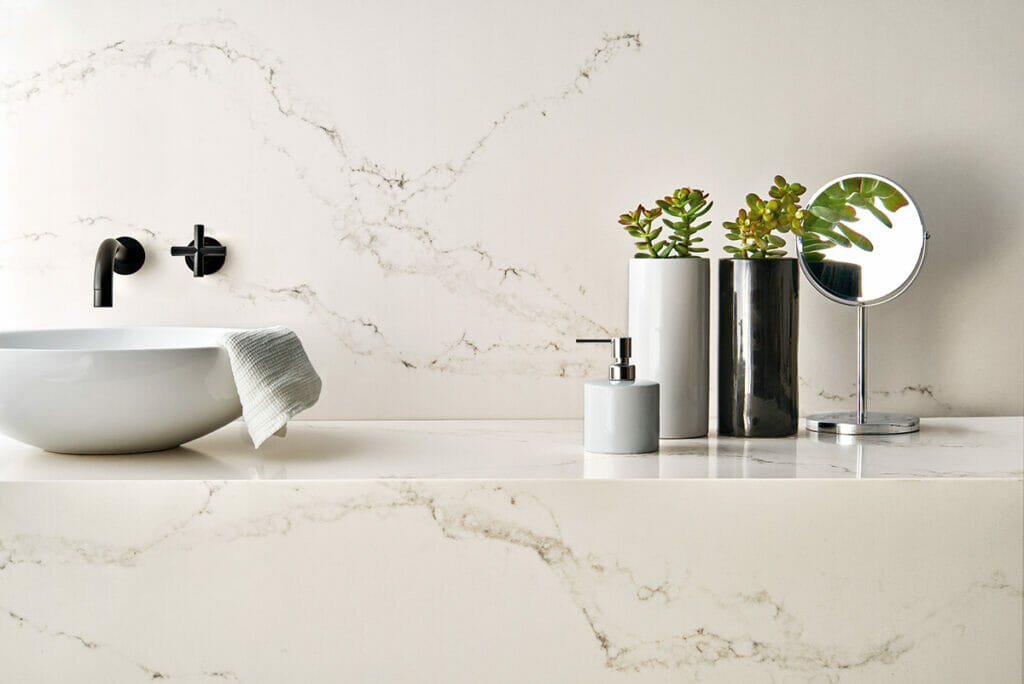 FAQs
Why do homeowners choose quartz for their countertops?
There are several reasons why homeowners are opting for quartz countertops, some of which include:
Durable
Nonporous
Environmentally friendly
Scratch, heat, and stain-resistant
Easy to install
Hygienic
How strong is quartz?
Quartz has a 7 (out of 10) ranking on the Mohs scale, making it one of the most durable countertop materials on the planet.
Do quartz countertops require sealants or wax?
No! Quartz countertops do not require any harmful chemicals, like sealants or wax. This is one of the reasons why quartz is considered an environmentally friendly countertop material.