Modern kitchen designs continue to evolve as homeowners look to incorporate stylistic and creative influences into their homes. There's no better example than the two-tier kitchen island, which is one of many new elements of the contemporary kitchen.
A two-tier kitchen island takes a step up from the standard kitchen island, and offers additional functionality with multiple levels of storage and decorative space. Just like other centerpieces and design-oriented structures, they provide an opportunity to showcase the unique style of the designer.
Quartz is especially useful as a material in these islands, as unique color and design options like 1003 Raindream allow homeowners to create striking visual contrasts while also maintaining functionality.
However, it can be difficult for the average homeowner to assess if a two-tier kitchen island, or a multi-level kitchen island in general, is right for them. This article will cover the specific features of two-tier kitchen islands and outline their pros and cons to help make a decision.
What is a two tier kitchen island?
A two-tier kitchen island is exactly what it sounds like – it functions like a traditional kitchen island, but offers two separate levels of elevation. These elevations are usually not very different, and they're usually used to separate the usable space into two distinct regions. This allows a two-tier kitchen island to be used for multiple purposes while occupying the same amount of space as any other fixture.
A perfect example of this is a two tier kitchen island with seating. Specifically, the lower level faces the kitchen, while the higher level of the island faces away from the kitchen space and comes with seating of appropriate height. This allows the higher space to be used as bar seating or for eating meals, while the lower level can be used as part of the kitchen countertop space.
The distinct difference between the levels of a two-tier kitchen island can be used as creatively as the designer wants, and offers an eye-catching profile that accentuates it as the centerpiece of the kitchen.
Factors to consider when deciding on a two-tier kitchen island
Before we analyze the benefits and drawbacks of a two-tier kitchen island, it's a good idea to consider these key factors when deciding on whether to install one.
Size of the island
Size is a major factor when considering whether or not to install a kitchen island. Homeowners should take care to consider the available kitchen space, decor options, and free space left to move around after installation. Carefully consider the number of household members that will need access to the island, and how the available space will be used once it's installed.
Aesthetics
The look and eye-catching appeal of a two-tier kitchen island is also a major factor to keep in mind when making a material selection. There are several types of materials that can be used to produce a striking kitchen island design, but homeowners should take care to assess the costs, features, and key characteristics of the material in hand. For example, quartz two-tier kitchen islands offer several benefits, and make for an excellent option for renovation.
Purpose
This is likely the most essential criteria for those homeowners that prioritize function over beauty. It's a good idea to know exactly what the two-tier kitchen island will be used for once installed, as this can determine other decisions, such as the type of material that will be chosen. For example, if homeowners know that the island will be frequently exposed to water, using a non-porous and easy to clean counter surface like quartz is a no-brainer.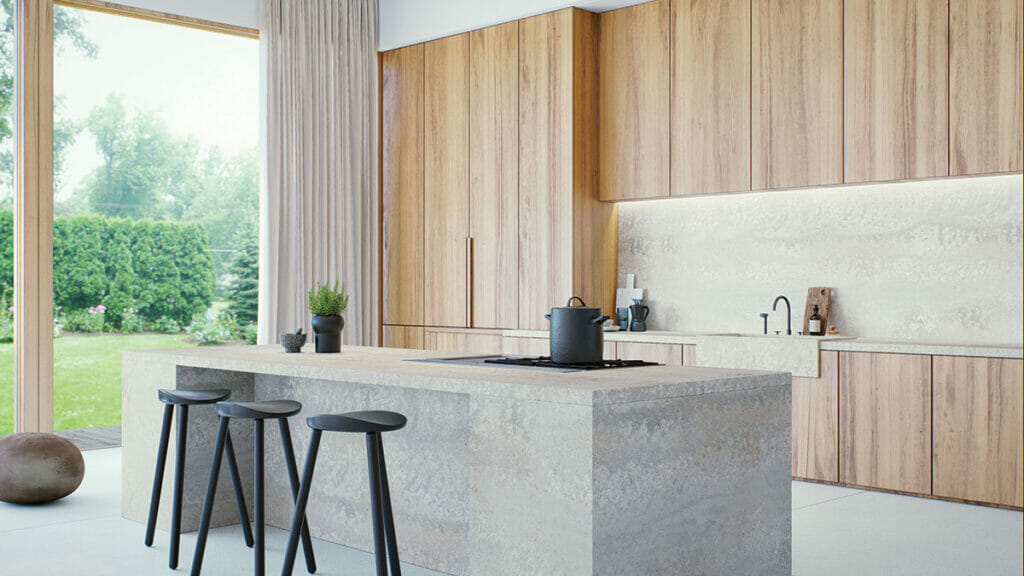 Two-Tier Kitchen Island Pros
Efficient at dividing space
Two-tier kitchen islands are a great way to make a clean distinction between the uses of the different tiers. From cooking to dining, to work-from-home and playing spaces, there's several ways to divide the different levels of a two tier kitchen island without having to take up extra space within a kitchen.
Creating these separate spaces can be extremely useful, such as when entertaining guests. Homeowners find two tier kitchen islands, especially those with seating, to be a great way to entertain guests and socialize with them while going about their kitchen work. Caesarstone quartz offers a great, durable option that can stand up to everything from house parties to families with young, children.
Creates privacy and hides messes
The variation in elevation between a two-tier kitchen island's distinct surfaces means that they can be used to hide the clutter that some homeowners require. Whether its cooking spices, utensils, or appliances that need to be kept within arm's reach, an elevated surface can naturally hide these out of sight and maintain the pristine appearance of the space.
Two-Tier Kitchen Island Cons
Can disrupt tasks and cause workspace issues
The use of space and the amount of space taken up by a multi-level kitchen island is a double-edged sword. A two-tier kitchen island that doesn't provide enough necessary space can be a big liability. It's important to make sure to make careful measurements and plan out the intended use of the island beforehand to avoid this problem.
Can make the kitchen look small
If the kitchen isn't large to begin with, a two-tiered kitchen island can make the problem worse. Kitchen islands already take up a significant amount of space, but a two-tiered version can aesthetically capture so much visual attention that it's hard to focus on anything else. Specific design strategies and a compact size for the two-tier kitchen island can be a good way to make sure it is proportional and complements the rest of the space.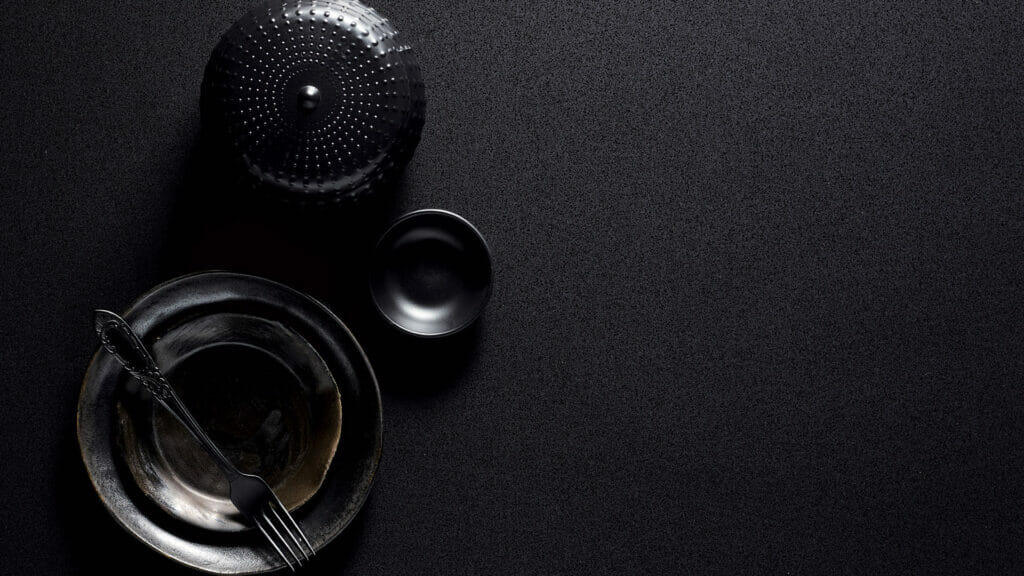 Why quartz is the best choice for a two-tier kitchen island
Typically, kitchen islands are right at the heart of a workspace, and two-tier kitchen islands are no exception. It's important to make sure the installation can deal with the stresses of everyday use and stand up to a variety of factors such as spills, heat, and the risk of chips, cracks and scratches.
There's no other material like Caesarstone quartz to incorporate into a two-tier kitchen island design. As one of the most well-known and respectable manufacturers of quartz countertops in the United States, we take pride in our ability to deliver quality products that last for decades. With options like 4043 Primordia to 3100 Jet Black, it's very easy to find an option that suits any project's design needs.
With Caesarstone quartz, it's easy for homeowners to craft their two-tiered kitchen island into a centerpiece that serves them for years to come.