Keeping any part of a home clean can be a challenge, especially heavily-used rooms like kitchens. Kitchens see plenty of traffic in a typical day; the average homeowner spends a lot of their time cooking, eating, and socializing in their kitchen.
It's only natural that a space that sees daily use will accumulate its fair share of germs and bacteria. In most cases, germs and bacteria are hardly cause for concern; but certain microorganisms, like mold and mildew, can lead to issues for those with underlying health conditions, like asthma.
One of the most effective ways homeowners can tackle this issue is by investing in high-quality antimicrobial countertops for their kitchens. Purchasing antimicrobial counter surfaces made by a reputable manufacturer is known to help minimize the spread of harmful germs and bacteria. There are several materials that homeowners can use for their countertops, some of which include:
Natural stone
Porcelain
Quartz
All of these materials are stable options, but quartz is one of the most well-known, and widely accepted. Today's article will focus on the antimicrobial properties of quartz countertops, some color ideas, and where to find high-quality products.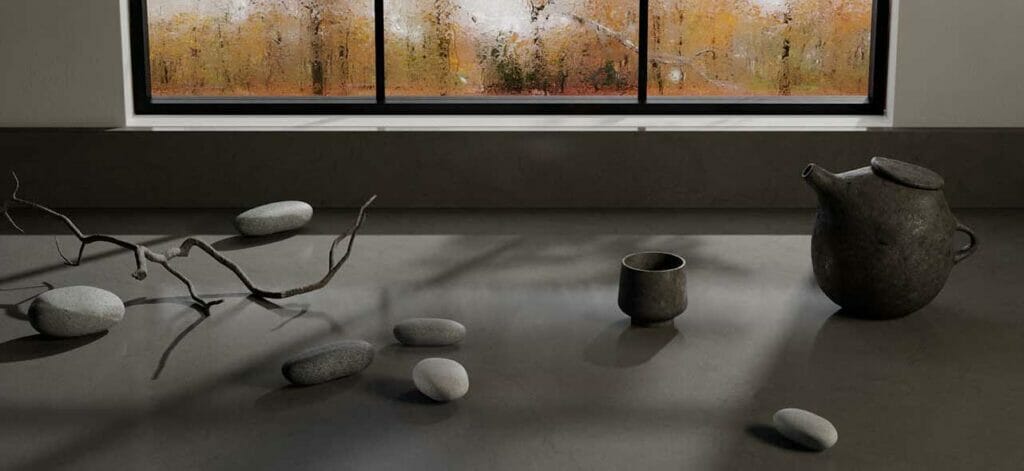 What are the antimicrobial properties of quartz countertops?
There are a handful of reasons why antimicrobial quartz countertops are growing in popularity in the United States. In fact, many homeowners are attracted to quartz surfaces because they are nonporous, low maintenance, and easy to clean.
Quartz countertops are nonporous
One of the most beneficial properties of quartz is that it is nonporous (as opposed to porous).
What exactly do "porous" and "nonporous" mean?
If something is porous, it has a number of tiny "pores" or holes in the surface. These pores are an ideal breeding ground for germs. Over time, these pores can become quite unhygienic and potentially lead to health issues.
On the other hand, if a material is considered nonporous, it has a seamless, practically impenetrable surface. Nonporous materials do not have any entrance points for germs, making it nearly impossible for quartz countertops to host bacteria, mold, or mildew.
High-quality antimicrobial quartz countertops can give homeowners peace of mind, especially if they spend a lot of their free time in the kitchen.
Quartz countertops are easy to clean
As mentioned earlier, quartz is among the best materials for antibacterial countertops because it's easy to clean. In most cases, homeowners can clean quartz countertops with soap and water (specific issues may require an approved quartz cleaner).
Homeowners almost never have to use harmful chemicals, making quartz an eco-friendly option for kitchen countertops. Likewise, many homeowners appreciate that they don't have to spend much time to clean or maintain their quartz surfaces.
Similarly, quartz countertops are very stain resistant. This stems from the fact that quartz is nonporous. Spills sit on top of the surface instead of seeping into pores (which can lead to stains). This key characteristic is especially beneficial for families with young children.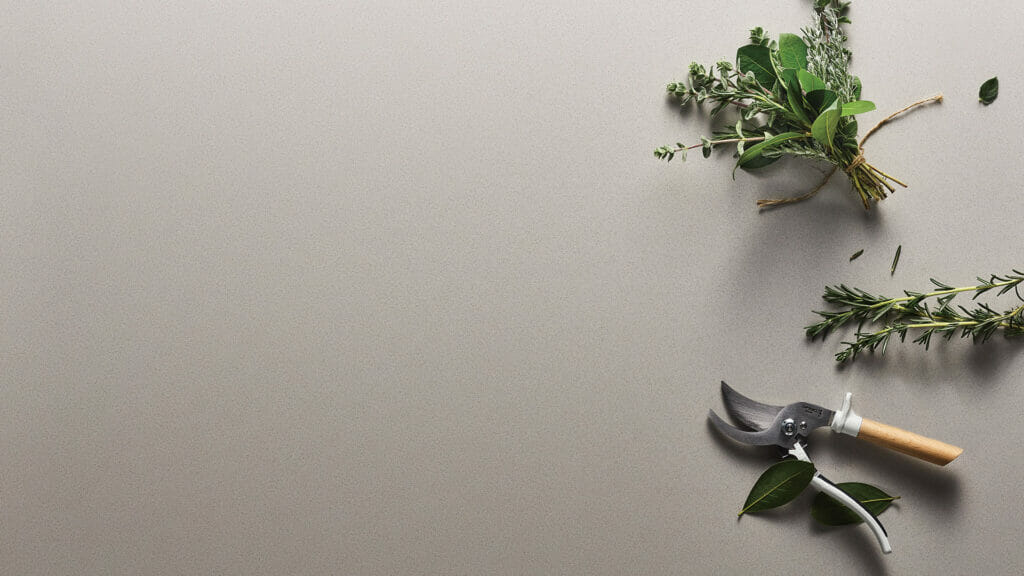 Popular color options for quartz kitchen countertops
Today, most quartz manufacturers produce kitchen countertops in a wide variety of styles, patterns, and colors. Some of the most commonly used colors include:
White
Black
Beige
Brown
Gray
Picking the right color of quartz can be hard as there are so many options to choose from.
Homeowners that want to have dark-colored countertops may want to look for products like Caesarstone's 1003 Raindream or 4120 Raven. Dark-colored quartz countertops add a sense of refinement and elegance to a kitchen, especially when paired with bright-colored paint or cabinetry.
Homeowners that prefer bright-colored quartz countertops can opt for products like Caesarstone's 2030 Haze or 5161 Icellion. Light shades of white, cream and beige can add a soft warmth to a kitchen, especially when paired with dark-colored floors or appliances.
Homeowners who are struggling to pick the perfect color for their kitchen (or any other part of their home, for that matter) can use Caesarstone's interactive visualizer tool. Caesarstone's interactive visualizer allows homeowners to compare various products at the click of a few buttons. Within moments, homeowners can find and compare their favorite products until they've made a final decision.
Where can homeowners find the best antimicrobial countertops in the United States?
Before anything is finalized, homeowners should make sure that they are buying a product that was made by a reputable manufacturer. There are several quartz countertop manufacturers in the United States, one of the most well-known and respected being Caesarstone.
Caesarstone has been crafting top-of-the-line products and pushing the boundaries of the quartz industry since 1987. Since this time, Caesarstone has worked hard to create a name and product that is recognized across the United States and internationally.
What makes Caesarstone's products so effective? The primary factor is the engineering process. Caesarstone uses a unique process to craft high-quality products made with up to 90% pure quartz minerals. Using this process ensures that homeowners receive a product that looks and feels great for many years to come.
Homeowners can find Caesarstone products at a retailer or showroom in their area.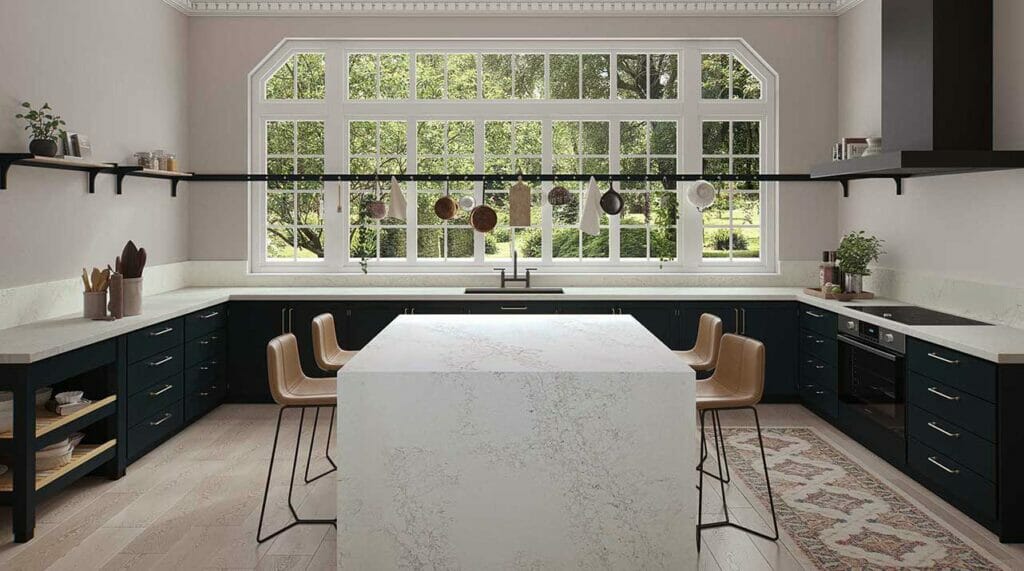 Quartz is a great option for more than just antimicrobial kitchen countertops
After doing some research, it's quite clear that quartz is among the best materials for antibacterial countertops in residential kitchens.
But, kitchens aren't the only space where homeowners can utilize quartz. Quartz is also a great material for bathroom countertops, personal bars, and even outdoor decor.
FAQs about quartz countertops
Does Caesarstone install or repair quartz products?
No, Caesarstone doesn't install or repair quartz products; Caesarstone solely manufactures the countertops. Homeowners can contact a professional if they need help installing or repairing their countertops.
Does Caesarstone offer a warranty?
Yes! Caesarstone offers a lifetime warranty on select residential and commercial indoor countertops. Registering a warranty only takes a few moments to complete.
Is quartz resistant to heat and scratches?
Again, yes! Quartz is a highly durable countertop material and is known for its ability to hold up against heat, scratches, and general wear and tear. Although, in circumstances with extreme heat, a trivet is recommended.