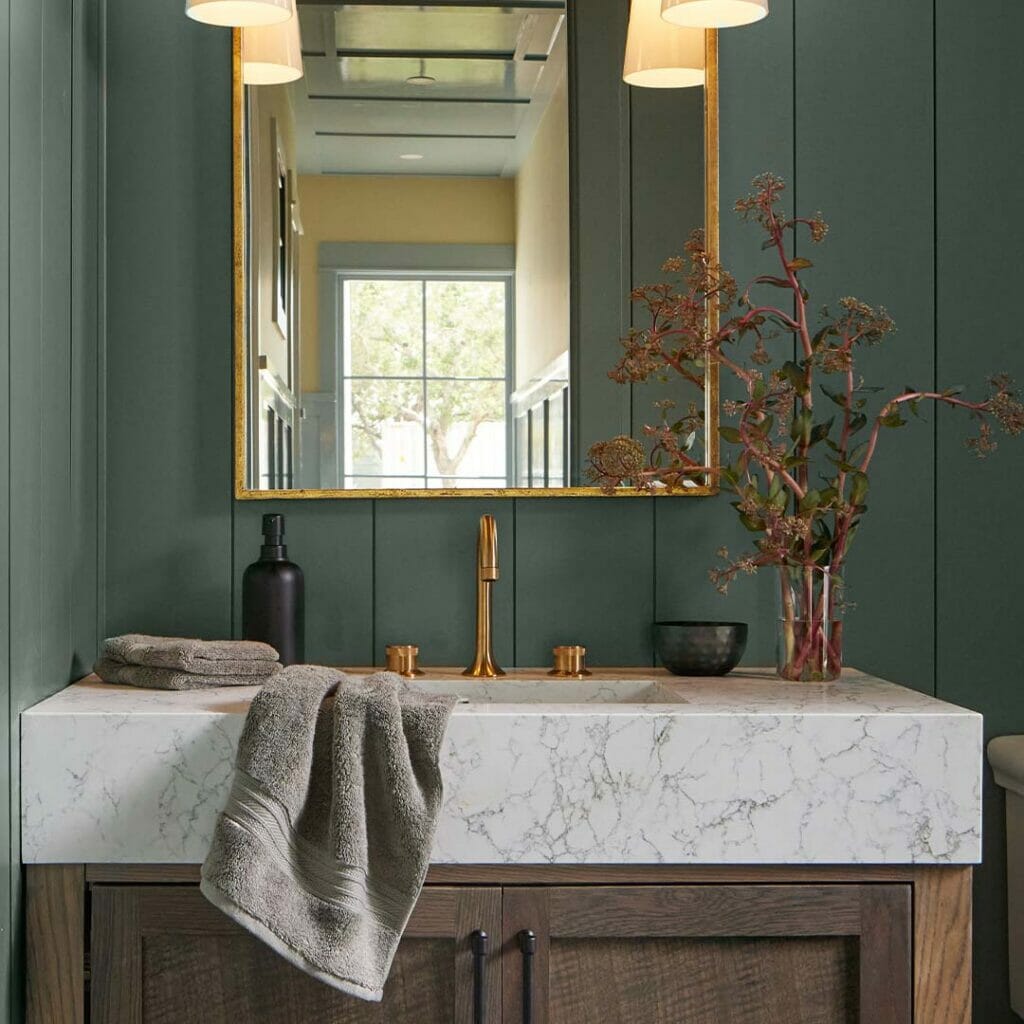 Home remodeling is an exciting journey. But it can be a complicated and stressful process at times. From selecting materials and choosing the perfect color and design to dealing with fabricators and installers, homeowners often find the entire process a little overwhelming. The selection of countertop materials must be done carefully, in consideration of factors such as durability, porosity, ease of maintenance, and style. Having all of this information will make your decision much easier.
When it comes to selecting countertop materials, it is easy to focus on the kitchen and forget about the bathroom. Selecting bathroom countertop materials is not any easier than selecting kitchen countertops, however. The wide variety of countertop materials on the market can make the process even more difficult, especially for people who do not have sufficient information about the pros and cons of each countertop material. Anyone looking for a bathroom countertop that is stunning, durable and non-porous should opt for quartz from a reputable manufacturer like Caesarstone. Let's see why bathroom quartz countertops are preferred among homeowners and renters, and why they should be the go-to option.
But first, what are quartz countertops?
Quartz is an engineered stone that is composed of 90% quartz and 10% pigments, polymers, and resins. Quartz is also one of the hardest naturally occurring minerals on earth. When formulated, it creates a very strong surface that is not only eye-catching but also mimics natural stone countertops. It is available in a wide array of colors and styles, so it doesn't restrict the quartz countertops bathroom styles that homeowners have to choose from.
What makes quartz bathroom countertops a great choice?
The durability – As we mentioned, quartz is an engineered stone that is made with one of the hardest minerals on earth. On the Mohs hardness scale, it has a rating of 7 and is only surpassed by diamond, corundum, and topaz. This makes quartz bathroom vanity countertops less susceptible to chips and cracks, which can be a nuisance, not to mention the extra cost of frequent repairs to less durable countertop materials.
Quartz is non-porous – Bathroom countertops often come into contact with all types of liquids. The non-porous nature of quartz, thanks to the resins used during the manufacturing process, is a quality that homeowners should look out for when selecting bathroom countertops. This ultimately makes quartz the ideal bathroom countertop material.
Ease of maintenance – No one wants to scrub bathroom or kitchen countertops every other day. The non-porous nature of bathroom quartz countertops makes cleaning a quick, stress-free and easy process. Quartz countertops also offer antibacterial and hygienic benefits as a result. Quartz bathroom countertops have simple cleaning needs and only require clean water and mild soap.
Variety of colors and designs – Quartz countertops are available in a wide array of designs, colors, and patterns, some of which mimic natural stone countertops such as marble. Whether looking for a dark, light, bold or neutral design, you'll find it in quartz.
What are the best quartz countertop bathroom options?
As we mentioned earlier, quartz bathroom countertops are available in many different designs and colors. Here are some design options that are ideal for bathrooms or kitchens depending on the preferred styles and colors.
Whites
5171 Arabetto – This is a perfect design for someone who is looking for hues of grey/green and white. The 5171 Arabetto has swirling galaxy-like features of grey stripes and speckles on a crisp white surface. This makes for an impressive stone countertop, one that captures a delicate interlacing of copper and jade and a complex mineral composition. It creates a polished yet supernatural finish that can be custom-designed based on the preferred thickness.
5112 Aterra Blanca – This is a quartz countertop that has a misty white base with soft earthy veining. It radiates with warm, glowing and milky swirls, and is the perfect choice to create a subtle veined bathroom look.
Blacks
5101 Empira Black – Looking to add opulence in the bathroom? Caesarstone's 5101 Empira Black will do exactly that. With its deep, dark and mysterious black and fine white veining, it creates a beautifully contrasting surface, one that blends effortlessly with other bathroom features. This is an ideal countertop material for a polished and natural finish.
3100 Jet Black – Looking for a bathroom countertop that exudes luxury? Go for Caesarstone's 3100 Jet Black. Not only is it exquisitely dark but it also has a subtle pattern that makes it a sophisticated and sleek surface.
Browns
6338 Woodlands – Want a bathroom countertop that is bold yet graceful? With earthy veining dancing across a dark-chocolate base, Caesarstone's 6338 Woodlands is just that. While it is durable and easy to maintain, remember that sharp objects should not be used on the countertop.
Beiges
5220 Dreamy Marfil – The perfect countertop to create a rustic charm, this quartz countertop is a blend of beige hues that are enriched with browns, beautifully represented in a polished finish.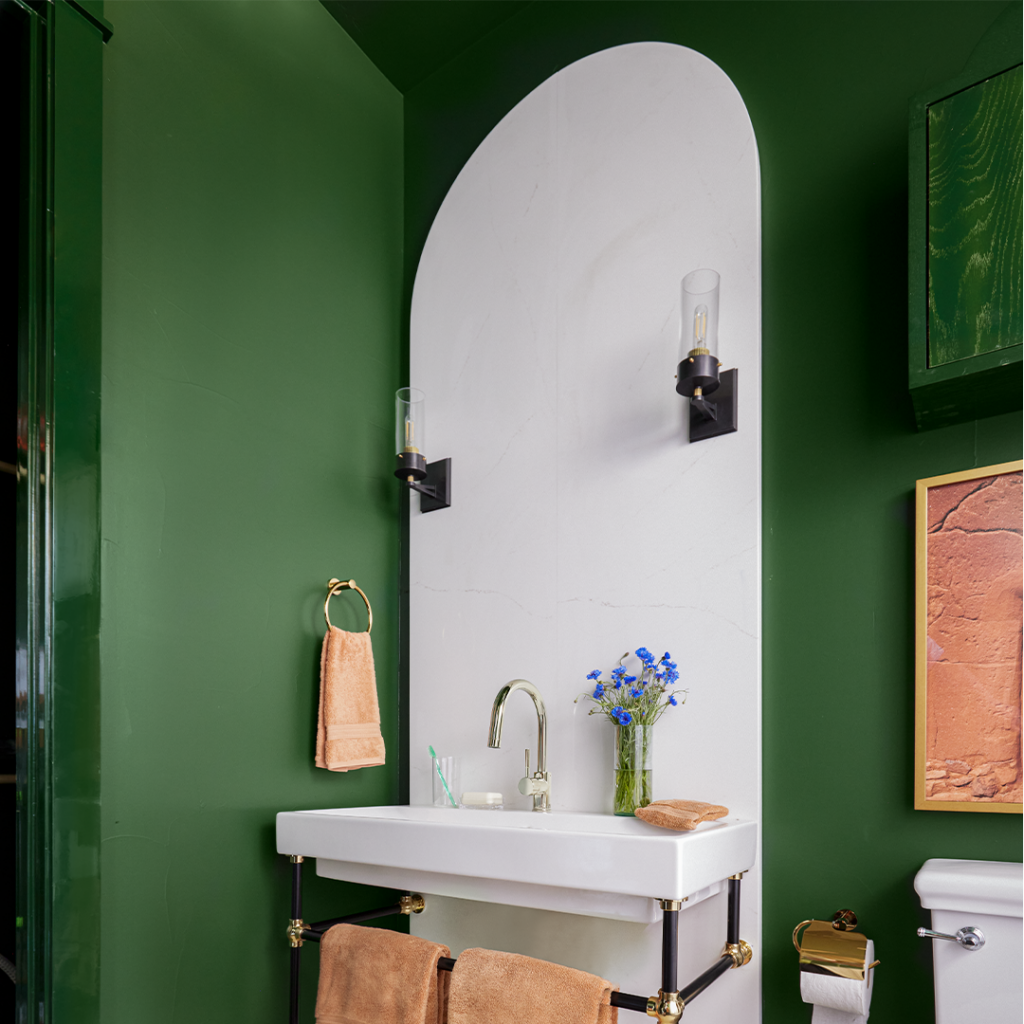 What factors should be considered when choosing quartz bathroom countertops?
Lifestyle – Luckily, all bathroom quartz countertops are easy to clean and maintain. However, certain finishes require more care than others, so a person's lifestyle should be factored in.
Visual appearance – This is a major consideration before installing quartz bathroom countertops. No one wants to be left with countertops that do not match the bathroom's overall aesthetic. Luckily, quartz countertops are available in a wide variety of colors, designs, and patterns to choose from to suit any space.
The manufacturer – It is important to get quartz bathroom countertops from a reputable manufacturer such as Caesarstone. Quartz countertops can be a significant investment. As such, no homeowner wants to deal with repair and maintenance costs that can result from choosing an inferior manufacturer.