Countertops complete the look of a kitchen. However, they undergo a lot of stress resulting in wear and tear throughout the day. As a result, kitchen countertops require regular cleaning and maintenance.
While cleaning kitchen countertops is not rocket science, a simple mistake such as using the wrong cleaning detergent can be a costly one. As such, homeowners need to learn how to clean their countertops. Different kitchen countertop materials have varying cleaning and maintenance requirements. So, let's dive in and explore the best way to clean your kitchen surfaces.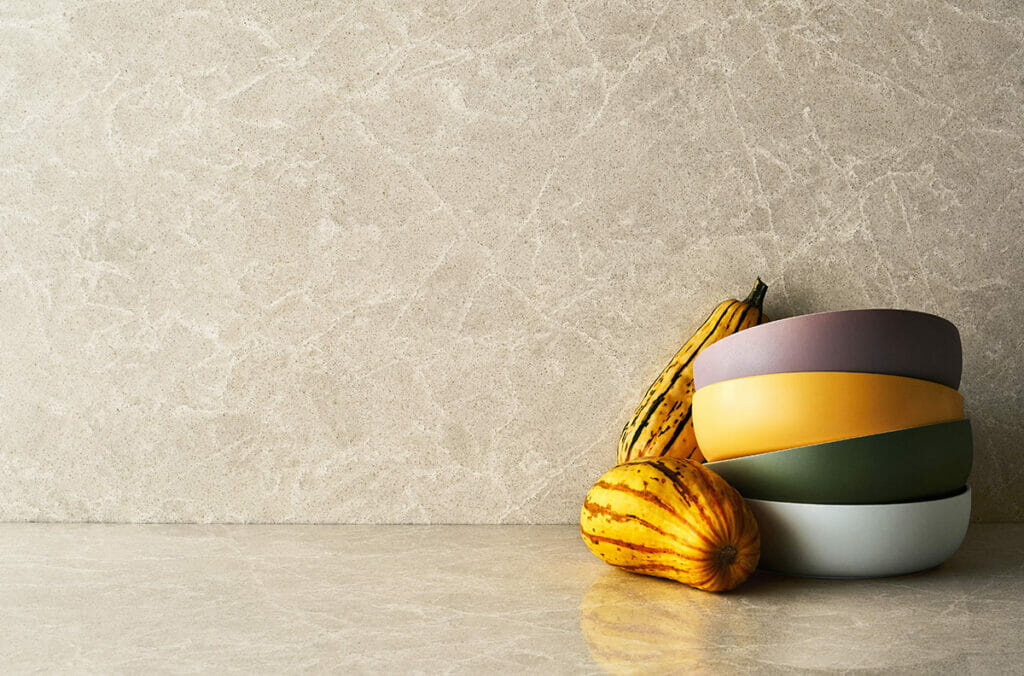 How to Clean Your Countertops
Granite
Cleaning granite countertops: To clean these kitchen countertops, start by wiping the countertop surface with a solution of warm water and a mild cleaning detergent. While a mild solution of bleach may be used, abrasive cleaners should not be since they may scratch the granite countertop surface. When done regularly, this should be sufficient to maintain clean kitchen countertops.
Removing stubborn stains: Over time, granite countertops may accumulate stains, especially if not cleaned immediately after a spill. To remove the stains, mix baking soda with hydrogen peroxide, ammonia or bleach to form a paste. Gently scrub the stains with a soft brush and rinse thoroughly. If removing stubborn stains, several applications may be required.
Sealing granite countertops: It is recommended that granite countertops be sealed regularly to remain in their best shape. Granite countertops should be sealed with an appropriate sealer as recommended by the manufacturer.
Quartz
Cleaning quartz countertops: To clean quartz countertops, wipe the countertop surface with a non-abrasive material such as a soft cloth dipped in a solution of warm water and a mild soap. Then, rinse thoroughly and dry the surface. Quartz's non-porous nature makes these countertops a breeze to clean whether you choose a light color like Caesarstone's 5130 Cosmopolitan White or a darker quartz countertop option such as 5100 Vanilla Noir. However, it is important to note that honed, natural, rough, and concrete finishes often require a little more cleaning than polished finishes.
Cleaning stubborn stains: No matter how often spills are cleaned, some still go unnoticed. The result? Stubborn stains. To clean these, use a recommended cleaning product and a soft cloth. Rub the area in a circular motion, then rinse thoroughly with water.
Sealing: Quartz countertops are made with pure quartz and resin; hence they do not require sealing. That being said, it is important to purchase quartz countertops from reputable manufacturers such as Caesarstone, to ensure the best quality.
Laminate
Cleaning: Homeowners who have installed laminate countertops may wonder how to best clean this material surface. A solution of warm water and a mild soap or bleach is all that is required to clean this countertop material. To prevent scratches, only non-abrasive cleaning clothes or sponges should be used. And if using a bleach solution to clean the countertop, make sure to test on a small spot since bleach solutions may alter the countertop color.
Removing stains: To remove greasy stains, use a solution of warm water and vinegar or a mixture of baking soda and water.
Sealing: Laminate countertops do not require sealing.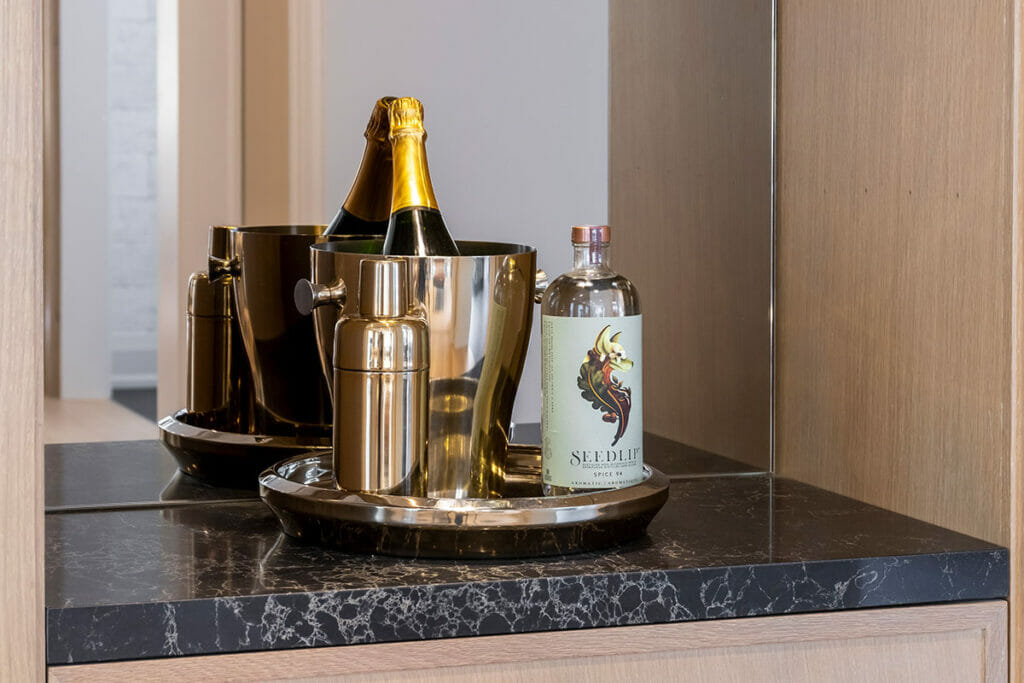 Butcher block
Cleaning butcher-block countertops: Clean the countertop materials with a solution of water and a mild dishwashing liquid, using a soft cloth or a clean non-abrasive sponge. Next, dry the wooden surface with a dry cloth. Since butcher-block countertops are susceptible to bacteria, use a solution of bleach and water to disinfect the surface.
Removing stains: For stains on butcher-block countertops, blot the area to prevent the stain from sinking into the wood pores. If dealing with stubborn stains, scrub the stains with lemon juice or sprinkle salt and let it sit overnight. In the morning, rinse with a solution of water and soap. To lighten stains on butcher-block countertops, use a hydrogen peroxide solution. Often, these countertops are prone to permanent staining. Luckily, sanding and refinishing the countertop is a great way to eliminate them.
Sealing: Oiling butcher-block countertops with mineral oil is an excellent way to finish the wood and prevent it from drying, while adding sheen to the surface. If your butcher-block countertop is oiled, it should not be sealed. If the countertop is not oiled, it can be sealed with polyurethane.
Marble
Cleaning marble countertops: To clean marble countertops, use a solution of water and soap and clean with a soft cloth or sponge. Be sure not to use abrasive cleaning materials.
Removing stains: Marble countertops are prone to staining if spills are not wiped immediately. To remove stains, apply a baking soda and water paste if dealing with oil-based stains, and a solution of hydrogen peroxide and water if dealing with water-based stains.
Sealing: Marble countertops should be sealed regularly with a sealer as recommended by the manufacturer.
Stainless steel
Cleaning stainless steel countertops: Stainless steel countertops require regular cleaning. To keep the countertops clean, regularly use water and a clean microfiber cloth. Dry the countertops thoroughly to prevent water spots. To remove mineral water deposits, use a small amount of vinegar and rinse.
Removing stains: Stainless steel does not typically stain if cleaned properly. For a more thorough clean, homeowners can use a small amount of dish soap and water.
Sealing: While stainless steel countertops do not require sealing, they should be polished regularly.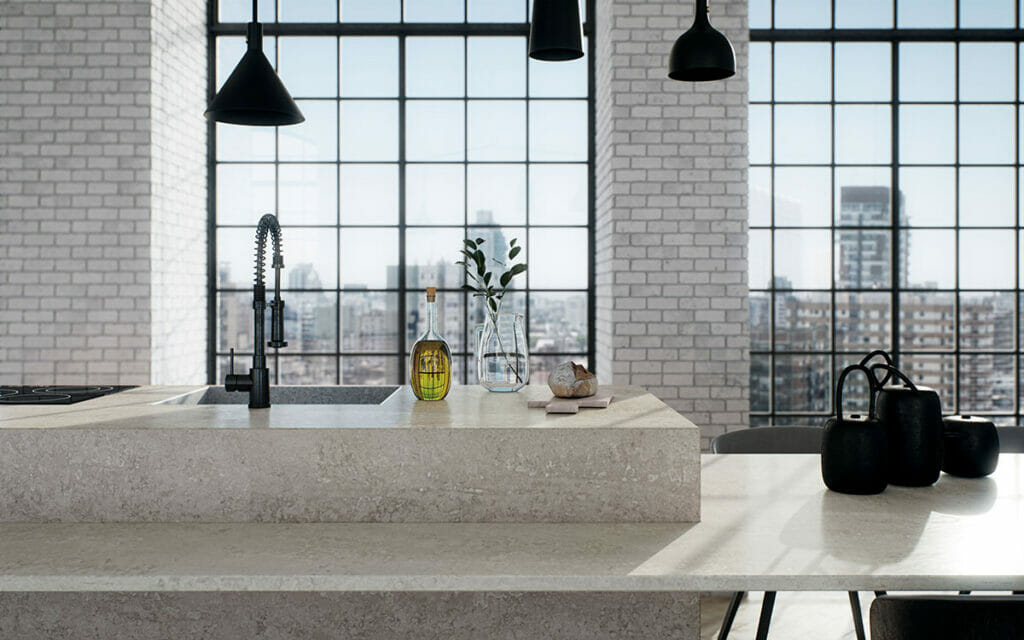 Here Are 3 Tips for Maintaining Clean Countertops
Prevention is better than a cure: Start by undertaking preventive measures to ensure that beautiful surfaces like Caesarstone's 4023 Topus Concrete serve the space adequately. Regardless of the countertop material, homeowners need to protect countertops by using heat pads, trivets, and cutting boards, and immediately wiping spills away.
Always start with a little bit of pre-cleaning: Homeowners are often on the lookout for the best way to clean their kitchen countertops. A simple pre-cleaning process may be the best way to effortlessly achieve clean kitchen surfaces. Kitchen countertop pre-cleaning can help avert accidents and ease the entire cleaning process. Start by cleaning the dishes, organizing the countertop, and returning items to the refrigerator or pantry.
Maintain a regular cleaning routine: Dirt on some kitchen countertops may not be easily visible, especially dark-colored countertops. However, the best way to clean kitchen countertops is to have a regular cleaning schedule. A buildup of dust, crumbs, stains, and spills on the countertops not only creates an unhealthy space but may also ruin the counter's surface.