If you've considered quartz countertops for your kitchen or bathroom surfaces, you've probably wondered about the best way to clean them.
It is important to note that quartz countertops don't require intense effort to take care of. In fact, they are low maintenance and require an easy cleaning routine to keep looking their best. That said, as durable as quartz countertops are, they still require a little bit of daily care to last their full lifespan.
Keep these cleaning and maintenance tips in mind when caring for your quartz countertops.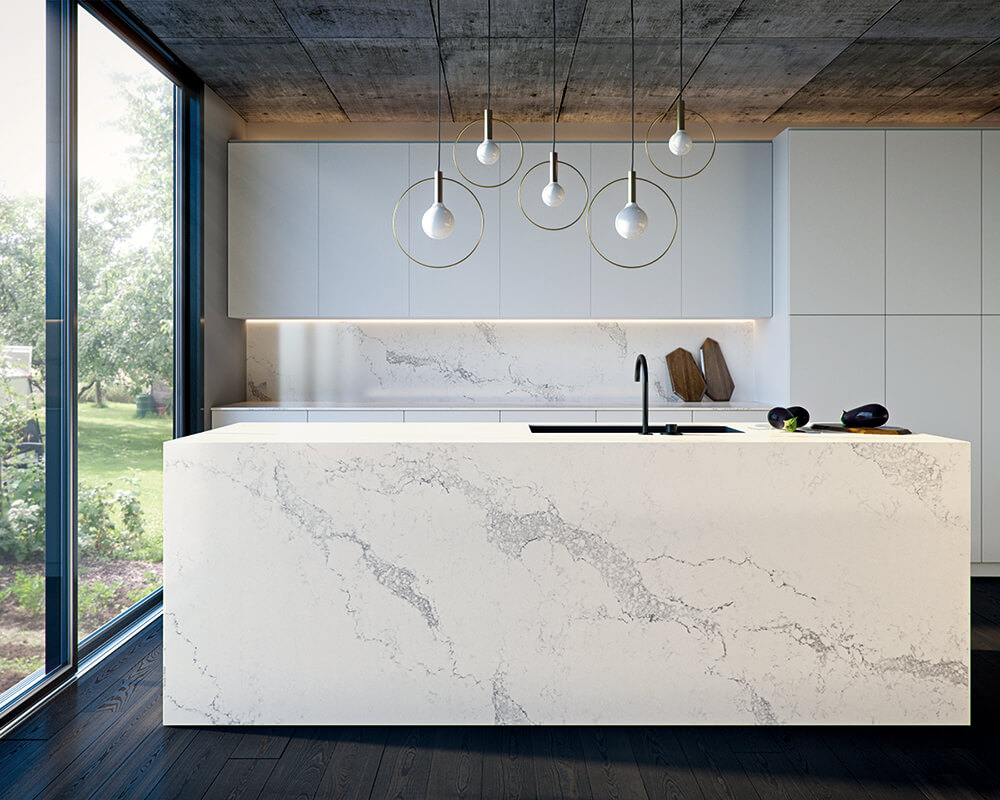 How To Clean Quartz Countertops
Daily Cleaning Routine
Warm water, a mild detergent or soap, and a soft cloth are all it takes for the everyday cleaning of Caesarstone quartz countertops. Rinse the surface with water and dry it with a soft cloth or paper towel.
For a clean surface shine, use a non-abrasive cleaner, such as Soft Scrub Liquid Gel, and thoroughly rinse with water. Homeowners looking to use environmentally safe cleaners can clean their quartz with an equal proportion of water and vinegar, then rinse with just water.
Take note that honed, rough, and concrete finishes require slightly more cleaning than polished ones.
Removing Dried Spills from Quartz Countertops
To get rid of any dried gunk from quartz countertops, you want to first reconstitute the dry spill with water. After a few minutes, the spill should be soft and ready to clean with a damp cloth.
Homeowners may be tempted to scrape the stain off the surface with an abrasive pad or a putty knife, but these tools should be avoided at all costs to ensure that the quartz countertop does not get damaged in the process.
Removing Metal Marks or Rust from the Countertop
To remove any metal or rust marks from quartz countertops, homeowners can use Bar Keepers Friend Powder as a spot treatment only. To use this, homeowners are advised to add a small portion of the cleansing powder to a damp cloth. Then, using gentle, circular motions, they can wipe the area until the metal or rust mark is removed. Afterward, the area should be rinsed with water and dried with a soft cloth or paper towel.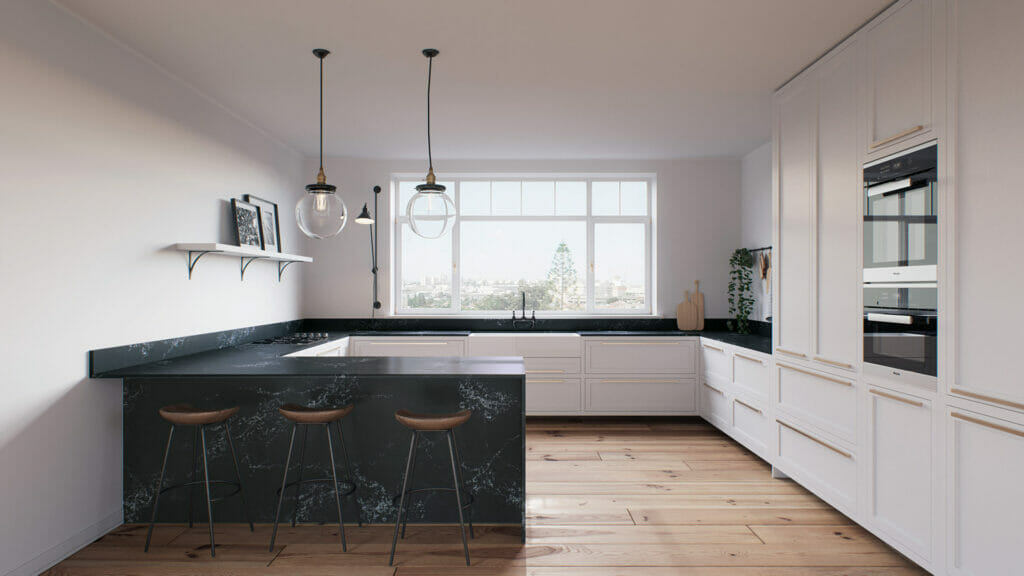 How to Care for Quartz Countertops
Stay away from aggressive cleaners: Acidic and alkaline cleaners can cause irreversible damage to quartz countertops. If you're uncertain about your chosen cleaner, make sure you check in with your quartz supplier to learn if it's safe for use on quartz countertops.
Also, avoid exposing your quartz countertops to chemicals. Chemicals such as dishwasher detergents, toilet bowl cleaners, and oven grill cleaners may seem harmless, but they can cause irreversible damage and discoloration to your quartz surfaces. Damage that results from the use of these chemicals will also void the warranty on your premium quartz countertop. If your surface is exposed, rinse with water to neutralize the effect.
Wipe spills immediately: Any spills should not be left on quartz countertops. Sure, quartz is highly impermeable and can resist spills from penetrating the surface, but if left for a prolonged period, there's a risk of the spills staining the countertops. To be safe, ensure you use mild soap and warm water on any spills, be it coffee, tea, soup, wine, or any other kitchen mess.
Avoid placing hot materials on quartz countertops: Like most countertop materials, quartz countertops are only resistant to high temperatures for a short period before damage can occur. Even the most high-quality quartz can damage under high temperatures. Polished quartz countertops are especially susceptible to heat due to their smooth finish. As such, avoid placing hot cookware and pans directly on the surface. Instead, use trivets, hot pads, or table mats for any hot objects.
Do not cut directly on quartz countertops: Quartz is popular for its scratch-resistant abilities, but that doesn't mean it is scratch-proof. Its surface should not be used as a cutting board. Cutting directly on quartz countertops can scratch the surface, making it even more vulnerable to staining.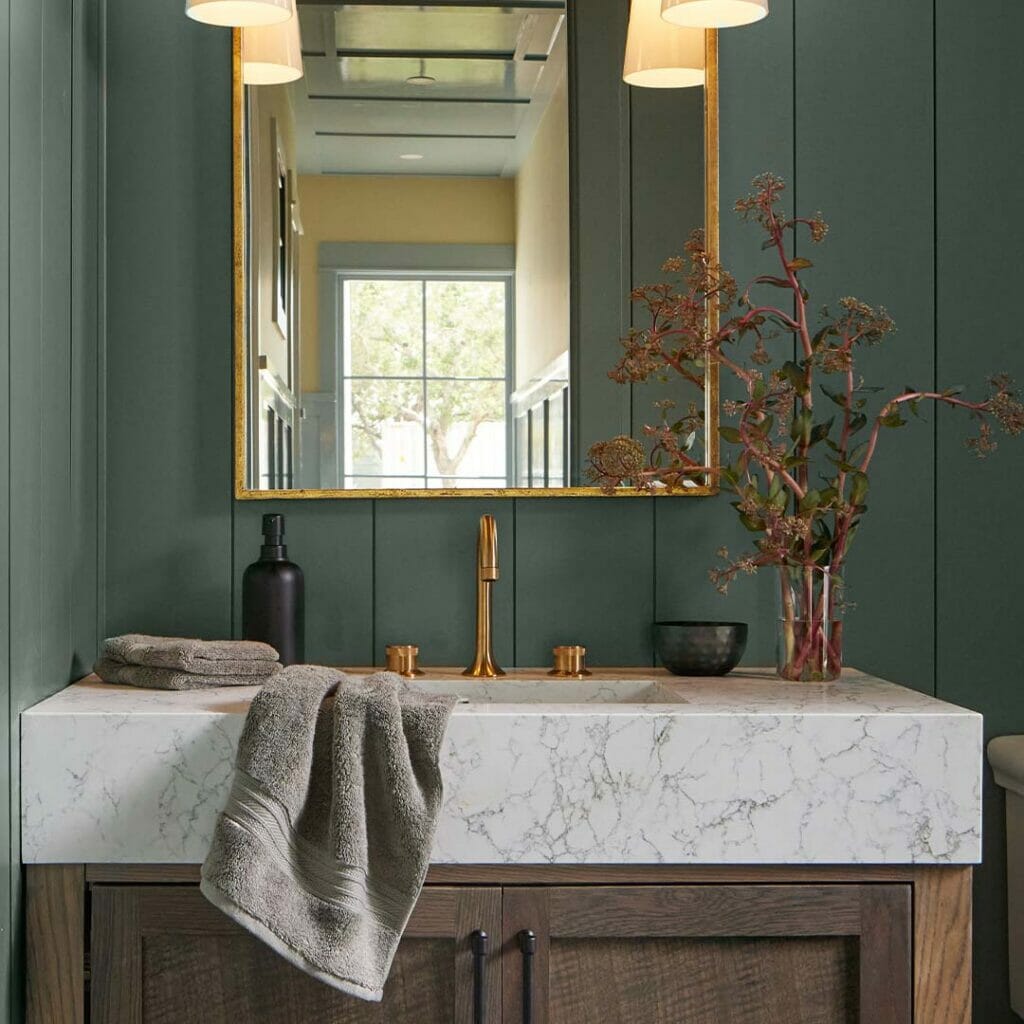 Enjoy the Beauty of Quartz for Years to Come
If the tips above are followed, homeowners will be able to enjoy the beauty of their premium quartz countertops for many years to come. In fact, in choosing a quality quartz countertop manufacturer like Caesarstone, homeowners can get a lifetime warranty on all indoor countertops.
They can choose from a variety of long-lasting, stunning styles to suit any home aesthetic, such as 5031 Statuario Maximus for a marble-inspired look or 5101 Empira Black for a dark and dramatic surface.
Bottomline on How to Clean a Quartz Countertop
Congratulations! Now you know how to clean quartz countertops. Quartz is among the preferred countertop materials for many homeowners looking for a balance of beauty, durability, and low maintenance. But low maintenance doesn't mean maintenance-free.
Quartz countertops require basic care and maintenance to ensure they last long without damage. With these cleaning tips, quartz countertops will serve their full term without requiring costly renovations. Use the above tips on how to clean quartz countertops to ensure you continue enjoying your counters for years to come.