Cabinets and countertops make a powerful combo. While choosing the perfect blend of colors, styles and materials can be a challenge, narrowing down the two makes the selection of other kitchen elements easier. One of the ways in which homeowners can add style to their kitchen is the use of wood cabinets and white countertops.
White countertops create a bright, crisp feel in the space, whereas the use of wood cabinets introduces rich, organic, and earthy tones into the kitchen, achieving a simple, balanced elegance.
Read on to learn more on how to pair wood cabinets with white countertops.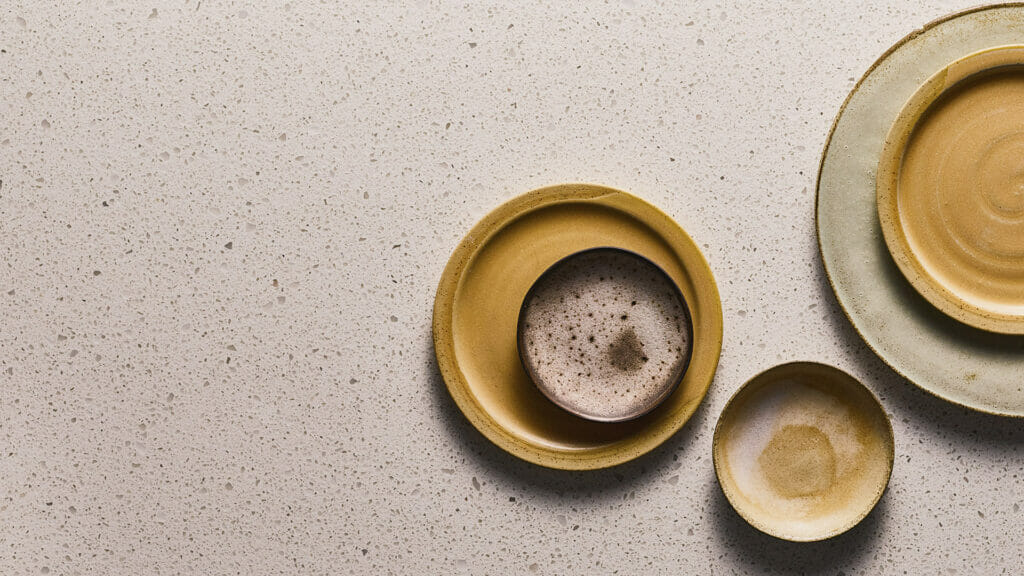 Here are 6 wood cabinets with white countertops design ideas.
Light wood cabinets with white countertops
Light wood kitchen cabinets paired with white countertops make a great combination for a farmhouse or traditional home design. We are also seeing this design make its way into contemporary kitchen styles, as this combination has the potential to achieve a subtle, yet potent look.
Light wood cabinets with white countertops are perfect for homeowners who are looking to add warmth into their spaces. This is also a go-to option for those with small spaces, as the lighter colors can create the appearance of a larger kitchen area.
Caesarstone's collection of white countertops ensures that homeowners have a wide variety of white hues to pair with light wood cabinets. Homeowners going for a sleek, contemporary look may opt for a color like 1141 Pure White, whereas those who prefer something more traditional can choose a color like 6600 Nougat.
Dark wood cabinets with white countertops
Dark wood cabinets are the go-to option for homeowners who are looking for cabinetry with a deep, saturated color. And when paired with white quartz countertops, homeowners can achieve a modern, cultured look that still has a desirable traditional feel.
The combination of dark wood cabinets with white countertops creates a stylish contrast. Homeowners can play with various hues of white countertops, depending on the desired contrast.
A warmer shade of white such as 6131 Bianco Drift is perfect for a subtle contrast when opting for dark wood cabinets, as it also contains hues of brown. For a striking contrast, a color like 2141 Blizzard would be a perfect choice.
Reclaimed wood cabinets with white countertops
Reclaimed, natural wood cabinets paired with soft, white countertops give a rustic feel that can't be achieved by any other combo. It is also the best wood cabinet option for homeowners who want a rough-hewn style and a sustainably-crafted kitchen design. Its character brings out a rich, captivating patina that draws the eye.
Pairing reclaimed wood cabinets with white countertops achieves a striking contrast and adds a unique character to the space. For a modern-rustic vibe, a countertop like 5000 London Grey would work beautifully.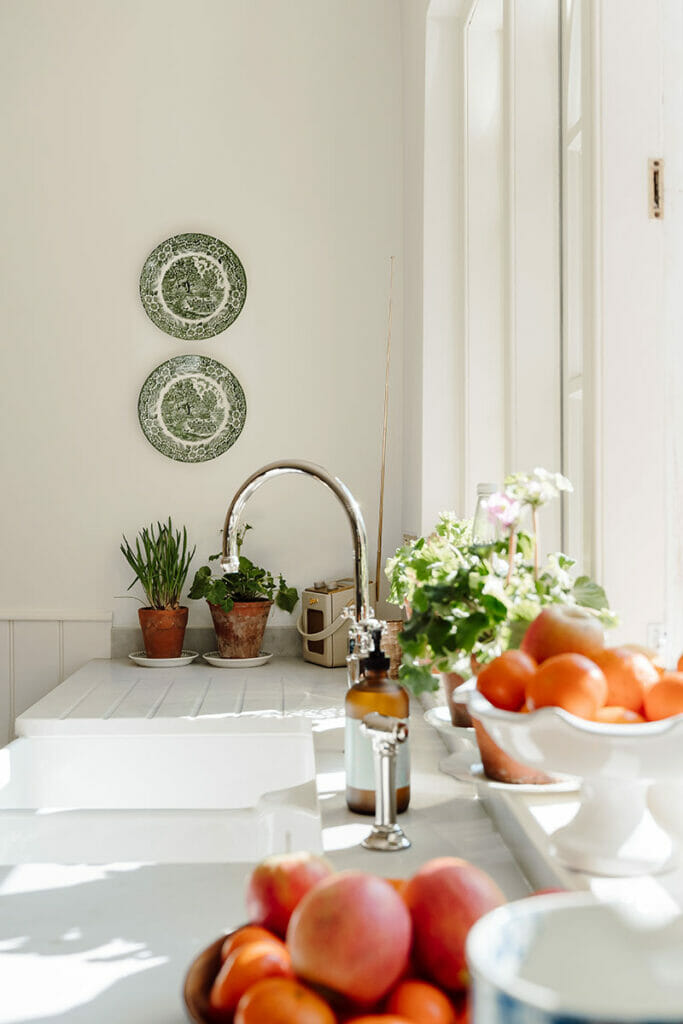 Gray wood cabinets with white countertops
For homeowners who want to shake things up, staining wood cabinets with other hues such as gray is a clever way to create intrigue. This technique reveals the intricate grain in the wood, and is a great option for those looking for a subtle, yet novel cabinet design.
Homeowners can experiment with various gray wood cabinet and white countertop combinations. For instance, polished dark gray cabinets and a soft white countertop color like 5121 Layalite can achieve a stylish and unique look in a space.
Cherry wood cabinets with white countertops
Cherry wood cabinets and white countertops offer a traditional look. The wood cabinets suit high-traffic kitchens since they are highly durable and resistant to chips, knocks and cracks. And since the reddish-brown tone of the wood can darken over time, homeowners can stain the material to achieve a uniform color. To complete this traditional style, homeowners can opt for countertop shades like 6141 Ocean Foam.
Ash wood cabinets and white countertops
This light-colored wood pairs well with white countertops to create warmth in a kitchen. It can also be customized into a natural or clear finish, a trend that achieves a contemporary look.
Similar to other wood cabinetry, ash wood cabinets with white countertops create a neutral base where homeowners can add other colored elements into the kitchen. For a bold look, select a countertop like 5114 Calacatta Maximus to pair with ash wood cabinetry.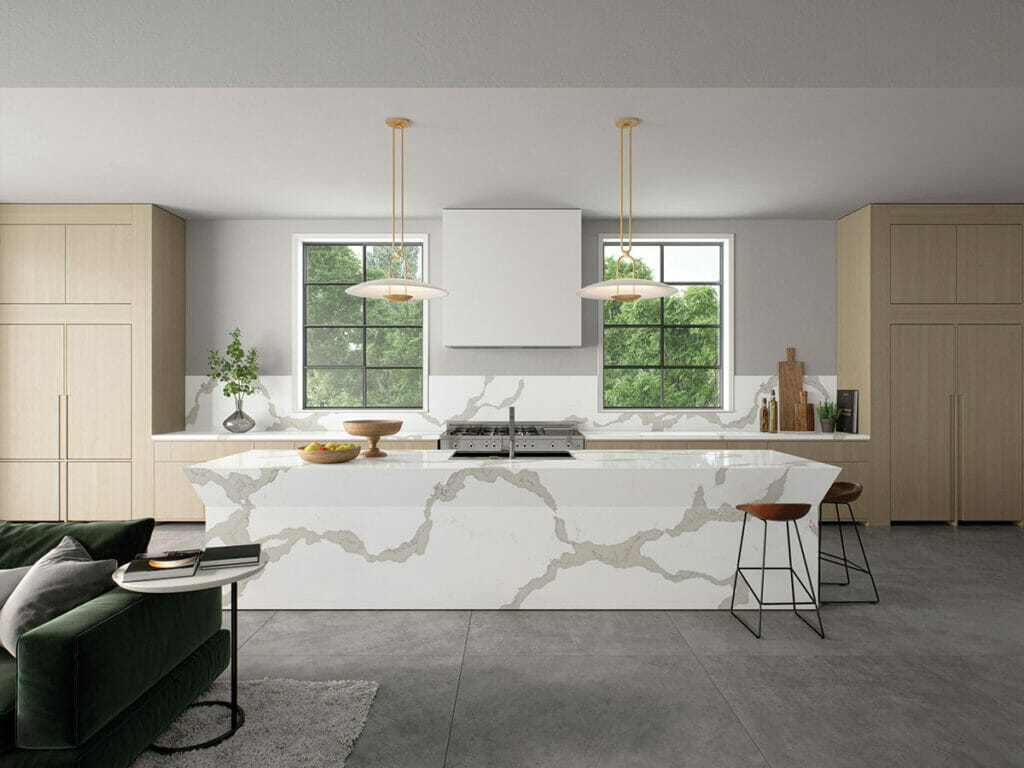 What should homeowners consider when selecting wood cabinets to match white countertops?
Budget
The selection of quality wood cabinets with white quartz countertops assures homeowners of a durable, functional kitchen. Wood cabinets are hard-wearing and heavy-duty. Similarly, quartz is one of the most durable countertop materials on the market.
However, homeowners have to factor in their budget when selecting wood cabinets as some types of wood are more costly than others. Then, depending on the amount that they want to spend, they can choose between various wood stains to achieve their desired look.
Color
Different wood colors achieve different results when paired with white countertops. While color selection is key when pairing wood cabinets with white countertops, homeowners can always paint the wood to switch up the design and style.
Aesthetics and functionality
Homeowners must consider the desired look of their kitchen and how their dream aesthetic can be achieved with their chosen wood cabinetry. Similarly, functionality plays a huge role in the end outcome. Consider factors such as lifestyle when making a decision.