One of the most exciting parts of building a new house is shopping for and selecting each aesthetic element to be placed within the home. Countertops are one of the most basic yet essential amenities of a home and can change the entire look of a kitchen or bathroom space. Selecting high-quality and appealing quartz countertops can only be a success if the renovator chooses the right brand.
So, if you are wanting to know more about the best quartz countertop manufacturers and what goes into the countertop manufacturers' processes, read on.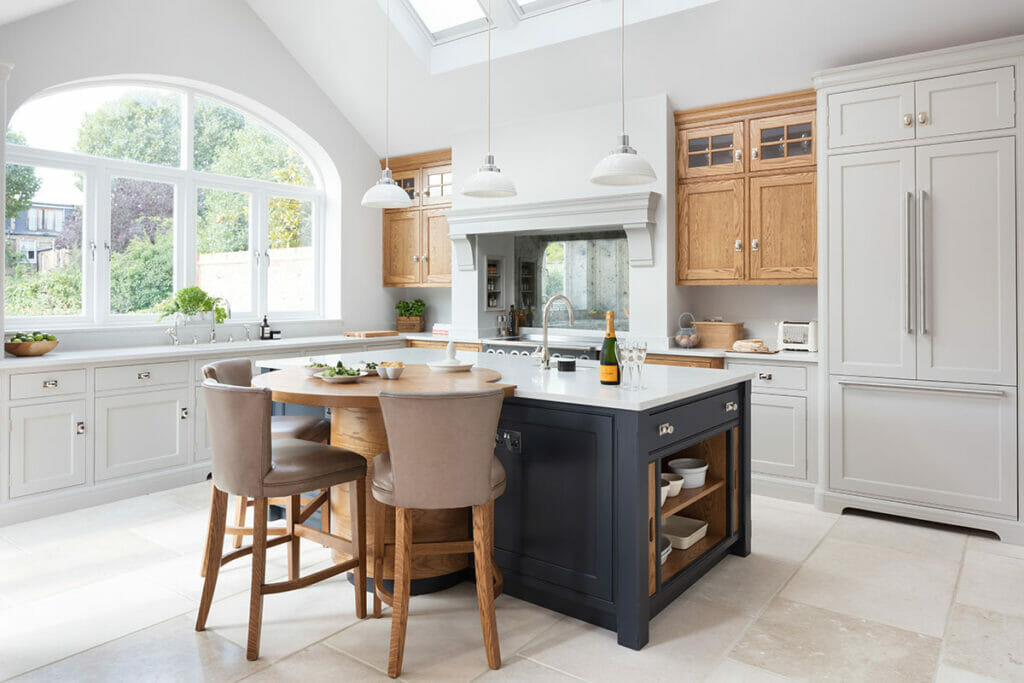 What is a good brand of quartz when looking at quartz countertop manufacturers?
Caesarstone has been manufacturing quartz surfaces since 1987. The brand combines its in-depth knowledge in quartz and countertop creation with its passion for design and beauty. They bring a touch of nature and earth's precious elements right into the house through their expert design. This brand also follows a sustainable and eco-friendly approach in creating its unique quartz surfaces.
Caesarstone countertops exude beauty and quality. They offer several benefits, including the following:
Aesthetic
Caesarstone's quartz countertops are not only stunningly beautiful, but the manufacturer offers dozens of colors to choose from for both indoor and outdoor designs. Homeowners who enjoy a classic, traditional look, may opt for a style like 5000 London Grey. Daring homeowners who appreciate a dark and dramatic countertop may opt for 4735 Oxidian. Caesarstone truly has an option for all homeowners and personal tastes.
Those who love the look and feel of a natural stone, can choose from numerous granite- and marble-inspired countertop colors, such as the creamy 5112 Aterra Blanca from Caesarstone's Whitelight Collection.
Caesarstone countertops come in a variety of finishes, including, polished, honed, natural, concrete, and rough. They also offer different thicknesses and edge profiles.
Durability
Caesarstone countertops are durable and made to withstand everyday use and remain beautiful and long-lasting for several years.
Their quartz is manufactured using 90 percent natural quartz minerals that are combined with resins and pigments to create a beautiful, strong and durable surface.
Ease of maintenance
Caesarstone countertops are stain- and heat-resistant and incredibly easy to maintain. Homeowners only need some mild soap and water to wipe down the surface daily. More stubborn stains can be gently wiped away with ease, using an approved quartz cleaner.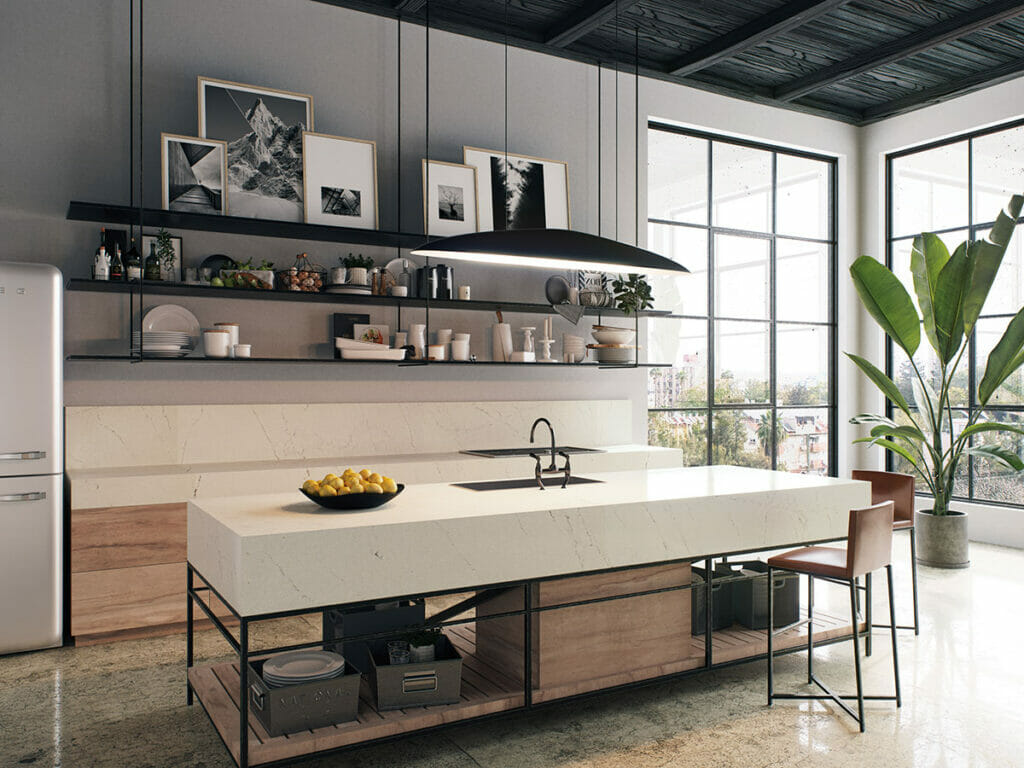 Where are quartz countertops manufactured?
Caesarstone quartz is manufactured in both the USA and Israel. In the USA, jumbo slabs are manufactured in a state-of-the-art facility in Savannah, Georgia.
Each of their surface slabs is manufactured through a strictly supervised and controlled process. The brand provides substantial support to each of its customers throughout this creative journey to find their perfect countertop match. Each piece by the manufacturer stands out, and since they're all crafted by skilled artisans with individual aesthetics, it gives each of them a personalized touch. Caesarstone also offers a lifetime warranty for all of its indoor quartz surfaces and a 10-year warranty for outdoor quartz surfaces.
How are quartz countertops made?
As we mentioned before, Caesarstone quartz is composed of 90 percent natural quartz minerals mixed with resins and pigments to create beautiful, strong surfaces. These minerals, pigments and resins are combined through a feeding and mixing process.
Next, the mixture is transferred into slab-sized molds, where it is compressed under extreme pressure and compounded. The slabs are then cured and polished before being quality-control tested.
The final step in the manufacturing process is for the slabs to be labeled, tagged, and sorted so they're ready for distribution.
How many quartz brands are there?
There are dozens of quartz countertop manufacturers in the USA, but that doesn't mean that all quartz manufacturers produce the same quality of product. To ensure that homeowners are getting the best quartz that is sure to last them many years, they should opt for a reputable brand that sells premium countertops, such as Caesarstone.  
For those looking to compare quartz slab manufacturers, it is important to note that Caesarstone is the largest quartz brand used worldwide; it is sold in more than 50 countries around the world. To find out where to purchase Caesarstone near you, visit https://www.caesarstoneus.com/where-to-buy/.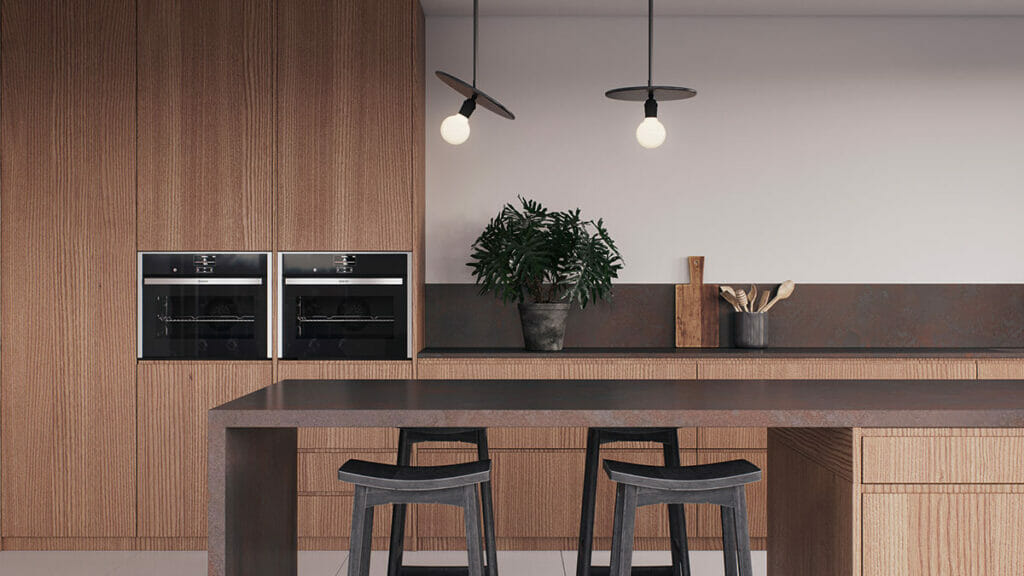 Quartz brands to avoid
Opting for a cheap quartz countertop from just any countertop manufacturer can result in a poor-quality product. Homeowners should avoid using any brands that do not offer the following crucial quartz attributes:
Color throughout slab
Choosing cheap quartz slabs may result in homeowners purchasing slabs that do not display the color and pattern all the way through. This means the top of the counter will have all the color and the edges will not match – a problem that can be avoided by choosing one of the reputable quartz countertop manufacturers, like Caesarstone.
Even finish
A top-quality quartz countertop should have a consistent finish across the whole top. If a homeowner is looking at the polish or finish of an entire slab and notices inconsistencies, this is a red flag.
A final note
All in all, the best way to avoid any quartz countertop mishaps is to ensure that you are purchasing your products from a well-known brand that values quality and stands by the superiority of their product. This means homeowners may not always be getting the most economical option. However, choosing a respected quartz brand like Caesarstone is an investment in the long run. With little maintenance required, homeowners can rest assured their countertops will last many years.