As we enter the fall, it's not just the days that are getting darker. With more and more designers embracing darker tones, today's most on-trend kitchens and bathrooms are following suit. Caesarstone's new Dark Series brings new depth and drama to the surface, as an antidote to the light and sometimes austere feeling that has dominated interior design in recent years. Today, black is at the forefront, creating a warmer, deeper and more dramatic feeling from home interiors to hospitality spaces.
The Art of Darkness
Don't get lost in the dark. Learn all about our new dark surfaces, their design inspiration, and finish options in our digital brochure. Click the image below to further explore Caesarstones's new Dark Series or download the brochure here.
A Deeper Shade of Beauty
Each of our newest colors showcase the art of darkness in striking style. From the classic luxury of 5101 Empira Black and the seamless matte expanse of Piatto Black to the beautifully aged look of rusted Oxidian and the weathered, granular quality of 5810 Black Tempal, the Dark Collection presents a captivating range of hues that bring more warmth and emotion to the home.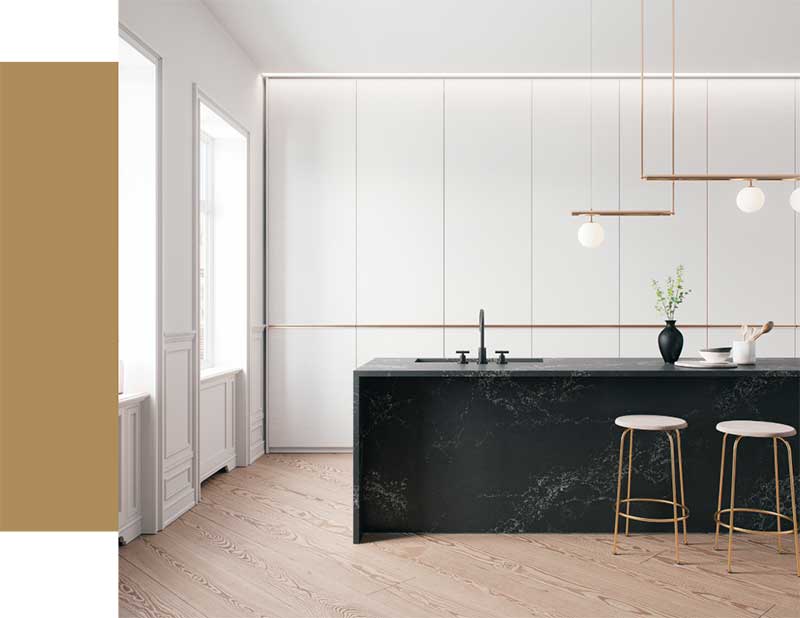 Timeless Tones

A creative interpretation of dark marble, 5101 Empira Black creates a feeling of classic luxury and tasteful opulence that goes beyond time and trend. With all the mystery of a dark stone, its rich, deep black base and fine white natural veins lend a timeless sophistication to your space, and transform any room into a memorable experience.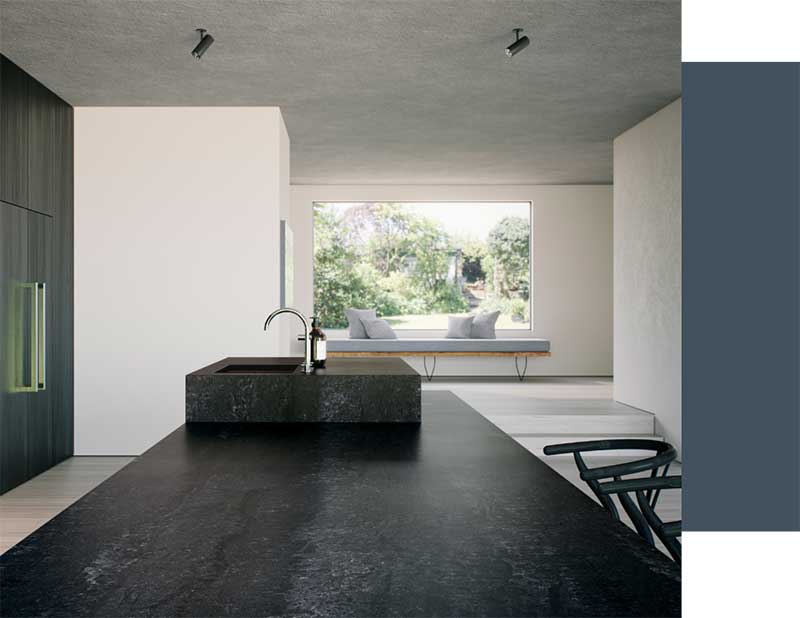 A Shade to Worship

Beautiful design can give a simple room the feeling of a sacred space. Filled with emotion and depth, 5810 Black Tempal features a complex composition of mineral-like layers that captures the qualities of natural stones like travertine and slate. Warm whites expand across the surface, contrasting with its sturdy black charcoal base.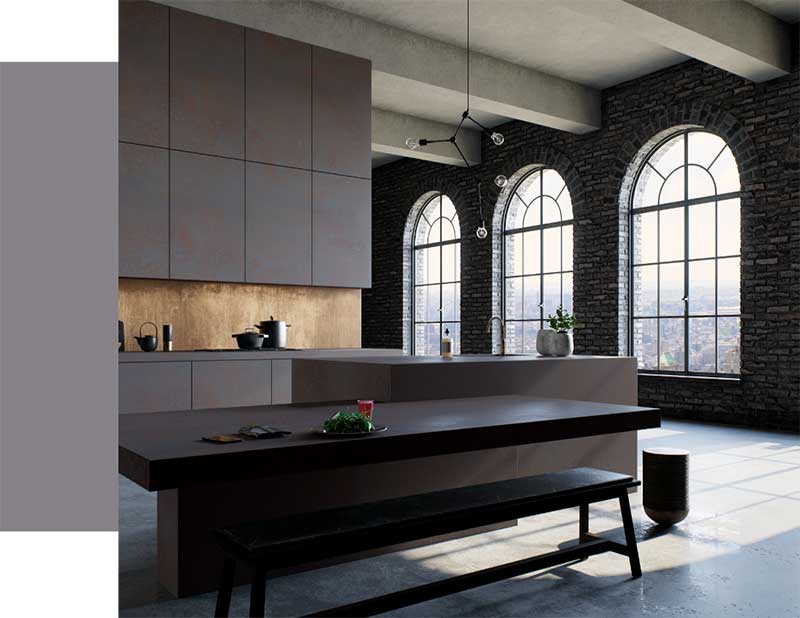 4735 Oxidian Modern, aged

Beautifully complementing other industrial materials like concrete, 4735 Oxidian showcases an aesthetic of oxidized metal and the weathered patinas found in aged bronze, steel and cast-iron. A satiny gray base is colored with a russet effect, unevenly distributed like real rust.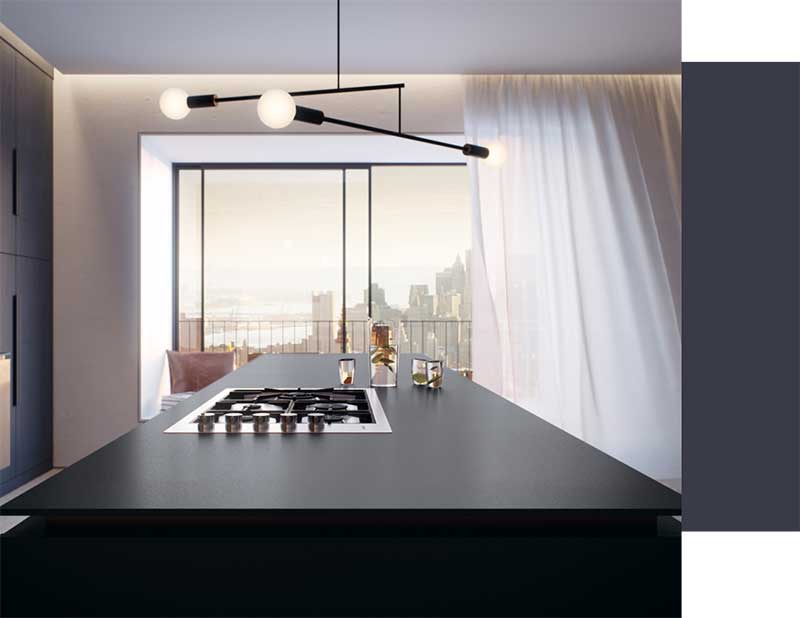 The Ultimate Dark
A deeper, more intense black, 3101 Piatto Black has a fine, granular appearance that's enhanced by a textured finish. Designed for versatility and durability, it makes a striking impression from graphic islands to grand backsplashes, beautifully complementing dark woodgrains and industrial concrete.
Go Deeper
In the dark, deeper connections are made. As Mor Krisher, Caesarstone's Head of Design explains, "There is a warm intimacy that comes with the dark; a sense of quiet and calm that cossets and cocoons, that creates an atmosphere that encourages us to gather and eat and drink." With the embrace of darkness, he says, "A different mood descends. Taste, touch, scent and sound, all elevated. In the dark, our senses come alive.
Outside Inspiration

Caesarstone's designers look for inspiration inside and out, everywhere in the world. In order to design a series of products that truly captured the rising trend for dark interiors and kitchens, our Chief Designer Mor Krisher and his team turned their attention to the desert landscapes where natural stones are scorched by day and frozen by night, weathered by this endless cycle to produce the most extraordinary patinas and textures. Explore their journey to the desert and the creation of the new Dark Collection in this behind-the-scenes video below.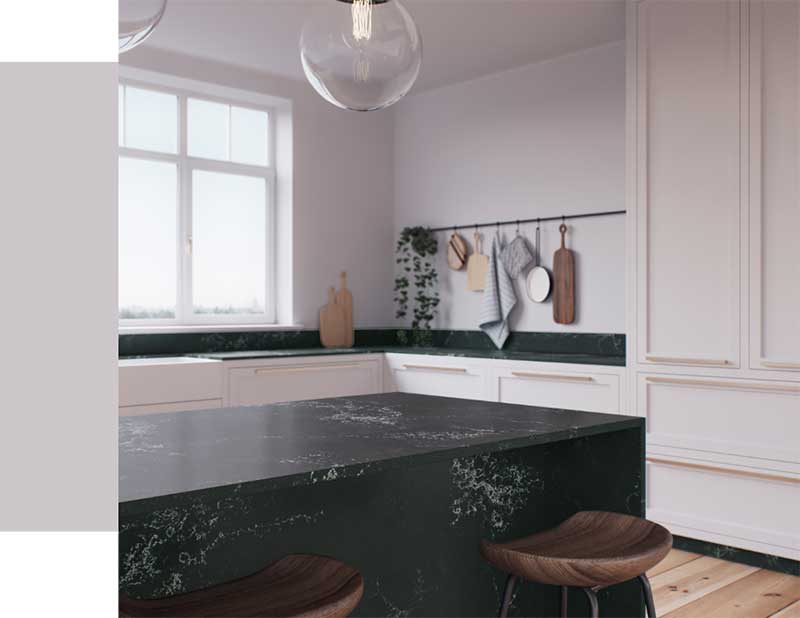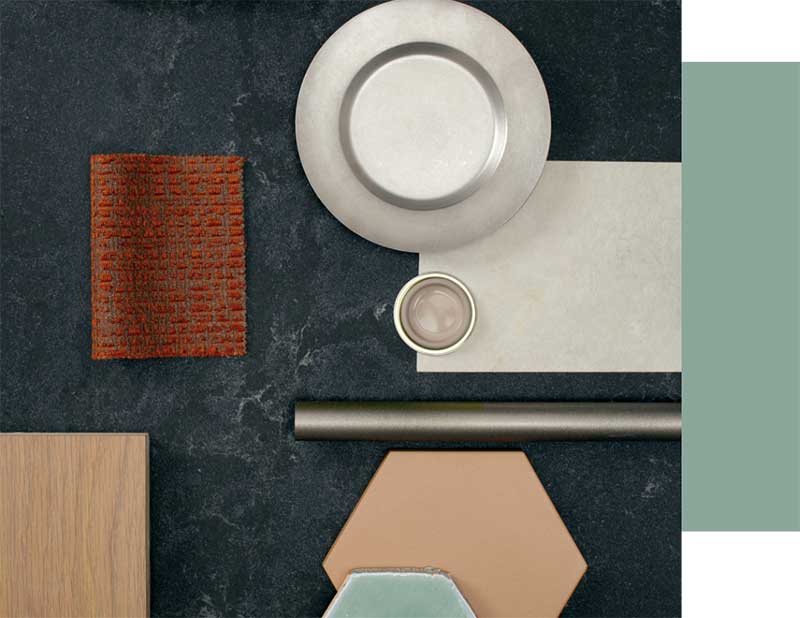 Desert of Details
"There's an infinity to the desert with its beautiful minimalism, continuous landscapes and open vistas", says Krisher. "It has a stillness and a silent power. A closer look reveals that the desert is full of details. It has different contours, endless textures, colors and lifeforms." For our designers, it was essential to capture these details in the new collection, understanding the different characteristics in order to bring the organic, elemental quality of nature into people's homes.A natural touch

The striking beauty of Black Tempal, Empira Black, Oxidian, and Piatto Black is further enhanced by a new Natural Finish, which has a subtle texture that can be seen as well as felt. This delicately textured finish brings literal depth to their dark tones and an emotional caress to the stone. Along with a feeling that's pleasing to the touch, it maintains the practicality of easy care and maintenance that's synonymous with all Caesarstone products.