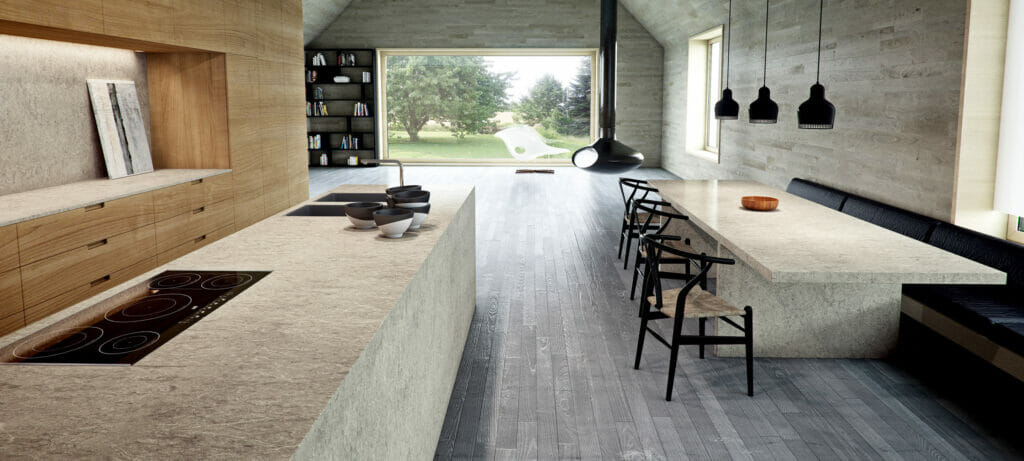 Quartz is one of the most abundant and hardest minerals on earth. It's present and plentiful on almost every continent across the globe. When engineered for Caesarstone countertops and other surfaces, ground quartz aggregates combine with a small amount of polymer resins for binding and pigments for color. Caesarstone slabs are blended at a ratio of up to 93 percent natural quartz minerals extracted from the earth's crust.
Caesarstone was a pioneer of natural quartz surfacing and continues to be a dominant force in the market. The new generation of surfacing allows for improved products that are far superior to marble, granite and other surface materials.
Caesarstone's Manufacturing Process
Caesarstone procures the highest quality quartz and meets exacting standards of excellence. The quartz surface manufacturing process begins in state-of-the-art facilities with a rigorous inspection of the procured raw materials by highly-skilled and trained staff.
After the strictly-monitored inspection process, the raw materials are mixed and blended with pigments
and polymer resins and poured into molds that form slabs of 306×144 cm or 120×57 inches in size. The slab is pressed, cured in a kiln, heated to 90°C for 45 minutes, and gauged, calibrated and polished to perfection.
The automated process of forming Caesarstone quartz countertops ends with the slabs enduring a meticulous quality inspection. Each Caesarstone slab is then marked and labeled with relevant information.
Advantages of Quartz Surfaces
Combine nature with technology and you get Caesarstone stone surfaces that are durable, flexible, scratch resistant and beautifully sophisticated.
Durable: Quartz's hard surface makes it an ideal material for kitchen countertops due to its durability. Caesarstone's impact resistance outperforms both granite and marble.
Non-porous: Materials made from quartz are non-porous, stain, scratch, crack and chip resistant.
Versatile: The versatile nature of Caesarstone allows the freedom of design with a variety of application processes that go far beyond countertops.
Flexible: Fabricators can shape Caesarstone into curves. They can cut it into small tiles and unique dimensions, and they can create shapes versatile enough for tables, stairs, walls, sinks and other applications.
Low maintenance: Caesarstone's non-porous nature allows for virtually care-free surfaces that don't need to be sealed. To clean stains and maintain luster, wipe with soap and water or a mild detergent. There's no need to worry about bacteria buildup because mold and mildew won't be able to penetrate the non-porous surface.
Sustainability: From purification to production to recycling, Caesarstone has been practicing sustainability for over 20 years and is the first quartz surfacing company to receive an ISO 14001 certification.
Quartz Surface Avoidances
While Caesarstone is the ideal natural material for your home surfaces, there are some instances to avoid.
Avoid harsh chemicals and cleaners that can break down the polymer bonds. This includes chemicals with a pH level outside of pH 5-8 like oil soaps, furniture cleaners, drain products, grill cleaners, etc.
Don't place extremely hot pots and pans (400°) directly on the surface of your countertops. Use trivets or hot pads. While Caesarstone is structurally more heat resistant than other stones, rapid temperature changes can damage the surface and edges.
Some customers choose to install Caesarstone outdoors; however this is not covered by the Lifetime Warranty as there have not been conclusive tests on how it handles prolonged UV ray exposure.
The Best Stone is Caesarstone
Caesarstone is the premier manufacturer of quartz surfaces and offers the most extensive color palette available. The unique mixture of ground quartz aggregates, polymers and pigments provide a surface that lasts a lifetime. Caesarstone and our creative collaborators are innovators, craftsmen and leaders in the surface industry.
Michelle Lord Interiors, featuring Caesarstone
Read about Caesarstone sustainable practices!