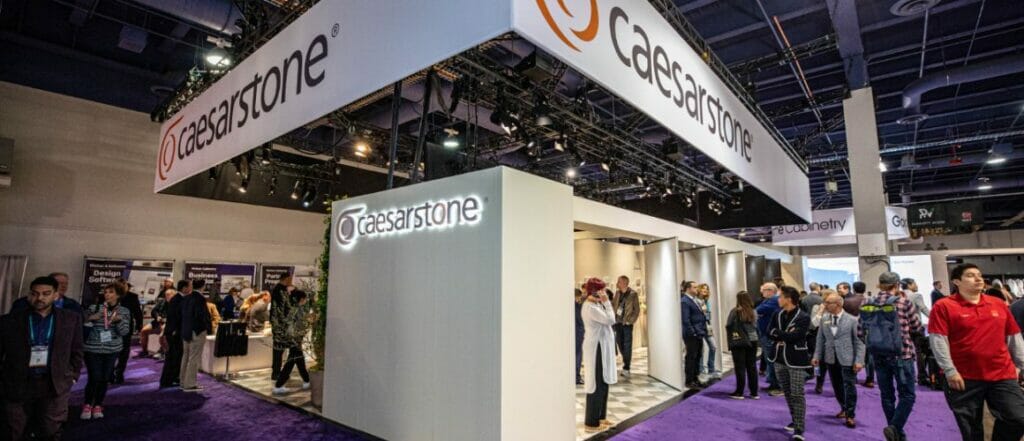 KBIS, the annual Kitchen and Bath Industry Show, is the largest of its kind in the industry. This year, Caesarstone was among over 600 world-leading kitchen and bath manufacturers and suppliers meeting attendees at the Las Vegas Convention Center January 21-23, 2. And, we are so honored to have received the KBIS Best Booth Award Medium, NKBA 30's Choice Award Best in Innovative Material, and the KBB Readers' Choice Awards 2019 Winner.
Along with premiering four timely new colors that expand upon our already successful Metropolitan, Supernatural and Classico Collections, the Caesarstone team debuted a whole new product category—Solaris, the Outdoor Collection! This is our most innovative advancement in material quality, use, and design to date. See for yourself in this video and House Beautiful calls out our Outdoor Collection as a 'Best New Renovation Product for 2020.' Debi Hammond of Merlot Marketing visited our booth at KBIS and put together a fabulous video round-up of the show – check it out here!
For the first time, Caesarstone combines the best of all it has to offer by taking the luxury of quartz to the outdoors. This groundbreaking Outdoor Collection provides the convenience of stain-resistant, easy-to-clean surfaces while innovating a highly durable material proven to withstand all the elements—rain, snow, or shine. Innovated and tested to withstand UV rays and the most extreme environmental conditions for the long term. The New Outdoor Collection provides an answer for consumers' desire to cook, dine and entertain comfortably in an outdoor kitchen. Barbecue counters, sinks, and backsplashes are just the beginning: Other uses range from patio dining tables to poolside bar tops. The hospitality industry is also taking note of outdoor dining and social areas. All Caesarstone Outdoor colors are patent pending.
"We are so proud and excited to introduce OUTDOOR to Caesarstone's already expansive collection of quartz surfaces," said Elizabeth Margles, VP of Marketing Caesarstone North America. "With today's emphasis on year-round outdoor entertaining, Caesarstone will now be the one-and-only resource for quartz surfaces, both for the design professional and homeowner, inside and outside. And who better to bring our vision to life than Nate Berkus! We're thrilled to be partnering with him for KBIS and can't wait to show off his installation to everyone in January."
Hear more from Margles in this interview she did at KBIS with Cindy Allen, Editor-in-Chief of Interior Design Magazine.
This revolutionary new product will expand the many ways architects, designers, builders and homeowners can utilize quartz surfacing. The Outdoor Collection was brought to life at our sprawling and welcoming booth designed by renowned, award-winning designer, author, and television personality Nate Berkus, whose first appearance was on The Oprah Winfrey Show in 2002. He has been featured in top publications including Architectural Digest 100, Harper's Bazaar, House Beautiful, InStyle, and more.
"Caesarstone has always been a trusted brand, offering high-design and quality, and a product that can live up to real-life living," said Berkus. "I'm thrilled to be able to collaborate with them this year at KBIS as they showcase their new offerings for 2020."
Outdoor Collection colors include Palm Shade 515, Clearskies 406 and Midday 405.
Along with the reveal of the Outdoor Collection came the introduction of our new dark shade surfaces – Oxidian, Black Tempal, Piatto Black and Empira Black.
Oxidian and Black Tempal, which can be seen in the videos here and here, join our popular industrial-inspired Metropolitan Collection while Empira Black joins the Supernatural Collection, where marble veining, both dramatic and discreet, takes the stage to elevate a space. Piatto Black is part of our Classico Collection. These surfaces are equally suited to urban residences as well as hospitality installations where they will bring a sophisticated presence to restaurants, bars and hotels.
These elegant darks each come in our new Natural finish – a textured finish that conjures up the tactile feel of stone, adding warmth to the grain so it's pleasing to the touch. With a satin sheen that gently reflects light, this finish captivates the viewer and enhances the depth of a color, especially darker shades. Empira Black will also be available in Polished finish.
With these new innovations, it's no surprise the Caesarstone booth was a popular destination for industry professionals over the three-day show. Along with full slab displays of our newest colors: Excava, Empira White, Primordia, Oxidian, Black Tempal, Piatto Black, Palm Shade, Clearskies, and Midday, highlights included: a panel discussion with Nate Berkus, a Chef Dee food demo, a floral design demo, areal camera photo fun, a photo booth, specialty cocktails, and music by both violists and a popular Vegas DJ.
Caesarstone was also showcased in the following partner booths, where attendees could view classic colors alongside elegant new designs in their natural kitchen and bath settings.
C3830: Bosch-Thermadore: Intense White, Fresh Concrete, Pure White, Calacatta Nuvo, Empira White, Frosty Carinna, Cloudburst Concrete
C5907: Dacor: Colors TBD
C8016: Liebherr: Empira White
N2905: Wellborn Cabinets: Empira White, Primordia, Pure White
N2346: Electrolux: Cloudburst Concrete, Primordia, Jet Black
C9509: ACPI: Cloudburst Concrete
For more information on these new Caesarstone innovations, visit our newsroom here.