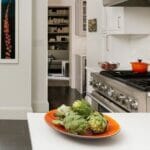 Don't make the mistake of believing that having minimal space in which to design a kitchen means you're limited as far as what you can do.
With the following small kitchen ideas, we aim to show you that designing for a smaller room allows you to think differently as opposed to in a restricted fashion. You'll hopefully discover that it's possible to create a unique space for your family in tight quarters.
Small Kitchen Ideas
Small Kitchen Layouts
Intelligent small kitchen design makes use of creative layouts to create the appearance (and even function) of more space than is actually available.
Popular small kitchen layouts include:
Galley Kitchens: A layout that places appliances and amenities within two parallel walls, creating a simplified look that does not require worrying about corner cupboards.
Peninsula: This layout allows you to incorporate elements and the functionality of a kitchen island while maximizing space. It relies on a G-shaped island that wraps around the kitchen and works well for visually connecting your small kitchen to a larger adjacent room.
One-Wall Kitchen: This is a great layout for an apartment or loft where space is truly limited. By placing all of your kitchen appliances and cupboards up against a single wall, you create an open look that merges the room with your living room. This makes it perfect for entertaining.
Small Kitchen Island Ideas
While the peninsula kitchen layout offers a neat solution for those who don't have enough space for a full island, these small kitchen island ideas are perfect for those who are dead-set on having one.
Think Small and Practical: Many trendy kitchen island designs are small and make the most of their tiny footprint. Look for a small island that incorporates hangers for tables, stools and utensils.
Narrow and Unaffixed Works, Too: A kitchen island doesn't necessarily have to be mounted to your floor. Rather, consider placing a sturdy table that matches your kitchen's style where a fixed island would conventionally go.
Two-Tiered: Consider adding a tier to your existing countertops to create a functional and surprisingly spacious surface capable of seating your whole family in the kitchen. This method makes for a very small footprint compared to traditional, free-standing islands.
Small Kitchen Island Ideas with Seating
As with the unaffixed island recommendation above, the best small kitchen design ideas forgo bulky permanence in favor of practicality. Small kitchen island ideas with seating are no exception.
Tuck: Chairs that you can tuck in underneath your small kitchen island are great for maximizing space.
Collapsible: If the space under your island is too tight, consider getting chairs that collapse for easy storage. You'll have the added advantage of a clean, tidy-looking kitchen.
Small Kitchen Ideas on a Budget
It's worth pointing out that small kitchen design is not synonymous with "cheapness." Some of the small kitchen ideas mentioned above can be as lavish as you'd like.
Nonetheless, here are some small kitchen ideas on a budget if you do happen to be working under tighter financial constraints.
Go Light: Lighting is one of the cheaper elements in your kitchen. Get creative with your lighting to create an aesthetic that would otherwise only be possible with expensive installations. Philips Hue bulbs are particularly great for creating the perfect ambiance that can be changed at the touch of a screen.
Refinish Existing Cabinets: Custom kitchen cabinets can be expensive — but not if you have your own old cabinets resurfaced to your specifications. This is a great project for the DIY-inclined.
Sliding Doors: When looking to design a small modern kitchen, sliding pantry doors are a great, affordable accessory. They'll make navigating your kitchen easier, especially if there tends to be multiple people trying to utilize the space at once. No more dodging conventional cupboard doors.
Small Modern Kitchen
Speaking of a small modern kitchen, here are some tips for creating this aesthetic.
Use Premium Materials: Nothing says "modern" quite like sleek quartz countertops. Using quartz and other premium materials (which don't necessarily have to be expensive; just modern) will bring an air of intentionality to your small kitchen design. Guests will understand that you didn't compromise — just thought creatively.
Use Bold Accent Colors: When it comes to your kitchen's overall color theme (which we'll explore shortly), sticking to lighter colors like white are a sure way to create a bigger look. That doesn't mean you can't go bold with your accent colors, though; bold towels, artwork, and decor are great for creating a modern look.
Embrace Openness: Open shelves (or those affixed with glass) can enhance your small kitchen design greatly.
Very Small Kitchen Design: Creating the Illusion of Space
With a somewhat small kitchen design, creating a larger look isn't mandatory; you can embrace coziness. With a very small kitchen design, however, you'll likely want to create as big a look as possible.
Think Big with Floors: Using larger floor tiles on the kitchen floor, as opposed to small detailed tiles, will also make the floor space look larger than it is.
Choose Appliances Wisely: You can't escape essentials like a fridge. You can, however, forgo items like a dishwasher if you can think of better uses for that space.
Small Kitchen Cabinet Ideas
Cabinets are an essential part of any kitchen, regardless of size. When it comes to small kitchen design, however, they're especially important to get right. Here are some small kitchen ideas for cabinetry.
Consider the Details: The best small kitchen cabinet ideas will make good use of hardware to create a luxurious appearance. Choose hardware that ties the room together.
Use the Tops of Your Cabinets, Too: If there's enough clearance between the top of your cabinets and the ceiling, use that surface as storage for items you don't need on a daily basis. This will reduce the clutter on your countertops and in your cabinets.
Small Kitchens Colors
Color is a crucial aspect of kitchen design; no small kitchen ideas list would be complete without mention of it.
This tip is pretty simple: stick to light colors. Going too dark will highlight a room's smallness and make it feel claustrophobic.
There are other creative ways that hues can draw the eye into the kitchen. One cost-effective option for adding visual impact to your kitchen is to match your small appliances. Wooden cutting boards can also be hung to create a natural-toned trim. Retaining the same theme throughout your small kitchen can liven up the area. Remember to try to match the colors of your kitchen to create a complete, harmonious scene as a small, chaotic kitchen can be overwhelming.
Caesarstone: The Perfect Surface for a Small Kitchen
These small kitchen ideas should give you plenty of inspiration for making the most of a small space. Remember, don't think in terms of limitations; think possibilities.
Caesarstone produces the best surfaces for any kitchen, regardless of size. Whether you're looking to create an island, simple countertop, or more complex layout, our engineered quartz surfaces will provide function and unparalleled beauty.
Check out our virtual kitchen designer to start planning today.