The Mediterranean Tuscan style kitchen is derived from Italian art, culture and nature. Any homeowner who likes earthy and warm tones paired with rustic kitchen accents can never go wrong with this type of design.
This style features natural materials such as stone and wood. These can be added to any space to create a homey feel.
This nature-inspired design also projects a calm, serene presence in the kitchen, which is a major benefit for those seeking to cook and entertain.
Looking for Mediterranean Tuscan style kitchen design ideas? Here are 13 simple steps for homeowners who are looking to re-create this aesthetic in their own homes.
Go for rich color palettes
The Mediterranean Tuscan style kitchen features a combination of rich color palettes that draw inspiration from its namesake region. Homeowners are able to incorporate colors reminiscent of the sea, sun and beaches. We are talking bright yellows, hues of orange and even warm-toned reds.
The key to this style is to strategically place the bright colors so that they do not overwhelm each other. For instance, the combination of Caesarstone's 4030 Pebble counter surfaces, wooden cabinets, and a bright yellow wall color makes for an eye-catching Mediterranean Tuscan kitchen. And when paired with other bright-colored accents such as curtains, artwork or a rug, the result is a unique homey feel.
Intricate use of natural materials
The Mediterranean Tuscan style kitchen features a wide spectrum of natural materials. Antique wooden chairs paired custom stone archways are a great and simple way to achieve a natural-looking kitchen space.
For homeowners who want to go further, terra cota floor tiles and a cabinet color selection such as an earth-toned green creates a comfortable, nature-inspired feel in the kitchen. An intricately woven rug completes this lived-in, Old-World look.
Aged wood floors are also a staple of the Mediterranean Tuscan kitchen style. However, homeowners should be careful as to not use wood that is too distressed as it can lean toward a farmhouse-style kitchen more so than a Mediterranean Tuscan style kitchen.
White Mediterranean Tuscan style kitchen
A typical Mediterranean Tuscan style kitchen incorporates both bright and bold color hues. However, homeowners looking to create a striking, yet calm contrast can do so with white quartz countertops.
The solid white 2141 Blizzard or the speckled 6600 Nougat can pop in this type of space.
Metal and rustic cabinets
To produce a lived-in look, make use of metal or rustic cabinets to add a comfortable, worn-in feel to the space. To complete this Italian kitchen design, homeowners can style their cabinets with glass doors to showcase their prized ceramics.
Vintage kitchen appliances
Homeowners can add in vintage kitchen appliances for a simple, Mediterranean Tuscan kitchen style. For instance, stone kitchen scales or hand coffee grinders are functional antiques that can elevate the classical, picturesque vibe of the space.
Natural lighting
Mediterranean Tuscan designs have abundant natural lighting, which makes this style of kitchen the perfect medium for activities like cooking or entertaining. Homeowners who do not have well-lit kitchens can still achieve this theme via the use of artificial lighting. For instance, rustic iron chandeliers or antique ceramic lamps are great options that can brighten up the look of the space without compromising on aesthetics.
Add a cast-iron table
If styling a small Mediterranean Tuscan kitchen, homeowners can add a cast iron table to the space. While adding to the beauty, this table can also be used as a storage space to conserve kitchen surface area. Likewise, this table can be used as a coffee table, to showcase beautiful décor items, or as a fruit station.
Add antique dish racks
Antique storage methods are a neat trick to complete the look of Italian-inspired kitchens. Beautiful dishes do not have to be hidden in closed-in cabinets. Rather, homeowners can get vintage cabinets in antique shops or even repurpose old cabinets to display their kitchen finery.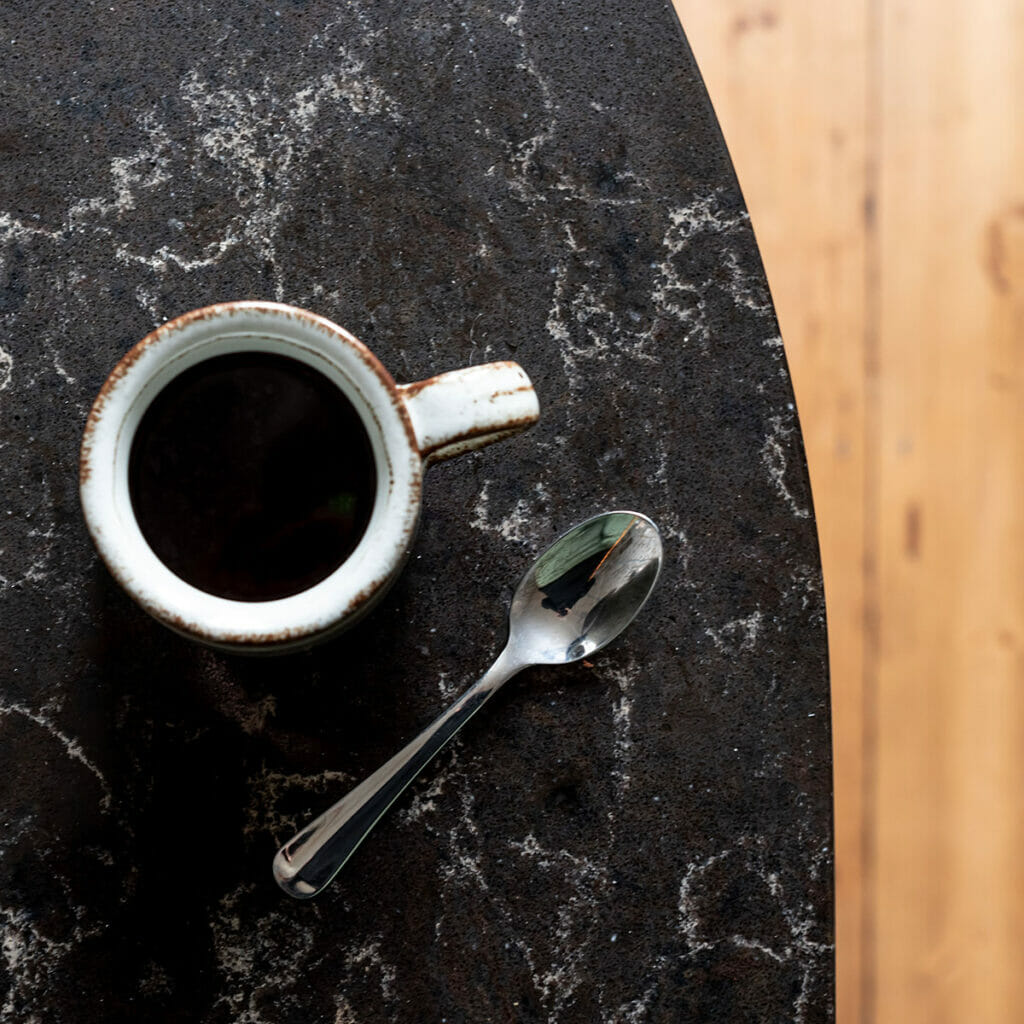 Incorporate textured elements
A textured counter finish pairs well with the Mediterranean Tuscan style kitchen. Homeowners can play with texture in order to create a layered feel. Luckily, adding texture to the kitchen can be a simple DIY job. Homeowners can use a roller to easily create their desired finish on kitchen walls or cabinets.
One of the simplest ways that homeowners can achieve a textured feel is the use of counter surfaces with a rough finish. Caesarstone's 4023 Topus Concrete easily infuses a stylish flair into Tuscan-inspired kitchen spaces.
Use Tuscan-inspired paintings to decorate the kitchen
Homeowners can look for vintage Tuscan-inspired art pieces to adorn the walls of their authentic Tuscan kitchen. In Tuscan style kitchens, wall paintings commonly feature rich, pastoral landscapes.
Install an earthy backsplash
An earthy backsplash is a great way to showcase a Mediterranean Tuscan kitchen style. Light earthy-toned quartz counters such as 6338 Woodlands showcase a unique color that is in line with this style of kitchen.
Add brick or stone accents
The Tuscan kitchen style often features brick or stone accents such as pillars, archways or ovens. For homeowners who want a modern Tuscan-inspired space, pairing sleek kitchen appliances with a rustic stone oven will work wonders to create a contemporary look.
Mediterranean-inspired touches
Lastly, homeowners can add small Mediterranean-inspired touches in their kitchens. For instance, aprons, hand towels, and oven mitts are simple yet cost effective ways to incorporate this trend in the home.