Countertops are the backdrop of any kitchen. Selecting a durable kitchen countertop surface material is the first crucial step to a functional and beautiful kitchen.
When picking a material for your kitchen countertop, you want something that is robust and long-lasting with minimal wear and tear. It should also be able to withstand high temperatures, water splashes, grinding, scrapes, and more.
But, with so many options on the market, how do you determine the most durable kitchen countertop? How do you differentiate between natural, man-made, and engineered materials?
There's a lot to explore before you settle for any one option. Luckily, this article helps answer all these hard questions for you. Here are the five most durable countertops for the kitchen, ranked on their level of durability: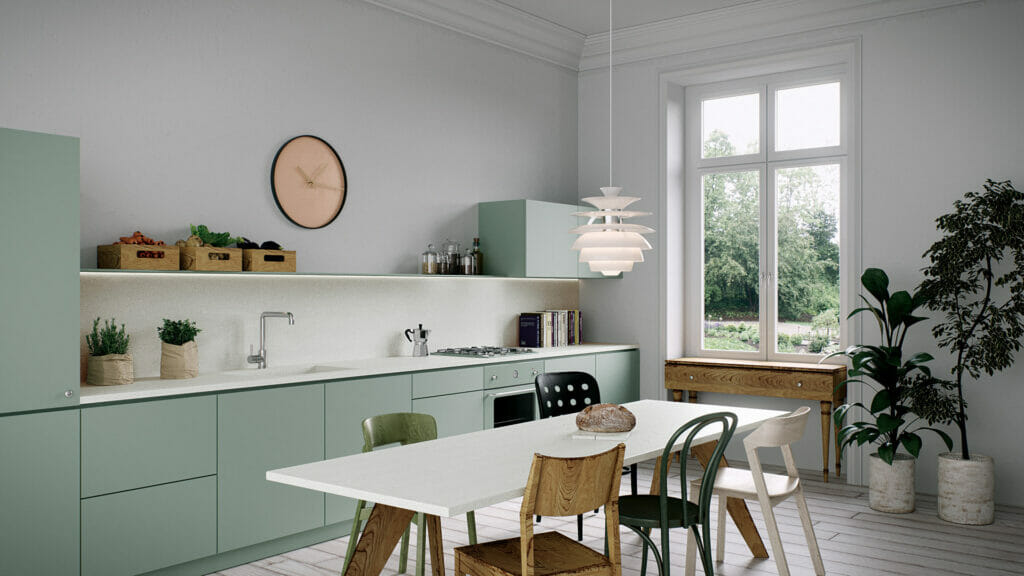 5 Most Durable Kitchen Countertops
Quartz
Quartz takes first place in terms of durability. Made of crushed quartz stone mixed with polymers and resin, this artificially engineered stone countertop is an extremely durable surface that resembles natural stone.
Since quartz is a blend of synthetic resins and natural stone, it is more resistant to household cleaning chemicals and supplies than natural stone options. So your quartz countertop surfaces will always be looking clean and immaculate. Additionally, it is stain and bacteria-resistant.
Quartz also beats natural stone in toughness and has double the impact resistance of natural stone. Though heat resistant but not heat proof, quartz is one of the most resistent material under ordinary kitchen prep conditions. As such, it rarely requires sealing and polishing.
Most people once dismissed the quartz option because of its simple look. However, with advancements in technology, it is possible to design quartz with rich colors and fascinating patterns.
While quartz has many good qualities, it has one major downside. Compared to other materials, it remains the most costly. Quartz prices range from $40 to $100 per square foot. Having said that, a countertop is not something you replace very often and a quartz countertop is a fantastic option worth investing in for a luxurious look that also offers long-lasting durability.
Granite
Granite comes second on the list of the most durable countertops. Made from the crystalized form of hot liquid magma, granite is one of the toughest natural stones.
This incredible material is also one of the most heat and scratch-resistant natural stones available. It resists chips and cracks and burn marks, so you can place hot cookware on it without worry.
While granite is a hard and indestructible material, it requires constant resealing. If accidentally hit by a heavy object like a wine bottle, it chips off.
Constant resealing and polishing helps conceal these chips and stains and maintain the materials' longevity. Failure to seal it can cause damage. For example, oil can easily seep into the stone, and you may have to apply a poultice to get it out.
There are plenty of benefits of granite, but it also has several drawbacks. First, hiding seams in granite countertops can be pretty challenging.
Secondly, it's one of the most highly-priced kitchen countertop materials. Granite can be just as costly as quartz. It costs between $40 to $100/ft.
But for those that can afford it, granite is a magnificent material that can add an element of luxury to any kitchen. Its natural beauty can easily fit into any kitchen style.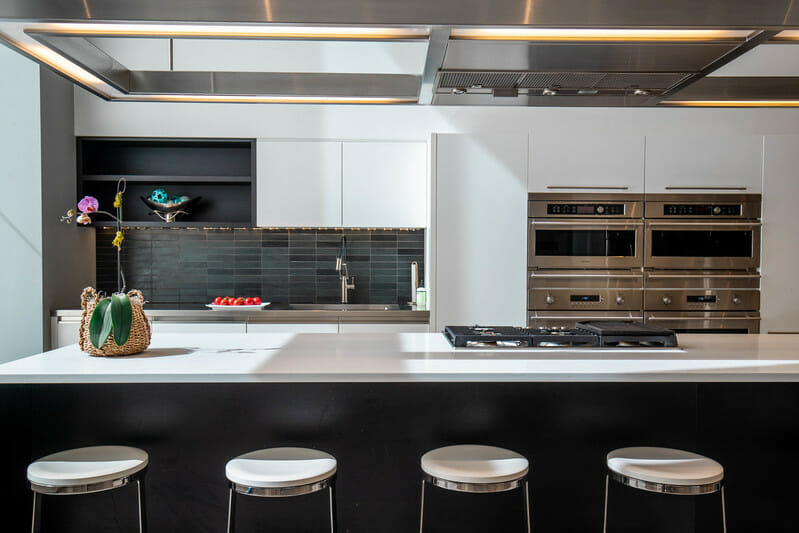 Laminate
Laminate is a nonporous acrylic material that comes with endless looks and appearances. This chameleon material is ideal for those who want to go wild with patterns and colors.
Whether you desire a playful design scheme or a monochromatic statement, the laminate option never disappoints. It's a material that can be shaped into any design concept.
Laminate is also one of the most cost-friendly options. It costs between $10 and $40 per square foot. If you are looking for an affordable material, this is the go-to option.
While laminate boasts many pros, it has a few downsides too. One of them is that it doesn't hold up well to high temperatures. If you have a laminate countertop, avoid placing a hot pan directly on it as it may begin to chip or peel over time.
While laminate doesn't require any special cleaners or sealers, it can scratch, scorch or crack easily compared to other countertop materials.
Tiles
If you're looking for something not just affordable but also versatile and contemporary, tiles are your best bet. Tiles cost $5 to $30 per square foot.
They are a perfect backsplash and countertop material that is easy to clean.
Tiles are available in countless styles and colors. If you want a one of a kind look, you can mix and match different tiles patterns and colors as well.
Amazingly, tiles are cut, stain, and heat resistant. You can place hot pots and plates on it without damaging the material.
However, just like any other material, tiles also have their set of disadvantages. Tiles can easily crack if hit by a heavy object. The upside is that you only need to replace the broken tile to return the surface to its former glory.
Another flaw of tile surfaces is that they are relatively uneven. Plates, glasses, and cutting boards are likely to wobble and topple over when placed on a tiled counter.
Unlike stoned surfaces, you cannot roll dough on a tiled countertop. Its grout lines easily catch and store grime and dust. So, it requires constant re-grouting and sealing to avoid bacteria build-up.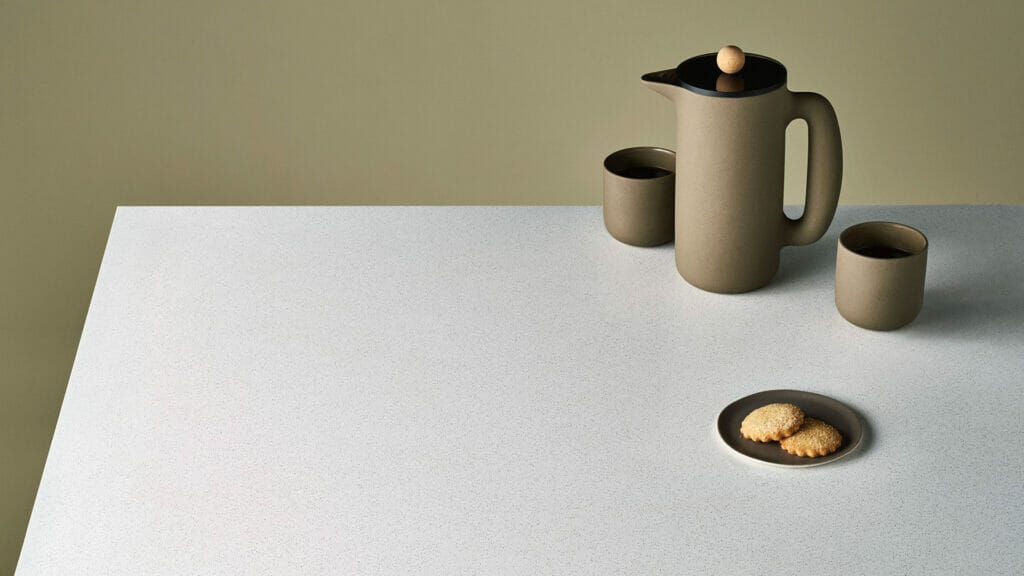 Solid Surface
Made through mixing natural materials like stone with an acrylic bonding agent, polyester resins, and marble dust, solid surfaces make an incredibly robust countertop. Unlike natural stone that discolors over time, a solid surface retains its durability despite its age.
It stands up to most cleaning agents and supplies making it an easy to care for surface.
This non-porous surface is also available in unlimited colors and patterns. You can choose any color you want for your solid surface countertop and mold the surface into a seamless backsplash or sink bowl too.
Solid surfaces don't require any sealants. If the countertop gets scratched, you can simply sand it out.
However, a solid surface also has downsides. First, it scratches and burns easily. Secondly, it's made of non-renewable resources, meaning solid surface manufacturing is energy-intensive. It's not possible to recycle a solid surface, making it an unsustainable option.
Finally, solid surface is also a pricey material for kitchen countertops. This material ranges from $35 to $100/ft.
Bottomline
Whether handmade tiles or indestructible composite slabs, there are plenty of countertop options on the market. Selecting the most durable option is the best and the most cost-effective choice you can make. With a long-lasting and robust material, you can be sure that you won't need to make another large investment anytime soon.
Quartz wins as the most durable material for any kitchen construction or renovation. Having a durable countertop is a lifelong investment and if you plan to sell your home at some point in the future, its value will be higher if you've used a durable countertop like quartz.