The main attraction of any kitchen is the kitchen countertop. Creating a gorgeous kitchen countertop requires bringing together the perfect design, pattern, and correct dimensions. Knowing the standard countertop dimensions is necessary in customizing the space to meet your personal needs.
While dimensions can mean width, depth, and height, this article will mainly focus on the depth of kitchen countertops. Ensuring the kitchen countertops have the standard depth during installation or upgrade helps improve kitchen functionality and beauty.
Incorrect dimensions can affect functionality, ruin the space's appeal, and may even devalue the home when it comes time to sell it. Read on to avoid these issues and understand the correct countertop measurements to use and the various factors affecting what dimensions will be right for your home.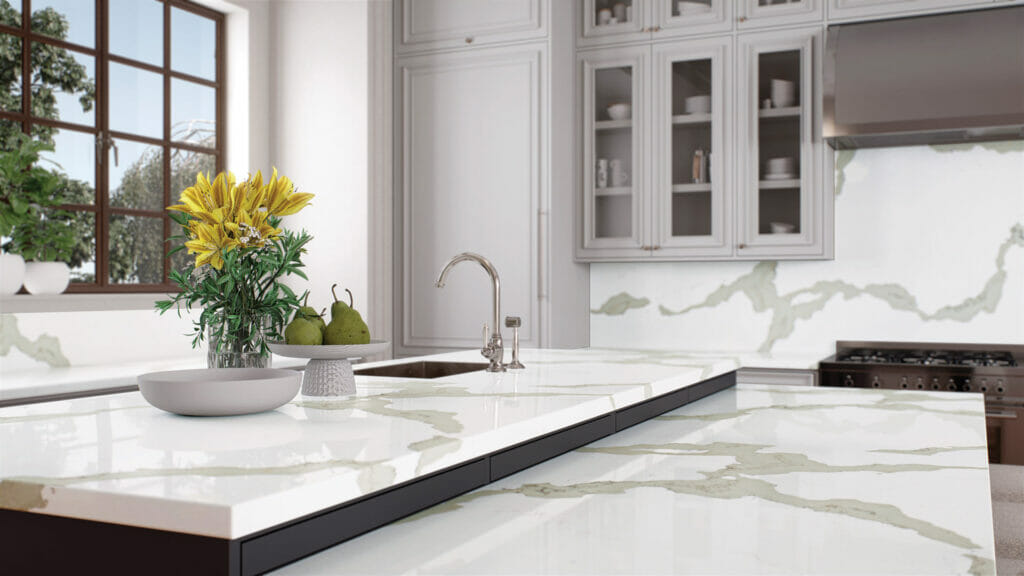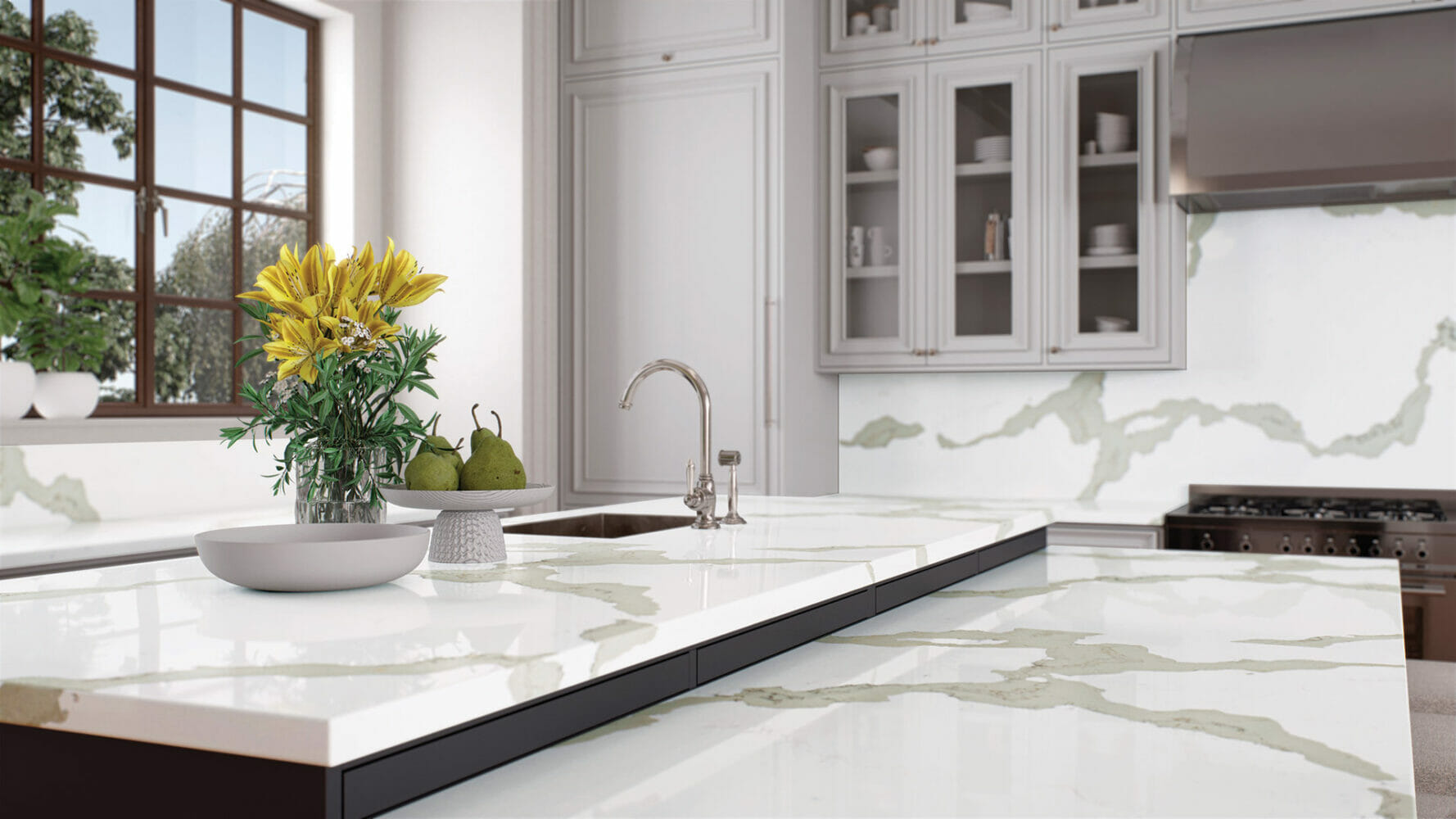 The Standard Kitchen Countertop Depth Measurements
What is a kitchen countertop depth? It is the measurement from the front to the back of your kitchen countertop spanning from the edge to the wall right behind your counter.
Here are the standard kitchen countertop depth measurements:
Countertop depth standard measure is 25 ½ inches, though this varies based on appliance depths, room size, base cabinet size, and the backsplash details. Having a standard depth countertop helps maximize your space and enhances the look of your kitchen.
Cabinet depth standard measure is 24 inches.
Overhang depth measures 1 ½ inches. This is also variable but for safety purposes and to ensure there's adequate room for moving around, make sure the overhang depth is appropriate.
The Standard Depth for Kitchen Island Countertops
The island countertop depth is also worth mentioning in this conversation. Despite being in the same room, there's a difference between the standard depth of the main kitchen countertop and that of the island countertop.
While the standard kitchen countertop depth is 25 ½ inches, most kitchen island countertops can go up to 27 or 28 inches deep and over 30 inches deep if it comes with a breakfast bar.
The island countertop depth depends on the availability of space. Some kitchens will be able to accommodate a very large island while others won't have the space for an island at all.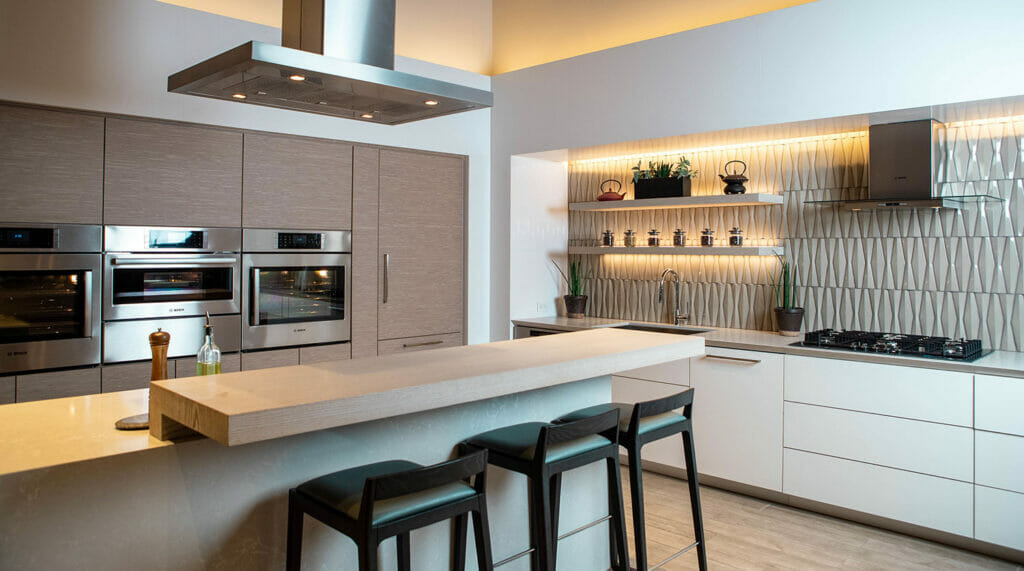 What Determines the Standard Depths of Kitchen Countertops?
There are quite a number of factors that determine the kitchen countertop depth. They include:
Base cabinets may have a single door, double doors, a host of drawers, or a mix of both drawers and doors. Its customization depends on various things, including personal preferences.
The kitchen countertop must allow enough space to make the cabinet drawers and doors easy to access, close and open regardless of the base cabinet customization. Also, it must not make it challenging to reach all counter sections or access the plugs for the small kitchen appliances.
Most commonly, the difference between the standard base cabinet depth and the standard countertop depth is 1½ inches.
Daily kitchen activities can add strain to our lives. All the rolling, chopping, grinding, cleaning, and meal prepping may make your shoulders sore and cause other body strains—especially if the kitchen countertop is not the right height for your body. Knowing how to fit the kitchen countertop to suit our bodies efficiently is essential.
When standing straight in front of your kitchen countertop with your elbows by your side, bent to a degree ideal for chopping vegetables, your working surface should be around 3 to 4 inches below your hands. Having anything lower than that will interrupt your progress throughout any meal preparation. This is primarily an issue for tall people.
When kneading, rolling out dough, or doing other leaning activities, it's crucial to have a distinct surface of around 8 inches beneath the bent elbow. Your stove must be about 5 to 6 inches below your bent elbow height for safety purposes.
The standard depth of kitchen countertops should also be easy to access for people with limitations. According to the Americans with Disabilities Act Accessible Guidelines, the countertops must not have less than 30 inches of accessible space.
The countertop should be between 28 and 34 inches tall, and have a minimum of 27 inches for knee clearance underneath. These measurements are ideal for making the space easy to access, even with a wheelchair.
A kitchen is made up of many different appliances and features. When fitting your kitchen countertop, you must take into account the dimensions of other kitchen appliances' and the practicality of the space.
Before installing the countertop, you need to consider other appliances that you may introduce into the kitchen later. You'll need sufficient space for the fridge and stove, among other tools. The appliance outlets will also influence how your workspace is laid out.
As you consider your countertop dimensions, think of the kitchen as a whole. Consider the hours you'll spend preparing sumptuous feasts and the space you'll need to host family and friends.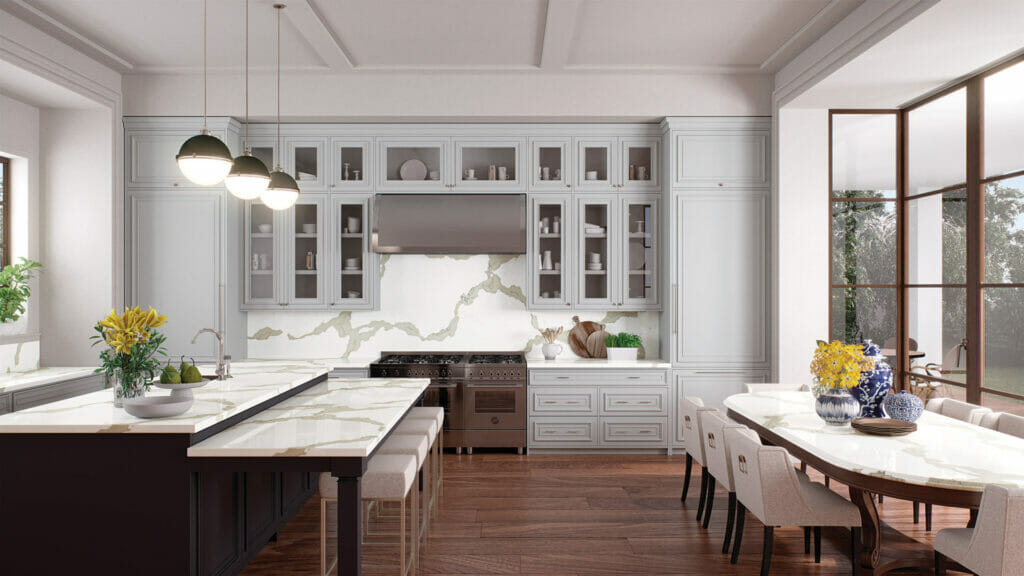 Why Choose Quartz for Your Kitchen Countertop
Choosing the correct dimensions for your kitchen countertop should be a priority. To properly customize the kitchen countertop dimensions, the countertop material you choose matters.
Remarkably, quartz is easy to install and an adaptable material. It can be used even in unusual installations. Whether you are installing a small or a large countertop, quartz never disappoints. For example, 5114 Calacatta Maximus slabs can be customized for large or small kitchen and island countertops. This is true for most quartz countertops as they can be cut and manipulated to fit your kitchen's required dimensions.
Quartz countertop is one of the most durable materials and is even stronger than natural stones like marble and granite. In fact, most manufacturers provide a long warranty, ranging from 10 to 15 years to a lifetime. 
Quartz is also non-porous. It does not allow dirt and grime buildup on its surface. This is perfect given that in a kitchen, hygiene should be top priority. The material is also stain-resistant and easy to clean. With just a simple wipe with soap and water, the surface is spotless.
Quartz is also chip and scratch-free unless hit hard by a heavy object. It doesn't require sealants to make it watertight or airtight.
If you are installing a new countertop or upgrading an old one, consider quartz for optimal durability and to standardize your countertop's dimensions perfectly. Having the kitchen countertop dimensions right makes the home more livable for you and more attractive to future homebuyers.
Key Takeaway
There is no one-size-fits-all when it comes to ideal kitchen countertops. You need to pick the surface that fits your home's aesthetic and functionality. The counter should always meet the average depth of kitchen countertops to serve you better. When it comes to different countertop materials, quartz is one of the most versatile options which is also durable and easy to use for your unique installation requirements.