A bathroom is an integral space in any home. Whether doing a home remodel or constructing a new home, the bathroom can make or break the home's appeal.
What exactly does bathroom redesign and makeover entail? It involves installing new or updating old fixtures—a crucial one being the sinks.
Choosing a bathroom sink in a material, shape, and finish that complements your décor, whether trendy or classic, is vital. The most functional bathroom sink must also match well with the countertop.
Quartz is the best bathroom material on the market for bathroom countertops. This is thanks to its numerous benefits compared to other materials.
First, it's durable, chip, and stain-resistant. It can last for many years and is the most hygienic surface for places like the bathroom, where grime and dirt may build up much faster.
Secondly, it's highly versatile. Quartz can work well with nearly any sink design and style. However, with so many shapes, styles, and finishes, selecting the best sink for a quartz countertop can be overwhelming. That's why we have compiled this guide to help you make an informed decision.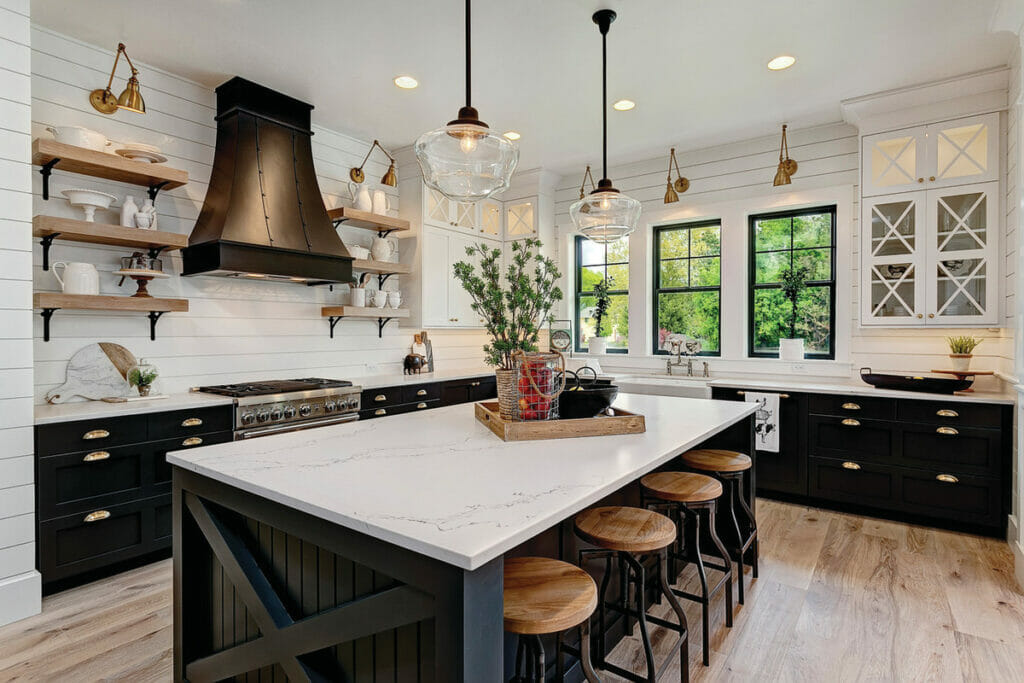 Choosing the Best Bathroom Sink for Quartz Countertop
When selecting the best bathroom sink to pair with a quartz countertop, here are some things to consider:
Sink Bowl Depth & Faucet Combination
The best sink for a quartz countertop can be either shallow or deep. The ideal sink depth depends on personal preferences, household needs, and the physical health of people using the sink.
Some bowls' depths range between 4 to 6 inches, while others can go up to 12 inches. Shallow sinks keep you from too much leaning, while deeper sinks protect you from water splashes and can fit large items like basins.
Shallow sinks also work well for people with limitations. This sink requires a taller faucet to better serve people who have trouble bending when washing their hands or teeth.
Such faucets must also be single-handed. For example, a person with arthritis may experience challenges turning or gripping faucet knobs so single-handed faucets are the most appropriate.
Size of the Sink
The most stylish sink on the market won't look right in your bathroom if it's too big or too small for your quartz countertop. Any sink must be placed within easy reach of the water supply connection, whether it has a vanity or not.
As such, mapping exactly where the sink will fit and how much room you have to work with is vital before making the final sink purchase.
For example, if you plan to work with an under-mount sink, carefully note the shape and size of the cut out in the vanity. You'll need to measure the space between the backsplash and the cutout as well as the faucet holes to be sure the sink will fit and that there's enough space to spare for installation.
Number of Sink Bowls
The number of sink bowls for your bathroom also depends on your needs and preferences. Some people prefer to have just a single sink bowl, and others go for more than one. Your overall bathroom space can determine how many sink bowls can fit in your bathroom.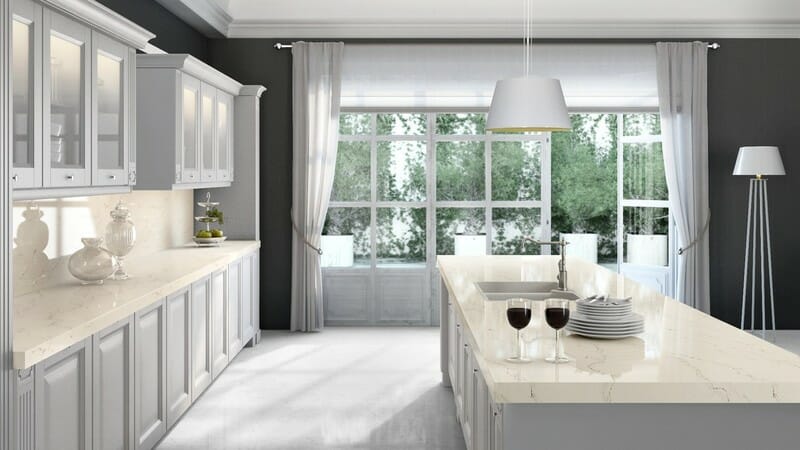 Types of Mount Installation
Once you know the number of sink bowls, size, and depth you want, the other important aspect is the mount type. There are numerous types of mounts for bathroom sinks. They include:
Under-mount Sink
The under-mount sink is an ideal type of bathroom sink for a quartz countertop. It's slightly less common but highly stylish.
This kind of sink is well secured beneath the countertop. This allows the quartz countertop to flow smoothly without interruption.
Once attached, the sink remains in place because of the durable caulk and sink clips. This also helps the countertop avoid taking the weight impact and reinforces its support.
Under-mount sinks have a concealed rim usually pressing against the countertop bottom. It also exposes the countertop edges where the sink is cut out.
The beauty of having an under-mount sink with a quartz countertop is that it gives you extra countertop space. It is also easy to clean since you can simply wipe the debris into the sink with no sink lip to catch the dirt. This kind of sink also appeals to many homeowners because of its high-end appearance and top quality countertop material.
Under-mount sinks work well with different countertop materials ranging from quartz, granite, marble, and concrete. Showcasing the exposed countertop edge, under-mount sinks are highly compatible with durable natural stone countertops.
Drop-in Sinks
Another type of bathroom sink mount is a drop-in sink. These types of sinks are popular because of their easy installation.
Drop-in sinks have a sink lip resting on top of the countertop. When one makes the cut-out, the sink rests within the opening and remains in place because of the caulking along the edge.
Metal clips offer extra stability underneath the countertop. The drop-in sinks can fit in all solid surface countertops, including quartz and laminate.
Top-Mount Sink
For a sink that's easy to replace, a top-mount sink is the best. This type of sink has a finished edge that rests on top of the countertop. This type of sink may be considered less hygienic than others since it lets dirt and grime build up along the edges.
Apron – Front Sink
This design slightly protrudes from the countertop edges, so it's pretty visible. Choosing a sleek apron-front sink can be a crucial piece in a rustic home. For instance, a shining stainless steel or copper sink might pull your entire bathroom together, giving it a bold look. This works particularly well with a farmhouse design.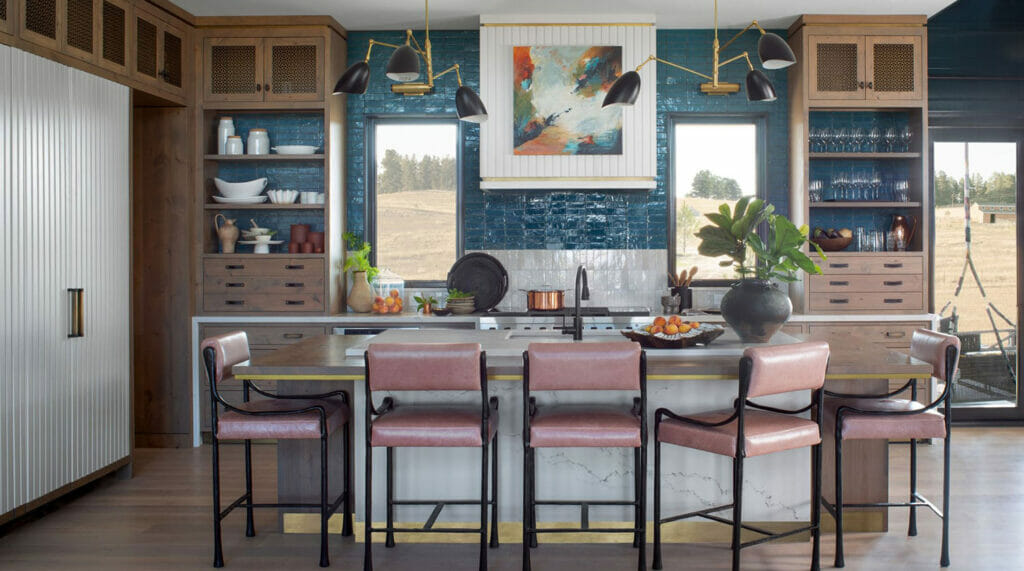 Sink Styles
The style is also a factor to consider when choosing the best sink for quartz countertops. There are plenty of sink-style options available to go with every taste:
Traditional Sinks – These have the utilitarian and architectural design of old-style sinks while offering a timeless silhouette that blends perfectly with classic or formal bathroom motifs.
Antique Sinks – Antique sinks are either ornate or curved. They often incorporate painted elements or hand-etched decorative details. They're stylish but also highly functional.
Modern Sinks – Modern sink designs incorporate smooth, rounded, straight edges and simple bowl shapes like squares or ovals.
Cost of Installation
While there are numerous great options, the final decision must also be based on time and budget. For example, if you're on a budget and limited in time, then a drop-in sink is perfect for you. This sink is suitable for those looking for an affordable sink installation. On the other hand, an under-mount sink is pricey and takes more time to install than a drop-in sink, but it provides incredibly sleek results.
Conclusion
Taking all of this into account, you can now select the best type of bathroom sink for a quartz countertop. The best investment is choosing the material that will increase the overall value of the bathroom and, consequently, the home. Deciding on a sink that complements the color palette of the bathroom vanity and other fixtures is another important consideration.
Working with quartz requires some level of expertise. Seeking a qualified quartz counter fabricator and installation expert can help you ensure that you're getting the very best in product and service quality.