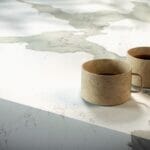 Quartz countertop surfaces have become very popular for kitchens, bars, and laundry rooms. Reports indicate that there has been a sharp increase in sales for quartz material in recent years.
But why are more homeowners and designers choosing quartz over other materials? One of the many reasons is that quartz is stylish and can be customized to meet anyone's requirements. It comes in a wide array of colors and patterns, which gives you plenty of design versatility. In fact, quartz can be used not just for countertops but also for creating an intricate backsplash, feature wall, shower wall, and more. The fact that this material can be designed into thinner slabs makes it fit even for vertical projects.
A quartz countertop is an artificially engineered slab, ideally made of 90% quartz and 10% polymers, resins, and other binding and colored pigments, which is exceptionally tough and durable. Because of its engineering process, quartz countertops are also non-porous (meaning there are no holes or cracks where liquids and spills could seep in). Bacteria, viruses, and other germs are unable to lodge in the counter, making it the most sanitary material.
There is no need for sealants or wax coating with quartz. That's because this material requires low-upkeep and maintenance compared to other materials. Its multiple patterns, color, and texture variations remain unrivaled. Quartz countertops are an excellent long-term investment.
In essence, quartz is the material you should include in your next home remodel or construction project. Before making any decisions, it's vital to research and understand the best quartz counter patterns to choose from.
To make this process easier, we've compiled this list to provide details on the most popular quartz countertop patterns in the market today: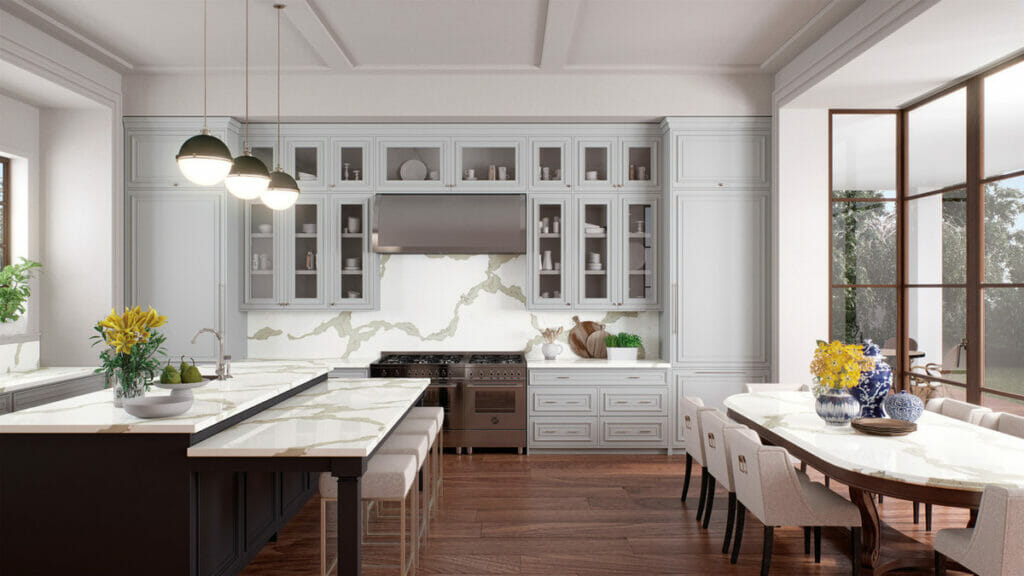 7 Most Popular quartz countertop patterns
5114 Calacatta Maximus
5114 Calacatta Maximus' surface is a combination of a white backdrop with a mixture of warm neutral colors. The slab comes in both a natural and polished finish.
5114 Calacatta Maximus has impressive oversized veining cutting across the intricate slab terrain and set deeper in its polished finish. These veins are intensified by fine golden copper lines to add that lavish look to the surface, perfectly replicating natural mineral deposits.
Caesarstone designed this innovative slab in such a way that the edges of two slabs match up to create a long and seamless look. This oversized slab is ideal for countertops, islands, backsplashes, feature walls, and shower walls. Its white color shade makes any room look brighter.
For a pattern that flows beautifully from one slab to another, Calacatta Maximus gives you exactly that and becomes a sophisticated piece of art in your space.
5171 Arabetto
5171 Arabetto is yet another popular quartz countertop pattern. It is off-white with a dynamic grey surface that changes colors in different lighting. This slab leaves a lasting impression with specks spanning its pure white surface and the magnificent clusters of grey stripes.
This countertop pattern interweaves dark grey, jade, and copper veins, giving the surface a lush look. 5171 Arabetto blends well with dark stainless steel, or gold cabinets.
5171 Arabetto also offers you a wide variety of creative options as it can play well with chrome hardware and brushed-gold or remain sleek with stainless steel. Its veined pattern gives the surface a natural fine-polished look. Its edges can be customized to fit any kind of requirement.
5222 Adamina
5222 Adamina is a quartz pattern with an ultra-fine look from its light veining. This soft sandstone design recreates the tender touch of a serene desert or golden dune—light ripples over its surface like a wave, stirring its natural beauty and complexion into shades of taupe disguised by lavish earthy sands. This pattern has a natural finish and a jumbo size.
As lighting changes during the day, the appearance changes and gives a touch of movement.
This veined Caesarstone surface can help brighten a dark room. Its various colors and reflective surface plays well with casual furniture, softer palettes, lighter cabinets, and concrete.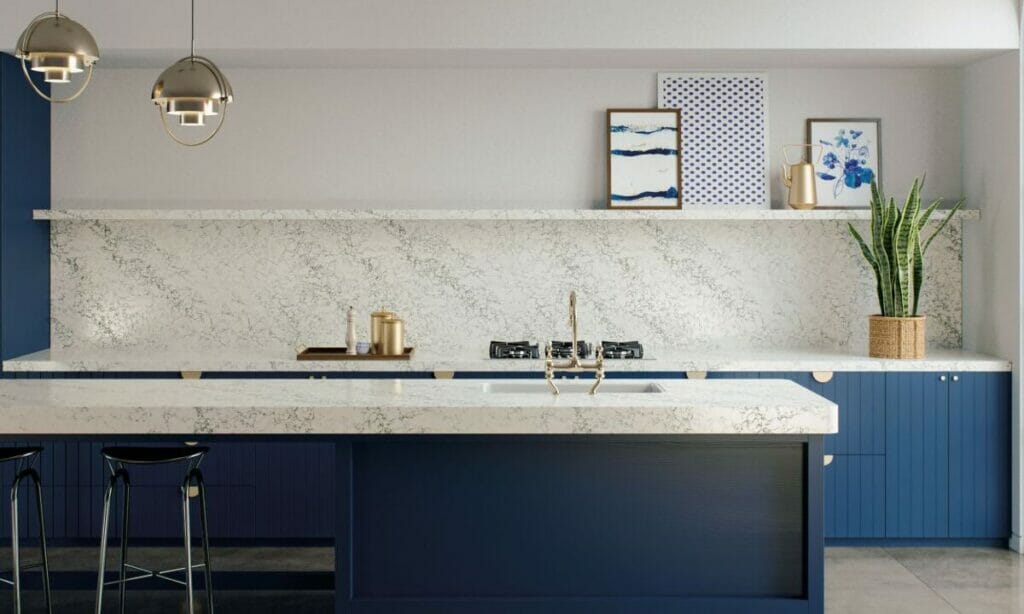 5112 Aterra Blanca
5112 Aterra Blanca is one of the most versatile and sleek materials available. It can adapt to a different range of styles, including country, classic, sleek, or minimal.
Driven by the strength and grace of natural marble, this is one of Caesarstone's latest innovations. The slab has a misty and translucent white base that features delicate earthy veins traversing the entire surface.
5112 Aterra Blanca works nicely with dark concrete and wooden cabinets but it also blends well with upholstered seating. It brings the beauty of stone into your home, cleaned and wrapped in smoothness and durability.
For that elegant, subtle, and evocative look, this cloudy white slab is the answer. With its delicate and dimensional veining, the material brings out the striking depth of the surface.
5143 White Attica
Beautifully woven with warm and cool color schemes is this magnificent stone pattern of quartz, 5143 White Attica. It features soft brown hues that give your space a glow.
The stone plays well with natural wood cabinetry and it fits perfectly in rooms painted with rich colors. Its rich greys and creams add elegance to the tough and maintenance-free surface.
5143 White Attica not only stands the test of time but also brings a magnificent design element to multiple surfaces, including countertops, backsplashes, flooring, and accent walls.
5143 White Attica is recommended for indoor projects in commercial and residential places. If you have a project coming up, don't hesitate in selecting this stunning slab.
5151 Empira White
Another beautiful quartz countertop pattern is 5151 Empira White. It's a soft, refined pattern with a pure white base touched by shadows, movement, and color.
This ebony veined stone uplifts a space with a timeless yet urban glow. It's versatile and reliable for both residential and commercial setups. It can fit nicely on bars, kitchens, and island countertops. This elegant material is always a great choice with its polished finish and guaranteed longevity.
2030 Haze
2030 Haze is a unique quartz countertop pattern. Mid-toned grey mixed with subtle white flecks, it works best in contrast to a light grey, white, or black color palette.
2030 Haze is one of those patterns known to liven up a considerably dark room. It features an eye-catching pebble look highlighted in trendy white and grey shades. The design features cool hues that work perfectly in different styles, from traditional to contemporary.