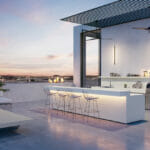 If you've been looking for a new kitchen countertop, you've likely heard about quartz. Today this material is the most popular when it comes to modern countertops since it offers durability, flexibility and a variety of colors and patterns. Keep reading to understand the pros and cons of this highly adaptable surface.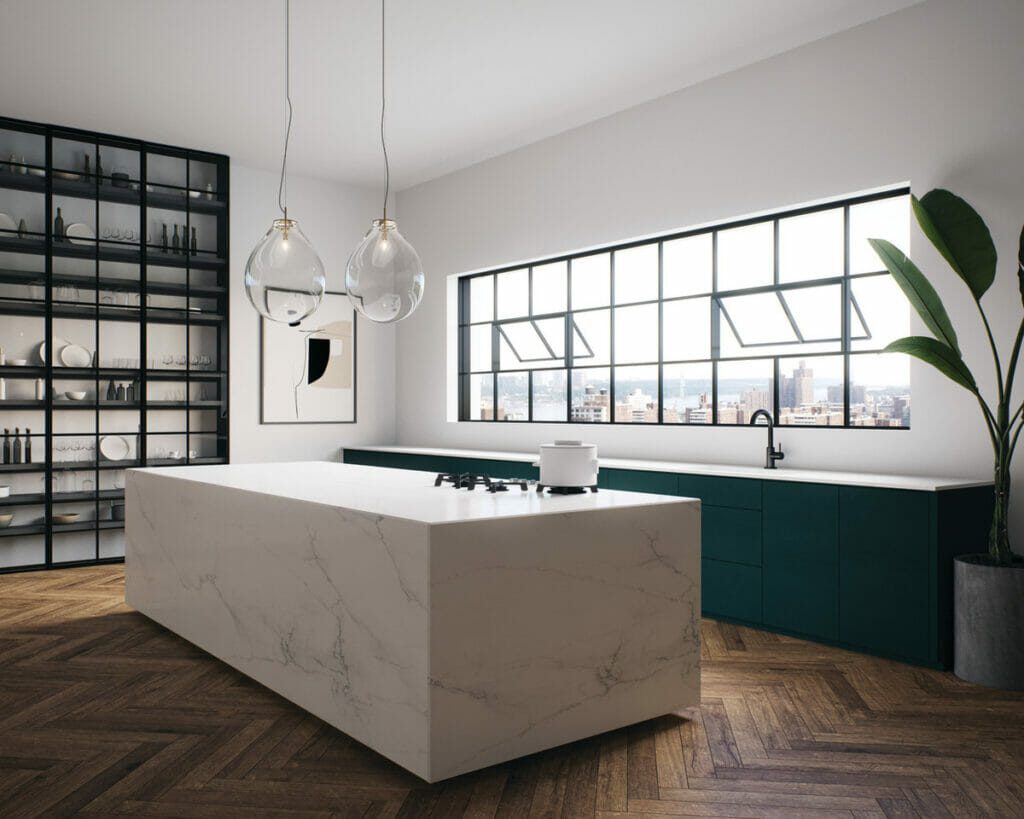 Pros and Cons of Engineered Quartz Countertops
Before deciding that a granite countertop is the best option, you should consider quartz. Quartz countertops are more than a trend. They're a versatile work surface that's suitable for any home and design style. 
Pros
It's a reliable, hygienic surface to prepare your meals and cook for yourself, family and friends.
Engineered quartz kitchen countertops are durable and will last you for many years.
Quartz is available in a variety of colours and patterns.
It's a low maintenance, crack- and stain-resistant countertop.
Quartz engineered stone countertops are easy to clean with water and mild soap.
Cons
It is not heat-proof, but this is easily resolved by adding affordable heat pads or trivets.
Quartz is quite heavy and may require professional installation.
As you can see, purchasing engineered quartz countertops is the best option for your kitchen renovation. Now, let's take a closer look at where the material comes from and how it is made.
Where can I buy quartz?
Caesarstone countertops are widely available in stores throughout the world.
Engineered quartz kitchen countertops: How are they made
To understand how quartz-engineered stone countertops are made, we need to explain the technology that is used and the overall process.
Even though quartz has only become popular in the last few years, the product itself has been around for several decades. The technology used to create this stone was developed by the Breton Company in 1963. The process involves blending the pulverized quartz and adding a mix of polymers. Then, the air is removed, and the product is heated and shaped into slab form.
Today, Breton is still producing engineered quartz, but several other brands have access to the technology required. It is important to clarify that even though several companies use this process, each one adds special twists to create a unique product.
Quartz can be found almost everywhere. The whole process of your quartz countertop begins when the clusters of the stone are extracted from the ground.
The quartz is crushed and then combined with different elements such as polyester resins and pigments. After the mix, this combination will be compacted into slabs. The last step is sealing and applying the finish to the slab. Thanks to this process and the materials used, quartz looks like a natural stone.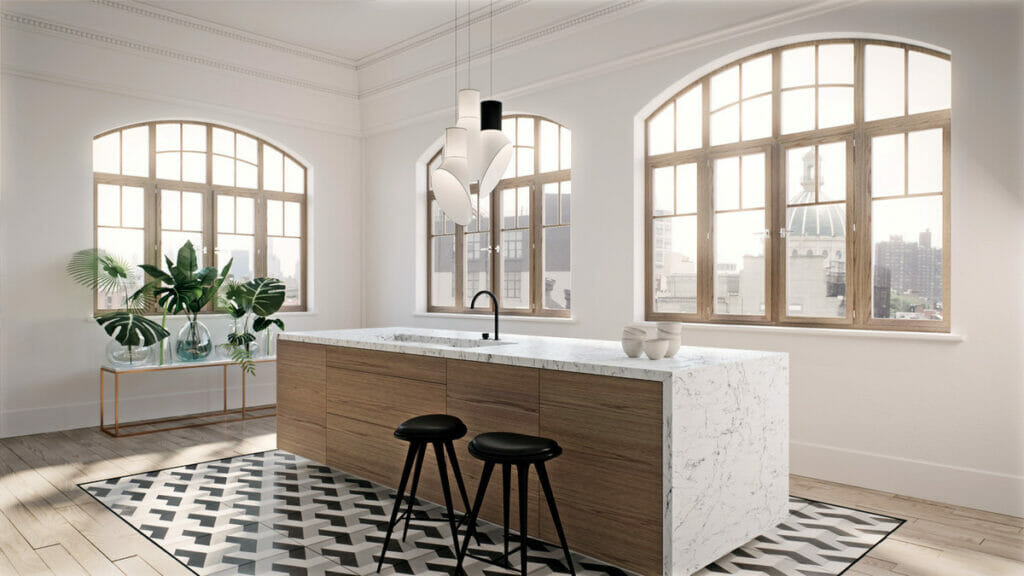 Frequently asked questions
Which colors and patterns does quartz come in?
One of the characteristics that homeowners fall in love with is the fact that quartz engineered stone countertops come in a variety of colors, patterns and textures. The range available to you depends on the brand you choose. Because this is an engineered product, there is more uniformity than can be offered by a natural stone product. The patterns come in veined or solid designs. In addition to natural shades, quartz also comes in a variety of colors such as white, red, black and orange.
What is the environmental impact of quartz countertops?
Quartz is an abundant material and is engineered to stand the test of time. It's the ideal choice for homeowners concerned about their environmental impact as it does not need to be replaced frequently.
Where can I use engineered quartz?
Even though quartz is usually used as a countertop for your kitchen, there are other parts of your house where you can utilize it including backsplashes, tub/shower surrounds, fireplace surrounds, wall cladding and more.
It's important to note that quartz is a very heavy material and that only UV stable quartz (such as in our Outdoor Collection) can be used outdoors.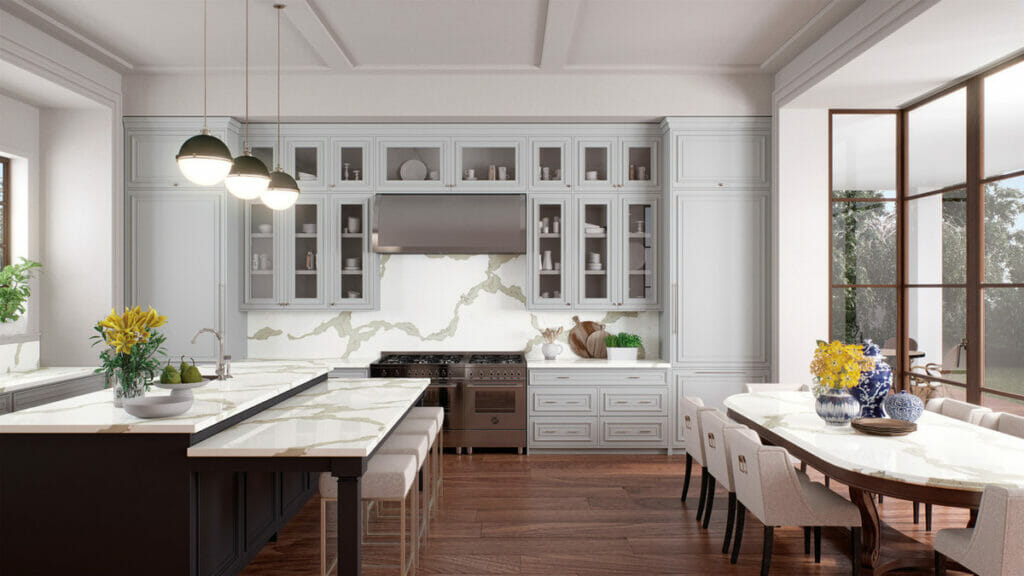 Are quartz countertops heat resistant?
As part of the process of making quartz, the material is exposed to a significant amount of heat though it is not heat proof. We recommend avoiding any exposure to heat to ensure the durability of your quartz. The routine use of burn pads or trivets is recommended to avoid burn marks.
Is there a difference between quartz and quartzite?
Quartz is an engineered stone. Though 90% of the material in quartz comes from the ground, it is not a natural stone. Quartzite is a natural stone while quartz is man-made.
How can I clean my quartz countertop?
Quartz is nonporous, which means bacteria won't accumulate on the surface. Plus, quartz countertops are also stain- and scratch-resistant. Clean-up is quick and easy through wiping with water and mild soap every day to maintain its new appearance.
What do the engineered quartz countertops cost?
Quartz is a more affordable alternative to natural stone. Depending on the brand, a quartz countertop can cost between $60 to $100 and beyond per square foot. Ultimately, the price will depend on a series of factors such as the design, color and delivery location.
Final Thoughts
Purchasing a quartz countertop for your kitchen will enhance both your design and your daily productivity through easy maintenance. This material is carefully extracted and crafted to give you the most dependable product for your home. It's the perfect option for the design conscious, environmentally responsible homeowner.