To add a timeless element to your kitchen or laundry room, consider investing in a quartz countertop. Quartz comes in various colors and patterns, which offers lots of design versatility.  
Quartz, which is made of 90% quartz stones combined with other adhesive materials like resins, acrylic, and polymers, is the most durable material for countertops. In fact, high-quality quartz is more durable than natural marble.
Additionally, the quartz finish remains unrivaled. It has a depth that slabs of a natural stone cannot replicate.
Quartz doesn't crack, scratch or chip as easily as any other material and is also stain-resistant. This material requires no sealing or special cleaners to keep it sparkling. Thus, it's the most suitable material for busy areas like the kitchen or laundry rooms.
Here's why beige quartz may be the right choice for your upcoming counter project..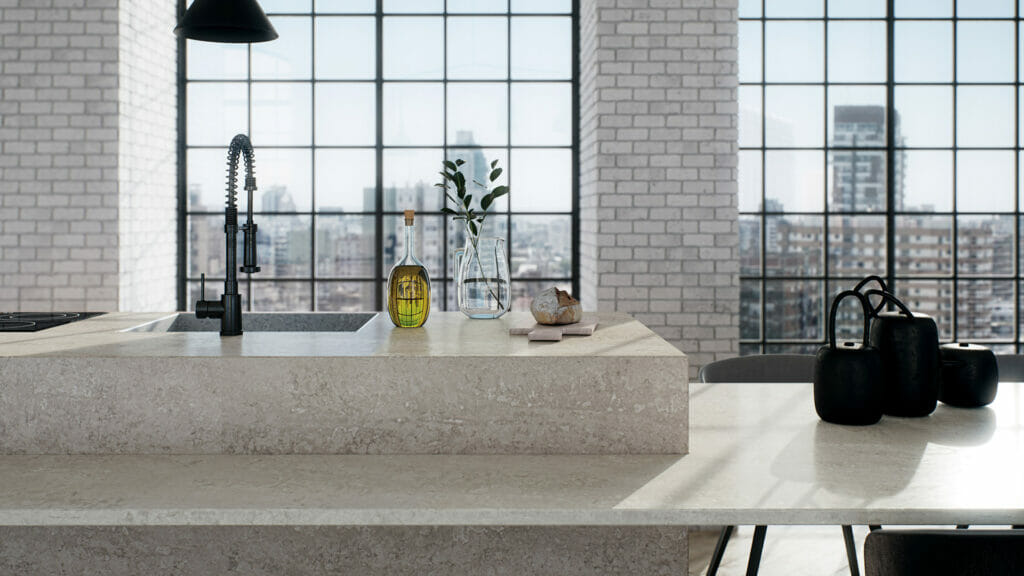 Why Choose Beige Quartz for your Home
Neutral colors play well in combination with other materials, accents, and colors. Beige quartz is the ideal complement to set the feel and tone of any space.
Quartz coordinates with other colors to create a stunning result. With beige quartz material, you can blend the colors of your cabinets, backsplash, flooring, and countertop finishes to create a gorgeous final product.
Unlike many countertop materials, beige quartz remains consistent in color and pattern because of its manufacturing process. This means a sample looks just the same as the completed surface with no variations whatsoever.
Whether it's a renovation or a new countertop installation, beige quartz material never disappoints.
To enhance the look of any room, here are five unique beige quartz countertop designs to consider:
Enjoy Quiet Harmonized Richness with 4023 Topus Concrete
If you prefer something rich but subtle, consider 4023 Topus Concrete. This surface adds an element of class and warmth to any display.
Quartz beige 4023 Topus Concrete has rugged patinas combined with deep pastel-pink undertones. It comes in different thicknesses: ranging from 20mm/2cm toand 30mm/3cm.
The warm serenity of this design forms the ideal foundation for any space. If you're looking for a more subdued but harmonized design, 4023 Topus Concrete is a beautiful beige quartz.
4023 Topus Concrete quartz countertop has a rough finish and is most suitable for indoor environments. It is not appropriate for outdoor projects.
It comes in a wide variety of edge profiles. These countertop edge profiles include bevel, double bevel, full bullnose, triple laminated bullnose, double bullnose, ogee, eased, miter, double radius, and pencil.
The depth of the delicate mineral material and its opacity make this design less busy and an ideal countertop material for your kitchen or bath. The material can form a soft backdrop, creating a beautiful oasis of calmness.
Choose Subtle Polished Specks of Haze
For an aesthetic that's more polished and less wild, 2030 Haze is the best bet. This quartz beige countertop offers you a soft and perfect look.
It's characterized by light sparks and soft shades suspended over a shimmering surface to achieve a subtle, misty surface. This quartz beige countertop is light enough to fit into many different designs and styles.
2030 Haze is available in a 2cm or 3cm beige countertop thickness to create a contemporary, transitional style design that piques your interest and fits your style.
Caesarstone 2030 Haze quartz countertop is polished, which makes it extremely easy to clean and maintain.
Settle for Bold Accents of Taj Royale
Any room will look welcoming if it's colorful and richly accentuated. 5212 Taj Royale quartz beige countertop can cheer up a rooms' interior décor by making the place warm and inviting.
A polished 5212 Taj Royale beige quartz countertop plays off of various accents and settings nicely. A beige countertop with different shades and hues helps build a rich and warm room.
Caesarstone 5212 Taj Royale has warm, earthy hues with delicate dabs of white. They help set a soft tone and mood in any space. This rich color is accented with different tones and veins.
5212 Taj Royale is most suited for indoor environments. Caring for this countertop material is easy and quick. A splash of warm, soapy water is all it takes to clean it. Wipe away any water splashes and spills to avoid patinas. Finally, gently rub the surface with an approved cleaner to remove any type of stain.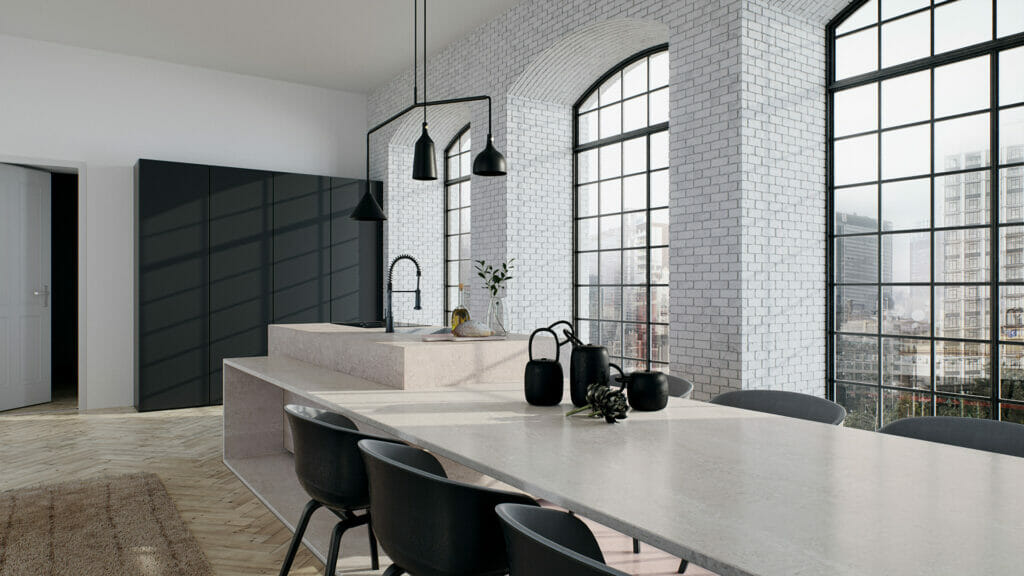 Let's go Rustic with Dreamy Marfil.
Looking for a stone that pairs well with any decorating scheme? 5220 Dreamy Marfil is your answer. It adds a gentle mix of beige shades with brownish patinas that create a rustic charm in your indoor environment.
Caesarstone 5220 Dreamy Marfil can be used for the kitchen, bathroom, flooring, and bar countertops. It fits well with wood base cabinets and areas with predominantly off-white finishes when used in a kitchen design.
This beige quartz material has a polished and honed finish. And just like with any other quartz material, caring for it is easy and hassle-free.
After a simple wipe, your countertop will be sparkling. Immediately wiping away any spills and splashes can prevent patinas. To remove any form of stain, you simply need to rub the surface with an approved cleaner and then rinse it off.
If you go for the honed, concrete, or rough finishes, expect more cleaning than a polished finish. These finishes leave the surface more exposed to fingerprints, metalmarks, and other signs from daily living. However, these marks are easy to clean with non-abrasive cleaning products like soft scrub liquid gel.
Key Takeaway
While most people dismiss beige and assume it's dull and stark, these designs prove that they have a rich tone and can match different designs and styles.
If you're planning to furnish or remodel your commercial or residential space, consider Caesarstone beige quartz. These products create a space with a warm and inviting feel. Explore Caesarstone's catalogue to find the ideal quartz beige for your project.