For most, the kitchen is more than just a place to cook; it is the heart of the home. So many activities take place in this intimate area, from meal prep and cooking to hanging out with friends and family. A small kitchen countertop can make all of these activities quite inconvenient.
Investing in a more expansive countertop to create memories around and do your kitchen work with ease is vital. Working on a crowded surface where things keep toppling over can make time in the kitchen less than enjoyable.
So how do you enhance your kitchen countertop to become your culinary oasis? Kitchen countertop remodeling helps extend or create extra functional space. Embracing these classic kitchen countertop extension ideas will help solve your problem.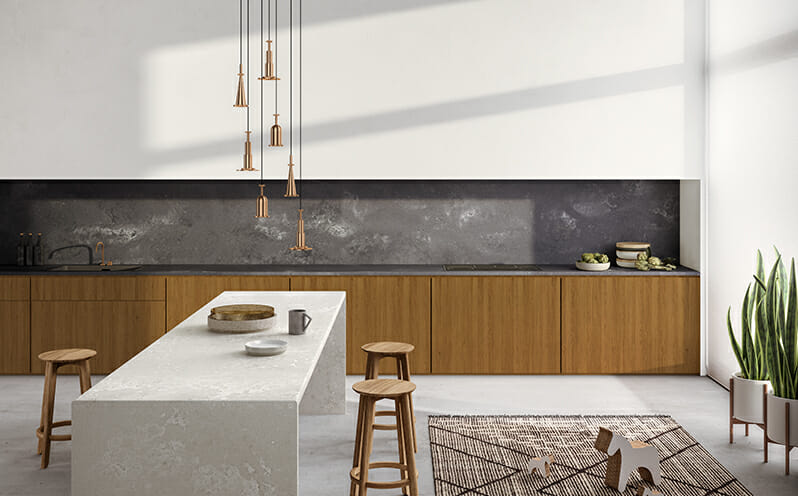 10 Ideas for Extending Kitchen Counter
Add a new counter
If your kitchen can accommodate a new countertop or a kitchen island, this is the best option. For a simple countertop extension project, you must choose a versatile yet durable material for your countertop.
Quartz is the ideal material. Though not as affordable as some other materials, it is the best and strongest material for countertops that will last you for years to come.
Quartz is an artificially engineered material with 90% quartz stone mixed with adhesive materials like resin and acrylic. This makes it the most robust material to use in a countertop extension project.
Quartz comes in a wide variety of patterns and colors. You have many options to choose from to find the surface that complements or beautifully contrasts with your flooring, backsplash, and cabinets.
Cover or Replace your old Counter with Quartz Material
Sometimes, a worn-out and old-looking countertop makes the kitchen look smaller and uninviting. In this case, the solution could be covering it up with a polished and iridescent countertop material.
Alternatively, you may first remove the old material and replace it with a new one. There are plenty of materials to choose from. The most popular among homebuyers is quartz.
Using quartz restores the countertop beauty and enhances its elegance. Sprucing up a worn-out countertop gives the appearance of a more spacious, warm, and inviting space.
Quartz has infinite design possibilities and is available in various shapes and sizes. Thus, it makes the ideal material for a countertop extension kitchen project.
Put your Windowsill to Use.
If you think you have no extra storage for canisters, cookbooks, or carafes, think again. The windowsill can be the perfect place to store some of these items and also frees up some counter space.
Having various jars and other items on top of your counter can be pretty bothersome when doing kitchen work and makes thoroughly cleaning the counter more difficult.
Even if your windowsill is narrow or small, you can still put it to good use by simply adding a few shelves on the sides to provide extra storage space.
Move the Microwave.
Almost every home in the US has a microwave. While it's handy kitchenware, a microwave can take up considerable counter space. Consider keeping your microwave elsewhere to clear some additional counter space. Perhaps you can place it on a rolling kitchen cart or a shelf.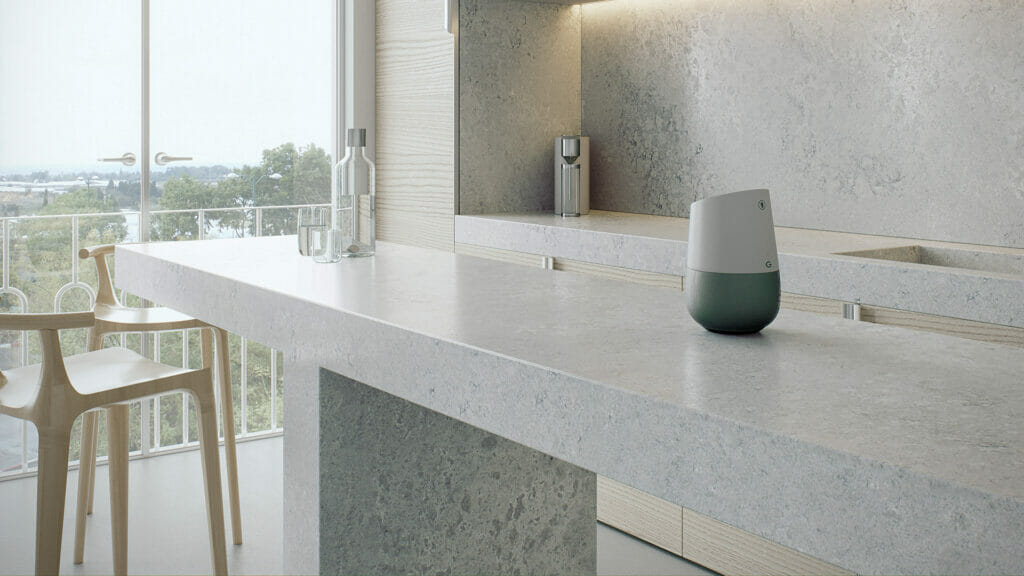 Put your Walls and Backsplash to Work
Your walls and backsplash can also come in handy when looking for extra space in your kitchen. Vertical space is crucial in maximizing a smaller kitchen.
For example, you can install a rail and use it to hang some of your pots and pans. With this ingenious kitchen storage idea, you reclaim dormant space that would have otherwise been unused.
Turn your Stovetop into a Functional Workspace.
Burner covers can be put to good use when you need to expand your work surface. Provided you ensure that the burners are completely off, you can make the stovetop a storage or prep area.
This stovetop can come in handy when prepping meals if you cover it well with a custom-sized cutting board.
Add Another Level of Shelves
Shelves are the most convenient storage areas for keeping extra items. This is the place to store your most frequently used items as the area is quickly accessible and visible.
Instead of having these items stashed somewhere behind cabinet doors, creating an extra layer of shelves on your backsplash makes these items easy to access.
Store your Cutting Boards in a Basket or Cabinet.
If you have multiple cutting boards, storing them on the countertop may be inconvenient. They may fall over and creep into your prep space.
Consider storing them inside a cabinet, in a basket, or hanging them on a metal rail. Keeping them anywhere away from the countertop when not in use is a perfect kitchen countertop extension idea.
9. Mount your Paper Towel Holder.
Paper towels may not take much space but placing them on the counter keeps it crowded. The towels are the easiest items to remove from this area.
Mounting them on a hanger underneath the cabinets or floating shelves, keeps one extra thing off of your counter.
10. Get an Integrated or Over-the-sink Cutting Board.
To create additional working space, make the sink pull double duty by finding a cutting board that is a bit longer than your sink and securely rests on top of the sink.
Buying an over-the-sink cutting board or investing in your own integrated cutting board can help expand your usable space. Some cutting boards come with attached colanders. Therefore, you can still access the drain underneath it.
Key Takeaway
With these ten incredible kitchen countertop extension ideas, you'll free up some functional space and enjoy doing your culinary activities. And it's achievable without breaking the bank. Most of these ideas are simple and require a bit of creativity with what you already have.
Others require making initial investments. For example, quartz should be your to-go material when creating an extra counter. Even though quartz is one of the more expensive countertop materials, it has immense long-term benefits that exceed the larger initial cost of the counter.
Quartz is sturdy and can last for many years without requiring any repairs. Quartz also resists chips and cracks better than many other countertop materials. Another significant benefit of it is that it increases the value of your home. Homes with quartz countertops cost more than those with other types of materials.