Designing a kitchen or bathroom countertop involves paying attention to minor factors that can greatly affect the outcome. From the pattern and intricate design to the thickness and edges, small factors can play a big part in how a granite countertop looks and functions.
Granite countertops come in various edge profiles, from the standard beveled edge to a unique ogee edge. This article reveals the most popular granite countertop edges to help homeowners decide which one to choose.
Homeowners can continue reading to learn more.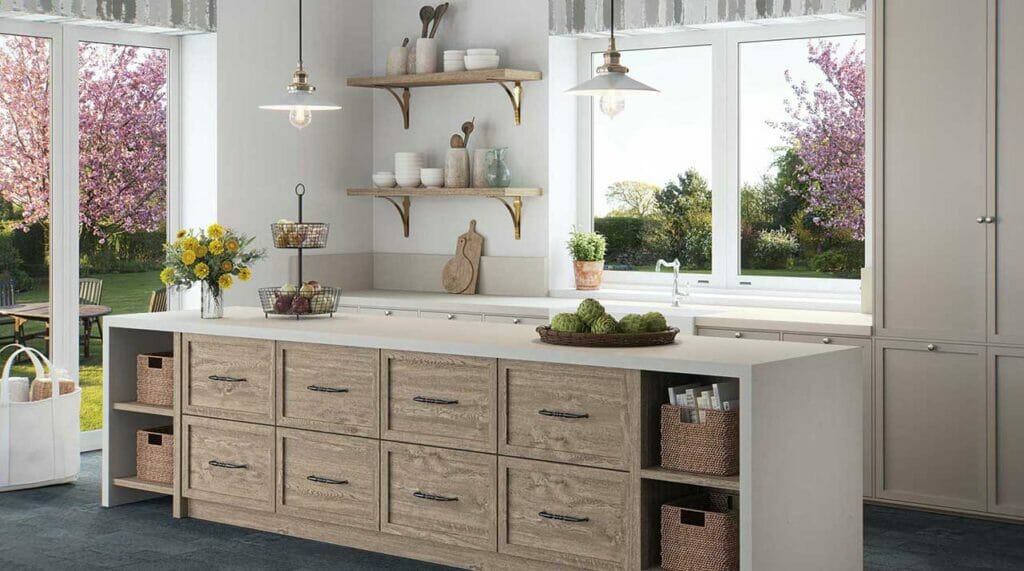 Top 12 most popular options for granite countertop edges
Granite countertop edge profiles differ greatly in design, practicality, and functionality. Picking the right edge profile can help the countertop meld with a space or become the focal point of a home.
With this in mind, it's clear that it's beneficial for homeowners to learn the differences between each profile.
The most popular types of granite edges include the following:
Beveled edge
A beveled edge profile features a 45-degree slant from the top and then drops at a right angle. It adds an interesting line that suits both modern and classic interior applications.
This style is somewhat controversial, with different opinions from different homeowners. Some are quite fond of its design, while others find it dull and unappealing.
Double beveled edge
A double beveled countertop edge adds more detail to the former edge profile. Like a simple beveled edge, it slants 45 degrees from the top but drops to two 45-degree angles on the bottom.
This edge profile suits more traditional homes, especially when paired with granite countertops that have a more contemporary aesthetic. It's also easy to clean because the cuts prevent liquid from leaking into the bottom.
Chiseled edge
A chiseled edge countertop has a raw and unfinished look that appeals to bold homeowners. The opposite of an eased edge, it looks like natural stone, which can make a room look antique and rugged when paired with granite.
Cove edge
A cove edge has a rounded indent that creates a groove around the countertop, which makes it look modern and glamorous. It's more suitable for larger kitchens and bathrooms, as the design is loud and can make a countertop the focal point of the space.
An issue that homeowners have with this edge profile is that it takes a little more effort to clean, as the grooves can catch spills and crumbs.
Eased edge
An eased edge profile has a soft rounded edge that eases towards the floor. It has a rather simple design with no loud details or curves. The simple design makes it a safe choice for small kitchens and bathrooms.
It's also a practical option for households with children, as the rounded edge doesn't pose as many hazards.
Full bullnose edge
A full bullnose edge curves around the top and bottom of the countertop. The style suits a variety of spaces and is especially appealing in small kitchens. This versatility has made it one of the most popular granite countertop edges for smaller spaces.
Because of its curved design, there are no sharp edges, making this profile safe for households with children. However, this curved design can also make cleaning difficult, as spills and crumbs can easily make their way underneath the edge.
Half bullnose edge
The half bullnose edge looks similar to its full bullnose counterpart, except it slopes down a 90-degree angle. It's a common option for granite countertops, giving a kitchen or bathroom a modern and simple look. On the other hand, half bullnose edges aren't very versatile and can look rather plain to homeowners who want their countertops to be the center of attention.
Compared to full bullnose edges, this profile is easier to clean, as debris doesn't get trapped underneath the edge but instead drops straight to the floor. It also has a sharper bottom, which can create a hazard for households with small children.
Ogee edge
An ogee edge features an undeniably luxurious S-shaped profile that adds a dramatic touch to any kitchen or bathroom. Although some homeowners feel that ogee edges are a little excessive, the edge profile works well in larger spaces that prevent it from overtaking the design.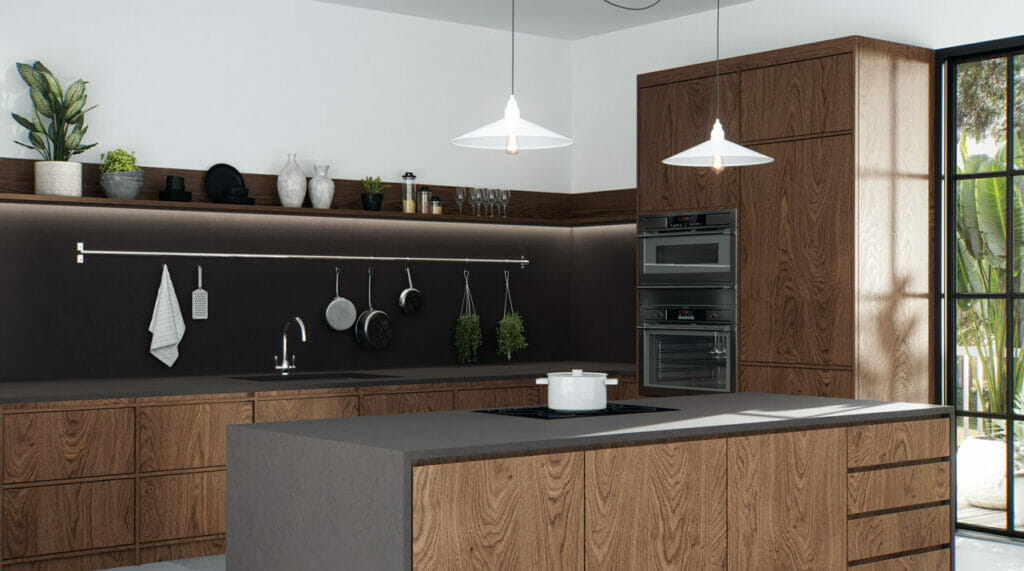 Pencil edge
A pencil edge is one of the simplest types of granite countertop edges, with small rounded sections on the top corners—about the size of a pencil. Some manufacturers also make pencil-edge countertops with round sections in both the top and bottom corners. 
Stepped edge
Stepped edges look exactly as they sound, featuring a series of cuts resembling stairs surrounding the counter. The steps can be sharp or round, depending on the manufacturer.
Stepped edge profiles are less common nowadays because they're impractical. Dust and debris can easily make their way between the steps, which requires extra effort to clean. But some homeowners find that a small price to pay, considering how a countertop with a stepped edge can add depth and personality to a room.
Straight edge
Also called a square edge, a straight countertop edge is the most basic edge profile there is. It features a simple 90-degree angle cut, and it's as intricate as other profiles, which is precisely what makes it suitable for modern and minimalist kitchens or bathrooms.
Depending on a homeowner's taste, the simplicity of a countertop with a straight edge can be beautiful or bland. That being said, it's not a recommended edge profile for those looking to make their countertops the main point of attraction.
Waterfall edge
Waterfall edges are ideal for homeowners that want a modern-looking kitchen. Homeowners like this style because there is technically no surface edge on the countertop. Instead, the ends carry all the way down to the floor, like a waterfall cascading down a cliff.
A waterfall edge adds a unique and interesting flair, making the countertop the central point of attraction in a room. It is seamless and edgy, but how well it integrates into a kitchen or bathroom would depend on the overall interior design motif.
What is the most popular edge for granite countertops?
Among the granite counter edge profiles mentioned above, the half bullnose edge is the most popular. Many homeowners go for a half bullnose because it's versatile and can seamlessly complement both traditional and modern spaces.
It's also popular because it's easy to clean and maintain, with spills and crumbs dropping straight to the floor instead of underneath the counters.
How to choose the edge for a granite countertop
While comparing the different edges for granite countertops, homeowners should take the following factors into account:
Available space
Cabinetry the countertop will sit on
Type of stone or countertop material
Overall kitchen or bathroom motif
These factors will determine how good a specific edge profile will look in the intended space. Homeowners that prefer quartz over granite can benefit from Caesarstone's 3D visualizer. Caesarstone's 3D visualizer gives homeowners a visual idea of how different edge profiles will complement their interiors.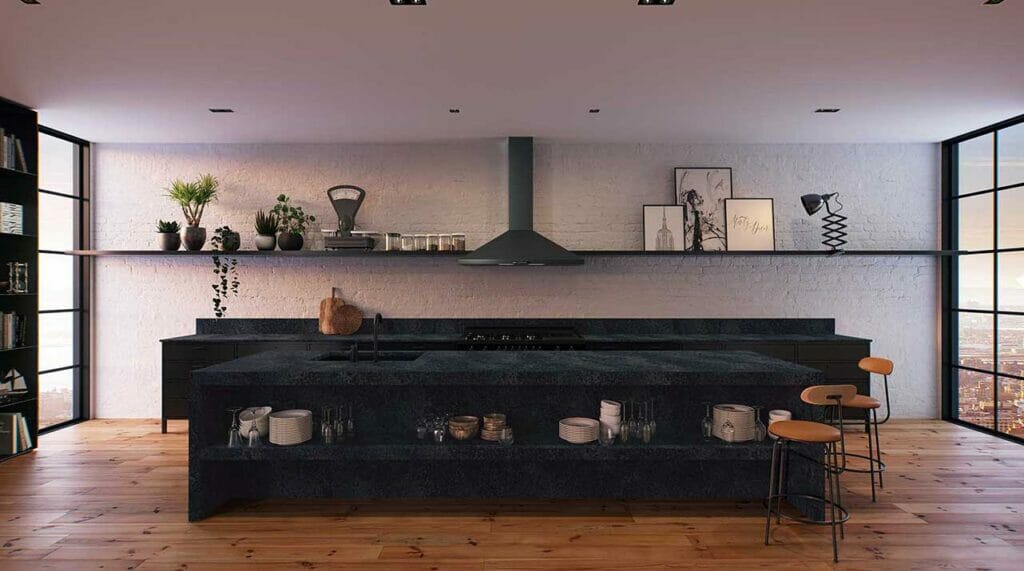 Top 12 most popular granite countertop edges — Conclusion
A countertop's edge may seem trivial, but the right edge profile can make a countertop more visually appealing and functional.
Caesarstone offers a range of high-end countertops, including quartz and porcelain, with customizable designs and edges. Homeowners can start their search with the Pebbles Collection, which features sustainable countertops in muted, natural tones.
And when they're ready, they can order a sample and decide which material they'd like to use for their kitchens or baths.