When deciding on a countertop material for a modern and luxurious kitchen or bathroom, quartz is at the top of most homeowners' lists. Versatile, functional, and aesthetically pleasing, there's no doubt that quartz is one of the best materials for countertops.
Among the many types of quartz countertops, white quartz is becoming a popular choice among homeowners. Keep reading to learn how to choose the best white quartz countertop.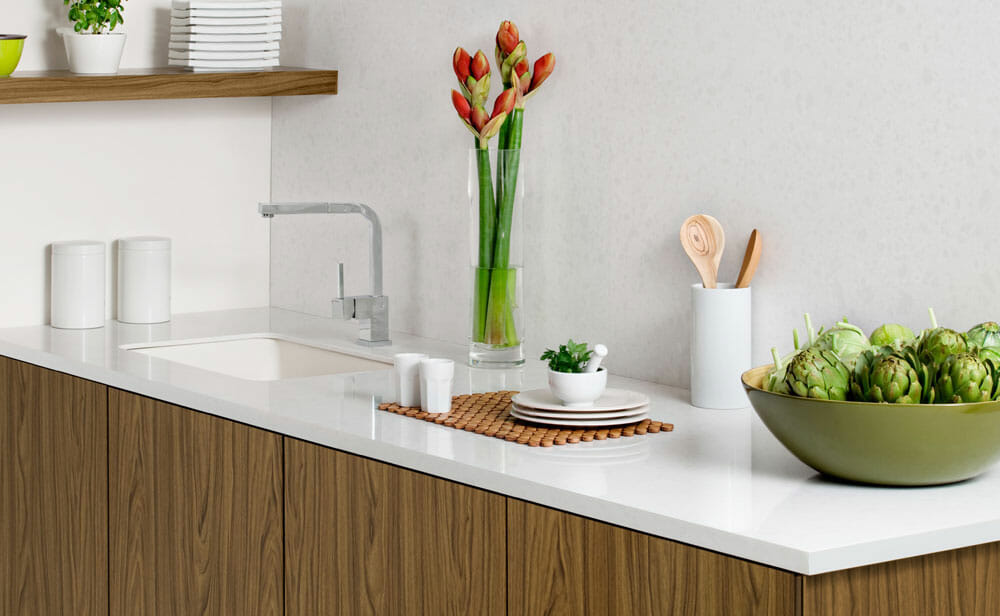 What is white quartz?
White quartz, also known as engineered quartz, is made of about 90% natural ground quartz and 10% resin. Together, these materials create a smooth and bold surface that has the appearance of beautiful natural stone.
White quartz is popular because of its durability. Thanks to its non-porous composition, it doesn't scratch or dent as easily as its counterparts. Not to mention that it's fairly resistant to stains — a huge relief for wine and coffee drinkers.
But there is a caveat; because of its non-porous composition, white quartz is rather sensitive to heat. Homeowners who decide to use this material for their countertops should avoid laying hot pans and pots on their counters without a trivet.
Factors to consider when choosing the best white quartz countertop
With the plethora of options available today, homeowners may have trouble choosing a stylish white quartz countertop to suit their needs. Below are some factors they should consider: 
Appearance
When choosing a material for a kitchen countertop, appearance matters. A stylish countertop can change a kitchen's aesthetic and a bathroom's ambiance—and a poor appearance can wreck the interior of both.
However, aesthetic appeal is subjective, so homeowners should focus on what they think looks good—after all, they're the ones who will be seeing and using it every day.
Distinctions between white countertops can be found in the varying patterns and unique color selections. Though these details may seem small, they can make a large impact on whether a space shines or completely misses the mark.
Products from Ceasarstone's Pebbles Collection, like 1001 Riverlet, are great for homeowners who want to purchase a white quartz countertop.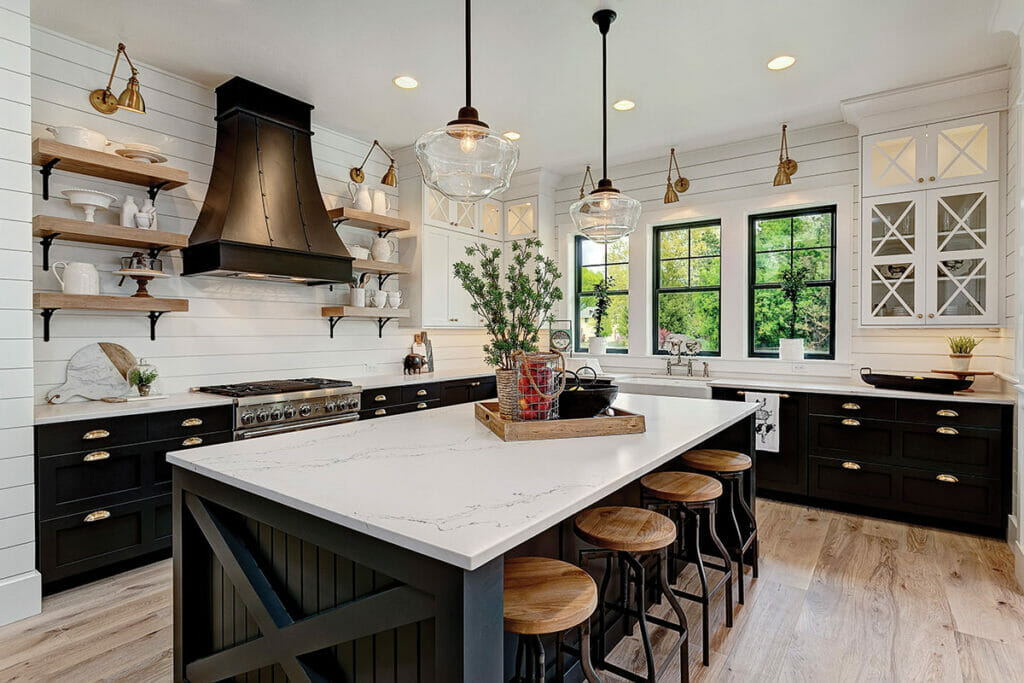 Brand
To achieve the best white quartz countertops in a kitchen or bathroom, manufacturers need to use the appropriate ratio of natural stone and resin. The best white quartz has 90% natural quartz and only a small percentage of resin material, but not all brands adhere to the same standard.
This important factor is why homeowners must think about where they're getting their quartz countertops. It's best to go for manufacturers like Caesarstone, which specializes in making best-in-class, expertly crafted white quartz countertops that last a lifetime.
Cost
Cost is another aspect homeowners should consider, especially those redecorating or designing their kitchens on a budget.
A lot of people think that white quartz is expensive. But, compared to other materials like marble, it's actually quite affordable, both in terms of the initial cost and maintenance expenses.
Edges
A countertop's edge profile can also contribute to its overall appearance and functionality. For example, sharp, straight-line edges look modern, while curved edges can make a countertop feel more artistic and classy.
Manufacturers give their clients different edge profiles that they can select from to achieve the aesthetic they want.
Finish
White quartz countertops feature a range of finishes to choose from, such as glossy, matte, polished, or satin. While the finishing touch may seem trivial, it can transform the whole aesthetic of a countertop.
A matte finish, for example, contributes to a warm and muted atmosphere, while a satin finish creates a minimalist and modern look. Ultimately, the best finish would depend on the overall aesthetic that the homeowner is looking to achieve.
Motif
A countertop should complement the overall design or motif of the space, as well as the appliances or decor that will be placed atop it. Homeowners should consider their motif when choosing a white quartz countertop to ensure that everything is cohesive and creates a unified design.
To effectively achieve a desired motif, a visualizer can come in handy. Caesarstone's 3D visualizer can help homeowners envision what their countertop will look like in their kitchen and how it can contribute to the overall design and motif.
Slab vs. prefabricated countertop
White quartz countertops can be ordered as either full slabs or prefabricated. Full slabs are the more expensive of the two but allow homeowners more customizability to create a countertop that aligns with their kitchen design.
Prefabricated countertops, on the other hand, are cheaper and easier to install. Because they are pre-cut, they cost less per square foot compared to full slabs. However, they do not allow for customizability and give homeowners fewer design options.
Thickness
The thickness of a quartz countertop plays a significant role in its functionality. Since they are more robust and sturdy, a thicker slab can carry more weight, but they are more expensive than thinner slabs and don't provide the same sleekness.
When deciding on the thickness of a quartz countertop, homeowners should consider functionality, reliability, and longevity above all else. These factors are more important than aesthetics and will ensure that homeowners make the most out of their investment.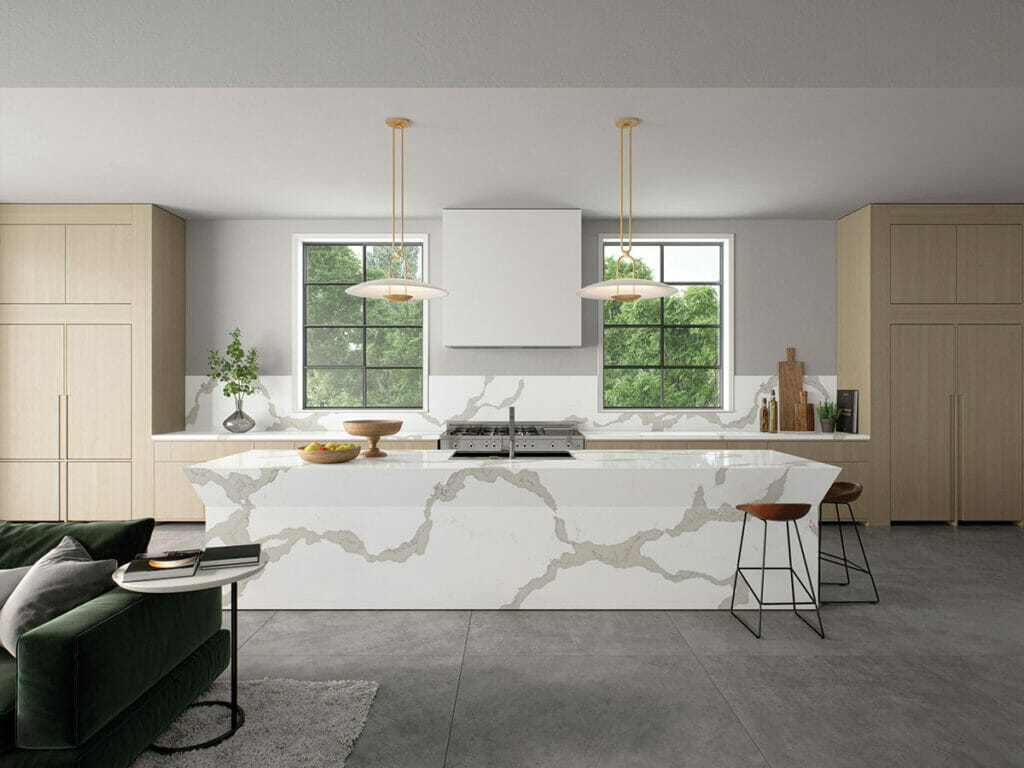 How to choose the best shade of white quartz countertops
White quartz countertops come in various shades and patterns, each creating a distinct look that works well with specific motifs and kitchen designs. Below are the different colors available and the aesthetic each one provides.
| | |
| --- | --- |
| Quartz countertop shade | Aesthetic |
| 1141 Pure White | – Clean, timeless- Smooth, polished look – Contemporary |
| 5111 Statuario Nuvo | – Opaque cream surface – Stoney veins on the surface – Best warm white quartz countertop – Minimalist and classic aesthetic |
| 5114 Calacatta Maximus | – Pure white background with copper-gold outline- Soft greige veining – Luxurious and modern aesthetic |
| 4011 Cloudburst Concrete | – Deep shade with a subtle shine – Suitable for both light and dark kitchens – Elegant industrial aesthetic |
| 5031 Statuario Maximus | – Soft white background with warm gray veining – Creates a focal point – Modern and minimalist aesthetic |
How to choose the best white quartz countertop — Conclusion
Choosing a luxurious white quartz countertop for kitchen and bathroom use can be difficult, especially with the vast array of options that homeowners have. A good principle to abide by is to consider the look and design of the kitchen as a whole and then find a countertop that will complement and enhance the chosen motif.
To do that, homeowners may need to test out different colors and patterns, which they can do with samples. Order a sample of Caesarstone white quartz today.