White kitchens have been growing in popularity over the past couple of years. In fact, white kitchens have become a staple in residential spaces for several reasons, including their luxurious, modern, and clean appearance.
However, one of the downsides of white kitchens is that they tend to lack a sense of warmth. Kitchens are communal family spaces, so most homeowners want them to feel warm and inviting.
Thankfully, there are several ways that homeowners can combat this issue — homeowners that want to learn how to warm up a white kitchen can find valuable tips in the article below.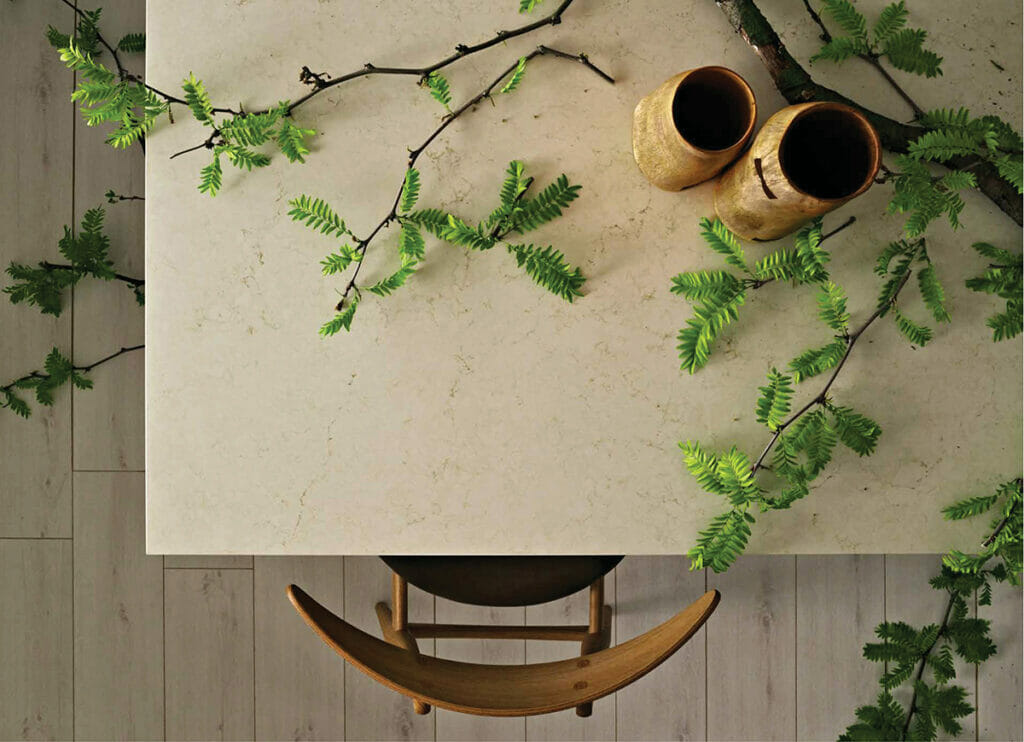 Tips and tricks for warming up a white kitchen
Homeowners looking to warm up a white kitchen can apply the following interior design tips and tricks during the renovation process.
Design tip #1 — Warm up a white kitchen with bold quartz countertops
Learning how to warm up a white kitchen starts with finding the right material and color for the countertops. Modern homeowners have the ability to choose from a number of stylish countertop materials, one of the most popular being engineered quartz.
Engineered quartz has a number of beneficial properties that make it an ideal material for kitchen countertops. Some examples of these characteristics include:
Hygienic
Easy to clean
Low maintenance
Scratch, heat, and stain-resistant
Environmentally friendly
Easy to install
Long lifespan
Durable
Quartz countertop manufacturers, like Caesarstone, offer products in a wide range of colors, including:
Black
White
Beige
Brown
Gray
High-end engineered quartz also comes in a variety of patterns, including veined. Having a selection of colors and patterns to choose from gives homeowners an endless list of design opportunities, especially in spaces like kitchens.
Homeowners who want to liven up their white kitchen can do so by integrating boldly-colored quartz countertops. Boldly-colored quartz countertops made with products like Caesarstone's 6338 Woodlands or 5220 Dreamy Marfil can add a significant amount of warmth to practically any kitchen design.
However, these products don't necessarily go with an "all-white" theme.
Homeowners that want to stay true to this theme can add white quartz countertops with bold veins, like Caesarstone's 5114 Calacatta Maximus or 5111 Statuario Nuvo. Veined quartz countertops add a sense of warm energy to a space, making it perfect for white kitchens that need a pick-me-up.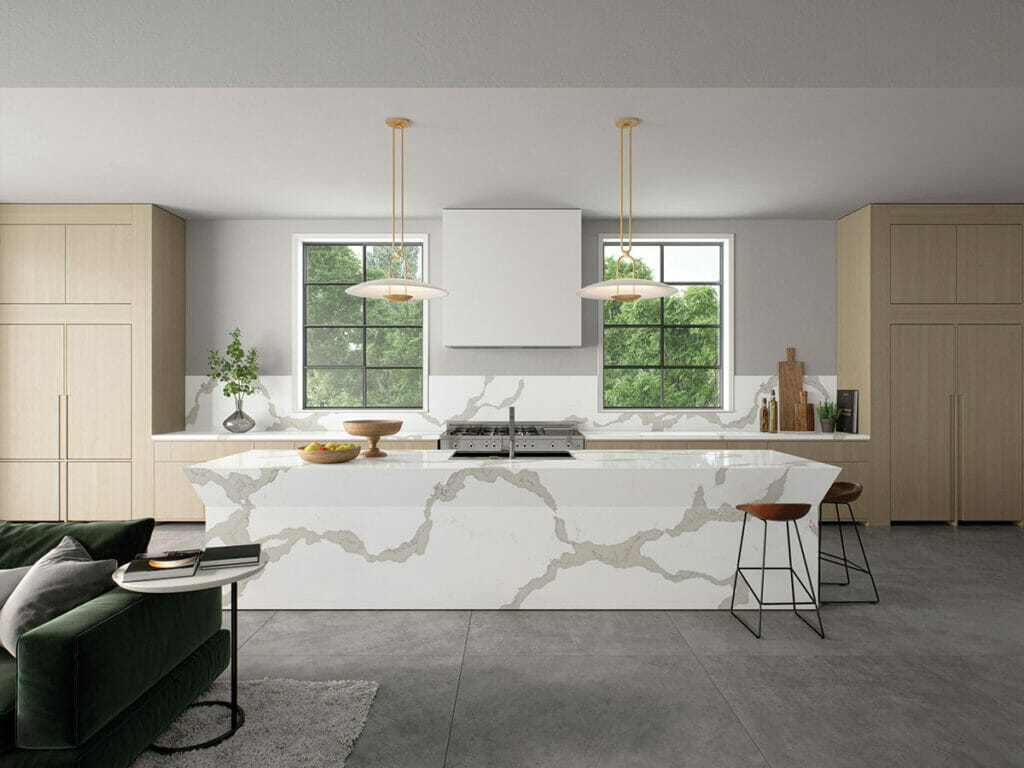 Design tip #2 — Add life to a white and gray kitchen with colorful houseplants
Homeowners looking to warm up their gray and white kitchens should bring life into their spaces with a handful of colorful houseplants.
In general, houseplants are quite affordable, and they come in a wide variety of colors, shapes, and sizes. These characteristics make them ideal for homeowners that want to add some warmth, personality and character to their cooking spaces.
Some varieties of houseplants, like cacti, are considered to be low-maintenance plants due to the fact that they require minimal care and watering. Their low-maintenance nature makes cacti an ideal option for homeowners who don't have the time to mind their plants or that simply lack a "green thumb".
Homeowners that want to add extra warmth and flair to a white and gray kitchen should look for houseplants that feature brightly-colored foliage or flowers. Doing so will warm the space up and add a pop of color against the white-and-gray theme.
Design tip #3 — Add brass accents to the cabinetry
Homeowners who want to learn how to warm up a black and white kitchen have a lot of options to choose from. That being said, one of the best ways to warm up any space is by adding brass accents to the cabinetry.
Brass is an excellent material for luxurious kitchen spaces since it feels both welcoming and refined. Additionally, brass meshes well with a number of other colors, styles and materials, like black wooden cabinets. Adding brass accents onto black wood cabinetry adds a subtle hint of warmth to dining spaces. The black cabinetry acts like a blank canvas that showcases the glimmering beauty of the brass.
Homeowners can also go the extra mile by incorporating other forms of brass decor into their white kitchen design. Some examples of stylish brass decor include candlesticks, light pendants, kitchen faucets, and small vases (a perfect medium to display the colorful houseplants mentioned above). Doing this adds an undeniable sense of warmth to a white and black kitchen while also giving the space a consistent look and feel.
Not to mention, brass looks impressive when paired with high-quality quartz countertops, like Caesarstone's 5031 Statuario Maximus and 5043 Montblanc.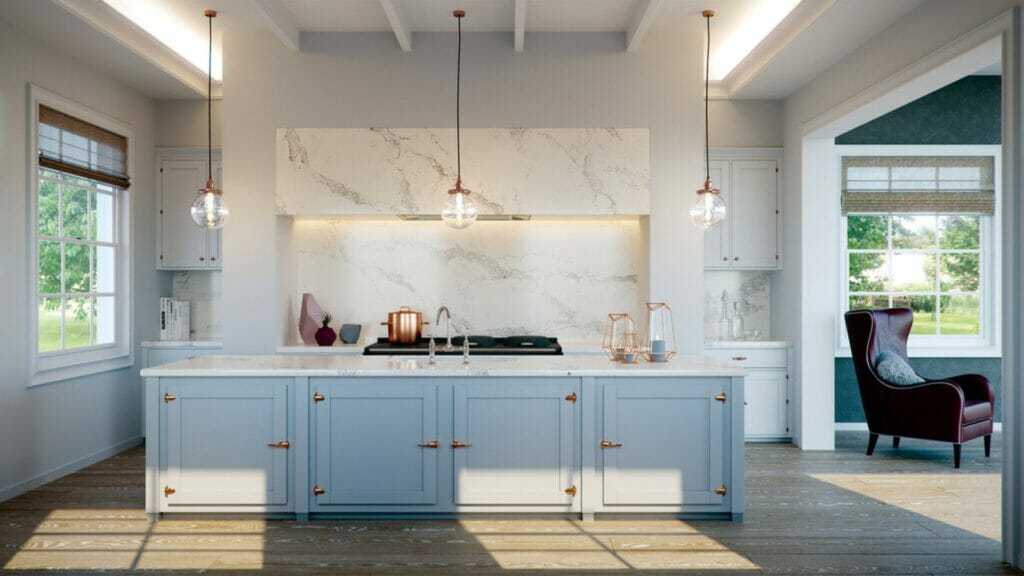 Where can homeowners find Caesarstone products for their kitchens?
There are several ways homeowners can find and compare their favorite Caesarstone products. One of the easiest ways is by visiting Caesarstone's "Color Catalog" page on our website. Our Color Catalog is chock-full of luxurious quartz products that are waiting to be installed in a kitchen, bathroom, or lounge.
Homeowners can also take advantage of Caesarstone's 3D Interactive Visualizer tool to see how a specific product (or products) look in a residential space. Being able to compare products online makes finding the perfect quartz countertop products quicker and easier for homeowners.
However, this isn't the only option — homeowners that want to get an in-person look at prospective Caesarstone products can do so by visiting their local retailer or showroom. Carving out the time to visit a showroom or retailer gives homeowners the chance to chat with quartz countertop experts and ask essential questions related to the renovation process.
Please note that Caesarstone does not install or repair quartz products (countertops, bars, etc.) in residential or commercial settings. Anyone who needs assistance installing or repairing their quartz products needs to contact a professional service at their earliest convenience.
Caesarstone products can warm up practically any white kitchen
Homeowners who want to warm up their white kitchen have several techniques that they can try; however, one of the most effective is investing in high-end quartz countertops.
Quartz is among the most stylish, durable, and popular countertop materials for residential kitchens. While searching for premium, high-quality quartz, homeowners should always opt for a reputable manufacturer, like Caesarstone.