Kitchens, bathrooms, in-house bars; all of these spaces have one thing in common. The countertops are always the focal point of the room. Because of this, homeowners should base their design plans around their countertops. Doing so ensures that the space flows correctly and the countertops remain the center of attention.
There are several color combinations that homeowners can capitalize upon when redecorating their space. Some of these colors are bold and bright, whereas others are subtle and refined. Various color schemes can add personality, character and flair to any part of the house — not to mention, when done correctly, they can be quite stylish.
Homeowners who struggle to find the perfect color combinations may want to consider a classic, tried-and-true option — black and white countertops. Read on to learn more on how to redecorate with this quintessential color pairing.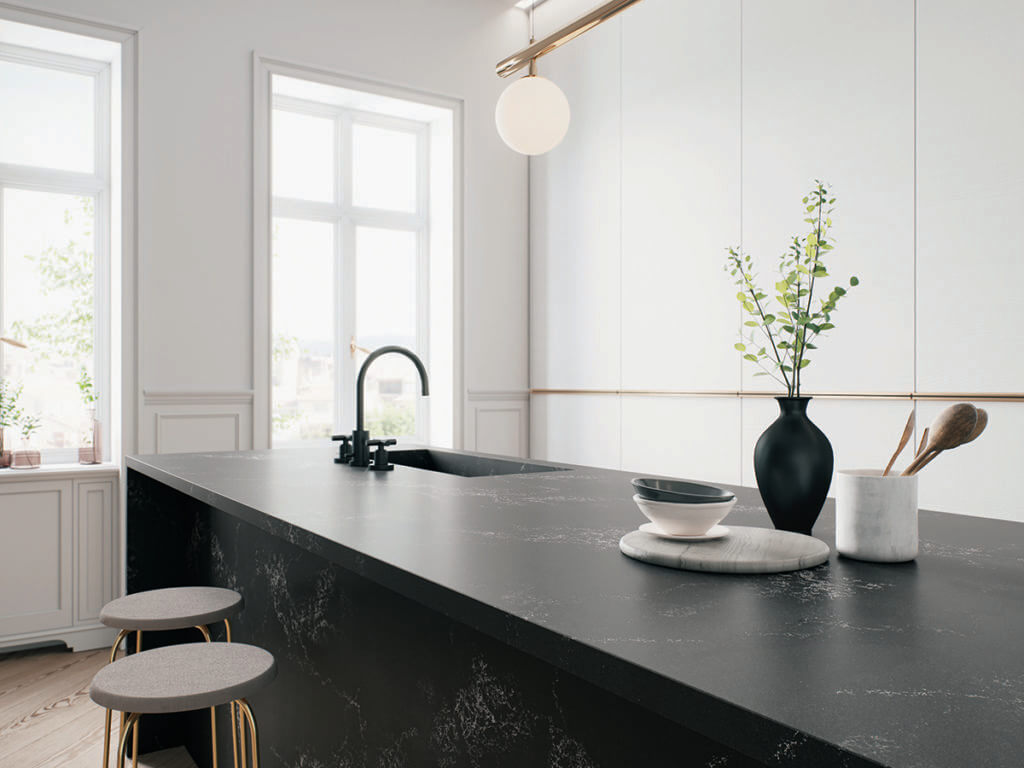 What material should homeowners choose for their black and white countertops?
There are a variety of surface materials that homeowners can choose from for their countertops, including quartz. Quartz is an objectively eye-catching, durable surface material that is built to stand the test of time. High-quality quartz countertops can last upwards of 30 years (with proper care and maintenance). In some cases, quartz countertops can even outlast the homes they are installed in!
Quartz isn't just known for having a long lifespan; some of the other qualities of quartz include:
Hygienic
Nonporous
Easy to clean
Heat-resistant
Scratch-resistant
Stain-resistant
Eco-friendly
With all of this in mind, it's clear that quartz is a practical material for black and white countertops in almost any space in a residential home.
Stylish design ideas for black and white quartz countertops in residential spaces
Here's a quick list of fun design ideas for kitchens, bathrooms, and in-house bars.
Design idea #1 — Give black and white kitchen countertops a go
Homeowners who want to give their kitchens a crisp aesthetic can use black and white countertops. Black and white countertops pop against light-colored paint, like beige, taupe, or gray, or shades of white like ecru or cream.
A fresh white kitchen looks great, but it looks even better when complemented by a black quartz countertop, like Caesarstone's 3100 Jet Black or 5820 Darcrest. The deep, bold colors of these countertops adds a striking contrast to white kitchen spaces.
Homeowners looking to inject more than one color into their kitchen design can pair their black quartz counters with white quartz surfaces, like Caesarstone's 1111 Vivid White or 2141 Blizzard. On a similar note, homeowners that want countertops with patterned black-and-white quartz can look for products like Caesarstone's 5101 Empira Black.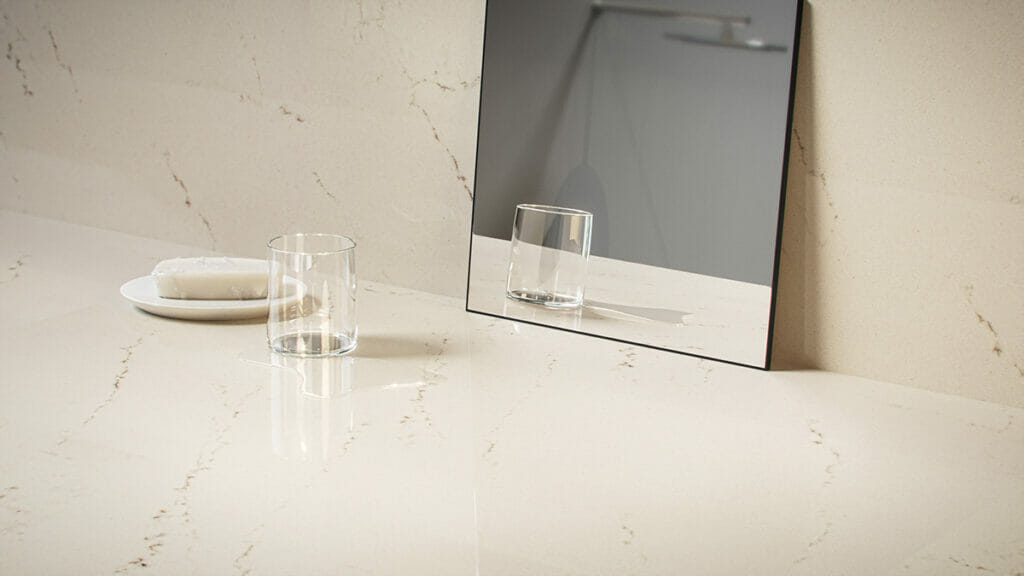 Design idea #2 — Utilizing black and white quartz in the bathroom
In general, homeowners want their bathroom spaces to convey a sense of cleanliness. A great way to do this is by adding white quartz and black decor, creating a crisp and sharp contrast which produces an orderly feel.
Homeowners can give their bathroom spaces a pristine appearance by using classic white quartz colors, like Caesarstone's 1001 Riverlet or 5112 Aterra Blanca, for their countertops. A simple and ageless shade of white quartz creates a calming sense of serenity, punctuated by periods of extravagance (provided by the dark-colored decor).
For added flair, homeowners can pair their white countertops and black decor with various hues of wooden cabinetry. This black-and-white theme gives bathrooms a polished appearance, whereas the wood adds a comforting, nature-inspired feel.
Design idea #3 — Black and white quartz is an excellent option for in-house bars
An in-house bar is a dream come true for many homeowners in the United States. It is a great place to relax after a stressful day, enjoy a home-cooked meal and socialize with friends and family.
While picking a color scheme for their in-house bar, homeowners should consider the benefits of black and white patterned quartz. Patterned quartz can bring an in-house bar to life, and makes for a great conversation piece during house parties and other celebrations.
Some eye-catching, premium examples of patterned black and white quartz are Caesarstone's 5171 Arabetto or 5100 Vanilla Noir. Both products have their own unique qualities that add a sense of personality and character to an in-house bar.
Where can homeowners find high-quality quartz for residential countertops in the United States?
Homeowners can choose from a variety of quartz countertop manufacturers, one of the most well-known being Caesarstone.
Caesarstone is a quartz manufacturer that has been leading the industry by crafting top-of-the-line quartz countertops since 1987. This experience gives Caesarstone the expertise to manufacture some of the most beautiful quartz countertops on the market.
Caesarstone's countertops aren't just eye-catching; they're also highly durable. Caesarstone's products get their strength thanks to the unique engineering process that we use. Homeowners who order Caesarstone countertops receive a product that's made with up to 90% quartz minerals, which gives this surface material a hard-wearing nature.
Homeowners that want to get a clearer picture of how a certain product looks in their space can use Caesarstone's interactive visualizer. This innovative tool allows homeowners to compare various products with minimal effort. Having this visual reference makes it that much easier for homeowners to find the right product for their kitchen, bathroom, or in-house bar.
Homeowners should note that Caesarstone does not install or repair residential or commercial countertops in the United States. Anyone that needs assistance installing or repairing their quartz countertops needs to contact a professional.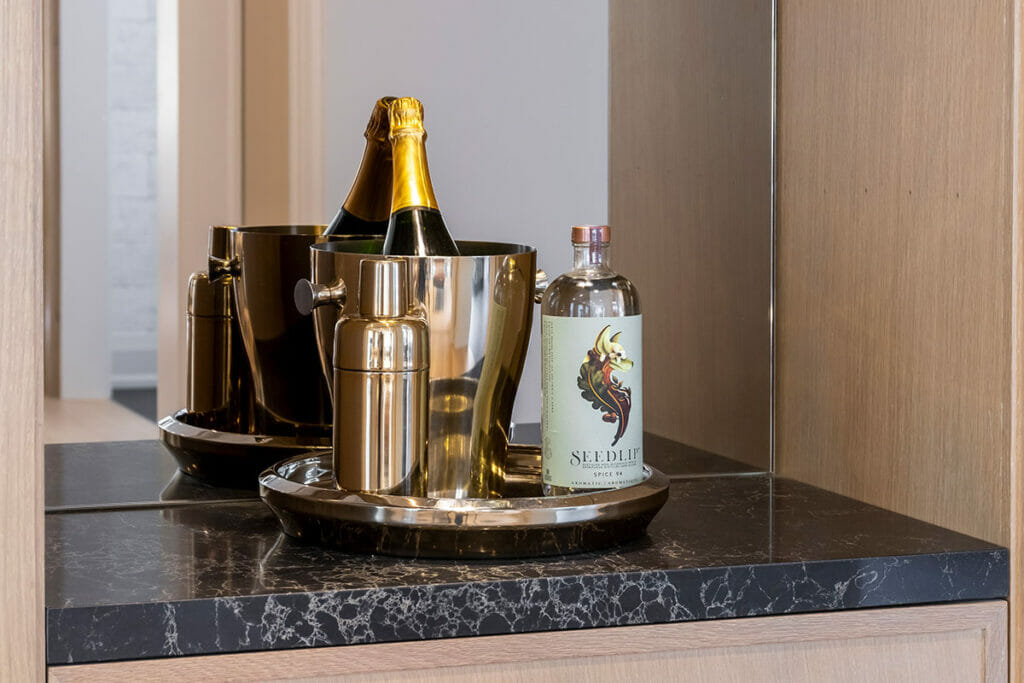 Black and white countertops are a tried-and-true option for residential kitchens, bathrooms, bars and more
Homeowners don't just want countertops that look good; they want to know that they're investing in a quality product that will last. That's why more and more homeowners are opting for quartz countertops in their kitchens, bathrooms, in-house bars and more.
Quartz is beautiful, easy to clean, and has an impressive lifespan. All in all, quartz is a solid option for homeowners that want new, high-quality countertops that will look amazing and last for years to come.