Selecting the perfect countertops for the bathroom requires the right blend of functionality and visual appeal. Bathrooms are exposed to higher moisture levels, making choosing a countertop that can stand the test of time even more important. If you are selecting countertops for the bathroom for the first time, you might need a little help.
So, here is a detailed guide on choosing the best countertops for the bathroom.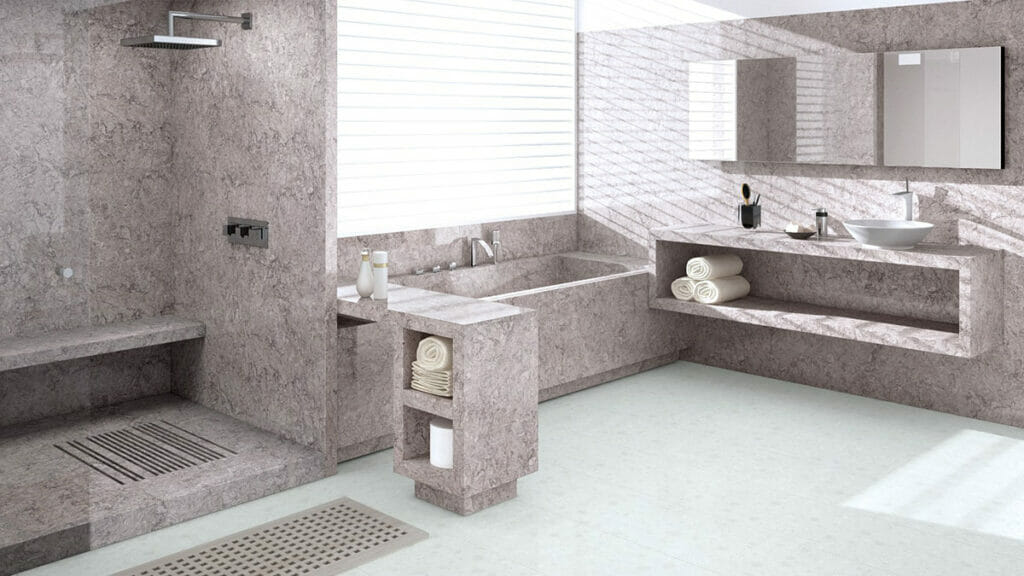 Types of Bathroom Countertops
Bathroom countertops come with a great deal of variety especially in terms of look and material. Here, we will discuss the types of bathroom countertops homeowners can choose from considering both their style and the material used.
Types of Bathroom Countertops: Based on Style
Here are the three types of bathroom countertops based on style:
1. Regular Countertops
Regular countertops are the most basic of the lot. They are simple slabs of marble, quartz or any other suitable countertop material laid on a cabinet. The only purpose they serve is to provide homeowners with a space to keep their toiletries.
Although they are basic, their importance cannot be undermined. After all, we all need free space in our bathroom to place the items we use on a daily basis.
2. Bathroom Sink Countertop
As the name suggests, a bathroom sink countertop is a counter with a sink embedded in it.
For bathroom countertops with a sink, homeowners can either go for an undermount sink or a drop-in sink. Both these models come with their own sets of benefits and drawbacks. The primary difference lies in their installation technique. Undermount sinks are attached to the bottom of a countertop and drop-in sinks are bolted from the top with tiny uniform extensions encasing the sink.
3. Vanity Countertops
If you are running short on space, vanity countertops are a must-have for your bathroom. These countertops integrate a sink and a spacious cabinet into one single unit.
There are plenty of options and customizations that homeowners can choose from for their vanity countertop. They can opt for single-bowl integrations that offer space for only one sink to be installed or a double-bowl integration for double sinks. They can also choose not to have a sink at all.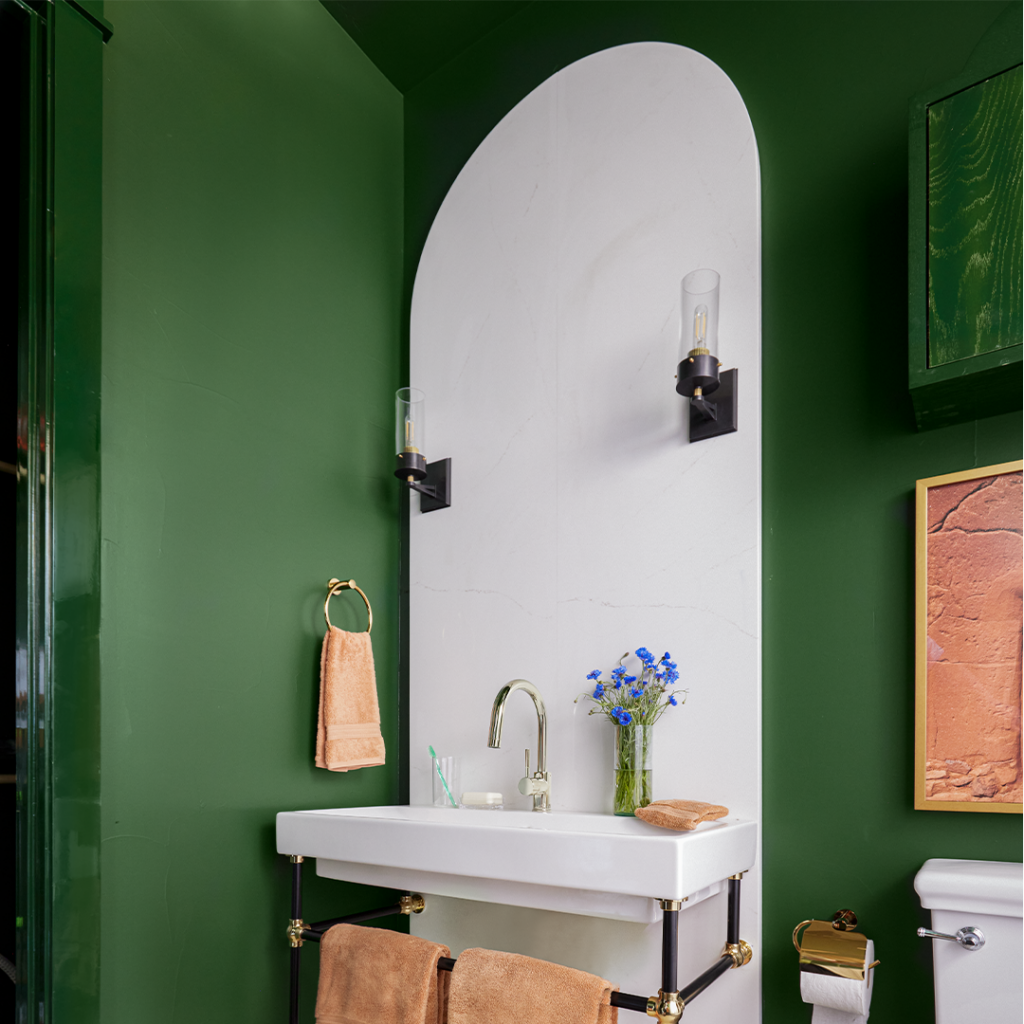 Types of Bathroom Countertops: Based on Material
Once homeowners decide on the ideal countertop style that will be perfect for their bathroom, it's time to finalize the countertop materials. So here is a list of the most popular countertop materials that are known for their durability and visual appeal:
1. Quartz
For those who want an attractive and durable countertop that offers longevity, quartz is a great option. These countertops are made of 90% pure quartz but have been engineered to be stronger and more resistant to scratches and stains.  
Homeowners looking to purchase quartz should ensure they choose a reputable, high-quality manufacturer like Caesarstone.
The biggest benefit of engineered quartz is that they are not required to be sealed. They also can mimic the look and feel of natural stone. Homeowners who want the look of a natural stone like granite can choose a premium Caesarstone color such as 6313 Turbine Grey. 
2. Granite
Granite countertops are a popular choice for regular as well as high-end bathrooms. Granite is not only strong and durable, but its natural exotic prints make them extra unique. One of the biggest reasons for its popularity is also its relative affordability. Depending on the brand and the location, they can cost anywhere between $70 to $200 per foot. 
3. Tiles
Tiles are another popular countertop material for bathrooms. They are strong and durable, as well as an economical choice for bathroom countertops. Tiles are an excellent choice for people who want to go with monochromatic or solid-colored countertops.  
As well, many brands these days are producing larger tile slabs to reduce the amount of grout present in a particular counter. 
4. Laminate Countertops
If homeowners want the appealing look of quartz or granite countertops, but they seem way out of their budget, then laminate countertops could be an option. These materials come with the unique quality of being very affordable without looking cheap. They also come in endless colors and patterns.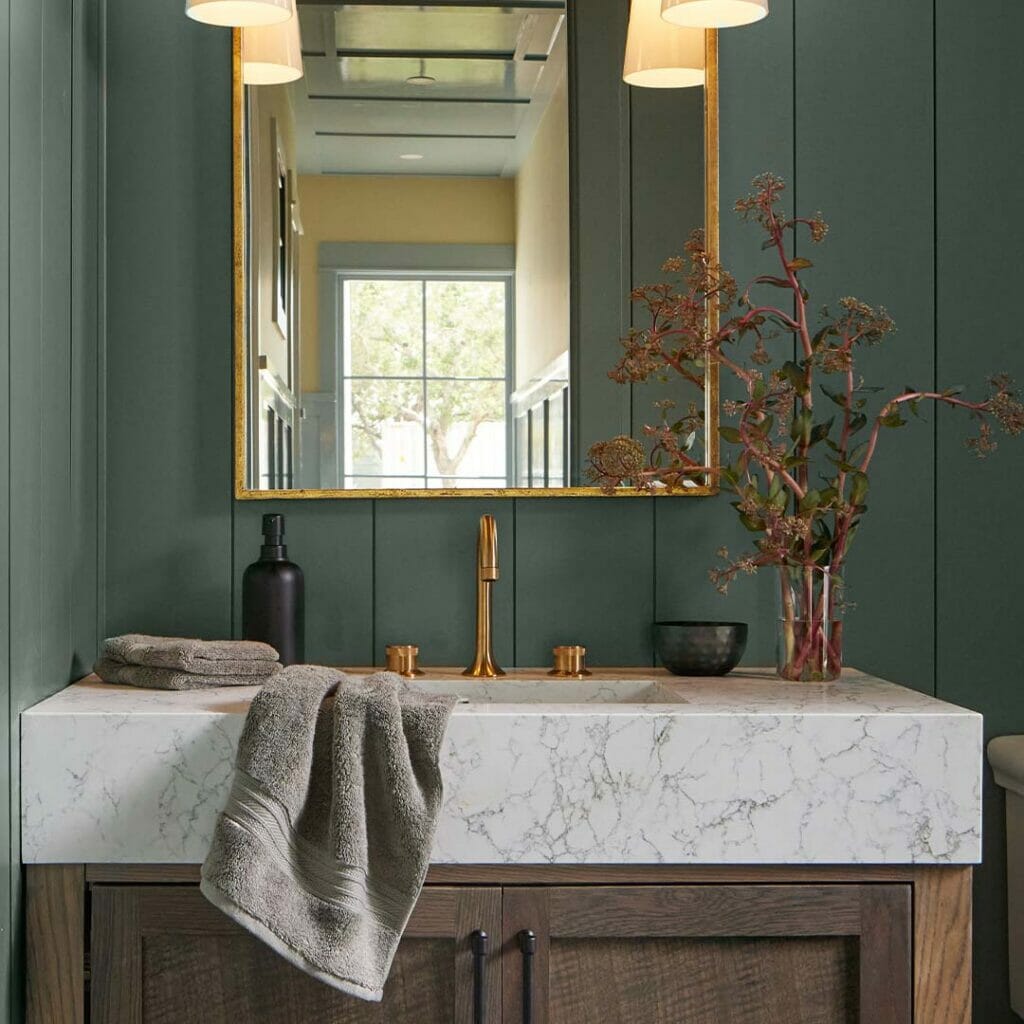 The final word
The right countertop built with quality materials can go a long way in improving your bathroom. With quality materials that bring durability, strength, and lower maintenance, you can also turn the expensive upfront cost of bathroom countertop installation into a cost-effective investment in the long run. You just need to strike the right balance between functionality and style for your countertops, and it will undoubtedly be worth the wait. For this, homeowners should consider a premium quartz material, like Caesarstone quartz, which is stunning, durable, low-maintenance, and will last for many years.