Kitchen countertops play a vital role. From food preparation to adding to a home's aesthetics and more, a kitchen can never be complete without one. With the wide variety of kitchen countertops options, choosing the best countertop material can be daunting. Lots of factors have to be considered. This brings to light the importance of understanding different kitchen countertops materials, how they are made, and their pros and cons.
Among the main aspects that homeowners factor in are price, popularity, and aesthetics. However, it goes beyond what the eye can see. While beauty is, in fact, crucial for any space, other aspects in choosing a kitchen countertop such as porosity, maintenance, cleaning, and most importantly, durability ought to be factored in.
Searching for the best kitchen countertops ideas? Keep reading as we delve deeper into some of the kitchen countertop materials that are available on the market.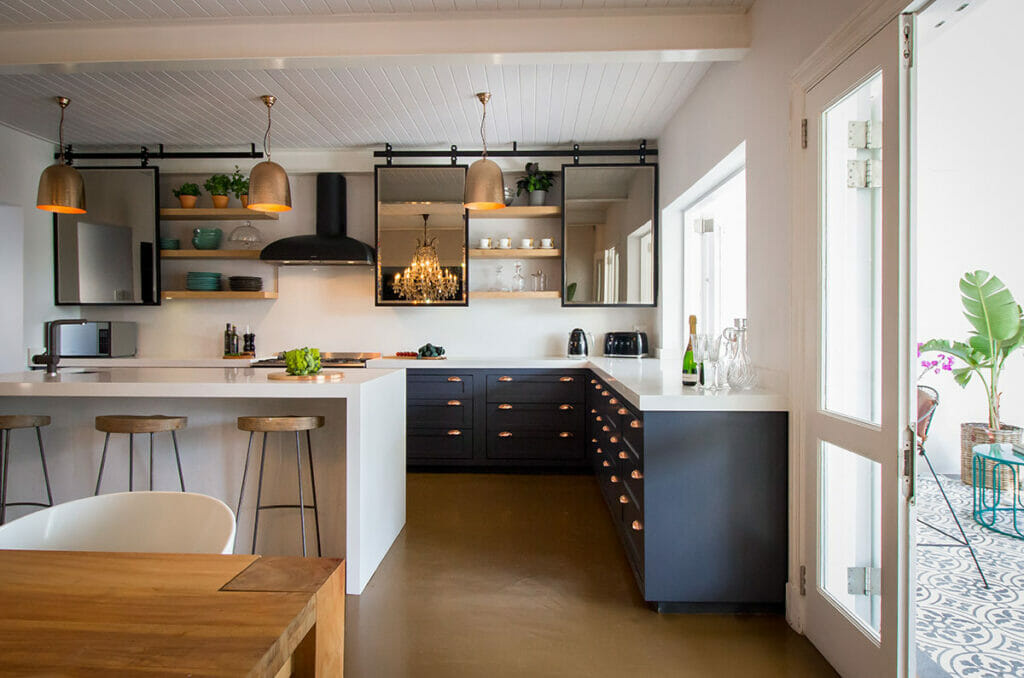 Quartz
Quartz countertops are engineered stones that are made from one of the hardest minerals on earth, making them arguably the most durable countertops and the best option homeowners can purchase for everyday use.
However, when choosing a quartz countertop, it is important that homeowners select a quality quartz manufacturer like Caesarstone. Since they are engineered stones, quartz countertops are available in a variety of colors, patterns and styles. Homeowners can choose from stunning colors like 5141 Frosty Carrina and 5003 Piatra Grey. They can also mimic natural stone countertops such as marble and granite. Homeowners who enjoy the aesthetic of marble can opt for a countertop color like 5151 Empira White. Those who appreciate granite may choose a color like 6611 Himalayan Moon.
Pros of quartz
Quartz is one of the most durable countertop materials.
It requires less maintenance and no sealing.
It is scratch-, heat- and stain-resistant.
It is available in a wide variety of colors, patterns and designs.
Quartz colors and patterns are consistent, unlike natural stone options.
It will stay beautiful for many years with little effort.
Cons of quartz
Premium quartz can be pricier than other common countertop materials.
Quartz countertops require professional installation.
Bottom line
As we mentioned, quartz countertop materials are one of the hardest countertop materials available. As such, they will serve you well for an extended period, without the need for regular sealing. And even better, they can mimic natural stone countertops, making them the best kitchen countertops that a homeowner can choose for their space.
Ceramic Tile
These are countertops made from clay-based tiles which are then adhered over a cement board. While ceramic tile countertops are still used as kitchen countertops, the seams make them less ideal for the spaces. However, there are larger sizes on the market that minimize the number of seams.
Pros of ceramic tile
It is an inexpensive kitchen countertop material.
It is easy to install and is a great option for DIY fans.
It has diverse options such as real stone and even wood.
Cons of ceramic tile
The many seams make it harder to clean and maintain.
It is prone to cracking, making it less durable.
Bottom line
While ceramic tile is inexpensive, it is harder to clean due to the many seams. It's also not a durable kitchen countertop material. And once it breaks, it requires complete replacement, since repair is close to impossible.
Laminate
Laminate countertops are formed from thin layers of plastic laminate material which is then bonded to a medium-density fiberboard or particleboard. Laminate kitchen countertops are ideal for people who want to go wild with patterns and colors as well as those who are budget-conscious.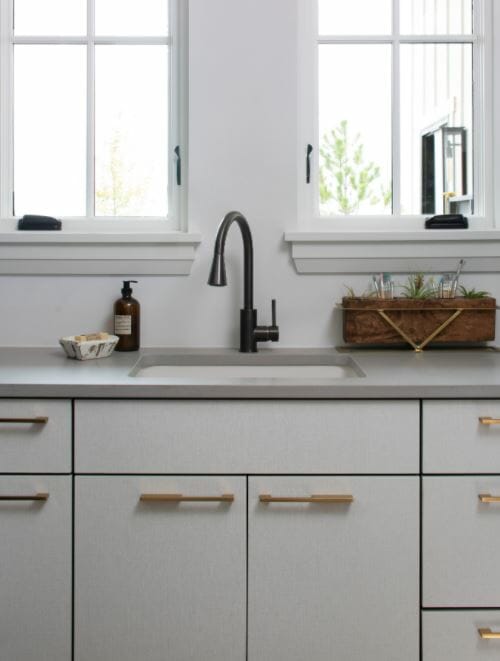 Pros of laminate
They are easy to install due to their lightweight nature. As such, they can be installed without professional help.
They are inexpensive. However, they require replacement more often compared to other kitchen countertops.
They are lightweight, hence do not require the support of thick cabinets.
They are easy to maintain and do not require regular sealing.
Cons of laminate
Laminate is not durable. It scratches and cuts easily, which means it may not be ideal for people looking for durable countertops.
They are easily damaged by heat.
Once damaged, it is difficult to repair them.
Bottom line
While laminates are inexpensive, they are not durable. As such, they are not the best kitchen countertops for those who are looking for countertop materials that will last for years to come.
Marble
Marble is a natural stone. This makes it among the best kitchen countertops options for persons who prefer natural stone countertops. It has a unique appearance due to the veined patterns, making it one of the most attractive natural stones. However, it is relatively soft and porous, requiring regular sealing.
Pros of marble
It is one of the most beautiful natural stone countertops due to its unique veining.
It provides a classic look.
Cons of marble
It is porous. As such, it requires regular sealing, which can be expensive.
Its soft nature makes it more susceptible to scratches.
It is expensive compared to engineered countertops.
It is very heavy and must be supported by sturdy cabinets.
Bottom line
Marble countertops are one of the most beautiful materials that are available on the market. While they go well with most designs, they have limited colors, and therefore, can limit some homeowners who want unique aesthetics. Also, they are relatively expensive in comparison to other kitchen countertop materials.
Concrete
While they are unusual countertop materials, they are the best kitchen countertops for people who want a unique, industrial look. They are fabricated on-site, and must be prepared and installed by a specialized crew. The concrete is customizable to form a shiny, polished, textured, or even colored finish.
Pros of concrete
They make beautiful countertops.
They are customizable to any size and have different textures and colors.
Cons of concrete
They are heavy. As such, they require special bracing. This also means that the installation is not DIY-friendly and must be done by specialists.
They are expensive.
Bottom line
While concrete countertops are very beautiful, they are not only expensive but also require special installations. Homeowners who want a stunning and durable countertop that resembles concrete, without the added hassle, can opt for a Caesarstone quartz countertop that mimics the look of concrete such as 4004 Raw Concrete or 4033 Rugged Concrete.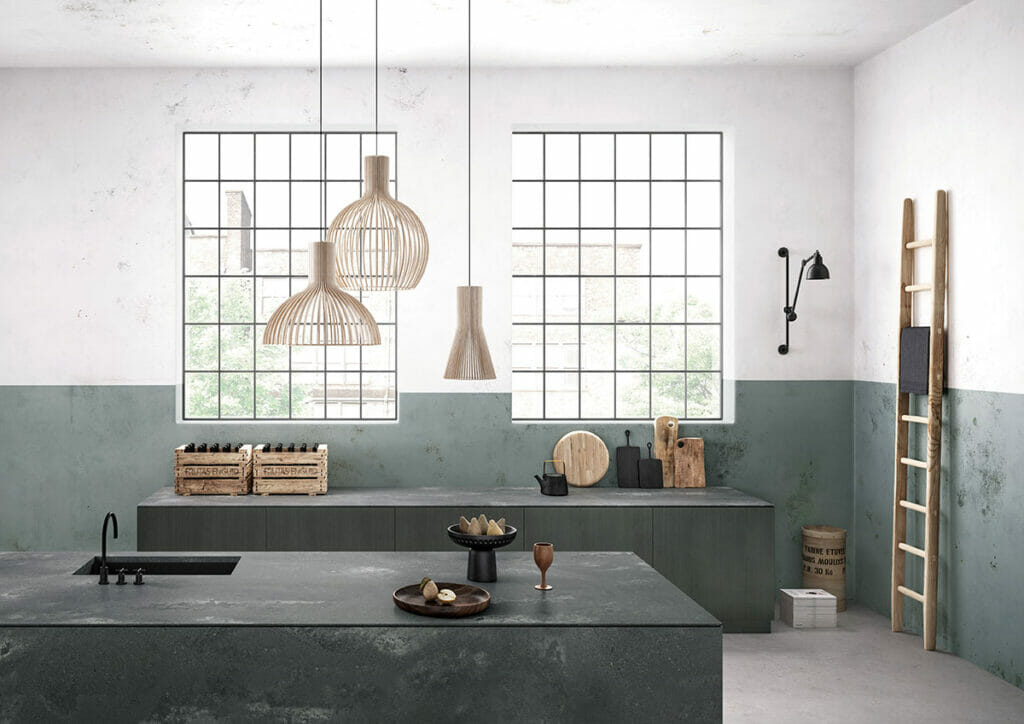 Soapstone
Soapstone is a quarried stone. It has been used as a countertop material for ages and is mostly available in different shades of grey and white. It makes a hard countertop material and is also less porous compared to other natural stone kitchen countertop materials.
Pros of soapstone
It is perfect for those looking to create a warm feeling and a milky look.
It is less porous, making it easy to clean and maintain.
It can give a kitchen an antique feel and look.
Cons of soapstone
It is easily scratched.
It is expensive.
It needs regular oiling to maintain its look.
It has limited colors and patterns.
Bottom line
While soapstone gives kitchens a unique look, it is not only expensive but also has limited colors and patterns.
Conclusion
Choosing the best kitchen countertop can be a difficult task. With all the different types of kitchen countertops available, homeowners must do their research. Without a doubt, one of the best kitchen countertop options that are available on the market is quartz. It is durable, available in vibrant colors and patterns, easy to maintain, and sure to stay beautiful for years to come.