The kitchen countertop's appearance can make or break the kitchen's overall design. Additionally, countertops are a top determinant of the value and the functionality of a house. This makes a kitchen countertop remodel a significant investment that should be planned for thoughtfully and thoroughly.
The remodeling process can often feel like a daunting and intimidating task. Read our guide for things to consider to ensure a smooth and efficient kitchen remodel. For more inspiration, you can also look at this kitchen remodeling project checklist.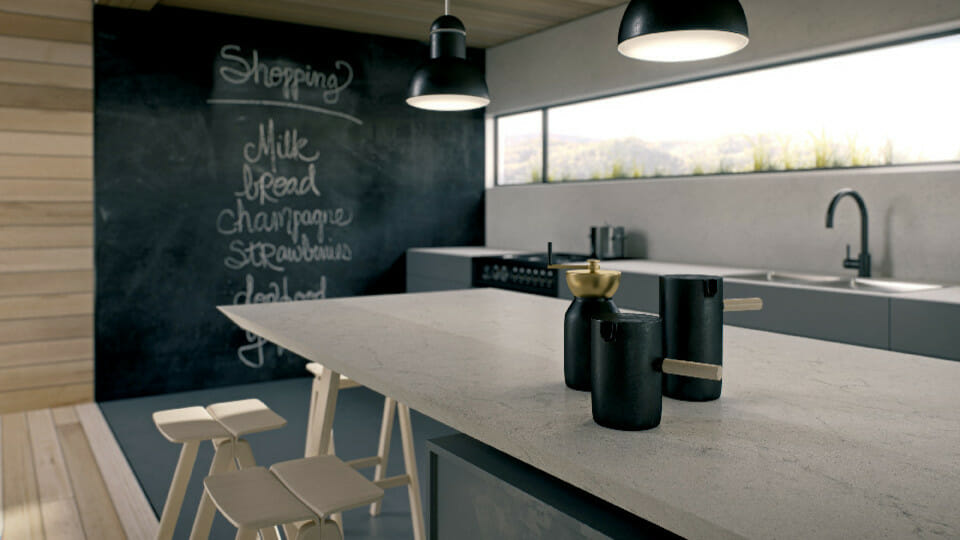 1. The Best Countertop Materials
When looking for ideal materials for a countertop, here are a few elements to look for:
– Aesthetics
Selecting a material that suits your taste and fits the design is very important. Especially if you're design-obsessed. But there are other factors to consider.
– Quality and durability
Assess which material will last for years. Research materials that are highly resistant to cracks and scratches to avoid frequent kitchen countertop remodeling.
– Resistance to heat
One may assume that all kitchen countertops are heat-resistant. Unfortunately, not all are. Some materials, such as laminate, have low heat-resistance and may crack from hot pots and pans. It's imperative to consider if a countertop that lacks heat-resistance will work for the functionality of the space it's being used in.
– Non-porous ability (stain-proof)
To avoid the hassle of worrying about acid, red wine stains, and so many kitchen stains, select a stain-resistant material. A material that allows for creativity and repels stains makes for the ideal countertop.
– The maintenance of the material requires
Many materials will demand high upkeep, while others are highly resilient with little to no maintenance. When choosing a material, pay careful attention to the effort required to take care of the countertops. For instance, countertops made of limestone, marble, and granite require sealing at least once a year. Most wood countertops may require regular oiling.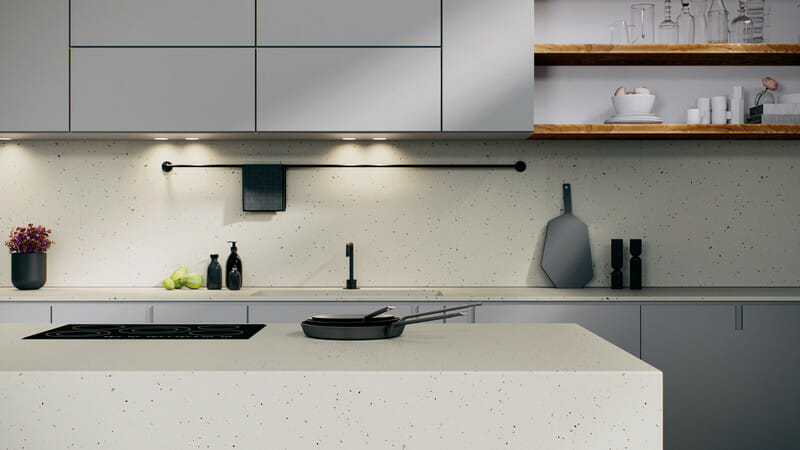 Here are top kitchen countertop materials to consider when remodeling the kitchen countertop:
Caesarstone Quartz (Engineered Stone)
Often comparable to granite in appeal, quartz countertops are a popular choice for their durability. Surfaces made of quartz are long-lasting as they are made from one of the most complex materials on earth. The colors and patterns of quartz are limitless.. The popularity of quartz has grown so much, thanks to perhaps their most significant benefits of being stain, heat, and scratch-resistant. Their non-porous nature makes them highly resistant to bacteria and mold.
Granite
Granite is a preferred option among the top countertop materials, thanks to its durability, heat, and scratch resistance. Granite surfaces come in a wide variety, the most common being polished and honed granite. Polished surfaces have a high-end appeal, while honed surfaces come in a soft, matte finish (with little to no shine). While the granite surfaces offer a timeless appeal, they are more porous (compared to quartz) and more prone to stain and require occasional sealing (at least once a year) to maintain the look.
Stainless Steel
A durable, stain and heat-resistant surface, stainless steel is highly dynamic, offering a sleek finish that's easy to clean and maintain. However, stainless steel surfaces can scratch and dent very quickly and shouldn't be used as cutting surfaces.
Marble
Beautiful and classy with a high-end look, marble surfaces come in various textures and colors. These surfaces are popular among bakers, thanks to their cold feel. Unfortunately, these surfaces require high maintenance and regular sealing and may not best suit a high traffic kitchen.
Glass
A translucent glass surface is the best choice to create a distinct look. Glass kitchen countertops come in a wide variety of textures and patterns that allow mixing colors to match the existing palette. Glass is also eco-friendly and can be recycled to create new countertops. Modern glass counters are made of tempered glass, making them durable and heat-resistant.
Butcher Block
Commonly known as wood, butcher blocks are the perfect surfaces to create a warm look. Perhaps the best feature of butcher blocks is not only their decorative appeal but their functionality in terms of food preparation. Wood surfaces double as a sanitary chopping area (when sealed) and the best surface to place hot pans and pots.
Laminate
The plastic-coated surfaces also come in a range of colors—including ones that resemble granite. While they are inexpensive and easy to maintain, they are highly susceptible to burns and water damage, are not long-lasting, and are difficult to repair.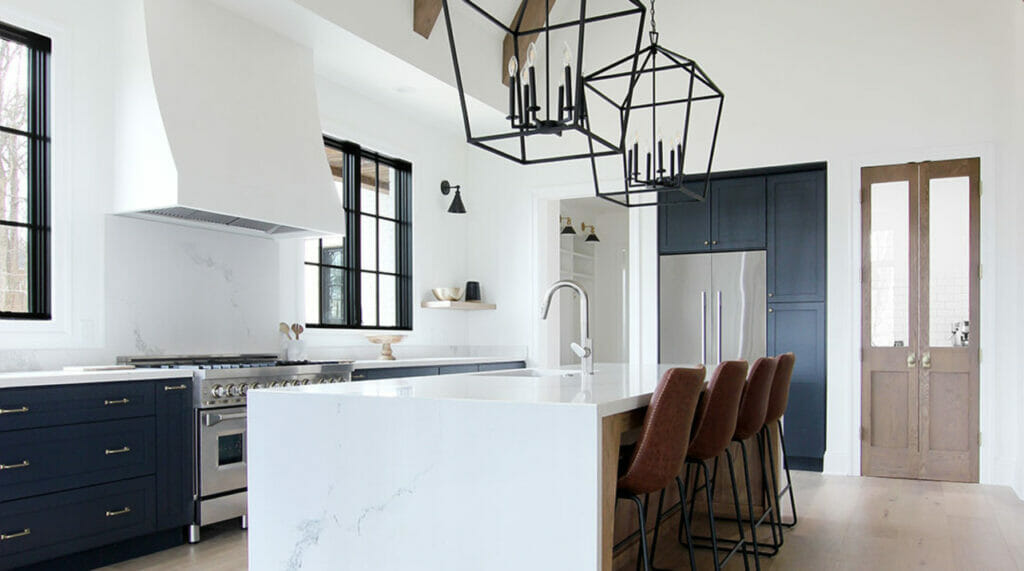 1. Size and Layout of one's Current Countertops
The size of one's current countertops will highly determine the layout and design of the following kitchen countertop remodel. It will have to be considered if the kitchen island and cabinetry can support larger counters and what size of overhang will be possible.
2. The Best Use of one's Workspace
The choice of new kitchen countertops is highly dependent on the functionality of the kitchen. A stunning kitchen countertop must also serve the primary, functional purpose of the kitchen.
When considering the style of the countertops, think of the primary use of a kitchen. Can it hold up to the daily activity? Is the kitchen mainly for entertaining? Will children be using it? For a family home, it's essential to choose a countertop that will withstand various cooking and clean-up styles without much concern about scratches and food stains.
With this in mind, selecting functional and durable countertops may mean combining materials. For example, if one of the uses of the countertops is cutting meat and chopping vegetables, consider a butcher's block. If you use countertops for baking, consider marble countertops for dough mixing and rolling.
3. Kitchen Design Needs and Style
The decorative aspect is one of the most fun elements when remodeling the kitchen counters. The design selected needs to align perfectly with other decorative elements such as the floors, lighting, cabinets, sinks, and faucets. For instance, the floors, whether vinyl, hardwood, or tile, will dictate the design of countertop materials (and the need to incorporate more than one material).
Every detail of the kitchen countertops should contribute to the final lifestyle design of the space. Choosing a design that fits well with the overall kitchen design can be surprisingly challenging, but once it's right, the work will have been worth it.
4. Color Scheme
When planning a kitchen countertop remodel, thoroughly consider the color scheme. The kitchen style and the purpose for remodeling may inform the color scheme. When planning to put a home on the market after remodeling, it's best to go for neutral colors.
If remodeling for any purpose other than selling, the options are endless. Whether a luxury, modern and on-trend style, or an opulent, Italian design, start with the style in mind to dictate the color scheme.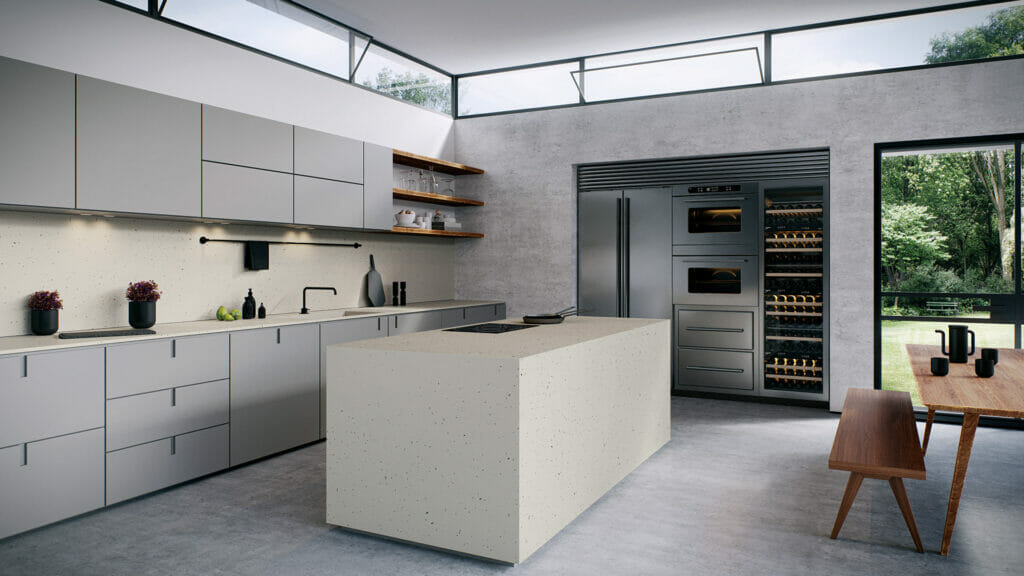 Existing Kitchen Appliances
The vital elements of a great design will incorporate and embrace one's existing appliances, such as built-in fridges and cabinets. Matching small details makes a world of difference. Make sure to consider every element in the kitchen, from backsplash to faucets to tiles.
6. Remodel budget
The first (and probably the most key) element of a kitchen counter remodel determines the project's cost. After establishing a budget, it's easy to determine where to save and splurge.
Keep in mind why you're remodeling; if you'd want to add to the resale value down the line by selecting a popular countertop, or choose a durable countertop to enjoy for years to come, it makes sense to splurge on some luxury items. Purchasing quality materials may cost more initially but are better value in the long run.
7. Long Term Value
Kitchen countertops may be one of the most expensive areas to renovate in a house but are also among the few areas that will significantly add value to a home. Unfortunately, most homeowners overlook this when remodeling the countertops. When planning a countertops renovation, consider – how will this remodel affect the home resale value?
Ultimately, a kitchen countertop remodel is the best opportunity to create a stunning design that matches the home. It's a chance to take a look at all the options and elevate the space.